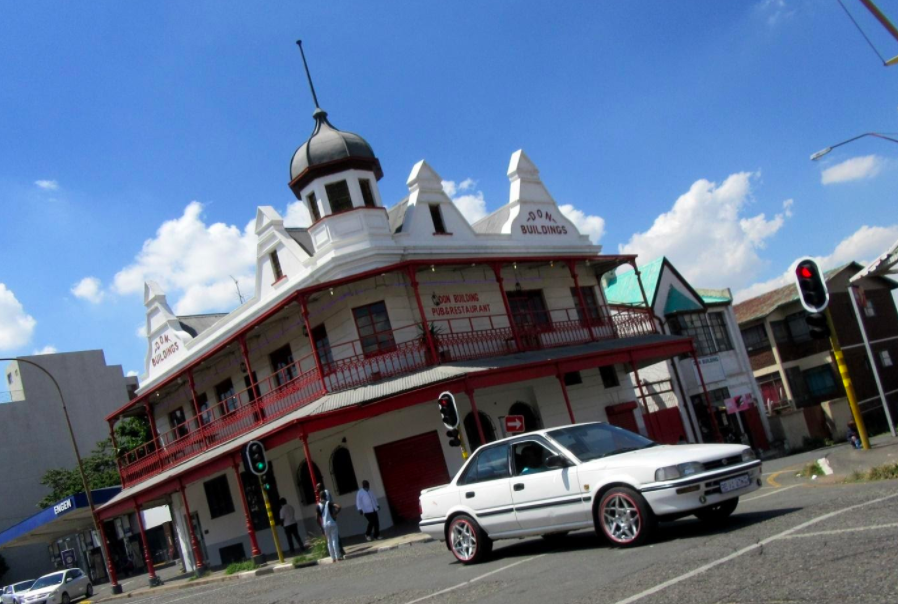 Tuesday, March 23, 2021 - 15:17
Jeppestown, to the east of the Central Business District of the city, is one of Johannesburg's oldest residential suburbs, proclaimed soon after gold was discovered in 1886. It was originally a neat little suburb for the middle classes of early Johannesburg. Most of the houses and small blocks of flats are now in desperate need of a coat of paint and repairs, but look like they were originally comfortable places in which to live, well-designed and part of a sustainable, liveable neighbourhood. Architecturally, Jeppestown is quaint and fascinating, with many different styles reflecting 125 years of Johannesburg's urban development. The area is also not very uniform in the types of buildings and there are houses, blocks of flats, and also shops, schools, recreation centres, hotels, churches and a mosque, and even the fire station has a heritage story to it. There is also a railway station.
Jooste & Bryant Building (The Heritage Portal)
Many fine examples of  Jeppestown's remaining Victorian architecture have been noted by the Johannesburg Heritage Register (Cosmopolitan Hotel, Grand Station Hotel (built in 1889), the Osborn Pharmacy, The Don),  but remain vulnerable. The historic Grand Station Hotel somehow managed to burn itself down in 2019. See Kathy Munro's article, 2019 (click here to read).
Cosmopolitan Hotel (The Heritage Portal)
Grand Station Hotel after the fire (Kathy Munro)

It's taken Jeppestown decades to fall into ruin
Jeppestown is also a good example of the many ways in which an urban neighbourhood can deteriorate over time, linked to changing economic fortunes and demographics. As residential areas age and become shabby, they become less attractive to middle class home owners who then look elsewhere for nicer, newer places to live. Even businesses move away, seeking more convenient localities for their operations. The owners of buildings then struggle to find good tenants and opt for poorer, more risky tenants who pay less. As the property values begin to slip, no-one will invest in the area and banks won't lend money for repairs and renovations. At some point, the buildings can become hijacked by slum lords and the building may deteriorate even faster at this point.
There are no 'good' streets in Jeppestown: all have a mix of well-maintained properties which may be next to the most appalling eyesore of a building. There are potholes in the roads the size of swimming pools and piles of litter on every vacant piece of land. Some buildings are priceless Victorian gems, and others were always just simple little houses. Yet the suburb of Jeppestown, with its mixed fortunes, is not completely beyond rescue and repair.
A few small Jeppestown homes (Sue Taylor)

Johannesburg is rapidly changing
Johannesburg is a rapidly changing city with many huge social and urban development challenges, the most serious of which is providing affordable rental accommodation near places of work.
Johannesburg is the main destination for work-seeking migrants. Now that apartheid legislation has ended, thousands of people are able to come to Johannesburg to access economic opportunities, better schools and hospitals and decent homes (even if dilapidated and humble). Many arrive homeless and destitute, and need an affordable place from which to begin to build their new lives.
The place of origin for most Jeppestown residents now is KwaZulu-Natal (45%) and then other parts of Gauteng (21%) and further afield. Reflecting this reality, the demographics of Jeppestown have also changed over the years. IsiZulu is now the dominant language (61%), with Afrikaans at 3% and English at 6% of the population. University of Johannesburg's Johannesburg Poverty and Livelihood Study (2008) found that 82% of residents in Jeppestown are South Africans and 18% are non-South Africans. There have been ugly outbreaks of xenophobic violence in recent years with mobs attacking foreign-owned businesses in Jeppestown and nearby Malvern. As we have seen at other times, local people blame foreigners for 'stealing their jobs' or for the high crime levels.
People feel reasonably safe in Jeppestown
Despite the xenophobia, the Johannesburg Poverty and Livelihood Study (2008) found that most people felt reasonably safe in Jeppestown (46% felt safe and 44% felt unsafe) and felt they could [mostly] trust their neighbours. The study found that 79% of the Jeppestown respondents felt that they belonged to a community and 73% felt they got along well with their neighbours. These attitudes are very important as poor households must create local networks that can help them survive hardship. Despite this existing solidarity, the study found that 25% of Jeppestown households could not find help in time of need during the past 12 months and close to a third of households had to approach welfare and religious organisations for assistance. Chatting to one of the residents of a small rented semi-detached house, I was told about the cracks in the house that are so wide you can put your hand into them but the resident said he was content with living in Jeppestown.
Jeppestown's survivalist economy
It is easy to see that Jeppestown is a deeply troubled place and that it is a sad vestige of its optimistic and comfortable early Jo'burg self. People in Jeppestown are really struggling. There are many people sitting on the edge of pavements, walking around, or dozing in the shade of big trees, without the benefit of jobs to go to. The Covid-19 pandemic is still underway and many Jeppestown people may have lost their jobs or are under-employed. Even though the public schools have now opened (February 2021) there are many children on the streets, roaming in groups, even dancing to loud music in the back streets. I approached a group of teenage boys for directions to a certain block of flats and they were very helpful and friendly, but furtively tucked away fifty rand notes and cigarettes. Some of them could have been 12 years old.
There is now almost a 'township economy' feel to parts of Jeppestown as many residents eke out a living. There are many informal survivalist activities visible, with residents selling second hand clothes or fresh fruit and vegetables from ground floor verandas or at the side of the road. There are many 'cash for scrap' premises and buildings which have shops at street level, but now host shabby cell phone dealers and auto spares shops. In the case of Belgravia Court, a cute Art Deco block of flats, there is a driving school, a 'cash for scrap' office and other dismal businesses with smeared windows and fading signage operating from street level premises. There are hair stylists operating out of the old houses and some small houses have become chisa nyama eateries with a few plastic tables and chairs on the pavement. There are some levels of hidden sophistication in these eateries as evidenced by massive kitchen chimneys on the roof.
Vacant  sites and motor tune-up centres in Jeppestown
There are now many recently cleared sites within Jeppestown where old buildings once stood. They were possibly removed because they had become irreparably run down or they were demolished so that they could no longer be invaded by homeless persons. Also, elements of light industry began to appear in Jeppestown over time, changing the residential tone of the area. There is a certain amount of harsh bustle around the motor spares sales rooms set up in old houses and shops.
Street front house or shop now an auto workshop (Sue Taylor)
There are also many building in the main streets selling auto spares, tyres and 'mag wheels' in a manner totally out of keeping with a residential area. In many cases, rather lovely main street buildings have been defaced by inappropriate trading activities, as in the Victorian building in one of the high streets which now has an auto-electrical business on ground floor. In the photograph below, the small windows to ground floor shops have been removed to insert the brutal steel shutter doors.
Victorian building in Jeppestown showing defacement by an inappropriate auto electrical enterprise, and also by graffiti. The building could also do with a coat of paint and attention to leaking gutters. (Sue Taylor)

Densification just a polite word for overcrowded
A Johannesburg Poverty and Livelihood Study (2008) by the University of Johannesburg provides a wealth of information about some of Johannesburg's poorest areas. Jeppestown was selected for the study as an example of an inner city area that is struggling with severe urban decline. The purpose of the study was to develop a detailed analysis of the socio-demographic situation of households in deprived communities and their livelihood strategies. There is a high rate of unemployment in Jeppestown and around 15% of households rely on the child support grant for income and many also rely on state pensions or disability grants. There are high levels of stress in these households as they struggle to survive and make headway in the city. Tobacco and alcohol use is very high, and indeed, there are conveniently many liquor outlets in Jeppestown. Crime, car-jacking and murder levels in Jeppestown are the highest in Gauteng, and the Jeppestown police station deals with a very troubled region that includes the George Goch and Wolhuter hostels. The police are blamed for a lack of visibility, and  some press articles even go as far as saying the police collude with syndicates and crooks and no-one is ever arrested.
Jeppestown Police Station (The Heritage Portal)
Rats and hidden shacks
In Jeppestown, there does not seem to be a threshold beyond which no-one will pay to live in a building: even the most dismal 'room' has a tenant such is the shortage of low-cost accommodation in the area. Hundreds of single people live in back rooms and hidden shacks, and several families live in a small house or apartment that originally accommodated a single family.
There are many families living in this building which overlooks an illegal shack settlement and piles of rubbish, yet may still be a good place to live if you have a small income. (Sue Taylor)

Another significant trend in Jeppestown is the existence of shacks in the backyards of many properties, hidden by walls. These 'dwellings' are truly appalling yet do give people a foothold in the area.
Informal dwellings have been erected in the yard to the right of the formal house, but are hidden by a rather broken boundary wall (March 2021). The photograph has been edited to remove identifiable people from the image. (Sue Taylor)
The photograph below is one of Jeppestown's bigger 'hidden' shack settlements in Janie Street. There must be about 20 dwellings squeezed onto this  property which appears to have once been a motor repair yard judging by the faded text on the concrete wall. Some of the dwellings have shiny new corrugated iron roofs, so this 'invasion' is on-going. It is a definite eyesore and unhealthy locality and evidence that the municipality is not able to monitoring land invasions effectively.  An informal market takes place on this pavement on various weekdays.
Jeppestown shack settlement in a former 'Auto Garage' yard.  One is not sure where toilet and cooking facilities would be in the arrangement, or how they cope with the rats at night. (Sue Taylor)

I also checked the various property websites and there are many property investment bargains to be had in Jeppestown. Oddly, a number of properties are described as a '26 bedroom house' or similar. Scrolling through the online photographs provided by the estate agent, it becomes clear that these big old houses are sold as 'blocks of flats' with income-earning rooms to be rented out. They invariably also have many small 'outside rooms' built in the backyard with communal cooking and bathroom facilities. Some of these houses are close to Jeppe Boys High School and must provide affordable accommodation for many a learner.  The municipality should be checking on by-law violations, but for some reason, are not stopping this type of informal infilling.
Living in a solid old blocks of flats
On my travels in Jeppestown, I met two pensioners living in one of the solid three storey walk ups in Jeppestown and they invited me up to their small flat. This gave me an opportunity to chat to them about life in Jeppestown and also stand on their balcony with them and look at the view. They told me that many of the apartment buildings in the area had originally been set aside as rent-controlled buildings for old people by the Johannesburg municipality, but that the old people had been forced out. Young people and families now live in the apartments which are divided up into 'rooms'. Also, they said, the Covid-19 lockdown and the closure of the bottle stores thankfully made the streets very quiet at night, but before Covid-19 there were wild parties, drinking, shouting and fights in the streets. Decent folk stayed inside at night, while strangers and criminals roamed the streets, he said. At night, there are rats, multitudes of rats, running about the streets, another reason to stay at home at night.
Solid old blocks of flats in Jeppestown

So, who must look after a nation's built heritage?
Unlike the USA, South Africa's National Heritage Resources Act (Act 25 of 1999) does not require the owners of old buildings to look after them, nor does the state provide any resources for heritage stewardship. The SA Heritage Resources Act makes no specific statements to compel owners of old buildings to keep these buildings in a good condition. Also, just because a building is older than 60 years does not always mean that it is of architectural or social history value. Some old buildings will never make their way onto a heritage register. Without investment in their upkeep, old buildings may slowly fall into ruin as often the owners cannot afford the maintenance anyway. At some point, an old building may become so decrepit that the only way forward is to demolish it before it falls down by itself. It's often only when the owners of an old building actually want to demolish it, or even restore it, that the National Heritage Resources Act will come into play.
In the USA, there have been years of concern that the heritage of various cultures may become obliterated, and this resulted in the constant tightening and proliferation of heritage legislation (Phelan 1993). However, while the USA has almost draconian heritage laws, it is still rather slack about the enforcement of preservation of various buildings, sites, objects and artefacts. Those belonging to the indigenous peoples are particularly vulnerable to loss: cultural artefacts, sacred sites, burial sites and American Indian archaeological objects. Also remaining vulnerable are a range of minor, but no less significant heritage items like architectural building designs and drawings, artistic outputs including film, and even historic shipwrecks (as per the USA Abandoned Shipwreck Act of 1987). In the USA, there is even a 'National Stolen Properties Act' relating to art works and objects like Pre-Columbian archaeological treasures.
While USA law requires the owners of built heritage to protect it and pay for its care and maintenance, the state does not help a heritage property owner to conserve his building and owners must cover these costs themselves. In some cases the costs of building maintenance are onerous, especially as the building ages or is vandalised. Homeowners and landlords may simply lose interest in their buildings and abandon them.
A Municipal Property Maintenance Code with harsh penalties for neglect is not widely enforced in the USA. The consequences of this lack of enforcement can be seen in the 17 million abandoned homes across the USA (McIntyre 2019), almost all of which have fallen into ruin, creating the so-called blighted neighbourhoods. Once this 'blight' occurs, the city can no longer draw revenue from rates and taxes and the problem spirals out of control. In Detroit, the mass demolition of abandoned neighbourhoods has been carried out to redesign urban areas, create new urban greenways and regain suburban quality for the blighted areas.
Characteristics of blighted neighbourhoods
Urban blight is characterised by deteriorating neighbourhoods dotted with abandoned homes, derelict shops and run down other buildings, as well as vacant lots with trash, weeds and abandoned cars and blighted neighbourhoods are very common in the world's towns and cities. In the 'rust belt' cities in the USA, once prosperous centres for coal mining, steel production and other forms of heavy manufacturing industry in the early 20th century, have gone into decline and urban blight has become a major issue. Beginning in the 1940s, the industrial and economic heart of these cities (Detroit, Chicago, Cleveland, Buffalo, Pittsburgh, Baltimore and others) began to fail, and without jobs, people could no longer afford their homes and had to move away, following jobs in new locations. Many were unable to sell their homes and just left them to nature and vandals. When this abandonment happens to numerous homes and buildings in a neighbourhood, the character of the neighbourhood begins to change for the worse, the land become overgrown with weeds.Property values plummet while levels of crime and other anti-social behaviour rise. Abandoned buildings become occupied illegally and often burn down.
Abandoned house in Detroit, USA (via Flickr)

The difference in Johannesburg's decaying neighbourhoods is that buildings are not abandoned – there will always be someone living in them, such is the shortage of affordable accommodation and the lack of income of tenants.
Legal protection of  South Africa's built  heritage
South Africa's heritage resources ('national estate') are protected by international, national and regional legislation which provides regulations, policies and guidelines for the protection, management, promotion and utilization of South Africa's heritage resources. (NHRA, Act No 25 of 1999). To protect 'structures' and old buildings, no person may alter (demolish) any structure or part thereof which is older than 60 years without a permit issued by the relevant provincial heritage resources authority. A structure means any building, works, device or any other facility made by people and which is fixed to land and includes fixtures, fittings and equipment associated with such structures.
What is not covered by the National Heritage Resources Act (NHRA, Act No 25 of 1999) is the requirement that owners must maintain their old buildings. There is no legal obligation on the part of owners of heritage structures to secure their buildings from vandalism, and carry out reasonable conservation activities that consolidate and maintain the existing form, material and integrity of a cultural resource. The heritage of an area can literally disintegrate without action being taken by the owners, the heritage agencies of government or the municipality. The worst case is when a building has been hijacked and the owner can't gain access or collect his rent, and the building will rapidly deteriorate.
Hope for the future of Jeppestown
Most of the semi-detached houses in Jeppestown, which must surely be some of the oldest dwellings in Johannesburg, are in very bad condition. However, while they are not necessarily considered worthy of conservation and may never be listed on the heritage register for Johannesburg, they could still be restored to a liveable condition. Many have been secured (boarded up) by their owners to prevent vandalism and illegal occupation, perhaps indicating that the owner is still optimistic about his/her building.
A boarded up building in Jeppestown (Sue Taylor)

What is happening now in Johannesburg's inner city and older suburbs is dereliction and ruin on one hand, and on the other hand, there many exciting renovation projects where apartment blocks are refurbished to provide decent, affordable and secure accommodation in Jeppestown for those with work and reliable incomes. It does not take a huge investment to restore the many apartment buildings into liveable buildings. The newly refurbished buildings look wonderful and no doubt provide quality lower-cost apartments close to where people work. To build these blocks of flats again from scratch would be unaffordable now, and the quality would not be the same, so it makes sense to restore these buildings for modern apartment living.
A restored Art Deco style apartment building in Commissioner Street, Jeppestown, March 2021. Other similar apartment buildings can be seen in the background, many of which have also been restored. (Sue Taylor)
Sue Taylor holds a PhD in Plant Biotechnology from the University of KwaZulu-Natal, South Africa. Her current interests encompass cities and urban greening, material culture (trash), degraded peripheries and researching the disintegration (and rehabilitation) of landscapes and buildings. She is currently a Research Fellow at the Afromontane Research Unit, QwaQwa, University of Free State (South Africa).
Sources
Haferburg, C. and Huchzermeyer, M., (2017). Redlining or renewal? The space-based construction of decay and its contestation through local agency in Brixton, Johannesburg. In Kirkness, P. and TijéDra, A. (eds), Negative Neighbourhood Reputation and Place Attachment: The Production and Contestation of Territorial Stigma. Pp.60-80. Routledge, London.
Johannesburg Poverty and Livelihood Study (2008). University of Johannesburg. (click to view)
Stumpf J (2017). How to understand urban blight in America's neighbourhoods and work to eliminate it. (click to view)
Douglas McIntyre (2019). There are over 17 million vacant homes in America (click to view)
Disclaimer: Any views expressed by individuals and organisations are their own and do not in any way represent the views of The Heritage Portal.