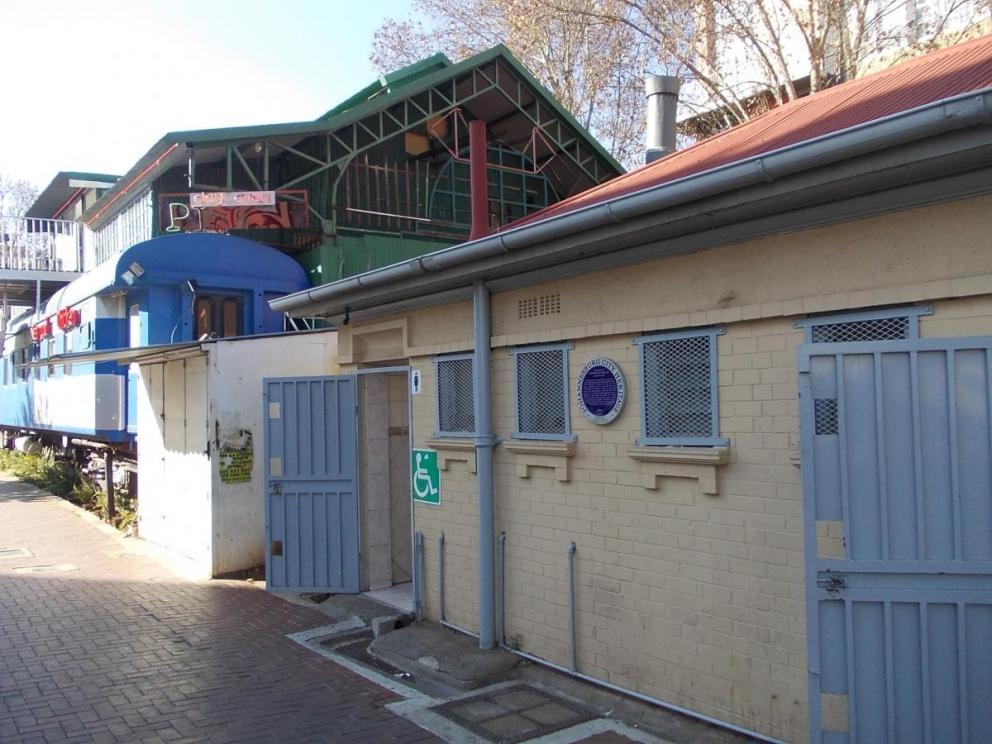 Tuesday, October 20, 2015 - 15:10
[Originally published 11 March 2013] On Saturday 9th March the Johannesburg Heritage Foundation had a walking tour around Fordsburg looking at heritage buildings and talking of the dramatic history. At 3.30 pm the group reached the historic Fordsburg Square where a plaque was unveiled recording the final battle of the 1922 Strike which took place in the Square. Dino Badroodin, proprietor of The Train on the Square, and Flo Bird of the JHF unveiled the plaque as shown in the photograph above.
Fordsburg is one of the three villages which grew rapidly together to form Johannesburg. It had its own railway station, police station and market square. There were a number of hotels with bars, and eating houses for the miners who lived there and walked across to work on Langlaagte Gold Mining Estate, Crown Reef Mine, Robinson Gold Mine.
Layers of history were uncovered on the tour involving the Boer women and children who suffered great poverty during and after the Anglo Boer War, the people of Indian, Chinese and Malay descent who moved in gradually as the miners left. Factories and warehouses began to squeeze the small cottages. Then many people were forcibly removed to Lenasia, schools were closed and Fietas was destroyed. The Oriental Plaza created space for shopkeepers, but another group of residents were displaced as that was built with generous parking all around. With everchanging demographics after 1994 more blocks of flats were built and Pakistani immigrants arrived, bringing new skills and new restaurants to Mint Road.
The famous urinal before the plaque was installed (The Heritage Portal)
Disclaimer: Any views expressed by individuals and organisations are their own and do not in any way represent the views of The Heritage Portal.