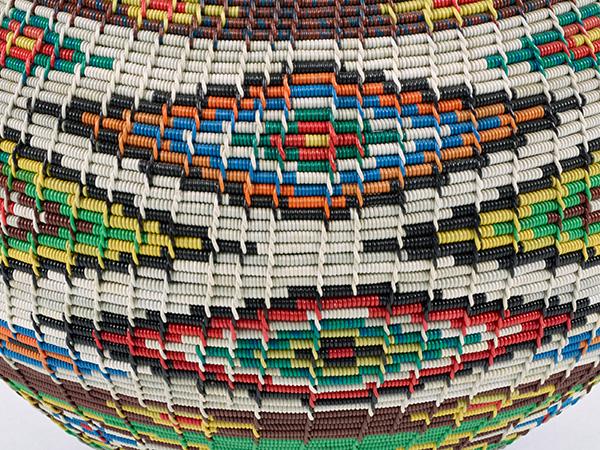 Saturday, April 13, 2019 - 14:23
It took the Africa Media Online digitisation team two months to digitise over 4,000 traditional Zulu artefacts at the Phansi Museum in Durban. The project, funded by the National Lottery Commission was awarded to the Phansi Museum for the digitisation of their collection and the building of a digital archive. The funding was awarded in 2015. We, however, were on site at the museum premises toward the end of 2016.
Scott Cronwright assisted by Sandile Mhongo, operating our Phase One XF camera tethered to a computer. The camera allows us to set the range of focus and the number of focus points within that range to capture. Phansi Museum, Durban.
Our digitisation team headed up by our photographer, Scott Cronwright, used our Phase One IQ3 100 megapixel digital back on two cameras, our Phase One XF camera for 3D objects and our Alpa FPS 12 camera for flat objects.
Sandile Mhlongo, who has just loaded a flat object onto the capture surface, waits for Scott Cronwright to capture a flat object while Timothy Zuma prepares the next object. The object being captured is a beaded waistcoat. It is illuminated evenly by our Broncolor lights. Phansi Museum, Durban.
The museum made a large room available to us and we commuted from Pietermaritzburg every day to capture objects. Many of the objects had significant depth to them and in order to capture that depth we ended up capturing most objects at multiple focus points and then focus stacking the various images of each object into a single fully-in-focus image.
Scott Cronwright looks on while Sandile Mhlongo loads a flat object to the capture surface and Timothy Zuma prepares the next object, Phansi Museum, Durban.
The Phansi Museum has been working on the capture of metadata against the items that have been loaded to a MEMAT 3 digital repository system. We are hoping that this system will be upgraded to a MEMAT 4 system soon to allow researchers from around the World to deep zoom into the images that are between 150 and 300 MB in size.
Object from the Phansi Museum captured by Africa Media Online. Item: Unlidded telephone wire basket, Provenance: Inanda
Detail of an object digitally captured by Africa Media Online showing the depth of focus along the side of the object achieved by focus stacking.
Main image: Detail of an object zoomed in in Photoshop to show the detail captured by the Africa Media Online digitisation team.
This article originally appeared on the Africa Media Online website on 25 February 2019.
Disclaimer: Any views expressed by individuals and organisations are their own and do not in any way represent the views of The Heritage Portal.