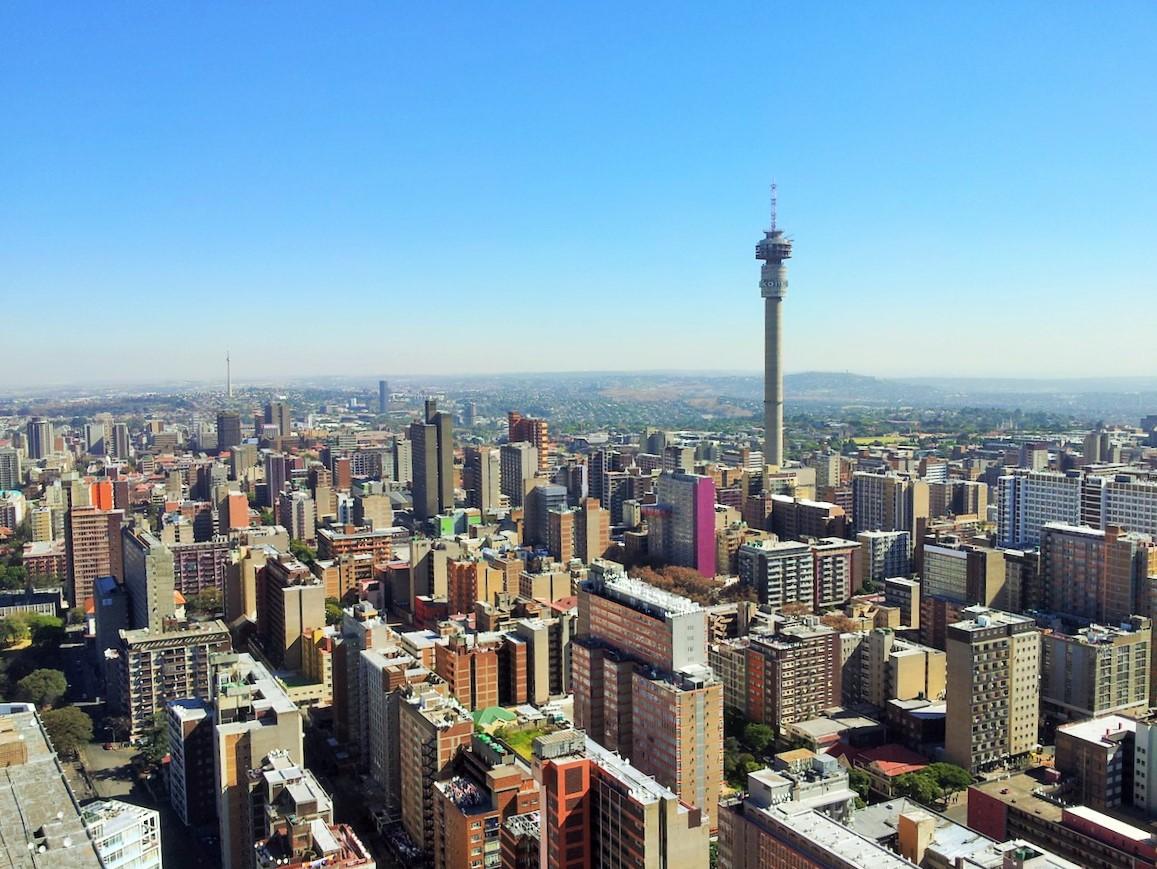 Friday, November 3, 2017 - 06:41
We are honoured to post this wonderful article on the Hillbrow Tower written by journalist and passionate Joburger, Lucille Davie. It was originally published in the Saturday Star on the 4 January 2014. Click here to view more of Davie's writing. The Johannesburg Development Agency continues its work in the area and we're sure all South Africans can't wait until the Tower finally reopens.
Hillbrow Tower from the Yeoville Ridge (The Heritage Portal)
This is not something that I should be saying in public: I have an intimate relationship with the Hillbrow Tower. It teases me and I love it.
Sometimes it hides from me, especially on these misty summer mornings, when it disappears completely from the familiar ridge out my large east-facing windows. In the evenings its bright ring of blue light glows at me. You see, when I lie in bed at night I look straight out at it, and it looks spectacular. I can't imagine not having this view.
I use it as my barometer of what the weather is going to do. If it's misty right down to its base, it often means it will be a sunny day. Some days I don't catch sight of it before I go to work, and I know it will probably rain. Other days it's tall and strong against a blue horizon, reaching into the sky like a soaring upside down sword.
Hillbrow Tower from the West (The Heritage Portal)
I recently went to the top of the Eiffel Tower in Paris - built in 1889 for the World's Fair - and was blown away by its beauty, and the views from the top. It defines Paris, just as the Hillbrow or Telkom Tower defines Joburg, since it was completed in 1971. Any profile of Joburg's skyline has to include the tower.
You can see it coming in from the airport; you can see it miles away, halfway to Pretoria; you can see it driving in from Soweto. Which means there would be an awesome view from its apex. But Joburgers and visitors have been denied that view since 1981, when it was closed to the public, for security reasons. But now, more than 30 years later, we're a different country, and security shouldn't be a concern.
Hillbrow Tower (The Heritage Portal)
From the base of the Tower (The Heritage Portal)
I never went up it in the old days – but I hear the view was stunning. Lesley Perkes*, Joburg artist and CEO of artatwork, says of the view: "At almost 300 metres above Joburg, turning a slow circle while eating at Heinrich's was an experience in apartheid kultuur at its finest. Three-year-old me, with a father with a penchant for great food and wine, does not really remember more than looking through the telescope across to the flames of Iscor in the night sky, and yelling with excitement, and being told, constantly, to keep quiet and sit down."
It's not as tall as the Eiffel Tower, which is 324 metres, compared to our tower's 270 metres, or 90 storeys. Our tower might not be as beautiful as the iron-latticed Eiffel, but it has its own power and presence.
Its construction was an amazing feat. It took three years to build. The first 178m went up at 18cm per hour, with the ground level walls being 84cm thick, compared to the 38cm walls at the top of the tower. To ensure it went up perfectly vertically, a laser beam was used during construction.
A resident of Hillbrow at the time, Herbie Opland, said that he watched it being built, day and night, "until it stole the sky". Another resident, Heather Dharsey, said: "We didn't understand the enormity of the tower, we thought it was just going to be another building – the Highpoint building was being built at the same time – so we were used to building activity, but this was unbelievable. We watched this thing grow between the buildings." She called it "a concrete mushroom".
A massive change in scale (The Heritage Portal)
It has to remain the tallest structure in the city, because it uses microwaves, which travel in straight, uninterrupted lines, and provide excellent clarity of reception. Microwave was the latest technology in the 1960s, and Telkom was keen to use it, and avoid further expensive laying of underground cables.
But the tower was much more than just a transmitter. At 131m were six storeys open to the public, back then, with two restaurants. Heinrich's Restaurant revolved gently at between one and three revolutions per hour in an anti-clockwise direction. Even when full, the restaurant's movement was "so smooth and well-balanced", according to a promotional brochure from the time.
It seated just over 100 people in "luxurious comfort". It offered diners a 360-degree view of the city, as well as "superb service with at least one waiter to every 10 visitors – a very high proportion by even the most specialised standards".
The other restaurant was the Grill Room, with an open grill and "superb cuisine". Each restaurant had its own bar and lounge.
If your pockets were deep enough you could visit the VIP room, a "spectacular room decorated in the Louis XVI style", available for parties, seminars and meetings of up to 50 seated, or 100 standing, or as an "exclusive, intimate table d'hote restaurant".
The restaurant and lounges were decorated with "magnificent Ernst Ullmann applique wall tapestries depicting South African bird life, the history of communications and scenes of early Johannesburg". Of course all of that is gone, into the bowels of Telkom's offices somewhere. Now those luxurious floors are used as offices.
Diners would sway gently by up to 41cm on a windy day. Another structure of this height would have swayed several metres, but because the tower had foundations down 42m, the sway was far more controlled. It was essential - too much sway would put the tower out of alignment with other transmitters.
The observation deck of the tower could accommodate 200 people, who could enjoy the view through wind and storm-resistant windows. Visitors could take one of two lifts, flying up to the top at 6m per second.  
Perkes suggested back in the 1990s that the column be used as a canvas for artists to bring the tower alive, where their imagination could run wild. I thought it was a great idea, but it never went anywhere.
Then in late 2009 the tower took on another identity. A huge blue and white soccer ball was raised 96m up the tower, to welcome world cup visitors to Joburg. It was made of a steel frame and was covered with 150 pieces of fibreglass skin.
Two years later the tower changed its personality again. The blue and white ball morphed into a shocking pink ball, Telkom's advertising drive to promote its new cellular service, 8-ta. But I'm glad to say that the bright ball has gone, and the tower can just be itself again.
Soccer ball goes pink (The Heritage Portal)
But I hear whisperings that there are plans afoot to give Hillbrow a revamp and more, and that includes our special tower. I would love to zip up its 270 metres, and take in the breath-taking view. Or eat a meal in the revolving restaurant.
I drove past it the other day. It rises up wonderfully from the earth, solid and straight as ever. The walls of the post office surrounding it at ground level are plastered with old posters, making for an ugly entrance. I prefer the view from my house.
The Hillbrow Post Office (The Heritage Portal)
The Eiffel Tower was meant to stand for only 20 years but it became permanent - 125 years later Parisians still own their tower. Our tower was built to last, and it has. We only owned our tower for 10 years – it's time to get it back.
* Lesley Perkes tragically passed away in 2015. A massive loss for the art and heritage communities in South Africa.
Hillbrow Tower from Ponte (The Heritage Portal)
Lucille Davie has for many years written about Jozi people and places, as well as the city's history and heritage. Take a look at lucilledavie.co.za
Disclaimer: Any views expressed by individuals and organisations are their own and do not in any way represent the views of The Heritage Portal.