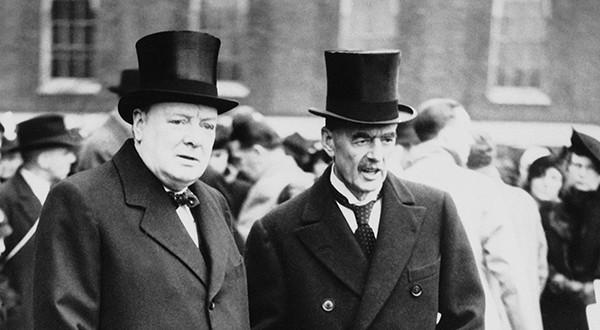 Disclaimer: Any views expressed by individuals and organisations are their own and do not in any way represent the views of The Heritage Portal. If you find any mistakes or historical inaccuracies, please contact the editor.
Friday, April 14, 2023 - 18:02
The mere mention of Winston Churchill's name conjures up in one's mind a man with an indomitable spirit, a British Bulldog, the man who steeled the resolve of freedom loving people (around the globe) to fight against the odds and be victorious over Hitler's Axis of Evil. When he was called upon to lead Great Britain in its 'Darkest Hour' and be its Prime Minister and War Leader, he accepted the challenge as a fulfilment of his destiny, at an age of 65 years when most men would have been happy to retire.
Portrait of Churchill circa 1941 (Wikipedia)
 
That Darkest Hour was during the Second World War (1939-1945), on the 7th May 1940 when the British Parliament no longer had any confidence in Neville Chamberlain as Prime Minister and he was told, by Leo Amery, "Depart I say and let us have done with you. In the name of God go". Amery was paraphrasing Oliver Cromwell, as would David Davis in 2022, when telling Boris Johnson to resign. Johnson had (still has) delusions of being another Churchill, but many argue he is just a pale imitation.
The Second World War began when the Germans invaded Poland on the 1st September 1939. Britain and France had given Poland assurances should it be attacked and they duly declared war on Germany on the 3rd September. However, after Poland was defeated (by both Germany and Russia) there was, during the winter of 1939/40, a period of "wait and see", known as the "Phoney War" (or Sitskrieg). Instead of taking up the initiative and attacking the Germans from the west, the French army and the British Expeditionary Force only took up defensive positions along France's eastern border. In hindsight it was the wrong decision as the Germans were waging a new kind of war, as was clearly seen by the speedy capitulation of the Poles. This new warfare, that would become known as "Blitzkrieg" (lightning war), was carried out by the "Luftwaffe" (Air Force) and the "Wehrmacht" (Army) acting in unison to speedily overwhelm the enemy, this brought about the Dunkirk evacuation and the eventual Fall of France by mid-June 1940; thereafter France would suffer the ignominy of four years of German occupation.
On the 10th May 1940, the very day that the Germans began their offensive to the west, through neutral Belgium and Holland, Winston Churchill was asked to form a government by King George VI and with the backing of the opposition Labour Party (led by Clem Attlee) he gathered an all-party coalition that quickly won over the support of the British people. In his first speech, on 13th May, before the Commons he declared: 'I have nothing to offer but blood, toil, tears and sweat... You ask: what is our aim? I can answer in one word – Victory.'. He was not going to bow to Hitler's demands and for the next five years, until Victory came (in Europe), on 8th May 1945, his speeches (on radio and in the House of Commons) would rally opposition against the Nazis and it was said (later by Ed Murrow in 1954) that 'He mobilised the English language and sent it into battle to steady his fellow countrymen and Europeans upon whom the long dark night of tyranny had descended'.
It would be fair to say that Winston S. Churchill experienced the War years twice over, once as a fighter and then as a writer, for he would write his wartime memoirs, entitled "The Second World War" in six volumes:
"The Gathering Storm" - the years 1919 to 1940 (written 1946-1948).
"Their Finest Hour" - 1940 (written 1946-1949).
"The Grand Alliance" - 1941 to 1942 (written 1948-1950).
"The Hinge of Fate" - 1942 to 1943 (written 1948-1951).
"Closing the Ring" - 1943 to 1944 (written 1949-1952).
"Triumph and Tragedy" - the years 1944 to 1945 (written 1950-1954).
Full collection of Churchill's wartime memoirs (Manhattan Rare Books)
The publication (by Cassell & Co.) of Churchill's war memoirs was made over a period of six years (1948-1954). They contained nearly two million words and the question that has been asked many times is: would he have indeed written them had he won the July 1945 General Election? Well he did not win, instead Clem Attlee and the Labour Party won by a "Landslide" with the slogan "Cheer Churchill, Vote Labour", which gave W.S.C. and his research assistants the time to complete his "Magnum Opus".
The Conservative Party's defeat was a great surprise to all and a personal humiliation for its leader, but Churchill realised it was democracy at work and that he, in no small way, had helped to keep democracy alive against the threat of totalitarianism.
Churchill would say about his wartime deputy: "Mr. Attlee is a modest man, with much to be modest about" but Clem had the last (poetic) laugh with a limerick of his own composition:
There were few who thought him a starter,
Many who thought themselves smarter,
But he ended PM,
CH and OM,
An Earl and a Knight of the Garter"
Clement Attlee (1883-1967) was the able leader of the Labour Party for 20 years, from 1935 to 1955 and deserves to be remembered for his great service to Britain during testing times.
Portrait of Clement Attlee by George Harcourt (Wikipedia)
Churchill's war memoirs were best sellers and attracted the interest of the ABC television Network, who would produce a TV documentary series of 26, 30 minute long episodes entitled "The Valiant Years". The narration was by Gary Merrill, with Churchill's words voiced by Richard Burton. It was first screened in 1960 by ABC to an American audience and in 1961 by the BBC for British viewers. For the time being "The Valiant Years" can be viewed on YouTube and the episodes are still well worth watching, if only for the magnificent theme music composed by Richard Rogers.
Churchill wrote the history of the Second World War as he saw it, with certain restrictions placed on him by government censorship. One instance of censorship was that no mention of "ULTRA" (the breaking of the Enigma Code) was made in his war memoirs, as it remained "Top Secret" for many years. Revisionists have taken issue with Churchill's account of the War, but his assertions were the first to be put into print and they have taken root.
Churchill died on the 24th January 1965 at the age of 90 and he was given a State Funeral at St Paul's Cathedral, on the 30th January, thereafter his coffin was taken by motor launch (MV Havengore), along the River Thames from Tower Pier to Festival Pier and thence on to Waterloo station (where a Funeral train awaited). It was as per his wishes (written down in his funeral arrangements, Operation Hope Not) as he knew General Charles De Gaulle would be in attendance!
Churchill's Grave, Bladon (The Heritage Potal)
He outlived the other Warlords of World War II, as Roosevelt, Mussolini and Hitler would die in 1945 before the War's end and Stalin would succumb in 1953.
Roosevelt and Churchill during the Atlantic Conference (Wikipedia)

Was he the greatest Briton? Well, a 2002 BBC TV programme: "Great Britons – the great debate" asked the viewers to cast their vote and it was announced that Winston Churchill (1874-1965) was the outright winner.
His life could have been dramatically cut short, at the age of 57, as whilst on a visit to New York he looked to the right when crossing Fifth Avenue (as one would do in the UK) instead of to the left and was knocked down by an automobile (on December 13, 1931). He had to spend a week in hospital at a time of "Prohibition" (1920-1933), but no doubt he was given some whisky for medicinal purposes only! Luckily for us he survived the accident, as without him around in 1940 it was likely that Britain would have caved in to the Nazis.
Many argue that there is a parallel between Ukraine today and the UK in 1940, as President Vlolodymyr Zelensky is standing up against the aggression of Vladamir Putin, just as Winston Churchill stood against Adolf Hitler.
"Words are the only things that last forever" Winston Churchill, 1938.
References and Further Reading
"Winston Churchill, the Wilderness Years" by Martin Gilbert, published by Book Club Associates/ Macmillan, 1981 (in association with the ITV series).
"Churchill – A Photographic Portrait" by Martin Gilbert, published by Penguin, 1974.
"Winston Churchill, Man of Destiny" by H. Stafford Northcote, published by Newnes.
"In Command of History" by David Reynolds, published by Penguin Books, 2005.
"Hitler and Churchill – Secrets of Leadership" by Andrew Roberts, published by Weidenfeld & Nicolson, 2003.
"Great Britons – the Great Debate, published by National Portrait Gallery, 2002.
"Battle for History - Re-fighting World War II" by John Keegan, published by Hutchinson, 1995.