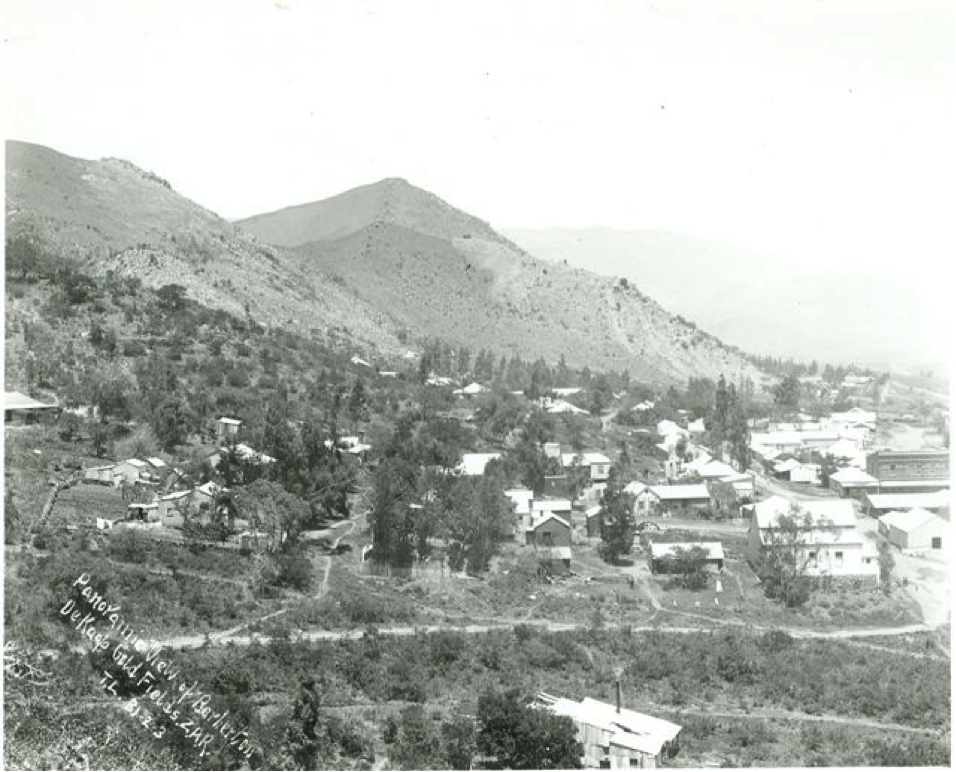 Friday, October 16, 2015 - 09:16
A massive scandal is brewing in Barberton as the town's famous historic core comes under threat. Below is an article written by Chris Rippon and Marjory Nunns and disseminated by the Mpumalanga Historical Interest Group. Click here for updates.
The Rimer's Creek Park debacle continues. Government approves a heavy truck parking lot and pipe storage yard on the irreplaceable historical site of the Central Mill in Rimer's Creek in the midst of heritage homes, four provincial heritage sites and residential properties.
In May 2007 a beautiful Memorial tree park, zoned public open space and situated in Rimer's Creek - the historical 'heart' of Barberton - was illegally bulldozed. The indigenous trees in this park were planted by Rotary in memory of people who had played a part in the growth and development of the town.
This happened without any procedures for alienating public open space, any EIA, HIA or rezoning approval. This area is also protected in terms of the Municipality's own Spatial Development Framework. It subsequently came to light that a conditional Deed of Sale Agreement had been entered into in April 2007 between Umjindi Municipality and IRRICON (trading as Leadal Property Investments (Pty) Ltd.) – a local irrigation company wanting to expand their industrial activities in the Commercial area into historical Rimer's Creek situated behind their building. It was also subsequently established that this irreplaceable heritage site was required for the parking of Irricon's abnormal load trucks, heavy machinery and irrigation pipes. Although only 2641 square metres in size, as the proposed development would obviously impact on the entire area of this well-loved tourism and conservation node, it turned out to be the most controversial land deal in Barberton's history.
This irreplacable historical site - considered 'sacrosanct' - is where Barberton was 'born'. Gold was discovered by the Barber brothers in this area in 1884, leading to a gold rush. The first stamp battery to operate in Barberton, the Central Mill, was established by J.C. Rimer and the Barbers on this site. Historic Sheba Mine's first 50 tons of ore was milled at the Central Mill. Cockney Liz no doubt picnicked at Rimer's Creek, the place where David Wilson, the Mining Commissioner, also broke a bottle of gin on a rock on the occasion of the town being named "Barberton" in July 1884.
This site is also adjacent to the Barberton Museum and Jewellery School, abuts the only remaining Boer War Blockhouse (Provincial Heritage Site), is situated directly opposite Bellhaven (a Provincial Heritage Site and fine old Victorian Heritage Home), is situated directly opposite the old Union Church (Provincial Heritage Site, now a private residence) and borders on part of the Heritage Walk, one of Barberton's tourist attractions! A fourth Provincial Heritage Site, Fernlea House is situated further up the Creek, about 300m from the proposed building site.
A leading Heritage Specialist, Dr Udo Kusel, subsequently confirmed the historical value of the site in his Heritage Impact Assessment and recommended that the development be rejected and the area be rehabilitated. The Mpumalanga Heritage Resources Authority (MHRA) supported these findings in their RoD dated 15 February 2011.
Despite a petition signed by 500 objectors to the proposed rezoning of this portion of Rimer's Creek from "Public Open Space" to "Light Industrial" – misrepresentation as neither the existing business nor the proposed development can be classed as 'light' industry - it was approved in principle by Umjindi Municipality subject to an Environmental Impact Assessment (EIA) and related issues. Objectors included the Umjindi Environmental Committee, the Barberton / Umjindi Ratepayers Association and the Sheba Historical Society.
The following are two of the ridiculous reasons provided by the Municipality justifying their decison:
1. "By approving this application the character of the neighborhood will not change."
2. "……… this piece of mainly unusable land can hardly be regarded as important or significant for Barberton's heritage if compared to the probable public benefit."
Irrigation pipes, heavy machinery and heavy, abnormal load trucks, situated directly below Heritage Walk, historical Belhaven and residential homes, obviously do not belong in the historical heart of Barberton that has been kept free of development for more than 100 years by successive Municipalities. The land uses are totally incompatible and despite this unique area being protected by the Spatial Development Framework (SDF) the required procedures for changing it were never followed. By no stretch of the imagination can the neighbourhood be regarded as suitable for this industrial activity that will also also have a huge impact on a largely residential area next to Rimer's Creek Park, especially those properties in close proximity.
This piece of land is very much a significant part of Barberton's Heritage
However, despite all of this the Record of Decision (ROD) was recently approved by MDEDET (Mpumalanga Department of Economic Development, Environment and Tourism) and Barbertonians are still in shock! Reasons for granting this were: job creation, the site is disturbed (it was illegally bulldozed!) and is not pristine vegetation, and it will strengthen agricultural production in the area.
Ironically, MDEDET made no reference to the damning Heritage Report, conducted by Dr Kusel, recommending that that the proposed development be rejected and the area rehabilitated on grounds that it formed part of a valuable heritage area. Dr Kusel's recommendations were also supported by the Mpumulanga Heritage Resource Agency. By sweeping these recommendations under the carpet, it would appear that government officials are acting as totally unqualified heritage experts, a most dangerous situation.
Irricon has never advanced valid reasons why it cannot establish the same facility in Barberton's Industrial Area where it belongs. Neither has it advanced any valid reasons why it should extend into a historic park that is zoned as public open space, other than that it is established there and that it is convenient. We are not anti-development. Just do it in the right place!
In the fight to protect Rimer's Creek we have had to deal with consistent misinformation from the developers and consultants who have on numerous occasions erroneously insisted that rezoning had taken place, threats of legal action against those campaigning against the development, footdragging from government departments (the process has taken more than 6 years!), and rubbishing of the area's social and heritage value. Well documented facts like the existence of the Memorial Tree Park were also denied and we were basically forced to prove the very existence of what we were fighting for.
The entire process has left us with a deep mistrust for the fairness and impartiality of the Mpumalanga guardians of our environment. The Umjindi Municipality must also shoulder some of the blame due to lack of procedures. Those required to change the Spatial Development Framework would have certainly alerted stakeholders at an early stage and possibly saved Barberton from facing and having to defend the potential loss of this historical and irreplaceable site of the Central Mill.
But the fight is far from over, and an appeal will be lodged on behalf of all objectors.
Disclaimer: Any views expressed by individuals and organisations are their own and do not in any way represent the views of The Heritage Portal.