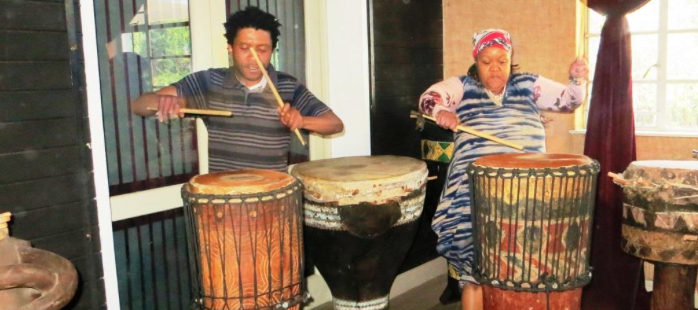 Monday, July 2, 2018 - 11:35
The Drum Café has established itself as the foremost entertainment destination in drumming. For more than a decade the Drum Café has successfully offered corporate team building drumming events and performances. Its shows have gone round South Africa and been taken abroad. Drumming has become something of a South African export.
Hardwood and cowhide - Handcrafted  traditional drums on display in the museum (Kathy Munro)

CEO and creator of the Drum Café, Warren Lieberman, continues to do all this and is now adding a new dimension - a museum combined with live performances. It's something new on the Johannesburg scene and will be opening in July 2018. Here is your chance to see and experience drums for Africa but that is just the start.
The museum of African indigenous musical instruments is located at 157 Jan Smuts Avenue (close to the Kim Sacks Gallery) Parkwood, Johannesburg and a few steps away from the traffic lights at the Chester / Jan Smuts intersection). This is a museum that celebrates traditional African music. The Drum Café and Museum offers the visitor the chance to study the collection of African instruments and enjoy a musical experience in drumming. It is interactive, engaged, experimental and fun. The museum combines a demonstration of each instrument and its unique sound, plus a drumming  session together with the  opportunity to participate and become a drummer. Plan on at least an hour long visit to engage all your senses as you move your feet, beat a drum, listen to traditional music and absorb the texture of all the handmade instruments. As you feel those vibrations and hear the sound there is a call to move your body with the beat of the drum and dance.   You can grab a traditional drum and make your own rhythm. You feel inspired by the sounds of  ancient Africa in the heart of the city. Visitors see, hear and experience an enormous range of music from all over the African continent.
Mpho demonstrating a traditional instrument (Kathy Munro)
Lieberman and his musicians have studied the instruments and sounds of Africa. They want to spread their passion. The collection has been built up over two decades from diverse African cultures. Music comes from drums, bows, clappers and sticks. Rhythm and dance is all. Lieberman enthuses: "Music here captures African history and it's our goal to bring a new awareness and an added dimension of Southern Africa as the cradle of civilization. It all started with the drum. Africa gave the drum to the world". He sees Professor Percival Kirby and Hugh Tracey as his inspiration. These scholars  were among the earliest  students of African culture to document, record and write about African music and its instruments. Lieberman in preserving these instruments and celebrating African music takes that 20th century legacy into the 21st century.
In 2005 Lieberman and the Drum Café sponsored and published  "The Drumcafe's Traditional Music of South Africa Paperback" written by Laurie Levine. This excellent book on the instruments and music of South Africa is now out of print and highly collectable. The museum now shows many of the instruments documented in Laurie's book and here is the opportunity for a demonstration.
Ronnie demonstrating how the mouth can become a resonating chamber and sounds can be changed (Kathy Munro)
It is a living heritage and a wow moment as you enter what was once an old Parkwood house with its pressed ceilings, cottage pane windows and glass panelled doors. Step into old spaces arranged in new ways with large glass cabinets, startling lights and performance spaces.
Lieberman has created drumming shows around the world. His musicians have performed in Beijing, Tokyo, Sydney and New York. But South Africa is home. He has now made his family home in Cape Town but his collection of African musical instruments remains in Johannesburg. It  was a close call about location but the decision was taken that the new museum should open in Johannesburg and not Cape Town. "Johannesburg is a city of vivacity and vibrancy… the corporates are here but the tourists also need to stop to pause to absorb all we have on offer." Lieberman explained that he and his team want to share the music, the instruments, the sounds and the amplification. It's all about showing that blend of traditional life, traditional culture and music that is fast disappearing.
Mpho is a multitalented musician on a drum (Kathy Munro)
The museum for the first time shows Lieberman's remarkable collection of indigenous African instruments. His collection of drums from all over the African continent is probably the largest in South Africa. His drums include frame drums, ken-keni and djembe and talking drums. African music has been a lifetime passion. It's an ethnographic, anthropological and African art collection of note. In addition to drums Lieberman has collected a huge variety of  many different types of reed, string and percussion instruments. I saw and heard the sound of the Uhadi, the Umhrubhe, the Marimba Mbira and the Kalimba.
A West African mask on display in the museum section (Kathy Munro)
Music comes alive in the museum as this is not simply a place to show off a collection but to study each instrument, see how it was made, where it originated and most important of all hear its sound and listen to music being made. The guides to the museum are Mpho and Ronnie who demonstrate and make music as they bring each exhibit to full sound. They are  versatile and talented musicians with perfect beat and perfect pitch.
Lieberman explains "it is all about resonance and making all sorts of resonance chambers in wood, in the hollows of reeds ". Milk pots can become drums; shields are a hard surface that can be beaten and can produce a sound likely to frighten your enemy in battle or cheer on the victor in dance and movement. 
Stacked Drums (Kathy Munro)
Lieberman's objective is also to show how the drum evolved from its African beginnings. "It's a few short moves across countries and centuries to arrive at the modern kit drums imported from Korea. I want to show the history of the drum from ancient to modern and engage people to see links across and between cultures." I chuckled quietly as I thought about the possibility of Donald Trump engaging Kim Jong-un and really cutting through the international bombast and terrifying brinkmanship over nuclear weapons.
The Museum storeroom of drums ready for a corporate workshop (Kathy Munro)
Lieberman also led me into his warehouse at the rear of the museum where hundreds of authentic drums are stored to be drawn upon for the corporate events. He also has a large private library on African music and is ready to welcome scholars by appointment. A visit to the museum can then lead into corporate events and team building.
The museum is a celebration of life and of African history of crossing social boundaries and deepening our knowledge of other cultures and societies. This is a museum to our shared humanity and the fact that dance, music, rhythm and the sound of a drumbeat is common to all of us. It took about five minutes for my spirit to rise to wanting to live the music.
This is a private museum and receives no state sponsorship but the efforts of people with a passion for music and drumming has created a national heritage treasure to be shared by all.
The museum opens by appointment to groups and offers tours between 4 and 5pm on weekdays. Contact Mandy on +27 (0) 11 493 0809 to pre book. The entrance fee is R150. The best parking is at the parking lot corner of Wells and Jan Smuts Avenues (opposite Woolworths). Park and cross Jan Smuts Ave at the traffic light where Wells meets Jan Smuts. Click here to visit drumcafe.com and here to visit drumstruck.com.
Kathy Munro is an Honorary Associate Professor in the School of Architecture and Planning at the University of the Witwatersrand. She enjoyed a long career as an academic and in management at Wits University. She trained as an economic historian. She is an enthusiastic book person and has built her own somewhat eclectic book collection over 40 years. Her interests cover Africana, Johannesburg history, history, art history, travel, business and banking histories. She researches and writes on historical architecture and heritage matters. She is a member of the Board of the Johannesburg Heritage Foundation and is a docent at the Wits Arts Museum. She is currently working on a couple of projects on Johannesburg architects and is researching South African architects, war cemeteries and memorials. Kathy is a member of the online book community the Library thing and recommends this cataloging website and worldwide network as a book lover's haven.
Disclaimer: Any views expressed by individuals and organisations are their own and do not in any way represent the views of The Heritage Portal.