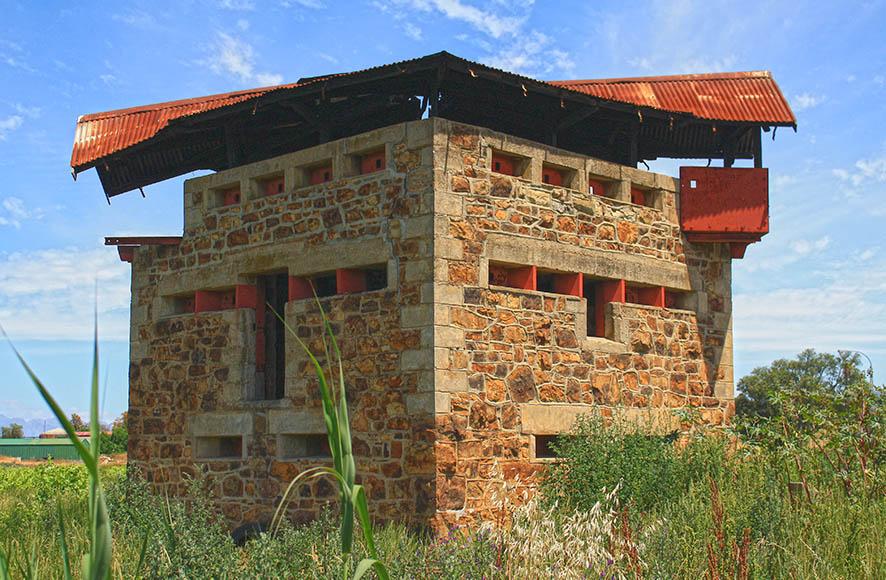 Tuesday, November 7, 2017 - 07:33
Standing beside a provincial road, the R44 just outside Wellington in the Western Cape, is a blockhouse, a remnant of the Anglo-Boer War, one of those erected on the instigation of Lord Milner. There are a number in the area which followed and provided security on the vital link for the British, the rail line between the Cape and the north.
The Wellington blockhouse is the southernmost in the chain. It was constructed of stone with three tiers of loopholes under concrete lintels, with an open, corrugated iron roof.
Wellington Blockhouse (Chris Murphy)
Blockhouse bridge over the Krom River (Chris Murphy)
Below are photographs of two other blockhouses along the rail line between Wellington and Gouda.
Eike Blockhouse (Chris Murphy)
Tomi Blockhouse (Chris Murphy)
Passing this week I stopped to have a look and was shocked at the appearance of the Wellington Blockhouse. Metal sections lying on the ground led me to peer inside, to be greeted with evidence of a fire; charred beams and a partially collapsed roof. By the refuse about it seems that it had been occupied at some stage and one would assume a lit fire went out of control. There is no security, as in a fence for example, around the building at all.
Metal sections lying on the ground (Chris Murphy)
Charred beams and a partially collapsed roof (Chris Murphy)
The structure was declared a National Monument in 1937. Today, it is a Provincial Heritage Site. In 2016, the blockhouse, along with others in the Western Cape, was added to South Africa's endangered heritage sites list. Below is a short excerpt from the nomination form (click here for full details):
Many of these structures have fallen into disrepair or disappeared over the subsequent years but some are still standing and are in need of repair, especially those in Tulbagh and Wellington. They have sadly already been stripped of many of the original wooden and steel building components and have no organisation/private person tending to them or preventing further vandalism of the sites.
It is desperately sad to see any old structure in a state of decay, but when a Provincial Heritage Site is so desecrated one must question how they should be protected.
Blockhouse detail (Chris Murphy)
Chris Murphy is a graphic designer and photographer working mostly in the tourism sector. He trained in layout at the Cape Times, and subsequently evolved into a graphic designer. Photography has been a creative outlet for him since his teens and he has attended courses at the Ruth Prowse School of Art and West Ealing College in London. The landscape and architectural heritage are his chosen subjects. 
Chris was a member and subsequent chair of the Swartland Heritage Foundation. He has also completed the Urban and Architectural Conservation course at UCT. At present he is the chair of the West Coast Museum Forum.
Disclaimer: Any views expressed by individuals and organisations are their own and do not in any way represent the views of The Heritage Portal.