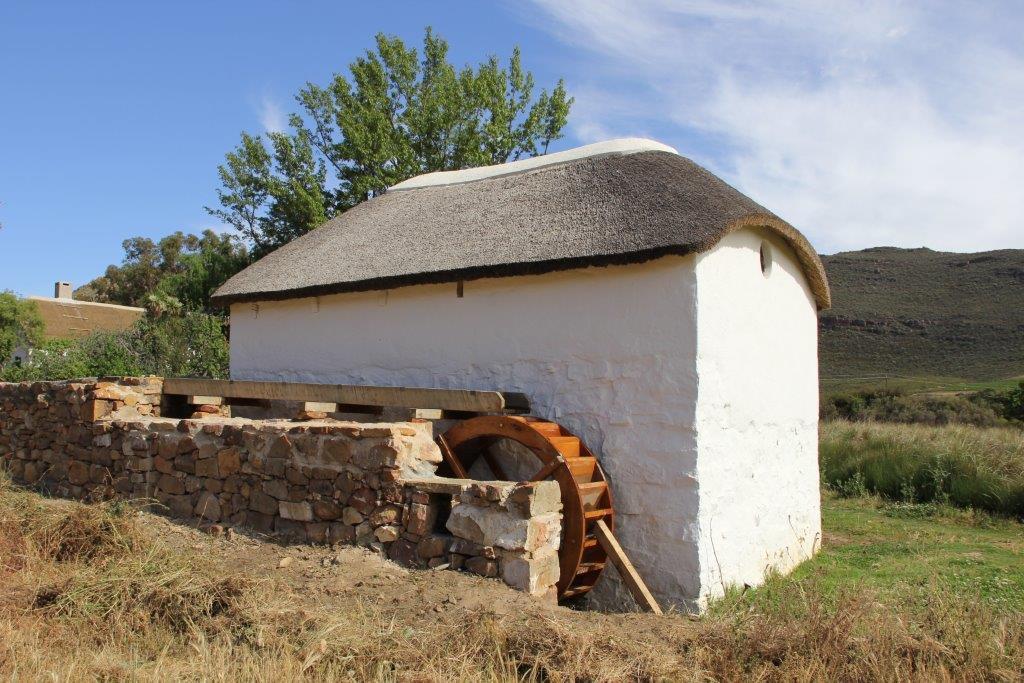 Monday, April 4, 2016 - 08:14
[Originally published in 2014] The mill on Kromrivier farm in the Cederberg conservancy milled wheat for the first time in living memory on Saturday 4 November 2014, witnessed by associates of the Heritage Association of South Africa (HASA) from Drakenstein and Swellendam.
HASA members watch on (Mike Copeland)
This mill is on the Nieuwoudt's family farm 'Kromriver' which is currently under restoration and will feature in the attractions this area has to offer. The owner of Kromriver, Pip Nieuwoudt, the 7th generation Nieuwoudt on the farm, remembers the water furrow being opened and closed to facilitate electricity which the mill generated in addition to its milling function.
There were a number of operating mills in the area viz Matjiesvlei, Grootrivier (Mount Cedar), Nuwerust and Dwarsrivier (Cedarberg Wine Cellar) all in close proximity to each other. It is a characteristic of these mills that they were (before there was electricity) combined with other functions where water was utilised to generate power, to run sawmills, to power a black smith shop or just to generate alternating current for lighting as at Kromriver.
It is possible that the dual function of these mills is what preserved them into the early 20th century – they were all however allowed to fall into disrepair by mid-century. What is intriguing are the builders. These mills are almost identical in manufacture and the principle upon which they worked. There are names and dates etched into the grain feeder boxes. They  are all constructed of Clanwilliam Cedar. This timber is for all intents and purposes extinct. All the telephone poles in Piquetberg to Calvinia were once of Cederwood and it is this exploitation plus the ravages of fires and the changed weather  conditions that has driven this timber to virtual extinction.
There are remains of a mill at Matjiesrivier (a Cape Nature Reserve). This mill, the building and the water supply, has been allowed to become a ruin in the past few years due to lack of planning and duty of care. The parts and the Cederwood have been plundered. This is a particularly interesting mill as the water used to enter through the mill building. There are also traces of a smithy in the same building. Water from the mills was used to irrigate an area for cultivation, this has become a wasteland. The  houses in the complex (now an office of Cape Nature) were originally a farm of the missionary / carpenter Wagener (who is buried nearby in a family cemetery). They are a cause for great concern to heritage conservationists. The doors have been brutalised by security locks, the internal doors have been removed from their frames (or are not present at all), and the outside doors are crudely fitted etc. There are also structural concerns where walls have been removed all of which gives rise to serious concern. This is a complex of special significance and deserves a full investigation by Heritage Western Cape to ensure that it is not further degraded and if possible restored.
There is another mill at Nuwerust, a fine complex of stone buildings built around the end of the 19th century by Austrian immigrants. The buildings are well cared for but the mill has been out of order for years, the wheel (or remains thereof) as well as numerous items/parts of the mill are there on view. The actual mill has been dismantled but it could be restored.
At Groot Rivier (Mount Cedar) there is another mill which, apart from the wheel, is relatively intact. The wheel having disintegrated due to lack of use.
There was a mill at Vogelfontein but this has disappeared as has the one at Jonkershoek (Sonderwater) nearby.
The mill at Dwarsrivier is relatively intact having been rebuilt twice and now stands near the wine cellar (Cedarberg Wines). We have not been able to gain access to this, it is not operating and is closed as the owners have experienced  both vandalism and pilferage.
The mill on Kromrivier farm back in action! (Mike Copeland)
For more on these Mills their workings the Cederwood and the builders and their families consult the Heritage association of South Africa website (click here to view).
Disclaimer: Any views expressed by individuals and organisations are their own and do not in any way represent the views of The Heritage Portal.