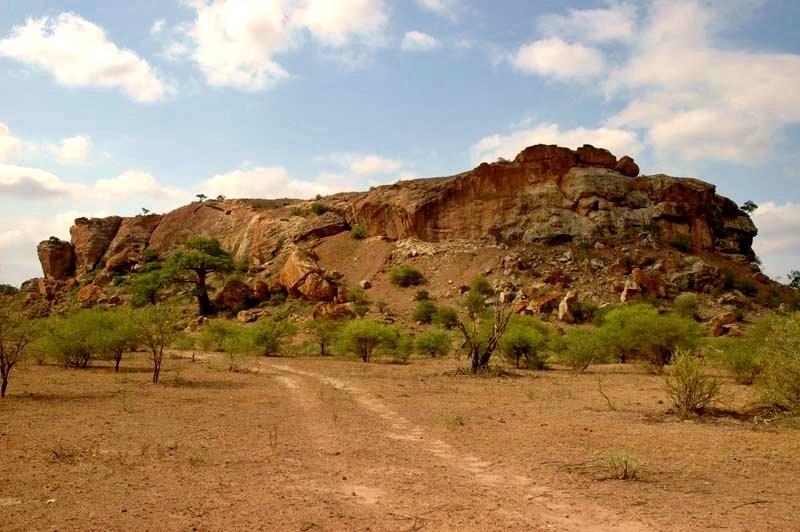 Friday, October 18, 2019 - 09:29
In the article below, journalist Lucille Davie provides some wonderful history of Mapungubwe, one of South Africa's iconic World Heritage Sites. The piece was originally published on the website southafrica.info on 21 April 2004. Click here to view more of Davie's work.
South Africa's first kingdom, Mapungubwe in Limpopo province, dating back 800 years and situated in a game reserve, is to open to the public in June.
To be known as the Mapungubwe National Park, it borders on the Limpopo river and offers spectacular views of the river and South Africa's neighbours, Botswana and Zimbabwe, at the confluence of the Shashe and Limpopo rivers. The site is now a declared World Heritage Site, and from June, guided tours will be available.
This was a long-awaited trip for me, to explore the Mapungubwe mountain and understand more about the lost kingdom of people who date back to the 1200s. It was only discovered in 1933 but remained hidden from public attention until only recently.
 
It's the first society in South Africa in which class distinctions appeared, with the king separating himself from his subjects, physically by living above them on the mountain top, remaining distant and aloof from them, with his subjects carrying food and water to him and his royal entourage daily.
I knew the basics – that Mapungubwe (meaning "place of wolves") dated back to pre-colonial times; that they were the first people, after the Bushmen, to settle in South Africa; that they lived on a hill top, and that a beautiful golden rhino, some 12cm in length and 6cm in height and made of gold foil nailed around a wooden interior, had been excavated from the site.
What I didn't know was how awe-inspiring the area around Mapungubwe would be. It's like a giant's land – huge boulders strewn around and below rocky koppies and cliff faces, with wild fig trees literally growing out of the rocks, their long, thick roots clinging to the rock faces. The vegetation is mostly grassland, interspersed with huge indigenous trees, among them the wonderful baobab, some of them probably several thousand years old. Closer to the river the vegetation thickens and develops into lush green forests, entangled with creepers and shrubs.
Mapungubwe itself is stunning. A small, free-standing, oval-shaped mountain 30m high with rugged, impregnable cliff faces all around it. On top it's largely a flat grassy plain of around 300m in length, interspersed with large rocky surfaces, and giving spectacular views of the surrounding countryside, with the Limpopo glistening in the northern distance.
The broader area around Mapungubwe had been occupied for several hundred years before people settled on the mountain. An area east of Mapungubwe, called Schroda, was believed to have been settled around 800AD. That was abandoned, then this community moved to a hill about a kilometre south-west of Mapungubwe, now called K2, and set up their homesteads between 1000 and 1200AD.
 
This site was also abandoned, and Mapungubwe taken over in about 1220, with the king establishing himself on the top of the mountain, and up to 5 000 subjects in the plain around him. They grew sorghum and millet and cotton, as excavations of storage huts reveal, and herded cattle, goats and sheep, and kept dogs. Although now dry, a tributary of the Limpopo ran through the valley, providing water for the community.
 
Mapungubwe and Great Zimbabwe
It was a sophisticated society. They produced beautiful clay pots, decorated around the rim, of different shapes and sizes. Other items have been excavated: wooden spoons, whistles, funnels, and spindle whorls, with which to spin the cotton they grew. They had access to gold, which is now believed to have been panned from the Shashe River, which runs through gold mining areas further north in Zimbabwe, and perhaps mined from further south in Gauteng. They mined and worked iron, obtained in the area. Arab, Chinese and Indian traders, travelling from Sofala in Mozambique, reached this far, and brought with them glass beads and cowrie and mussel shells, and exchanged them for ivory and gold.
 
There are two significant elements to Mapungubwe society, according to Alex Schoeman, research officer in archaeology at Wits University: it was not cattle-centred but rather focused around the king, who was never seen by his subjects living on the plains around the mountain.
"If the king was ill, the land was ill," she explains. The king's grave has yet to be found, and could be hidden in any one of the surrounding hilltops or small caves.
And secondly, trade was the basis of its economy, like any modern economy.
Excavations went down several metres but have subsequently been covered. It's clear that around 1290AD the settlement was abandoned. It's not known why but it's believed (unlike earlier theories about climate change) that a change in trade routes might have led to a shift of trade to Great Zimbabwe, also an advanced society in the south west of Zimbabwe, distinguished by great rock walls, still standing after seven centuries despite no form of cement being used to bind the walls.
According to Schoeman, this settlement was in existence at the same time as Mapungubwe, begun in around 1250, but, she claims, they were not related to the Mapungubwe people, their different pottery styles evidence of this.
 
But, says Schoeman, it's likely that some royals from Mapungubwe moved to Great Zimbabwe, although the Zimbabweans were Shona people and the South Africans were not.
But whereas Mapungubwe came to an end at about 1290, Great Zimbabwe continued to thrive until around 1400, with a population of about 20 000. It's believed this settlement disintegrated when the Portuguese colonised Mozambique, and trade routes changed again.
 
What Mapungubwe and Great Zimbabwe both prove is that complex societies existed in southern Africa long before the Europeans arrived at the Cape in 1652. And, unlike existing beliefs that Mapungubwe was the predecessor of Great Zimbabwe, that the two settlements existed concurrently.
Mapungubwe findings
Three significant gold items were found at Mapungubwe: the rhino, with exquisitely formed ears, horn and delightful upright tail (found in fragmented form and restored by the British Museum); the top of a sceptre around 15cm in length; and a golden bowl, about 10cm in diameter. All consisted of neatly tacked gold foil around the core wooden item, and these were found in what is believed to be one of three royal graves on the top of Mapungubwe. The queen had several strings of gold bead necklaces around her neck, and gold bracelets around her wrist. In fact, the first explorer to reach the top saw her skeletal hand sticking out of the ground, the soil having been washed away, with the bracelets still in place.
In all 18 000 tiny gold beads were uncovered, and up to 40 000 glass beads. There are several bowls of these beads in the Mapungubwe Museum at the University of Pretoria. And that's also where you can see the famous rhino. I couldn't stop staring at it – the thought that this was sculpted by a craftsman 800 years ago and it still retains its simple form and natural beauty, is thrilling. It's South Africa's very miniature version of Tutankhamun's treasure.
 
The mountain top gives clues to day-to-day living of the society. There's a protective rock wall at the top of the stairway up the mountain. The stairway was created by carving small holes in the rock face, then placing strong branches across the holes, creating a ladder (nowadays there's a sturdy wooden ladder to make the ascent). There's a series of small paired holes chiselled out of a rock on the top alongside the rock wall, for the game morabaraba, played with maroela pips to represent cattle, and still played today.
There are other markings in the rock surface: half circles indicating the base of huts, larger holes for hut poles, and flat bottomed shapes in which maize was ground. There's also a large bath-shaped indentation of around four metres across, used to store water and for the royals' bath times.
 
Across the valley at K2, a large midden was found, and pottery, clay objects and beads have been excavated.
 
Hidden existence?
 
Schoeman suggests there was not a conscious effort to hide the existence of Mapungubwe and the confirmation of it being the first African kingdom in South Africa, a claim that's been made about the apartheid government. The University of Pretoria has been excavating the broader site for decades but before that time, particularly in the 1930s, '40s and 50s excavation by individual archaeologists was rather messy, with excavators only examining every third or fourth bucket of soil that came up from the diggings, and discarding the others.
"So much was trashed then, we lost so much data," she says. The sites had to be stabilised, and it's only in the last decade that some order has been established. Back in the 1980s the university indicated the nature of the findings, although did not publicise them, she says.
"There was some self-censorship from Pretoria, but this was not state censorship," she adds.
Reserve size and stock
At present the park consists of 19 000ha. Once several neighbouring farms and hunting ranches have been incorporated it will increase to 28 000ha, and if plans to create a transfrontier park encompassing sections of Zimbabwe and Botswana, materialise, the area will enlarge to 800 000ha.
There are plans to have a tented camp inside the reserve, a three-day hiking trail, and an interpretation centre near the Mapungubwe mountain. Construction is almost complete, and the reserve is being stocked with game, and will eventually have the big five in place. White and black rhino are to be introduced in May, and elephants have moved in from neighbouring Botswana.
 
Mapungubwe lived up to my expectations, and offered much, much more. It's a worthy addition to South Africa's World Heritage Sites.
Lucille Davie has for many years written about Jozi people and places, as well as the city's history and heritage. Take a look at lucilledavie.co.za
Disclaimer: Any views expressed by individuals and organisations are their own and do not in any way represent the views of The Heritage Portal.