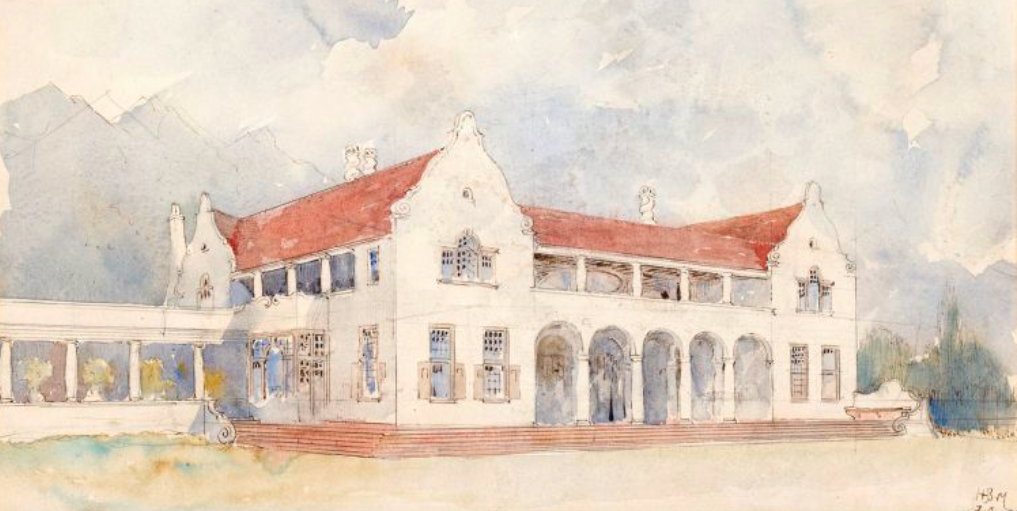 Wednesday, October 27, 2021 - 09:28
Born in England but one of South Africa's most famous architects, Herbert Baker flourished in South Africa from 1892 to 1913. He and his practice were responsible for numerous grand buildings including our Union Buildings in Pretoria, our High Commission in London called South Africa House (still in use) and other monumental government buildings. When he left South Africa it was to go and work in India, the 'Jewel of the Empire'. There he designed more monumental government buildings of which today the Indian government is very proud, and finally he littered Britain with war memorials and other Imperial Statements. He was a Big Deal in his time, a serious name.
Herbert Baker
An old photo of the Union Buildings from the air

Baker built a holiday home in Muizenberg, Sandhills, one of a group. In 1899 he designed Rust en Vrede for Cecil Rhodes, probably our grandest house, which Rhodes never saw built. He also built Vergenoeg, the house in the sand dunes and a national monument for the past 38 years. It is owned by Mary Slack, daughter of Harry Oppenheimer.
Rust en Vrede (SJ de Klerk)
Vergenoeg (Lennon Fletcher)
Curiously his own holiday cottage, Sandhills, is outwardly quite dull. The house is one of four that he designed, forming a block, and it is on one of these that we have erected our Blue Plaque, not on Baker's own house.
Sandhills (William Martinson via Artefacts)

Baker was commissioned by Cecil Rhodes to renovate and preserve a number of old Cape Dutch farmhouses, which were by then completely neglected, often in ruinous condition and being demolished. It is due to the efforts of these two men that this simple but elegant architectural style is with us today. One of these of course is Boschendal.
Boschendal (The Heritage Portal)

For himself, Rhodes called in Baker when he bought the original Groote Schuur. It had been a VOC granary to begin with, and later modified as a great house. Baker made substantial alterations to it for Rhodes. In 1896 the building caught fire and was destroyed. Baker then built a new Groote Schuur on the same location.
Views of Groote Schuur (Janek Szymanowski)

Baker's final design for Cecil Rhodes was the Rhodes Memorial, built after Rhodes' death and paid for I believe by public subscription.
Rhodes Memorial being built (Cape Town Photographic Society)
As far as I know all Baker's Muizenberg houses still stand, a testament to his ability, and his buildings here form an important part of a surprising Muizenberg asset – our architecture. We have grand, we have simple, we have art deco in abundance, we have colonial, we have Empire and we have 1673 VOC. It is a remarkable collection, and a good part of it is from Sir Herbert Baker.
We ought to charge admission to Muizenberg!
About the author: Chris Taylor is the Chairman of the Muizenberg Historical Conservation Society. 
References
Muizenberg a Forgotten Story, Michael Walker, 2009
Cecil Rhodes by his Architect, Herbert Baker, 1934
Disclaimer: Any views expressed by individuals and organisations are their own and do not in any way represent the views of The Heritage Portal.