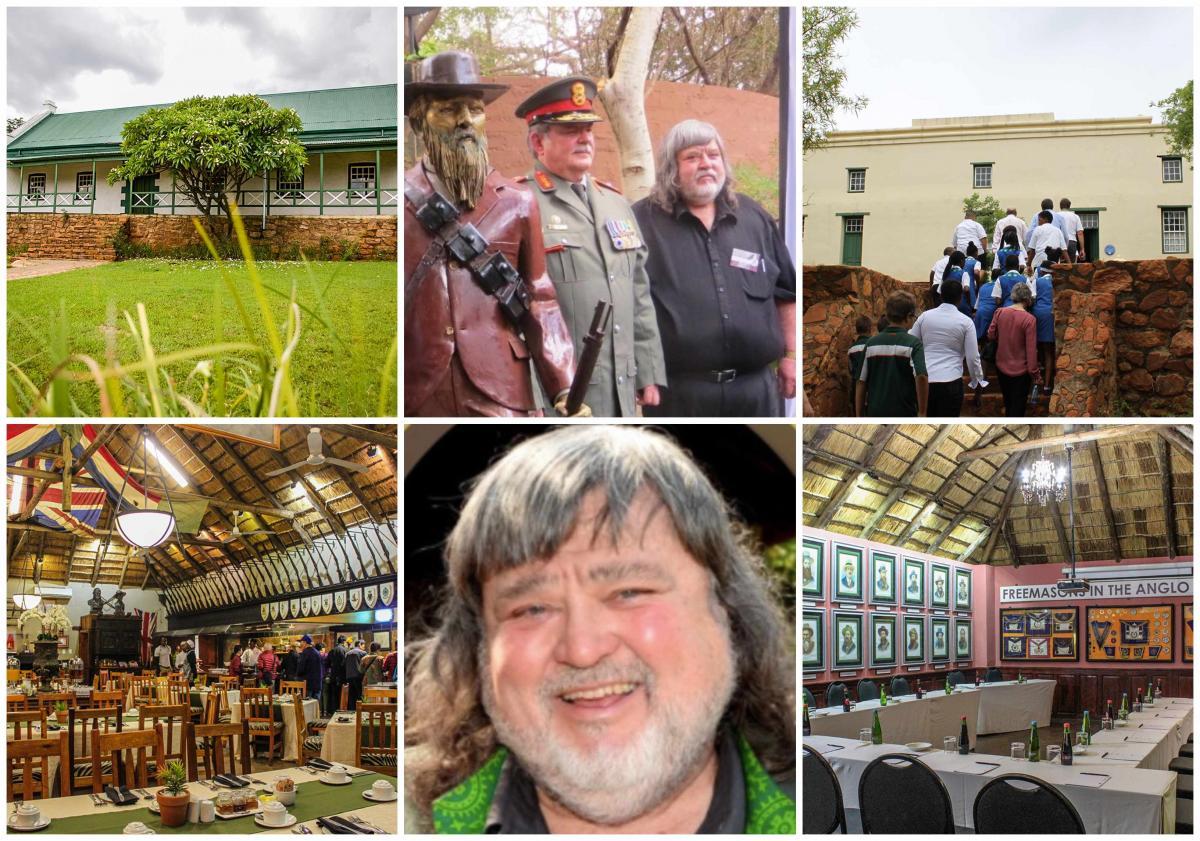 Tuesday, May 10, 2022 - 18:57
Rev. Robert Forsyth (30th May 1954 – 27th April 2022), a passionate heritage man, passed away in a motor vehicle accident on 27th April 2022. A memorial event was held to celebrate his life at Misty Hills Country Hotel, Muldersdrift on 9th May.  We mourn his passing. His departure is a great loss to the heritage community.
Robert was the man who developed Kedar Heritage Lodge on the old Paul Kruger farm Boekenhoutfontein in the North West Province into the superb country lodge, fine restaurant, game farm, heritage centre and South African War museum that Kedar is today. He was also the proprietor of Misty Hills, an old country hotel with a long history. Robert has been the man who conserved, preserved and improved these resources in ways that made heritage a living part of modern lives.
Robert was an exceptional human being. He was a man of vision. He was a man of many talents – entrepreneur, visionary, businessman. He left this world a better place and the many people who interacted with him were enriched by the encounter. He was a bold man whose Christian faith underscored much of his life. He built a superb restaurant (Carnivore) and brought Misty Hills to top tourism status. 
Robert was born in Zimbabwe and grew up in Bulawayo. As a young man he trained as a pastor in the USA but returned to the African continent and settled in South Africa. He loved Africa and was keenly interested in history. His unique approach successfully combined a country lodge, an unusual museum, a game farm and the Kruger farmhouses in a heritage centre. He loved being hospitable and his many endeavours demonstrated his hands-on organizational skills.
The Kruger Farmhouses (Vincent Carruthers)
Robert had a strong entrepreneurial approach to life. His untimely passing left many plans unfinished. He constantly searched for improvements in his hospitality enterprises and museum but he was never afraid of failure. All the characteristics of a risk taker and a man of courage.
Robert had a passion for the environment, wildlife and the rehabilitation of the land. He planted thousands of trees in homage to natural heritage.
I met Robert and his team at Kedar Lodge in 2018 when he invited me to the unveiling of the memorial to Winston Churchill. I wrote about Kedar and Robert's vision in an article for the Heritage Portal (click here to view).
The unveiling of the Churchill memorial with Robert Forsyth (Executive Chair, Recreation Africa) and Nigel Casey (British High Commissioner in South Africa). The architect of the memorial is Nico Wessels and the artist is Adam Madebe. (Gail Wilson)
I loved Robert's unorthodox style and the efforts he made to cross heritage boundaries by selecting his heritage heroes for commemoration in memorials to men such as Churchill (Boer War journalist, author and British wartime Prime Minister), Mahatma Gandhi (great soul who formulated his resistance philosophy of Satyagraha in South Africa), Baden-Powell (British military man, defender of Mafeking and founder of the Boy Scouts), the Boer War General De la Rey, Jan Smuts (the South African Prime Minister, Boer War leader and international statesman) mixing with Kgosi Mokgatle Morwa (the courageous local Setswana leader), Paul Kruger (Boer War leader and president of the ZAR) and Emily Back (the little known Australian heroine of the Boer War) and Sol Plaatje (campaigner for land rights, ANC founder and man of letters).
Gandhi Statue (Gail Wilson)
In 2019 just before the Covid outbreak, the memorial statue of General Koos de La Rey was unveiled (Kathy Munro)
What Robert admired in these distant historical figures was that each and every one had contributed to the shaping of South Africa. Their courage and steadfast determination to solve a problem or make a difference had resonated with Robert's view of how heritage could have a message for people of today. Robert read history but also decided that the past could live again in a museum, an exhibit or a preserved farmhouse. So often we talk about the link between heritage and tourism but Robert made the leap and the investment in turning history into heritage that excited the imagination of visitors and educated in a seamless way.
Main house at Boekenhoutfontein built by Paul Kruger in 1872-73 (Kedar Heritage Lodge)
In April 2019, I again visited Kedar when the five blue plaques were unveiled at the Boekenhoutfontein farmhouse complex in partnership with Mike Benn and Vincent Carruthers and the Magaliesberg Association for Culture and Heritage (MACH) (click here to read an article by Vincent Carruthers on the blue plaques at Boekenhoutfontein). I admired Robert's custodianship and curatorship of the Kruger legacy and the many artefacts in the house museums. He served the Heritage Association of South Africa well. Robert assembled a fine collection of South African War memorabilia and housed his museum in his country lodge. On every visit I had to take time to study a different cabinet of treasures and always learnt something new about the war campaigns and characters. Robert took huge pains to bring people with like interests but sometimes contrary political views together in stimulating converations over the dinner table and in the symposia programmes that he organized. In the relaxed atmosphere of the campaign house or the boma at Kedar we could not but enjoy making new friends.
First Kruger House Blue Plaque (Kathy Munro)
First Kruger House (Vincent Carruthers)
Robert Forsyth was a wonderful host and always appreciative of his staff who were responsible for making the conference dinner a memorable event.
Mike Benn of MACH paid this tribute: "Robert invested in our history with the building of an alive museum, in that he made Kedar part of our heritage. We salute Robert for his role in protecting our Heritage."
Twin Mosia of the Petrus Steyn Museum said: "The passing of Robert is a huge loss for Heritage. The entire North West Province and South Africa is poorer without Robert. For Anglo-Boer War enthusiasts, re-enactors and collectors alike, his memory will forever live at Kedar Heritage Lodge where he did such an amazing job. May his soul Rest in Peace."
Robert Forsyth & Twin Mosia
The heritage community salutes Robert Forsyth and gives thanks for a life well lived. We express our condolences to his wife Adele, his children Sarah and Robert Jnr as well as his sister Colleen Pearcy-Forsyth.
Kathy Munro is an Honorary Associate Professor in the School of Architecture and Planning at the University of the Witwatersrand. She enjoyed a long career as an academic and in management at Wits University. She trained as an economic historian. She is an enthusiastic book person and has built her own somewhat eclectic book collection over 40 years. Her interests cover Africana, Johannesburg history, history, art history, travel, business and banking histories. She researches and writes on historical architecture and heritage matters. She is a member of the Board of the Johannesburg Heritage Foundation and is a docent at the Wits Arts Museum. She is currently working on a couple of projects on Johannesburg architects and is researching South African architects, war cemeteries and memorials. Kathy is a member of the online book community the Library thing and recommends this cataloging website and worldwide network as a book lover's haven. She is also the Chairperson of HASA.
Disclaimer: Any views expressed by individuals and organisations are their own and do not in any way represent the views of The Heritage Portal.