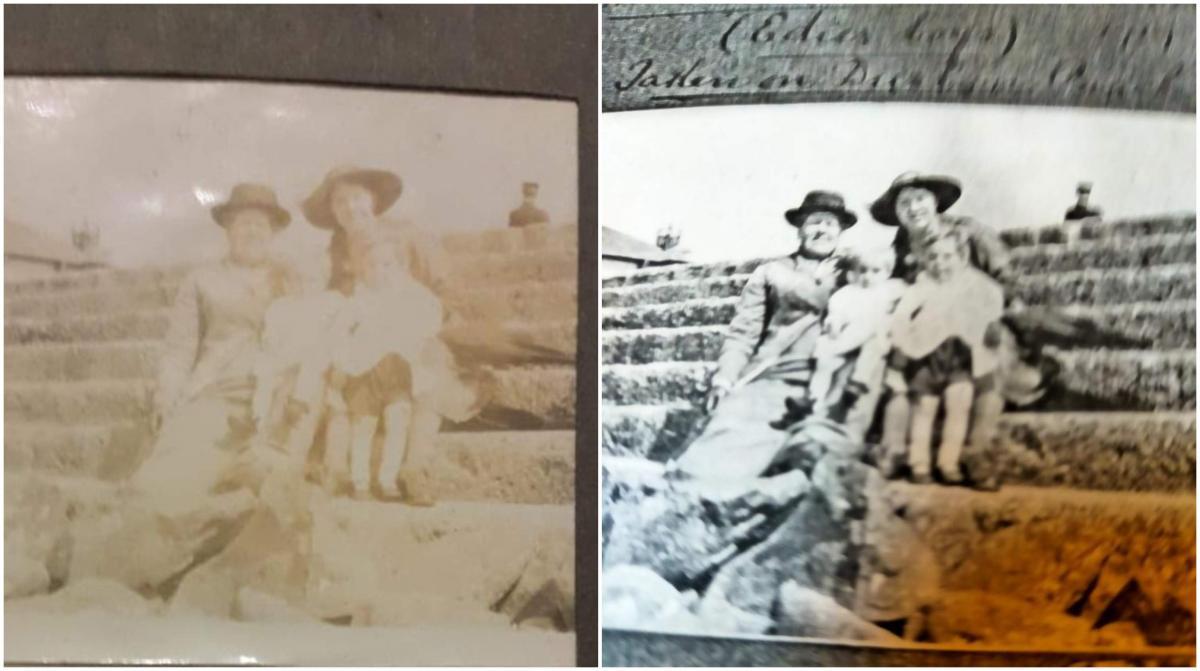 Thursday, January 27, 2022 - 13:27
What are the chances of two unrelated strangers living on different continents discovering that they have some identical photographs of common ancestors in their old family albums?
Annie Goodhead, Kitty and friend - ie The Lady in Black (Margaret Addis)
This photograph of a mature lady dressed in black, which was taken over 100 years ago, was the key to two people with a common interest in genealogy finding each other, not only enabling both of them to fill in missing bits of their respective family trees, but also to give to one the gift of photographs of her great-grandmother she would otherwise never have seen.
If you are researching ancestors who emigrated from Europe to settle in one of the new colonies, take inspiration from this story of how family documents, letters and beautiful portraits can turn up in the most unlikely places.
In 1890, two brothers, John and Frederick Goodhead from Manchester, England, set sail aboard the Duart Castle for the new colony of South Africa, a move instigated by their father because John had TB and had been advised, on medical grounds, to move to a drier and less polluted climate. On arrival, the brothers initially stayed together, first going to Pietermaritzburg and then to Barberton, where they ran a general store. Then, for some reason, they parted company, John going back to Pietermaritzburg and Frederick continuing the business in Barberton.
The four Goodhead siblings
John Henry Goodhead (Barbara Smith)
Isaac William Goodhead (Barbara Smith)
Sarah Jane Goodhead (Barbara Smith)
Frederick George Goodhead (Barbara Smith)
Enter Barbara, from High Wycombe, England, an elderly descendent of a third brother, Isaac Goodhead, who, complying with the wishes of his father, had remained in England. Apart from having in her possession all the old family photographs and documents, Barbara has done extensive research on the family and, having made contact with some of her South African relations, had gathered a lot of information regarding Frederick and his line. She had, however, lost track as to what had become of John after 1893 and had more or less given up on him.
Towards the end of 2021, Barbara decided to do some research on her maternal line and, whilst trawling around on the FamilySearch site, the above photograph of the lady in black popped up even although it had no connection whatsoever to what she was seeking.
'I have that photo!', she thought with amazement, which indeed she did, in a very old album dating back to 1900, passed down from her grandfather. As with several other photographs in the album, she had no idea who the people were as the names on the captions meant nothing to her.
By this time thoroughly intrigued, Barbara noted that the photograph was attached to the profile of Annie Brazier, the second wife of none other than John Henry Goodhead. Barbara immediately contacted the person who had put the photograph on FamilySearch.
Enter Margaret from Hillcrest, South Africa, great-granddaughter of Annie Brazier and a descendant of Annie's previous marriage to her first husband, Thomas Sanderson. Margaret, in turn, had done extensive research on her family and was able to shed some light on John's life in South Africa.
On his return to Pietermaritzburg, John had started an upholstery business. In June 1892, he married Lily Eva Spencer, a young lass from Manchester whom he had been courting prior to his departure and who had arrived in the new colony some two weeks previously, her trip sponsored by John, himself. Lily tragically died about a year later, a few days after the birth of their first child, Harold, leaving John with a young baby to care for.
In the May of 1894, he married Annie Sanderson, a widow with four young children of her own, the youngest being Edith, Margaret's grandmother.
John and Annie Goodhead had one child of their marriage, Kathleen (Kitty), but it wasn't a happy union and they separated when Kitty was about two years old, Annie and all the children, including Harold, moving to Durban, while John remained in Pietermaritzburg until his death in 1927.
Some of the photographs in Barbara's collection immediately became more meaningful as she pieced together the new information and began recognizing some of the names.
Goodhead group with Lily Eva Spencer (Barbara Smith)
The young woman obviously held in much affection sitting between John Goodhead on the right and his sister, Sarah, on the left in this lovely photograph can only be Lily Spencer, John's sweetheart who followed him to Africa. 
Thinking they might be of interest to her, Barbara forwarded to Margaret photographs with captions such as "Mother, Kathleen, Trevor & Ross (Edie's boys) taken on Durban beach" and "Kathleen, Trevor & Ross taken in Durban Zoo"
These were received with astonishment, "Those photos are in my grandparent's album….. those are their boys….. that's my father!"
The same photo taken on Durban Beach in 1919
The same photograh taken at the Durban Zoo
Barbara and Margaret discovered to their delight that they had several identical photographs in their respective albums and it soon became evident that the two settler brothers and their spouses and offspring had kept in touch with their relatives in England, sending them, over the years, news and photographs of their growing families.
Another shot from Durban Beach in 1919
John Goodhead and his children, Harold and Kathleen, are obviously the common link in this extraordinary coincidence of how photographs of Sanderson descendants found their way into the Goodhead family album in England. Other photographs in the two albums tell a story of Annie and all the children being a happy, close-knit family who remained in continual contact with each other throughout the years.
That's not the end of the story, though.
Among Barbara's large collection of old family documents and photographs in England are not only the studio portraits of all the Goodhead siblings displayed above, but also several of the two brothers and their spouses, which had been taken in South Africa.
Annie Goodhead (Barbara Smith)
John and Annie Goodhead (Barbara Smith)
Apart from the extraordinary coincidence of finding that they had identical photographs in their respective family albums, what were the chances of Margaret receiving two such beautiful photographs of her great-grandmother from a complete stranger? 
One in a million, perhaps, but it just goes to show that such lucky breaks can and DO happen!
This amazing experience has fostered an ongoing friendship between Barbara and Margaret as they continue to explore their common interests. Who knows what other gems may yet come to light?
Disclaimer: Any views expressed by individuals and organisations are their own and do not in any way represent the views of The Heritage Portal.