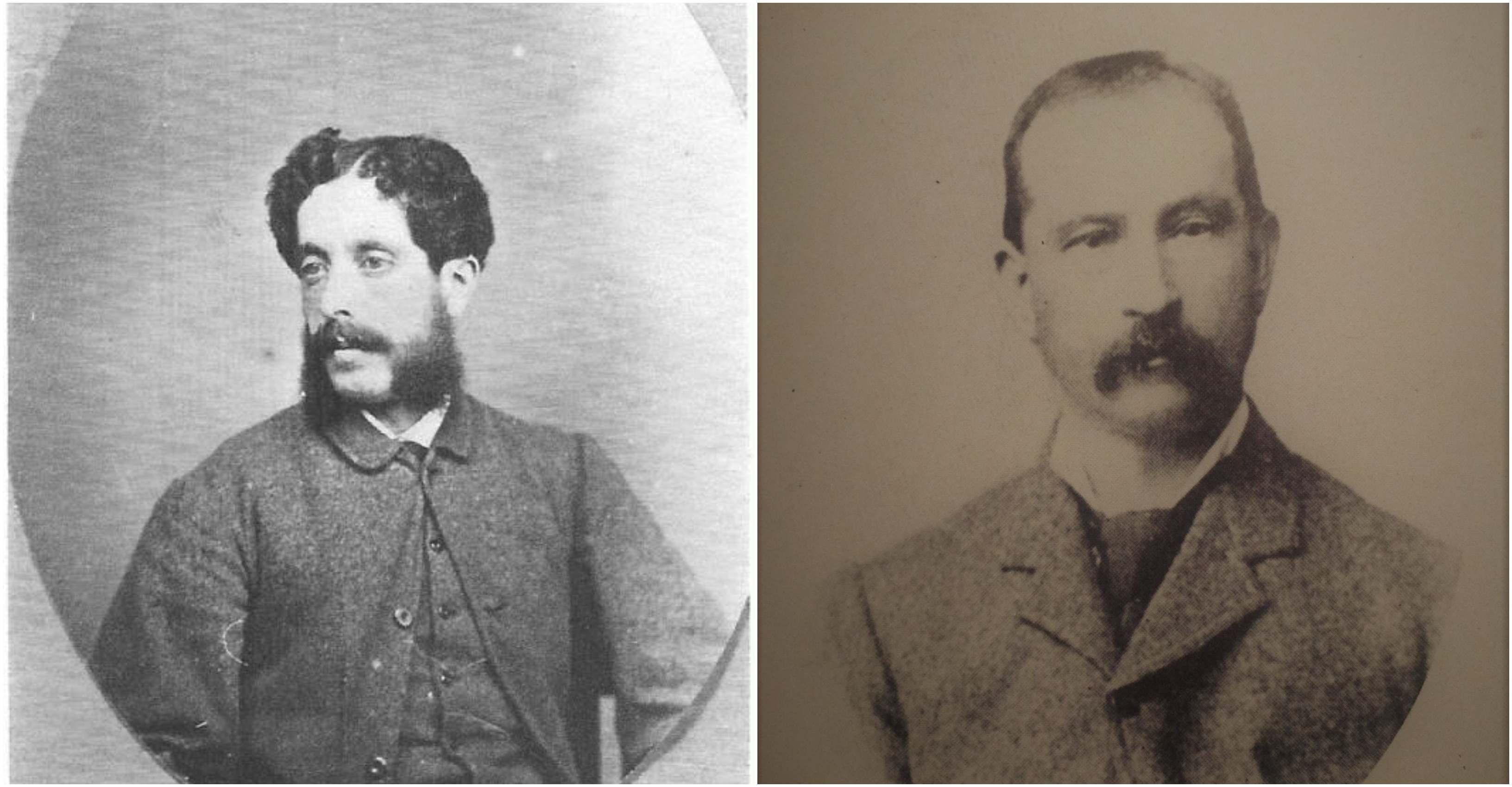 Saturday, March 27, 2021 - 13:00
Prior to 1902, South Arica had three photographers with the surname Kisch, two of whom were active in the Natal province (Kwazulu-Natal today) and one in the provinces of the Northern Cape and the Orange Free State (Free State today). Each one of them has left a distinct individual impression on South African photographic history.
The two Kisch brothers, Benjamin and Henry, based themselves in Durban/Pietermaritzburg & Ladysmith whilst a family member, a second  cousin, Tiberias, based himself in Colesberg and Bloemfontein (with a remote possibility of photographic activity whilst based in Kimberley).
Having established themselves as photographers in different South African provinces, there was clearly no interaction between the two brothers and their second cousin. Whether they even knew of one another or had ever been in contact with each other could not be established.
The surname Kisch is Czech/Jewish Bohemian in origin. It is the habitational surname for someone who resided in Chýše (Chiesch in German), a town near Eger in Bohemia.
This article also clarifies one crucial aspect, namely that the B. Kisch that was based in Durban was Benjamin Kisch and not Braham (Abraham) Kisch, as has been erroneously recorded in some earlier publications or articles.
Braham Kisch, a medial practitioner, was the father to Tiberias Benjamin Kisch, the Colesberg based photographer. More about him later in this article.
A. Brothers Benjamin and David Henry Kisch
The brothers were born into an old Jewish-English established family (originating from Prague). Their father was Moses Judah Kisch (1810 – 1856) and mother Hannah de Pass (1817 - 1874).
Benjamin and Henry had 8 siblings, namely: Julia, Simeon, Daniel Montague, Rachel, Alfred, Rebecca Louise, Isabella and Katie.
Their brother, Daniel Montague Kisch (1840 – 1898), also based in South Africa, became the founder of the Pretoria based law firm DM Kisch. Daniel was also the Auditor General of Transvaal during the British Annexation (1881). It has been suggested that the first Jewish religious services in Pretoria were held at Daniel's home.
The Kisch men in this family did not seem to live beyond the age of 60 in that Benjamin passed away at a young age, namely aged 47, the same age as his father. Henry also passed away at a relatively young age, namely 55. Daniel, briefly referred to above, passed away aged 58 en-route to Europe for medical treatment. It could not be confirmed whether a hereditary condition was a contributing factor to these relatively early deaths.
Ironically both brothers (Benjamin & Henry) also lost their first-born children (both daughters) within a year after their respective births (see details lower down).
The brothers, Benjamin and Henry are recorded to have been friends to the artist Thomas Baines. Benjamin's wife allegedly helped care for Baines just prior to his death.
Hand coloured Carte-de-Visite of young Godfray Lys (around 15 years old here) by Kisch Brothers (Durban - Natal Photographic Studio) – Circa 1875. Robert Oliver Godfray Lys was born 22 June 1860 and passed away during 1936. His father, John Robert referred to his son as "bunny" is his diaries.
Carte-de-Visite format photograph of unknown lady by Kisch Brothers (Durban - Natal Photographic Studio). What makes the image on the right significant is that the original photograph (on the left) was simply re-photographed whilst placed on a wooden surface. Carte-de-Visite images could be reproduced from the original negatives which then begs the question – Was the image re-photographed with the wooden background purely for effect or was the original glass negative damaged? (Circa 1875)
Carte-de-Visite format photographs of the Robbins family by Kisch Brothers (Durban - Natal Photographic Studio) – Circa 1875. The photographs are probably of father and his two children. The middle photograph, of SM Robbins (born 24 February 1858), was taken on 2 November 1875
Carte-de-Visite format photograph of unknown male by Kisch brothers. On the back of the card the brothers advertise that they won a gold medal and two silver medals at the Natal Exhibition and that they were under the patronage of "The Ex-Empress Eugenie, The Late Prince Imperial and Lord Wolseley"
Back and front of Cabinet Card format photograph of unknown female sitter by Kisch brothers (Circa 1885)
1) Benjamin Kisch (1842 - 1889)
Benjamin was born during 1842 in Wisbech, Cambridgeshire. By 1863, aged 21, he had immigrated to South Africa and settled in Natal.
Benjamin married Alice Ellen Lester Baker (born in Durban on 15 June 1852) in Pietermaritzburg during January 1871. Alice was the daughter to Thomas Brenchley Baker and Jane Lester. Benjamin and Alice had 7 children, namely: Alice Esther (1871 – 1872); Catherine May Hannah (1873 - 1924); Margret Gordon (1876 - 1950); Harry Lester Moses (1878 - 1963); Reginald Draper (1880 - 1905); Mary Goodricke (1881 - 1950) and Elaine Rica Louise (1884 - 1944).
Benjamin passed away in Pretoria on 16 February 1889 at the young age of 47. The cause of death or reason for him being in Pretoria at the time is unknown. It is speculated that he potentially went to the Transvaal in order to identify alternative opportunities to generate income from photography following financial hardships in Durban. The Kisch family legend however has it that brother Henry lost his business due to Benjamin's medical problems (his sight) and all the family money was spent trying to get him cured – Could this have been the reason for him being in Pretoria at the time of this death – to receive medical treatment?
Alice moved to England around 1919, presumably to be near her daughter Elaine, and died in Kensington on 3 March 1922. She is buried somewhere in London.
Between 1 January and 12 July 1884, Benjamin placed some 52 advertisements in The Natal Mercury. During March 1884 he advertised that he was looking for a servant. This is followed by two interesting advertisements during April 1884 in which he stated he (his family) wanted a young lady. Easy to misconstrue, these two advertisements were probably an attempt to find an au-pair for their 6 young children born between 1873 and 1884.
During May, June and July 1884, Benjamin placed further advertisements with the heading "Before going to the gold fields". This in all probability refers to his intent of going to Barberton (where gold had just been uncovered). No evidence has been found to date that Benjamin actually went to Barberton.
Zulu war. Carte-de-Visite format photograph of the Prince Imperial by Durban based photographer Benjamin Kisch (Circa 1879). What makes this card unique is that the card is embossed "Kisch BR – Natal". Could this suggest Kisch Brothers? A rubber stamp on the back of the card however indicates this to be a Benjamin Kisch photograph. This photograph was obtained for R15 (equivalent of $1) in a basket full of photographic odds in an antique shop.
Front and back of a Carte-de-Visite format photograph of unknown lady by Benjamin Kisch (Durban - Natal Photographic Studio) – Circa 1878. This photograph confirms that Henry no longer was a partner at the Natal Photographic Studio. Lux Vita Mea loosely translates into "Light of life".
Carte-de-Visite format photograph of FN Blood taken during 1880 by Durban based photographer Benjamin Kisch
Carte-de-Visite format photographs of two unknown girls by Benjamin Kisch (Circa 1880). Note the mother hiding behind the little girl in the image on the right.

1.1) Benjamin Kisch financial woes
Photography in itself was a challenging career option to follow. Photographers often struggled to make ends meet. Benjamin also did not escape financial woes often associated with photographers of that era.
Kisch opened a fancy goods store during 1881, a business which did not meet expectations, resulting in him selling all the stock on auction for an overall loss of £800.
Benjamin was declared insolvent during July 1884 followed by a rehabilitation application a few months later (December 1884).
During January 1888, the Supreme Court of Colony of Natal made a ruling in Benjamin's favour by allowing him to terminate a lease and eject a person who was renting his Durban based premises. The defendant also had to pay Benjamin around £90 (balance of rent due) based on a 5-year lease agreement which was signed during September 1884 at £180 annual rental payable by equal monthly payments. During the court proceedings Benjamin declared that the average income from the photographic studio for the preceding 12 months was nearly £200 monthly (during 1883), but came to only £120 during 1884.
1.2) Benjamin photographic activity and studio locations
It was not unusual for earlier photographers to have started off in some other line of business, as Benjamin Kisch did. Shortly after his arrival in the country, Benjamin initially settled in Ladysmith (1863) where he was registered as "B. Kisch and Co - Grocers and General Dealers". Not long thereafter, also during the early 1860s, Kisch and Wilkinson were recorded as General Merchant and Provision Dealers, based in Durban - West Street.
Benjamin also had an outfitter's shop in Durban during 1875. This he would have run in tandem with his photographic studio. As referred to above, Benjamin also unsuccessfully attempted his hands in a fancy goods store during 1881.
Few of the early photographers could sustain themselves from photography solely resulting in many following dual careers.
Azevedo (2020) refers to Benjamin's activity in Mozambique between 1868 and 1872. During 1872 Benjamin was referred to in a curiously placed piece in the Official Bulletin of the Provincial General Government. Benjamin seems to have flagged a customer, one Maria Gomes Ferreira, for not having paid for photographs he captured of her - to which she responded by disputing the allegation adding that she did pay in cash for the photographs.
Benjamin also covered the Anglo-Zulu war (1879) as photographer. One of his most prominent images is a "striking photographic likeness" of the Prince Imperial which was transferred to porcelain from the original negative and then hand-coloured. The portrait was said to have had the softness and delicacy of a painting on China and was made specially for presentation to the Prince Imperial's mother, the Empress (wife of Napoleon III), on her arrival in Durban during 1880 (Bensusan, 1966). Benjamin also photographed the Ex-Empress Eugenie.
Benjamin produced a photo album on the Transvaal war (1880/81) which confirms that he would then have been in Pretoria or surrounds during that time. He would have been competition to the Pretoria based photographer H.F. Gros who also covered this same war.
Benjamin's work was much praised in that he took high quality portraits which were then coloured by hand. Other than his most famous portrait of the Prince Imperial, his many other subjects included people of significance such as Sir Garnet Wolseley and Bishop John William Colenso. Rhodes University (Cory collection) also holds 4 photographs Kisch took of fellow photographer Joseph Kirkman and family during the 1870s (British-born Cape Town based photographer).
Benjamin only ventured into photography some 5 years after his arrival in South Africa. Studio and partnership activity recorded to date indicates that:
May 1867 - went into partnership with Durban based Henry Alexander Grant (Natal photographic studio);
Between 1868/1872. Clearly not restricted to doing work in Durban only in that he was also active in Mozambique at the time;
Between 1870/71 – He established his first solo photographic studio.  The Davis Almanac of 1871 suggests that this studio was based in Smith street, Durban east;
Between 1872/1875. Smith street East – Opposite Durban Club. Benjamin and his brother worked together (Listed as 'Kisch Bros' or 'Kisch, H and B, photographers and artists'). This suggests that Henry only joined Benjamin some 5 years after Benjamin started his photography career. Henry was the more mobile of the two.  Henry eventually settled as photographer in Pietermaritzburg during 1875, only to return 10 years later in support of his brother's Durban based studio;
Between 1875/1880 - Benjamin continued working from his studio in Smith Street (opposite the Durban Club). From this point onwards Benjamin advertised as  "Benjamin Kisch, photographer and artist"
From 1881, until the time of his death, Benjamin had his studio at 12 Mercury Lane in Durban (opposite the Congregational Church).
Carte-de-Visite format photograph of unknown man by Durban based Grant & Kisch (Circa 1870). This would have been the photographer Benjamin Kisch
Back of above Carte-de-Visite

After Benjamin passed away, leaving an insolvent estate (during 1889), his wife Alice Kisch kept the Mercury Lane based studio going for another 7 years. Multiple articles refer to Alice Kisch being the wife of Braham, whilst it was actually Benjamin. Eventually, Alice Kisch surrendered the studio to BW Greenace, who held the bond on the premises. Greenace in turn sold the studio to Ebenezer Edmund Caney who initially assisted Alice Kisch in the studio after Benjamin's death.
The Natal Almanac of 1881 contained an advert for Kisch's Mercury Lane Studio providing some pricing for "Cartes-de-visites, Cabinet photographs and some photos on 'porcelaine' (sic) at higher prices". He also advertised: "A Large Stock of Views from Natal, Zululand, Zanzibar and Natives, always on hand".
It is unlikely that Benjamin would have travelled to Zanzibar himself to go and capture images on location. He probably took such photographs on consignment from another photographer.
Benjamin clearly understood the international interest in Ethno-photography in that a number of his advertisements stated: "Scenes in Native Life always on hand".
Stevenson & Graham-Stewart (2001) reflect on challenges experienced by photographers due to lower shutter speeds at the time. They add that literature of the time is replete with examples of photographers expressing their frustrations. Subjects could only be photographed if they elected to co-operate. Baines provided such an instance in a report in the Cape Town newspaper The Standard and Mail (14 October 1873) in which he referred to observing the response from subjects when the Durban based photographer Kisch attempted to photograph them in that Baines recalled Kisch's limited success because of Cetshwayo's subjects 'always baulk the photographer by instituting an abnormal condition of unrest the moment they see him taking sight at them out of the black box' (It could not be determined which one of the Kisch brothers was being referred to here).
Cabinet Card format photograph by Durban based photographer Benjamin Kisch of Mrs GC Cats (captured on 22 April 1886)
Cabinet Card photograph of unknown couple by Durban based photographer Benjamin Kisch (Mercury Lane - Taken during August 1888), some 5 months prior to Benjamin's death.
Back of one of Benjamin Kisch's Cabinet Cards. He had his studio in Mercury lane from 1881 until the time of his death (1889). His wife continued work in the studio with assistance of her brother-in-law Henry Kisch and EE Caney.
Back of a Benjamin Kisch Cabinet Card – Durban (Mercury Lane). Other than awards won at the Natal Photographic Exhibition, reference is also made to highest awards received at the Port Elizabeth Exhibition. This card was printed by London based Davies & Co.
Back of another Benjamin Kisch Cabinet Card. Extracted with permission from molegealogy.blogspot.com
Photographer Benjamin Kisch (Circa 1875), probably taken by either Henry Kisch or Henry Alexander Grant. Extracted with permission from molegealogy.blogspot.com

 
2. David Henry Kisch (1847 - 1902)
Five years Benjamin's junior, David Henry Kisch was born during 1847 in Norwich, Norfolk, England. It is not clear when Henry followed his brother to South Africa. It is speculated that he would have arrived in Durban between 1868 and 1871 (aged between 21 and 24). Henry married Georgina Emily Lambert (born in London c1855) during January 1878 at St. Saviour's church in Pietermaritzburg.  Henry and Georgina had 7 children:
Miriam Lambert – born during 1878 (seems to have died 1878/1879);
Alfred Henry Julian – born in Pietermaritzburg on 12 July 1880 (died in Germiston during 1917, aged 37). Alfred married Annie Jewitt, who was born in England on 8 August 1879. She remarried (Lankford) after Alfred's death but died shortly thereafter on 28 September 1920 aged 41. (Alfred was the grandfather to one of the contributors to this article, namely Brian Kisch);
Harold Ernest – born in Pietermaritzburg on 23 December 1881. Died during 1956. Married to Kathleen Mary Ridgway;
Ivy Louise born on 23 September 1883;
Constance Amy Julia born on 21 March 1884 (married name was Gale);
Frank Montague born Durban 9 August 1889 (Died 1950). Married to Harriet Leeson;
Ada Josephine born Durban 17 May 1891. Died as a spinster during 1969.
Heritage websites indicate that the latter two children, Ada and Frank, were half-brother and sister to the first 5 children. Georgina is also recorded as the stepmother to the two. This information may be incorrect as it does not make sense and will therefore require further research in order to confirm correctness of such information.
Cabinet Card format photograph of unknown girl by Ladysmith based H. Kisch & Co (Circa 1885). It has not been established to date who Henry would have been in partnership with whilst based in Ladysmith.
Henry travelled fairly extensively in order to capture a broad range of photographs. He was also active as a photographer during both the Anglo-Zulu and Anglo-Boer wars.
During the Anglo-Zulu war (towards the end of May 1879), it is recorded that Henry photographed some of the troops massing on Zululand's western border for the second invasion. These photographs were undoubtedly limited in many ways – technically, geographically and even ideologically, yet these static images do provide an important glimpse into the war.
Henry is best known for his photographic work of the Siege of Ladysmith (during the Anglo-Boer war). The resulting photographs were used in two of his publications (published in London during 1900). Some of these photographs are also on display at Ladysmith Siege Museum.
Henry passed away on 9 August 1902 at Ladysmith – aged 55. The cause of his death is unknown. His wife, Georgina died at her residence in Innes Road in Durban on 13 June 1932, aged 73.
Zulu war. Carte-de-Visite format photograph of unknown soldier by Pietermaritzburg based photographer Henry Kisch (Circa 1879). This image is intriguing in that the soldier looks like a young Kitchener, yet no evidence could be found that Kitchener did military service in South Africa during the Zulu war period
Zulu war. Carte-de-visite format photograph of unknown soldier by Pietermaritzburg based photographer Henry Kisch (Circa 1879)
Cabinet Card format photograph by Ladysmith based photographer Henry Kisch (Circa 1895). An inscription on the back of the photograph has the name of the 4 month old baby recorded as Ivy Lilian Jones

2.1. Henry Kisch & George Taylor Ferneyhough partnership
Whilst based in Pietermaritzburg, Henry was clearly in an unsuccessful partnership with another photographer, George Taylor Ferneyhough. Ferneyhough' s photographic work during the Zulu war era is well known, and also in high demand by Zulu war photographic history collectors. Their partnership was not even in existence for a full year as confirmed by a Colony of Natal Supreme Court ruling during October 1879:
David Henry Kisch of Pietermaritzburg photographer that justly and without delay he do render and deliver to George Taylor Ferneyhough of same place photographer.
A true and correct account, statement or balance, sheets of the business of DH Kisch from the 1st day of November 1878 in terms of the deed of partnership between the parties hereto and do pay to the said GTF his share due to him hereunder;
That he does return and deliver certain articles – the private property of the plaintiff and now in defendants' possession and control;
The sum of  £750 as and for damages due to plaintiff. By reason of the defendant having ousted him from the business and refused to admit him as a partner therein, or to allow him to take part in the said business – All upon grounds to be fully set forth in the declaration to be filled herein.
Memorandum of terms upon which the above pending course was settled by mutual consent:
That all negatives and plates taken or photographed by the plaintiff during the Zulu war be attained by him and be his soul and bonafede property;
That all negatives or plates taken or photographed by the plaintiff before or during the partnership of plaintiff with defendant and now in the possession, custody or control of the defendant be handed over to plaintiff and by him retained as his sole and bonafede property;
That the camera and lens now in the plaintiff's possession be retained by him and that the defendant do also deliver to plaintiff a certain camera now in defendant possession or control, Complete with its ground glass dark slide and two carriers whole and half plate and tripod;
That all monies received by the plaintiff during his absence in the Zulu war be retained by him as his personal property and that the plaintiff has the sole right to this execution of all orders or copies of photographs of views or likeness taken by him during his absence from the partnership business;
That the defendant pays or has paid as appears by the signatures of the parties hereto, the sum of £200 in cash to plaintiff;
That the certain 2B lens and camera now in possession of, and in use by, one Payer (Payer was also a photographer who was active in Groot Marico/Zeerust in later years) be retained by the defendant upon his payment to plaintiff at the execution hereof of £12;
That the partnership heretofore exiting between the parties hereto seize and determine from date of execution hereof and the business reverts to and be the sole property of DH Kisch, the defendant;
That the cost of the plaintiff of August 26, 1879, herein, which are ruled by the master to be fairly chargeable between party and party be taxed by the master of the supreme court and paid and bourne by defendant;
The conditions of this memorandum being complied with in every respect, the parties grant each other a full release from all claims arising out of the said partnership, or otherwise;
The said course to be withdrawn by plaintiff on even date herewith – October 1879".
2.2 Henry Kisch financial woes
Shortly after his return to Durban from Pietermaritzburg, Henry was declared insolvent during June 1886.
A memorandum extracted from the national archives contained the following information on Henry Kisch's financial woes prior to him being declared insolvent:
Henry Kisch – photo artist – Durban on his financial position - 14 January 1886
I commenced business in Durban about middle of October 1885 in the premises I now occupy. Two months later than I had intended or arranged for, through the building not being completed and am unnecessarily delayed occurring in the receipt of the plant & stock from England I consider that owing to this I suffered considerable loss in not being able to take advantage of what are considered to be of the best months of the year.
On completion of the building I found the lighting of the studio insufficient. I was compelled to incur on extra expenditure of over £40.
As some explanation is due to my creditors for my reasons for opening a business in Durban I may be permitted to explain that in the early part of 1885 owing to the various indisposition of my brother B Kisch which necessitated his leaving the colony, I was induced by him to come down and take charge of his business on the premise of a liberal salary and a subsequent partnership through the negligence of Mr Seymore Kisch who was acting as my advisor, the agreement between my brother and myself was never signed and on his return from the Cape finding himself capable of taking charge he broke faith and the arrangement was ….by which means I was placed in a very awkward position having incurred considerably less expenditure in breaking up my home in the city and bringing my wife and family to reside in Durban which gave me no alternative but to remain where I was and at the solitations of many friends I decided to open the studio on the premises I now occupy.
This studio has been open some 3 months but has so far (owing principally to the depressed state of time) not realised my expectations and I am now pressed by several of my creditors of monies due which I am unable to satisfy.
The landlord of the studio to whom I am indebted for three months arrears rents has served me with an interdict and I now feel compelled to lay a statement of my affairs before you.
The … economy has been observed by me within the expense's incumbent upon the proper working of the studio, and that of my family in the latter instance for months passed they have been living on the bare necessities of life. The cause which have led to me placing my affairs in your hands are:
Insufficiency of capital and depressed state of trade
Action taken by the landlord to secure himself for rent due
Illness of my operator in Maritzburg and entire stoppage of business at the studio there thus preventing me from receiving any monetary assistance form that quarter;
Advices received from Mr G Beard that he is unable to renew a bond of £250 on the Maritzburg property and coming due early in April of this year
Promising notes becoming due within the next 3 weeks which I am unable to meet
Losses in bad debts from the Maritzburg business amounting to a considerable sum
Serious losses incurred connection with the late insolvency of Mr Seymore Kisch (Probably Joseph Seymore Kisch that is being referred to here).
In explanation of this last clause, I may mention that Acutt Blaine & Co secured a judgement against me which in equity I was not responsible for. Together with costs amounted to close to £100.
Attached to this report is a statement of my assets and liabilities by which you will see it is impossible for me to carry on under existing circumstances and I now place the matter unreservedly in your hands to deal with as you think best.
My hopes and expectations respecting the new studio were that should I do a business of at least £150 per month which would have enabled me to clear off all my smaller liabilities as they became due. … guarantee for the reduction for the larger sums owing but these hopes are far from being realised, although I consider that I had good grounds for them in the exceptional advantages of position and new appliances.
During March 1891, Henry applied for rehabilitation again.
2.3. Beira incident - ("The Dogs" Expedition – February 1891)
A claim submitted to the Portuguese Government by Henry Kisch on 7 May 1891 reads as follows:
Arrived in Beira on SS Clan MacLean - I proceeded to port Beira with peaceable intentions in the pursuit of my profession as a photographer, intending to take views, for which I was in communication with the London Illustrated papers, not only were my valuable camera and extra fittings destroyed or rendered useless, but I was detained at considerable damage and loss to my Durban business which I expected to more than cover by my expedition. Besides loss of instruments, loss of time being subjected to harsh treatment and loss of profits which would have accrued from sale of pictures and engagements with journals alluded to. I lose the heavy outlay to which I was put in proper equipment, shipping and other charges, detailed list of which I append. 
Portuguese men of war "Marin heros de Armada" - officials seized guns and ammunition. Hungry and thirsty they put out a bucket in the rain for something to drink. The bucket that filled up with rainwater was then duly kicked over by a Portuguese official.
In consideration therefore for injury sustained, I herewith claim from the Portuguese Government the sum of £1500 looking as a British subject to Her Majesty's Government for recovery of the same. (Loss of instruments £150, Extra fittings & Plates £75, Outfit, passage money and equipment £175, Estimated profits £600, detention, loss of business and bad health £500).
The response to this claim stated:
The Foreign Office comment: "If there is any foundation for the claim the details admitted are utterly inadequate", indicates that Henry was in all probability unsuccessful in his claim.
2.4 Henry Studio activity
Durban (1872/1875) – Smith street. (Listed as 'Kisch Bros' or 'Kisch, H and B, photographers and artists');
Pietermaritzburg (1875/1877) – whilst remaining in partnership with his brother in Durban (Smith street – Natal Photographic Studio);
Pietermaritzburg (1877/1878)-  31 Church Street as well as Long market street near Wesleyan chapel;
Pietermaritzburg (1878/9) – In short partnership with fellow photographer Ferneyhough
Pietermaritzburg  (1880/1885) - 14 Loop street. Henry remained in Pietermaritzburg until he returned to Durban, leaving his studio open for a short while for an assistant to manage;
Durban (1885) - Henry returned to Durban to assist his brother in his studio in that Benjamin's sight was starting to fail him;
Durban (1887/1893) - West street East End (The Cosmopolitan studio). Independent from studio run with his brother;
Durban (1888/1891). Henry's address in the 1888 Natal Almanac is reflected as Mercury Lane, Durban. This was the address of Benjamin's studio from 1881 onwards. This suggests that Henry was managing two studios at the time;
Durban (1893) - 194 West street;
Ladysmith (1893/1902) – Murchison street (next to Royal Hotel).
Cabinet Card format photograph of unknown girl by photographer Henry Kisch whilst based at Durban (West street – East end) – Circa 1885
Back of a Henry Kisch Cabinet Card confirming that he had a studio in Durban based in West street (East End) – Circa 1886. This card was printed in Paris.
Henry Kisch studio in front of the Royal Hotel in Ladysmith (Image extracted from "Ladysmith Siege" containing 64 photographs by Henry Kisch).
2.5 Awards & Photographic albums produced by the Kisch brothers
The brothers advertised that they had won a Gold medal and two silver medals at the Natal Exhibition. They also received the "highest award from Port Elizabeth exhibition". The dates during which these exhibitions took place is unknown.
To date the following albums, produced by the brothers have been identified:
During 1876 Benjamin and Henry produced a photo album  - Natal/Mozambique views in South East Africa;
Henry Kisch published two photographic albums on The Siege of Ladysmith during 1900, one containing 120 images and the second 64 images.
Benjamin Kisch: Views of the Transvaal war (c1880) – 100 photographs
Benjamin Kisch: Photographs of Natal and Zululand (c1882) – 166 photographs - Includes images from Isandlwana, Rorke's Drift, Cetshwayo and other Zulus.
Another photographic album title by the two brothers that needs to be confirmed is: Mozambique: A portrait and view of the isle Mozambique.
B. Tiberias Benjamin Kisch (1843 – 1914)
Tiberias Kisch was the son to Dr. Braham Kish and Cornelia Neser. Tiberias was born in Colesberg on 21 February 1843. The unusual name of Tiberias was given him after his maternal grandfather Tiberias Neser. Tiberias was a year younger than his Durban based second cousin Benjamin Kisch.
Bull & Denfield (1970) have Tiberias recorded as the first Jewish professional photographer in the Cape. He introduced the Carte-de-Visite to Colesberg on the opening of his studio there on 27 September 1863 and is also the first recorded photographer to have applied this same photographic format in Bloemfontein  during March 1864.
Shortly after the death of his mother, who died on 5 March 1843 (12 days after Tiberias's birth), Tiberias was taken to Scotland where he completed his schooling. It is not clear who he resided with whilst in Scotland.
At the age of 19, after some 18 years' absence from South Africa, he returned to the Cape. On his return, Tiberias initially set himself up as a General Dealer and auctioneer in Colesberg during 1862.
During 1863 he opened his photographic studio and combined photography with his other business interests. This suggests that he was active in photography some 5 years prior to his Durban based second cousin Benjamin.
Tiberias played an important part in the discovery of Colesberg Kopje. Tiberias was seemingly influenced by a diamond presented to his father whilst stationed in Colesberg resulting in him setting off on a short prospecting trip to Griqualand during September 1868.
During May 1870 Tiberias left Colesberg for an extended visit to the Diamond fields. After an interval of 8 months he returned to Colesberg but was off to the diggings again three months later (during March 1871). It is not clear whether Tiberias ever set up his studio camera whilst based in Kimberley – Unlikely. Kimberley is some 280km from Colesberg.
Anticipated fortunes did not come his way whilst in Kimberley and he was back in Colesberg at the end of the same year (1871).
Written some 40 years after the event, Tiberias has recorded his experiences as a digger and gives interesting accounts of the discovery of the famous Colesberg Kopje. The part played by Tiberias in the Diamond Field's most important discovery has also been well documented by Williams (1902). 
During February 1872, Tiberias proceeded to Port Elizabeth and tried his hand as a Commission, Customs and Forwarding agent for three years. His next port of call was Cape Town (1875), where during July 1880 he was appointed manager of the city Tramway Company. Other enterprises followed, and in 1889 he resided at Bertram House in Orange street (where he was a boarding housekeeper) situated at the top of Government avenue in the centre of Cape Town (Bull & Denfield, 1970).
The Paris Universal Exhibition of 1867 – Suggested that Kisch & Co (Tiberias Benjamin) contributed many items to this exhibition. It is not known at this stage who Tiberias would have been in partnership with – possibly his father?
Tiberias only seems to have been active as photographer for a period of some 7 years in that he does not seem to have produced any photographic work post 1870. This explains why photographs produced by him do not often surface – He was active as photographer for a period significantly shorter than his two second cousins.
Tiberias was to married to Emily Smith. They had one daughter, NN Kisch who was born during 1881 (died 1971). Tiberias died during 1914 – aged 71.
Two Carte-de-Visite photographs of unknown young men by Colesberg based photographer Tiberias Kisch (Circa 1865)
Photographer Tiberias Kisch (Circa 1870) – Image reproduced from Secure the Shadow
About Tiberias's father - Braham Kisch (c1810 - 1879)
Tiberias's father was previously incorrectly described by various researchers as being the Durban based photographer Benjamin. Other than possibly being in partnership with his son, Braham however never took up the art of photography himself.
Son to a Dutch father, Benjamin Hartog and Catherine Kisch,  Braham was born in London Circa 1810.  Also known as Dr. Kis, Braham came out to South Africa during the 1830s. During 1837 he became a licensed chemist in the Cape and was later appointed District Surgeon of Colesberg where he also had a licence to run an Apothecaries (pharmacy). During December 1846 Braham advertises his intent to leave for Colesberg. He died on 30 November 1879 in Ventersburg where he practiced as a medical practitioner (Bensusan, 1966).
His first wife, Cornelia Neser born on 2 October 1812 – died 5 March 1843 aged 31. She was initially married to Andries van Zyl (21 December 1839) only to marry Braham less than two years later on 19 July 1841.
After Cornelia's death, Braham married Harriet Jane Thompson circa 1846. They had 4 children Ester, Benjamin, Henry & Rebecca.
Braham's first association with diamonds took place during March 1867 when Braham believed that a diamond presented by a travelling trader, John O'Reilly, was a topaz. Braham made a bet with Lorenzo Boys (Acting Civil Commissioner at the time) that the stone was not a diamond but a topaz. It was later confirmed to be a "veritable diamond". It is not known whether Braham ever parted with the new hat that he presented as the bet.
Braham also practised as a medical practitioner in Bloemfontein during the mid-1860s, which was probably Tiberias's motivation to either travel to Bloemfontein to take photographs there or have a studio set up for a while.
Main image: Photographers Benjamin Kisch left and Tiberias Kisch right
About the author: Carol is passionate about South African Photographica – anything and everything to do with the history of photography. He not only collects anything relating to photography, but also extensively conducts research in this field. He has published a variety of articles on this topic and assisted a publisher and fellow researchers in the field. Of particular interest to Carol are historical South African photographs. He is conducting research on South African based photographers from before 1910. Carol has one of the largest private photographic collections in South Africa.
Sources
Azevedo, P. (2020). Photographos – Pioneros de Mozambique. Glaciar. Portugal
Bensusan, A.D. (1966). History of Photography in South Africa. Howards Timmins. Cape Town
Bull, M. & Denfield, J. (1970). Secure the shadow. The story of Cape Photography from its beginnings to the end of 1870. Terence McNally. Cape Town
Cory Library for Historical Research (Rhodes university). Photographs of photographer Joseph Kirkman and family by Benjamin Kisch (Pictures M28 to M31)
Dixon-Smith, R. (Extracted 4 November 2020). More on Kisch Photographers. (molegenealogy blogspot)
Dixon-Smith, R. (Extracted 4 November 2020). Henry Kisch Photographer. (molegenealogy blogspot)
Dixon-Smith, R. (Extracted 4 November 2020). Kisch Photographers in Durban. (molegenealogy blogspot)
Kisch, B. (emails 15,16 & 17 April 2020). Electronic communication between author and Brian Kisch, Great Grandson to David Henry Kisch
South African National Archives (Pietermaritzburg). Files as it relates to the Kisch brothers
South African National Archives (Pretoria). File as it relates to Benjamin Kisch
Spencer, B. (unknown). Nineteenth Century Natal Photographers. Publication unknown
Stevenson, M & Graham-Steward M (2001). Surviving the lens. Photographic studies of South and East African People: 1870 – 1920. Fernwood press. Vlaeberg
Unknown. (Extracted 13 April). Meaning of Kisch (Ancestry.ca.forebears)
Williams, G.F. (2011). The Diamond Mines of South Africa. Cambridge University press digitally printed version of book first published during 1902.
Disclaimer: Any views expressed by individuals and organisations are their own and do not in any way represent the views of The Heritage Portal.