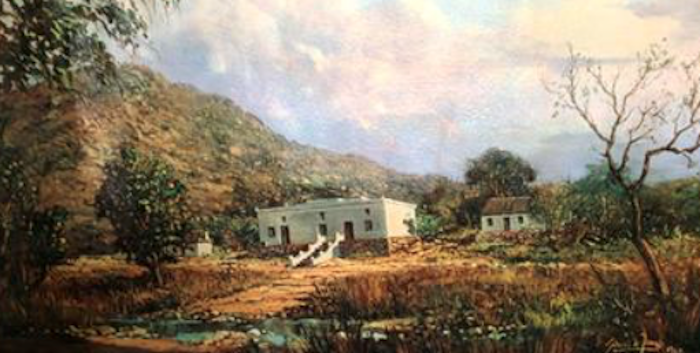 Saturday, October 20, 2018 - 09:18
September was Heritage Month but here I was in October invited to spend a weekend at Kedar Heritage Lodge to join the celebrations for the unveiling of a memorial to Sir Winston Churchill. Why October? Why Churchill in the Bushveld? Then I remembered. Kedar is a modern reincarnation of President Kruger's farm and country estate, Boekenhoutfontein (meaning Beech-wood Spring). Now located in the Northwest Province, it was once a jewel in the Transvaal Republic. The 10th October was President Kruger's birthday (his dates 1825-1904) and if you were a child during the fifties, it was a date that was writ large in school history of that era. We used to celebrate Kruger Day as a public holiday. Today 10th October is just an average working day. It was one of those holidays that was dispensed with when South Africa transitioned to a democracy for all. Saturday 13th October was the nearest weekend to that now forgotten 10th October. The Kruger Farm has become Kedar Heritage Lodge and is part of the Recreation Africa group of hotels and restaurants owned by Robert Forsyth. This company began purchasing farmland in the area including the portion owned by Kruger's daughter Gezina. Purchases continued and today the Hotel group owns some 1 200 acres.
Kgosikgolo Lentswe - c1857-1924. The Setswana leader greets us at the entrance to Kedar – a blend of heritage and cultures (Gail Wilson)

We were the guests of Robert Forsyth, Andre Wedepohl and their hospitality team. It was an invitation I could not refuse and so Saturday morning saw me and my good friend, photographer and fellow heritage aficionado, Gail Wilson, up early to head north towards Hartbeespoort Dam and beyond to Rustenburg. It was to be an adventurous weekend. Kedar is in Phokeng 20kms north of Rustenburg (about 136kms from Johannesburg if you travel via the R512 and the N4). It took us about two hours to reach Kedar; no mishaps on the journey and a wonderful experience awaited us. We came for an event but it was a celebration, an unforgettable experience and a heritage feast that stretched over 24 hours. We were introduced to the extraordinary world of Robert and Adele Forsyth and the Kedar team. We were in for a treat!
Front entrance of Kedar Heritage Lodge (Gail Wilson)
Kedar Heritage Lodge is a country conference centre, hotel and spa. It offers all the fine amenities of a quality resort. Here you can enjoy spa pamper treatment, dine on fine cuisine, imbibe the best of South African wines, reconnect with nature on a drive through the magical bushveld, play croquet on the green lawns, wear your best traditional or military outfits at a picnic on the Summerhouse lawn or puff out your medals in the General's room for pre-dinner drinks.
Memorial to the women of the South African War en route to a concentration Camp (Gail Wilson)
Artillery piece from the South African War on display at the entrance to Kedar Heritage Lodge (Gail Wilson)

Kedar is also a place of several extraordinary museums with a focus on South African military history of the South African War period and the original now restored farmhouse complex of Paul Kruger and his descendants. Here you will also find perhaps the finest collection of South African War military memorabilia and artefacts collected with passion from British and South African sources. Forsyth has brought all these incredible finds back home again and fellow collectors will drool with a shared delight and pleasure. There is a spirit of sharing and caring at Kedar; the South African War era comes alive through the museum displays.  
 Kruger Money Boxes circa 1899 (Gail Wilson)
The older Kruger farmhouse museums are special. They could easily be missed but are equally important. I was curious about the meaning of Kedar. The name Kedar has a biblical origin. Kedar is a name and Kedar was a grandson of Abraham who founded the tribe of Kedar (Genesis 25, verse 13). Psalm 120 verse 5 mentions the Kedar and elsewhere in the bible it was recorded that the tribe of Kedar lived in beautiful tented villages and the people of Kedar were "glorious mighty men with large flocks of animals."
Paul Kruger statue at Kedar (Gail Wilson)
Kgosi Mokgatle Morwa Kgosi (Kathy Munro)
I suppose many guests will come to Kedar for the fine food and wine and the country experience. It is a place to relax for a weekend or stop off en route to Sun City. A Chinese touring party clicked cameras furiously at breakfast on Sunday and I hope caught a taste of South African themed history. But far too many people race by and don't know the rich history and heritage that has been preserved. Here you will find an authentic Sarel Rooi Bul field gun, original early farm ploughs and an old farm cart laden with purple bougainvillea. Dozens of glass display cabinets and showcases are filled with all the personal curiosities of a bygone era - there are so many personal mementoes and possessions that once belonged to the generals and soldiers of both sides of the South African war conflict that one weeps at the poignancy and heartbreak of the battlefield relics - uniforms and regimental regalia, old binoculars, water bottles, bullet cases, rifles etc. Here you will see thousands of weapons meant to end life and win a battle but what really whispers are the small homely comforts soldiers took to war and families tried to save from war when the women and children faced the destruction of their farms and being dispatched to the hastily created British concentration camps. I gazed in awe at the magnificence and size of the museum collections of authentic documents, campaign maps, medals, cigarette cards, preserved untouched Christmas chocolate tins from Queen Victoria for the soldiers, well used tobacco tins, pocket bibles, shell cases, quaint Kruger money boxes, English themed patriotic china and glass. There is so much to  see in the many hidden away rooms. Each room is a museum of its own, each room needs an hour to take in the exhibits. The story of the South African War is splendidly told in the exhibits throughout this hotel. Fortunately you can take frequent breaks from museum immersion and fatigue for a coffee or a gin and tonic at the Heroes Bar.
Kedar has the distinction of being a place where history and heritage connect. Kedar is in the process of making history or maybe that should be remaking history with a new collection of imaginative contemporary sculptures and art installations of past heroes and historic themes. Memorials to figures of the past are encountered on this estate. One's curiosity is piqued. Over the last few years the Recreation Africa group has commissioned the well-known Zimbabwean artist Adam Madebe to create a collection of history themed art works. We need to do some mental acrobatics as we enter the world remade by Madebe - Cecil Rhodes, Jan Smuts, Mahatma Gandhi, Sol Plaatje, Emily Beck, Paul Kruger, Kgosi Mokgatle and now Winston Churchill all meet at Kedar Heritage Lodge. Where controversial colonial figures are toppled and displaced elsewhere in public spaces, Forsyth is of the view that the lives of these figures should be celebrated in the metal fabricated art works of Adam Madebe; iconic poses of contemplation over a lily pond (Rhodes) or seeing action from the saddle of a horse (Smuts) or watching the sun go down from a Kimberley stoep (Plaatje) or trudging on the salt march in simple dhoti and his home crafted sandals (Gandhi) are given new meaning and presence at Kedar. Emily Beck was a young woman whose story of courage in nursing Australian soldiers in the South African War has been rediscovered and her memorial was unveiled in 2017.
Artist Adam Madebe (Gail Wilson)
Memorial to Emily Beck unveiled in 2017 – little known South African War heroine (Kathy Munro)
The Smuts Memorial at Kedar (Gail Wilson)

There is an entire collection of art in the gardens and along the red dusty roads that approach the hotel. It has become a tradition to install a new work each October. Guests mingle with their croquet mallets, elegant gin cocktails, fruit kebabs and chewy kudu biltong snacks. It's one of those only in South Africa moments as we gathered for the unveiling of the newest memorial commemorating the life and Winston Churchill and remembering his South African connections.
Croquet on the lawns of Kedar Heritage Lodge (Gail Wilson)
This is a long way from the turmoil of the UCT campus and the Rhodes Must Fall protests. Here historical figures installed on a celebrated farm meet and mingle. I love the creative energy and the bold imagination of patron and artist. All the subjects presented in metal sculptures spent time in South Africa and that African background played a part in their story. There is a common thread in the men (and one woman) selected to represent different visions and paths to self-identity and political independence for each nation.
Together it becomes a heady mix of beautifully crafted museums, displays of memorabilia and contemporary sculptures. There are four life size military sentinels at the main entrance gate leading to the lodge. These are the representative military types (Boer, British, Indian and African) dressed in uniforms and poised for battle circa 1899. It's a stone's throw away from the Gandhi figure who eschewed war but he belongs as he formed a corps of Indian stretcher bearers to serve in Natal in the South African War and he did go onto the battlefield to render first aid.
Sentinels on duty at the entrance of Kedar Heritage Lodge (Gail Wilson)
The Gandhi Memorial (Gail Wilson)

At Kedar dates don't seem to matter too much. The overall effect is to appeal to tourists and draw them into Transvaal histoy. There is a blend of reality and romance, fact and fantasy, art and artifice. Here is history remade in celebratory rather than angry mode.
It's an unforgettable experience of heritage and history, the best of hospitality and an African bushveld encounter. It is a place where South Africans of all backgrounds can find their chosen heritage. Kedar offers both a route into history and suggests how history can be made more accessible through a celebration of heritage and the display of artefacts, treasures and art works. Forsyth has an all absorbing passion and the awareness of heritage tourism potential. Here is a very different and unusual attempt to understand our roots. Heritage is not history but it is those parts of history that make us feel good about the past; it's those bits of the past that we want to save, preserve and protect.
This set me thinking about what is Heritage and how it relates to History (my capital letters are deliberate). There are some dangers if you take time to think about the experience of a heritage immersion. Heritage often becomes a means of imagining and celebrating a history that offers comfort rather than anger. Heritage can be the analgesic for smoothing out past controversies and treating the past selectively. Heritage enables us to pick out the heroes; we can look for characters from the past who perhaps have a message we need to stop to hear.
But there is also History and Heritage that has only a tangential connection of history. History is a much more difficult discipline. It is not just about "the true facts about the past" or finding heroes or a hagiographic rant for heroes. The romance of the past can thrill and make one curious. But there is a challenge beyond the surface portrayal of the heroes. To "do" history the historian has to probe, ask questions and look for interpretations and challenge old interpretations. Each generation comes up with new questions. If you don't "read" the past you are doomed to repeat the mistakes of the past. History is never done and dusted. In that sense history is alive, relevant, difficult, thorny and controversial.
Heritage too needs to be alert and alive to the risks of history. Sculptures and monuments have long been both a comfortable and an uncomfortable means of remembering the past and allowing new heroes to emerge. Statues are heroic, reflective, a means of honouring the greats of the past, perhaps they are just art for art's sake. In 2015, the Rhodes Must Fall campaign originally directed at the removal of the imposing brooding figure of Cecil Rhodes by Marion Walgate first installed on the UCT campus in 1934 started a debate about appropriate sculptures for this generation. I suppose this is the difference between public and private space and the private tourism hotel is in the private domain.
Rhodes Statue (Kedar Heritage Lodge)

At Kedar the programme for the celebratory day exudes enthusiasm: "we at Kedar are passionate about South African heritage and history and particularly about the history of the South African War (1899-1902)". The promotional welcome page advises that Kedar is not just interested in the order of events, battles military units and weaponry, but seeks to celebrate notable individuals who found themselves in extreme situations, rose to the challenge and achieved truly great things. I would like to suggest to Kedar that it can pioneer tolerance, scholarship, balance and interpretation by adding another dimension to their museums and sculpture park. There is an opportunity to become a centre of scholarship and documentation of the South African War. They have the finest collection of museum objects; the next step is to offer a means of serious study with comprehensive library and study centre so that history, museum and heritage become interconnected. In this way Kedar has brought a new interpretation and seeks new meaning in the past by commissioning new sculptures of figures such as Mahatma Gandhi, Sol Plaatje, Jan Smuts, Emily Back, Cecil Rhodes and now Winston Churchill.
The unveiling of the Churchill memorial with Robert Forsyth (Executive Chair, Recreation Africa) and Nigel Casey (British High Commissioner in South Africa). The architect of the memorial is Nico Wessels and the artist is Adam Madebe. (Gail Wilson)

Churchill lived a long life and was a man of many parts - military figure, war time strategist (First World War), historian, politician, orator, war time leader (Second World War). Many Britons regard him as the greatest Briton of the 20th century. Madebe presents an older Churchill in a giant sized head. Perhaps it's the Churchill who led Britain through the darkest years of the Second World War. But the young Churchill who made his name in South Africa during the South African War was a man on the make. He was a newspaper correspondent but also a man of action, a soldier and a young man in search of adventure who was captured by the Boers on the armoured train at Clovelly in Natal, taken to Pretoria and then escaped. He made his way eastward to Lorenco Marques and then travelled by ship to Durban where he received a hero's welcome. The account of his adventures was written up in his book My Early Life. It is still a good read and is all about the makings of the man before he became a politician. In my opinion, this is the Churchill who should have been captured. But Madebe chooses a different period and mood. Only the cigar is missing. Of course Churchill never came anywhere near Boekenhoutfontein. 
There was certainly an interesting gathering of people at the Churchill event. The unveiling was performed by the British High Commissioner, Nigel Casey, a career diplomat who delivered a polished speech on the significance of Churchill. Roger Webster, literary scholar, raconteur, radio personality and historian, gave an entertaining talk on Churchill and Smuts. I particularly enjoyed the inclusion of the YouTube video of Churchill's sombre funeral of 1965 (when we in South Africa did not have TV so listened on the radio or relied on the Pathe newsreels). I met the Queen Mother of the Royal Bafokeng Semane Molotlegi, a most gracious lady. Mike Benn, the man who has led Magaliesberg heritage tourism efforts and blue plaques for the area, and his wife Ro are strong supporters of Kedar. The South African Military History Society was represented; I met Margaret and Peter Rush. Spike Becker and Estie Becker represented the Transvaal Scottish and The View (Johannesburg). Sue Reddy and Jenny Moodley represented Johannesburg City Heritage. All round a well-supported gathering.
The objective in the art creations at Kedar seems to be to commission the artist to create and present figures as they were at the time of the South African War but wisely Kedar leaves their artist-at-home with freedom of expression. I warmed to the installations of Sol Plaatje - with Plaatje sitting on his stoep at his home in Kimberley. The figure of Gandhi is one of the first figures you encounter as you arrive at Kedar. This installation was created in 2015 to commemorate the 100th anniversary of Gandhi's departure from South Africa (except he left South Africa in 1914). Here is the somewhat ascetic pilgrim, barefoot fakir and protestor possibly on the salt march somewhere in British India with his ideas about passive resistance formed in South Africa and now  positioned backwards in time. Madebe has not portrayed Gandhi as he was when in South Africa or at the time of the South African War - perhaps if he had people would not recognise the iconic protestor. Then there is Rhodes who has also arrived at Kedar. Rhodes sits on a bench in a rather strange glass framed, thatched summer house. I think the setting works wonderfully. Rhodes is more human and sympathetic in this post, just an ordinary man and less imperial in his pose of contemplating the future of Africa. Smuts is on his horse under a rather Greek looking classical temple. He is the military figure on campaign somewhere in East Africa. Again, the Smuts at Kedar is a far older figure than the 30 year old of the South African War period.
Sol Plaatje at Kedar Heritage Lodge (Gail Wilson)
Close-up of the Gandhi Statue (Gail Wilson)
Rhodes in his Summer House (Kedar Heritage Lodge)
All of these historical figures are introduced with excellent and detailed information boards. One needs the time to read the biography and what each of the heroes of Kedar accomplished. This is well worth the effort for at least a potted history and I think there is enough here to lure the reader into the serious studies. There is at least one book on each man worth finding and reading.
What of the Kruger connection with Kedar? Kruger bought Boekenhoutfontein in 1859. In fact Kedar Heritage Lodge has at its core, the farmhouse built by Kruger for his daughter, but the interior has been altered and it is now called The Campaign House.
The Campaign House (Gail Wilson)
But then don't miss the Kruger Museum. We chose to go on the museum tour to the Kruger farmhouses. This is an escorted tour (Sunday morning 10 am) of the old farm cottage, farmsteads, school house and farm cemetery located about a km or so from the main Lodge complex. You clamour onto the game vehicle and we were joined by tour guide Rob Milne and his group. This tour is strongly recommended as one gets a much better understanding of the 19th century Transvaal farming life of the Boers and here you feel the smell of the rain, the red earth. Here there was once an Orange orchard.
Kruger Museum in addition to the series of old farm cottages and farmsteads is a separate complex. Here are some excellent examples of early Transvaal domestic architecture. The earliest house dating back to 1839 is a simple pioneering two room thatched cottage with thick adobe walls. It is probably the first European dwelling in the Transvaal still extant (it belonged to the first European farm owners). As mentioned, Kruger bought the farm Boekenhoutfontein in 1859. It must have been a substantial acreage, as after his death the farm was split and bequeathed to his children. In 1883 Kruger moved to Pretoria as State President leaving his son to continue farming. For the twenty years or so of his residence Kruger farmed with cattle, planted an orange orchard, cultivated a bamboo copse and sowed wheat. It is a fertile area, a land of wide vistas, koppies and kranse. It was here that Kruger prayed for the Lord's guidance. He was a deeply religious man. Perhaps one best understands Kruger's initial resistance to the British annexation that led to the First Anglo Boer War right here. The Afrikaners of the Transvaal were a rural, farming people who placed their faith in the Lord and the land. After Kruger left his farm, although it remained in his family, he did not return. During the South African War he went into exile and died in Clarens Switzerland. His remains were returned to South Africa and he was buried in Pretoria in 1904.
Kruger built his house, a substantial and elegant dwelling, in 1872. It has a strong Cape architectural feel - its style is Cape Dutch of the Colesberg area as Kruger had lived and worked in this area in his younger years. It is simple, white washed, well proportioned with two entrances and given some height by the upper attic floor and the stone foundation course with steps rising to the  front stoep. This building was declared a national monument in 1971 and it was restored by the Simon van der Stel foundation (today the Heritage Association of South Africa). I had a lucky  break when back in Johannesburg and acquired a print of an oil painting by Gabriel De Jong; the print was sold prior to 1971 as a fundraiser for the restoration and is a nice connection to the past. By the 1970s the vision for the restoration was that Boekenhoutfontein and 35 morgen of the farm should become "the Groote Schuur of the north ".
The Kruger Farmhouse at Boekenhoutfontein (Gail Wilson)

The homesteads are filled with the domestic every day artefacts, furniture, objects of the late 19th century; bedding, clothing, vases, handcrafts, kitchen utensils, an organ, a desk etc. All these household items are well preserved and presented.
A later simple house on the Kruger farm (circa 1862). An improved version of the pioneer cottage. (Gail Wilson)
The small farm cemetery (Kathy Munro)

Many of the artefacts come from the Rustenburg Museum. I wondered how much came from the Kruger family. It's a fascinating place. Nearby is the Emily Beck memorial and time to learn more about her life and heroism in the South African War.
This is also an interesting part of the world to learn more about the Bafokeng people of Phokeng and why this tribe acquired title to their land and ultimately grew their wealth through being the land owners in what became platinum mining country. Apparently the story goes that it was Kruger who had good relations with the Bafokeng people and encouraged them to register their title to their land in Pretoria.
The Kedar website is effectively an electronic brochure (click here to view). For those interested in history, the best place to go is to the "Exhibits" tab which has two useful sections: "Memorials" and "Memorabilia".
Kathy Munro is an Honorary Associate Professor in the School of Architecture and Planning at the University of the Witwatersrand. She enjoyed a long career as an academic and in management at Wits University. She trained as an economic historian. She is an enthusiastic book person and has built her own somewhat eclectic book collection over 40 years. Her interests cover Africana, Johannesburg history, history, art history, travel, business and banking histories. She researches and writes on historical architecture and heritage matters and is well known for her magnificent book reviews. She is a member of the Board of the Johannesburg Heritage Foundation and is a docent at the Wits Arts Museum. She is currently working on a couple of projects on Johannesburg architects and is researching South African architects, war cemeteries and memorials.
Disclaimer: Any views expressed by individuals and organisations are their own and do not in any way represent the views of The Heritage Portal.