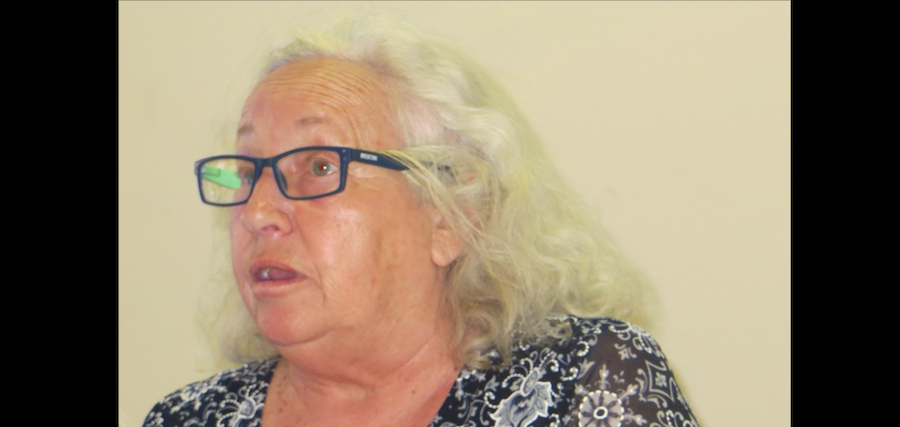 Sunday, October 22, 2017 - 17:22
Flo Bird, Founder of the Parktown and Westcliff Heritage Trust and founder member of the Johannesburg Heritage Foundation was a surprise guest speaker at the 17th annual symposium of the Heritage Association of South Africa held at Heidelberg last week. Flo's speech was given at the remarkable  NZASM constructed Heidelberg Station.   
Flo's task was to draw on her experiences gathered over a lifetime of commitment and campaigning. Her message was one of support and solidarity for the Heidelberg Heritage Association as the organisation sets out on the battle to save the town's heritage.
Flo's advice and message was drawn from her 46 years of fighting the cause of heritage in Johannesburg. It provides a useful checklist for all heritage warriors. 
Kathy Munro
1) Make your list - Top heritage sites
It starts with your own idea of just what you believe is important and want to save. Later some experts will suggest other items, but begin with the ones that mean a lot to you. It takes passion to save the heritage and especially passion to stay the course. Is one in any danger right now? If so, that tops your list.
AG Visser House makes the list (The Heritage Portal)
2) Document these sites and buildings
The facts you gather are the weapons you will need. When was it built, for whom and by whom, what important people or events are associated with it? What legal status does it have now? Is it a Provincial Heritage Site? (if it was a National Monument then it is now a Provincial Heritage Site). Is it more than 60 years old? (this means it is protected by Section 34 of the National Heritage Resources Act). How can you prove its age? You must have the facts because your opponents will certainly try to use them against you.
3) Strategy
Get people to know the heritage site and understand its significance.
3.1  The symposium is a brilliant initiative: You have taken the first step by hosting the symposium in Heidelberg. This proves that the heritage is valued by a much wider group than your local association. Ask the organisations involved in HASA for letters of support.
3.2  School tours and inclusivity: Offer tours to schools and other community organisations. For school groups make it as exciting as possible so that they talk about it to their parents. Be very careful NOT to be sectional about heritage. It must be everyone's heritage. We are all South Africans and good or bad we share this heritage.
3.3  Fun Events: Arrange events to focus on this heritage site. Do a ghost tour, but don't take it too seriously.
3.4  Media involvement: Get the media on your side. You have already had coverage from the local newspapers. How much coverage can you get on Radio and which radio stations can you approach? 
3.5  Local support is vital: Are there any local organisations or commercial companies which are willing to support your efforts? Is your local authority interested in the heritage matters?
School tours are fun! (The Heritage Portal)
4) Objections
If there is an application for demolition or development, lodge an objection. Do not be afraid to pursue this course. You have the right to object, make use of it. Object to the rezoning, object to the proposed demolition. Objections are vital because they prolong the process and often persuade the developer to negotiate.
5) Petitions 
Get a petition going if you have lost round one. There is a Petitions Committee in the Gauteng Legislature. Lodge your petition. I have seen reports on petitions for just one block in a suburb. That way you get the message out to wider group of public representatives. Invite them to come and see for themselves. Send good photographs. 
6) Establish a social media presence
Get your petition on social media. Have you got a facebook page, twitter account, instagram profile etc.? Can you piggy back on other heritage groups with a large following? Get people sharing.
A screenshot from the JHF Facebook Group
7) Persevere even if you lose some battles
I have been doing this since 1972. Our biggest and longest battle was against a motorway which was later slimmed down to an arterial road. I am probably the only one who remembers it now. We had two houses in its path declared National Monuments. We petitioned the Minister to increase protections in the National Monument Act. That gave us the 50 year rule which was later changed to the 60 year rule. We fought using town planning legislation as well. When properties were rezoned we objected until they accepted the need to keep the old houses. Today in Parktown at least 50% of the buildings that have been retained were kept through rezoning not through heritage legislation.
The View was saved (The Heritage Portal)
8) Case Study: Rand Steam Laundry
When Imperial demolished the buildings of the Rand Steam Laundries in Richmond which had been provisionally declared a heritage site, we declared war. We held demonstrations, we called for boycotts, we used radio and fought for 8 years. Imperial caved in and rezoned making the rights dependent on the reconstruction of the old buildings.  Now we have a new developer, who is rebuilding the old buildings. Our aim was to make sure that no developer would try the trick of demolition again. 
Work taking place at the Rand Steam Laundry Site (The Heritage Portal)
9) Other Johannesburg causes - Markhams and the Colosseum
In the process of saving a few Parktown houses we have supported many other causes such as saving the old Markhams building in Eloff Street. We have lost many causes, such as the old Colosseum cinema. We have remained militant and vigilant which has gained us the support of members of the public and made developers and our City Council is wary of ignoring heritage issues.
The famous Markham's Clocktower (The Heritage Portal)
The Colosseum
10) Research Centre and grading of buildings
We have a Research Centre and undertake surveys and grade the sites in each area we work on. You can find these on our website and many of them are also on the Heritage Register. We have three Plans Committees which scrutinise building plans and rezoning applications for East, North including central and West.
Many of the JHF's ratings are on The Heritage Register
11) Tours and Publicity
We run tours and try to raise awareness of heritage in all areas of Johannesburg. We have done tours in Orlando East and I am doing one in Dube, Soweto next month. We often do tours in the centre of Johannesburg. My favourite is in Hillbrow. We got to the Highpoint and I tell people "You are standing in the centre of the most dangerous part of South Africa" . They take photos but the best came when some of the residents leaned out of their flats and photographed us "Tourists!" We run a schools programme offering four different tours.
12) Blue Plaques
We award blue plaques where we believe the buildings are important. This is costly process and we are not keeping up with all those that are needed, but it brings pride to an area as well as to the owners who are maintaining our heritage sites. 
Blue Plaque for Savernake Parktown (The Heritage Portal)
13) Volunteers for heritage
Nearly all this work is done by volunteers. It started in 1973 with my neighbour... Isabelle le Roux and I deciding we had had enough. Angry women make great warriors!
14) Heidelberg Heritage
You have a most interesting and exciting heritage which has enriched your town creating a wonderful sense of the past and the progress that has been made. So please for all our sakes keep up the pressure and make sure everyone knows about Heidelberg's heritage.
We congratulate Heidelberg on hosting a wonderful symposium. We support you in your efforts. We are delighted you have plans to make this station a beer emporium and grand brewery for local craft beer. This is the home of Heidelberg beer, Paul Kruger Beer, and local Umqombothi. Your museum, working brewery, station locomotive and train carriages on site is a willing formula. It will be a tourist attraction of note! It is an ambitious and exciting project and we wish you success and offer  you our support.
Heidelberg Railway Station (Horst Muller of Rural Explorations)
Disclaimer: Any views expressed by individuals and organisations are their own and do not in any way represent the views of The Heritage Portal.