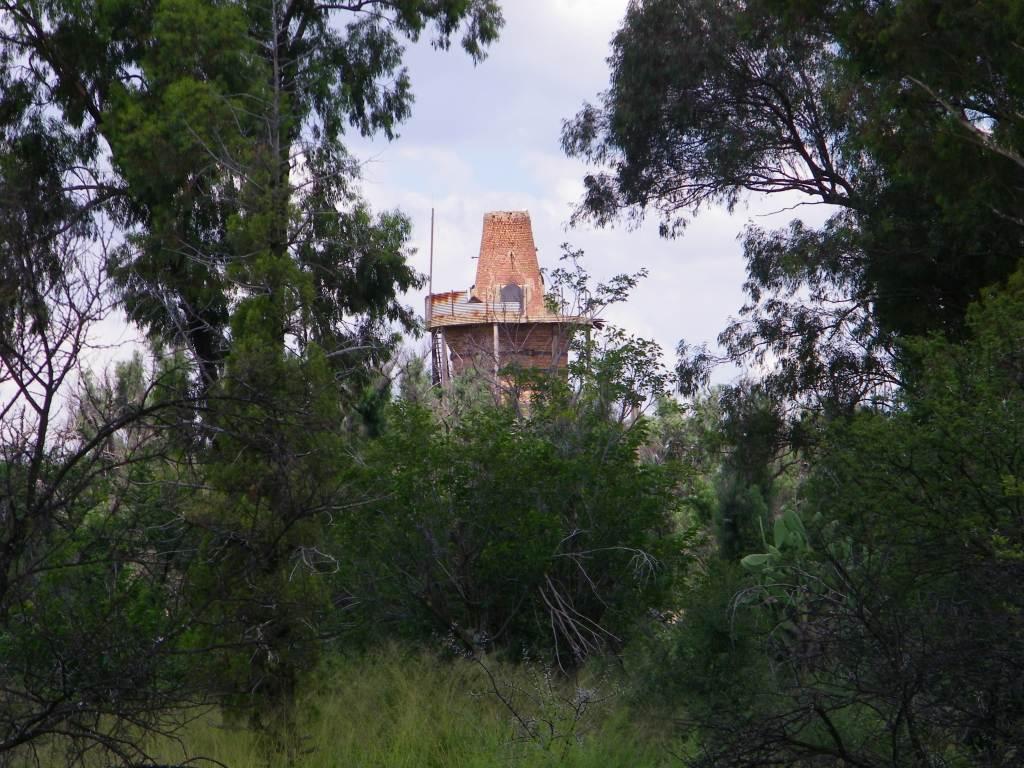 Monday, December 11, 2017 - 09:49
Driving on the gravel road from Edenville to Heuningspruit in the Free State one will notice a strange looking tower sticking out from between the trees. What is/was that?
The answer is that it was a lime kiln, that is a technical term to describe an oven or furnace used to heat limestone to convert it to burned lime for use on the gold mines (as a neutralising agent and as building material). It was owned by the New Honingspruit Lime Works.
What remains of the plant is the kiln, the limestone mine, shells of some buildings and some hardware. It took a bit of detective work to figure out what the process was. The first step in the process was to mine the limestone. Limestone is essentially calcium carbonate (CaCO3). Pieces of limestone of a specific size were loaded onto koekepans, transported to the kiln and hoisted to the top. The fire in the kiln was burning continuously with loading and withdrawal at the same time, except weekends. It was filled in layers of 3000 lb (pounds) limestone followed by 800 lb anthracite (coal).
Heuningspruit Lime Kiln (Horst Müller)
The reaction is represented by the following chemical equation:
CaCO3 + heat--> CaO + CO2
Thus Carbon dioxide is given off. For a quick enough conversion, a temperature of up to 1400ºC is required. The hot lime was taken from the kiln to the cooling shed, where it would be stored to cool before it was further treated with the correct amount of water to form quicklime, that is calcium hydroxide. Again, here is the chemical equation:
CaO + H2O --> Ca(OH)2
The final step was to mill the lime, there was a ball mill for that purpose. From here it was loaded into bags and taken to the Heuningspruit railway station for despatch.
The driving power was supplied by a steam engine, a system of belts took the power to the various machines. Later on, the steam engine was replaced with two diesel engines.
What is left of the steam engine (Horst Müller)
As this is my professional background,  I just had to provide some technical details. I will now reveal some of the history of the place.
The name mainly associated with the lime works is Gustav Borcherding. He became involved with the business circa 1904-1906. It is said that the mine or rather quarry was developed by a Scott some years before. Names associated with the lime works were Mr.Wagner, Kurting, Bennett and Rubenstein. Borcherding eventually took over the business as sole owner around 1908-1910.
Limestone Quarry Heuningspruit circa 1908
Gustav Borcherding was born in North-West-Germany in 1874. Not much is known about his background or his education. He spent a few years wandering around Europe, including Britain. His first attempt to reach South Africa was made in December 1900 when he landed in Cape Town. But the Anglo Boer War prevented him from travelling inland and he had to depart. 
By August 1902 he was back again. This time he landed in Durban, after exploring the east coast of Africa. He obtained a permit to enter the Transvaal and the Orange River Colony and by February 1903 was in Johannesburg. There is a postcard written by him sent from Johannesburg, dated 12/2/03. It was to Miss Norah, his future wife, who lived in Sheffield England. The text reads: 'one of those mines where I have been calling a dozen times. All these chimneys belong to one mine. With heartiest love from Gus'.
Postcard from Gus to Norah showing a Gold Mine
In addition to Johannesburg, his travels took him to Barberton and Klerksdorp, most likely in search of business opportunities. Eventually, he found one in form of the 'New Honingspruit Lime Works'.
Initially, there was only one small kiln that was run in batch mode; fill the kiln, make the fire, let it burn until the reaction is complete, let it cool and remove the burned lime.
By 1910/11 a new, larger kiln was built, which is the one still standing.
Heuningspruit Lime Kiln under construction
The photograph below shows the plant in 1928. The people in the picture are Gustav, Norah and Frida. It is important to note that the kiln is not as high as it is now. Increasing the height would give better draught, thus better burning, increasing the throughput. I suspect it was also done so that coal could be introduced into the kiln lower down, closer to the burning zone, reducing losses of volatiles.
Heuningspruit Plant in 1928
In between all this, Gustav married Norah, who he first met in Sheffield and had kept in contact with all along. I don't have an exact date for the wedding. From the information supplied it might be somewhere around 1908. The couple had no children. Being concerned about succession he recommended that his sister's son, Georg Schwiering, should study engineering in Germany and then come out to South Africa to assist and later take over the business. Georg joined in 1928 after he had married Frida Cornelius in Germany. The boat journey to South Africa was their honeymoon.
Gustav, Norah and Frida in December 1928
Frida and Georg had one child, Hans Gustav, born in 1931. Hans Gustav is still alive (86 at the time of writing) and most of the information for this article has come from him. And by the way, he went to the Heuningspruit Primary School, of which the foundations are still visible near the railway station.
Gustav died in 1951 and Norah two years later, their bodies were embalmed and placed in a tomb on the farm. The verse on Gustav's plaque reads: 'Was Liebe gebot hat Treue erfüllt'. This can be translated as 'what love has demanded has been fulfilled by loyalty', or possibly better, by faithfulness.
Borcherding Tomb (Piet Lombard)
Georg carried on running the business until he was forced to close it down in 1956 due to some changes in the mining law which affected the company financially and because of declining sales.
The family stayed on with some of the workers and became farmers. Georg and Frida are buried next to the tomb of Gustav and Norah.
About the author: Horst originated from Germany many years ago. He has spent a lifetime working for some of the major chemical companies. Throughout his life, he has had an interest in local history and has now, in retirement, made this his major hobby. He believes in not just doing the exploration and research but writing down his findings as well. Check out his website here.
References:
Pictures and written information supplied by Erika van Zyl, granddaughter of Georg Schwiering.
Disclaimer: Any views expressed by individuals and organisations are their own and do not in any way represent the views of The Heritage Portal.