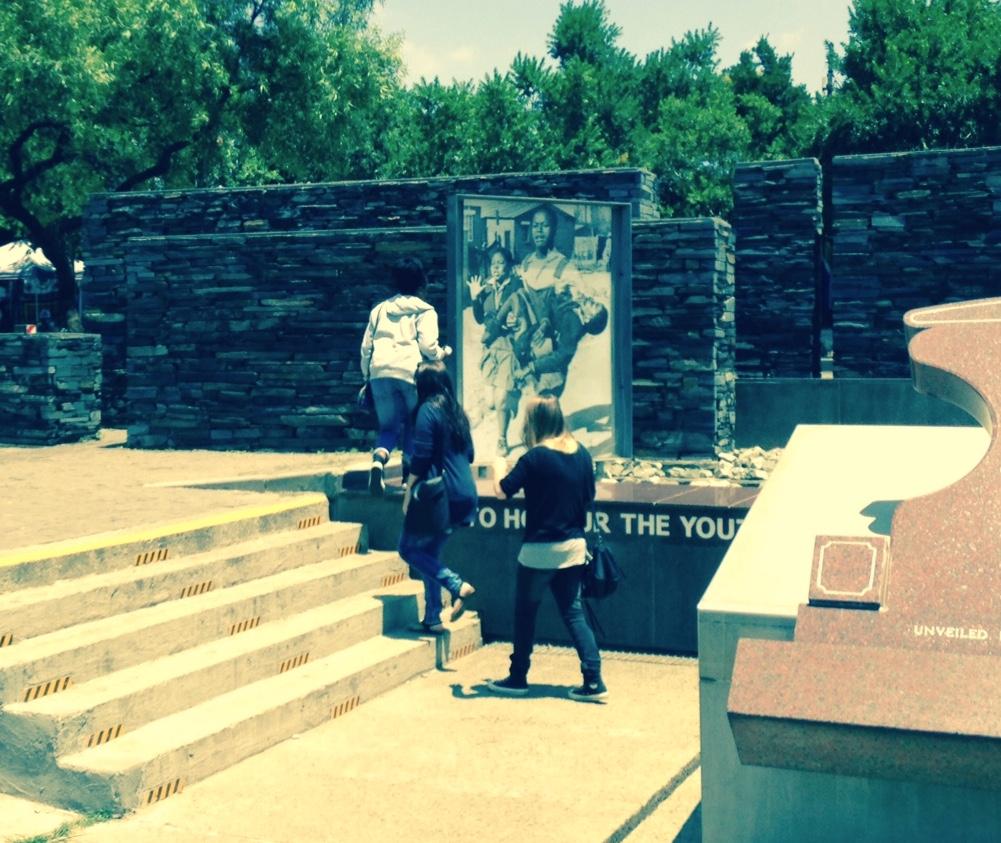 Monday, June 14, 2021 - 15:49
In this article from the archive, journalist Lucille Davie reports on the planning and construction of the Hector Pieterson Museum. The piece was first published on the City of Joburg's website on 24 October 2001. She also investigates what happened to various key 'June 16' personalities. Click here to view more of Davie's work.
"I saw a child fall down. Under a shower of bullets I rushed forward and went for the picture. It had been a peaceful march, the children were told to disperse, they started singing Nkosi Sikelele. The police were ordered to shoot."
These are the words of Sam Nzima, recalling the events of June 16, 1976 in Soweto. Hector Pieterson, a young boy, was shot. He was picked up by Mbuyisa Makhubo, who, together with Hector's sister, Antoinette, ran towards a press car, where he was bundled in, and taken to a nearby clinic, where he was pronounced dead. The moment has been preserved in Nzima's now-legendary photograph.
Iconic shot by Sam Nzima
"I was the only photographer there at the time. Other photographers came when they heard shots," he says. Nzima was a photographer for The World newspaper in Johannesburg, which was banned and closed down only a few months later.
Now those events are to be recalled at the new Hector Pieterson Museum in Orlando West, Soweto, built in memory of the people who died that day, from a total of 566 people who died in unrest around the country in 1976.
Museum Sign (The Heritage Portal)
The construction of the museum will be finished at the end of October, and the museum will be opened before June next year, says project manager of the museum, Themba Mabasa. The cost has been covered by the Department of Environmental Affairs and Tourism, with a donation of R16-million. A further R7,2-million has been donated by the Johannesburg City Council for the interior and the museum displays.
"There will be one room devoted entirely to June 16," says Mabasa. "This will include the social context of Soweto, the political climate, the language issue, and the reaction: the national and international solidarity in the form of marches and gatherings."
Mabasa hopes to get television footage from various world news organisations, like the United Kingdom, Germany, France and Russia.
There will also be extensive exposure of the breaking news of the day, as covered by the South African media.
"Eyewitness accounts will add to the display, as well as the consequences of the uprising. For example, Afrikaans as the proposed medium of instruction was dropped after a month."
But it won't be just a gloomy picture. "Some of the leaders who emerged from the uprising, for instance, Patrick Lekota, now minister of defence, will be recorded."
Where are the protagonists of that moment, these days?
Sam Nzima
Nzima, who took six sequence shots of 12-year-old Pieterson in those brief moments, moved to the Northern Province a year after the incident. He left Johannesburg when it became clear that his safety in the city was under threat. "The security branch phoned me and told me to go to John Vorster Square, but I went into hiding for three weeks," he says.
The harassment didn't stop after he left the city. "In 1978 the security branch from Nelspruit phoned and told me that they knew of my whereabouts and what I had done."
Nzima set up a bottle store after he settled up north, and later served as a member of parliament in the homeland Gazankulu government. Nowadays he runs a school of photography in Bushbuckridge after being donated a black and white enlarger by The Sowetan. He also serves as the district health councillor for Bushbuckridge.
"There is an art to developing black and white pictures," he says.
But his best news is that from 1999 when the Independent Group bought the Argus newspapers, he was given copyright of his Hector photographs.
His thoughts on his role as a photographer responsible for one of the most famous photographs in South Africa's history? "I contributed a lot, I became an icon to the youth, and I epitomised the struggle and contributed to change."
'Rooi Rus' Swanepoel
The police commander who is believed to have given the command to fire at the schoolchildren on the day, Theuns "Rooi Rus" Swanepoel, was described by the Truth and Reconciliation Commission (TRC) in 1998 as a policeman "who already had a long history of human rights violations as chief interrogator of the security branch".
Swanepoel told the TRC: "I made my mark. I let it be known to the rioters I would not tolerate what was happening. I used appropriate force. In Soweto and Alexandra where I operated, that broke the back of the organisers."
Die Afrikaner, the far rightwing Herstigte Nasionale Party mouthpiece, gives one version of how the first shot was fired in Orlando West: "In the heat of the struggle (Swanepoel) and his men are called in from leave to stop a mass of seething, threatening youths. The atmosphere is laden and then one of the blacks throws a bottle into the face of the Red Russian ("Rooi Rus"). A war breaks out as the young men let loose on the seething crowds and the one responsible for throwing the bottle looks like chicken mesh after the automatic machine gun flattens him."
Swanepoel allegedly lost his right eye in the incident. He died of a heart attack in 1998 at the age of 71.
Mbuyisa Makhubo
Mbuyisa Makhubo, the schoolboy who picked up Hector, was harassed by the police after the incident and eventually went into exile. His mother told the TRC that she received a letter from him in 1978 from Nigeria but she has not heard from him since.
Antoinette Sithole
Antoinette Sithole, Hector's older sister and one of five sisters, still lives in Soweto. She was 17 in June 1976.
"On the day, I was hiding in the second house next to my school Phefeni High School. There were younger children at the march who shouldn't have been there. I don't know why they were there - Hector was one of them. There were random shots, we were not familiar with teargas shots. I was confused, those first shots could have been teargas.
Blue Plaque for Phefeni School (Eric Itzkin)
"I came out of hiding and saw Hector, and I called him to me. He was looking around as I called his name, trying to see who was calling him. I waved at him, he saw me and came over to me. I asked him what he was doing here, we looked around, there was a shot, and I ran back to my hiding place. When I looked out I couldn't see Hector, I waited, I was afraid, where was he?
"Then I saw a group of boys struggling. This gentleman came from nowhere, lifted a body, and I saw the front part of the shoe which I recognised as Hector's. This man started to run with the body, I ran alongside, and said to him: who are you, this is my brother?
"A car stopped in front of us, a lady got out and said she was from the press, and offered us a lift to the clinic. We put him in the car. I don't remember how I got to the clinic, but the doctor said Hector was dead so I gave his details.
"I was so scared of how I was going to tell my mother. Two teachers from a nearby school took me to my grandmother's house. A neighbour phoned my mother at work, and when she got home at 5.30pm my uncle was standing outside the house with me. She said she had heard on the radio that children had died. My uncle broke the news - she was calm, she showed no emotion.
Dorothy Molefe, Hector Pieterson's Mother (Lucille Davie)
"My father lived in Alexandra - my parents are divorced - he saw the picture in the paper and recognised me and wondered why I wasn't at school.
"My mother's strength - she was stronger than my father - helped me come to terms with death. I can accept now that we are all going to die.
"My mother is still alive and still very strong. She still lives in the same house in Soweto. Hector was her only son, and since the uprising she has lost one of my younger sisters in a car accident."
When the Hector Pieterson Museum opens next year, Antoinette will be giving tours at the museum.
"To me and my family, Hector did not die in vain," she says.
Students visit the Hector Pieterson Memorial (The Heritage Portal)
Lucille Davie has for many years written about South Africa's people and places, as well as the country's history and heritage. Take a look at lucilledavie.co.za
Disclaimer: Any views expressed by individuals and organisations are their own and do not in any way represent the views of The Heritage Portal.