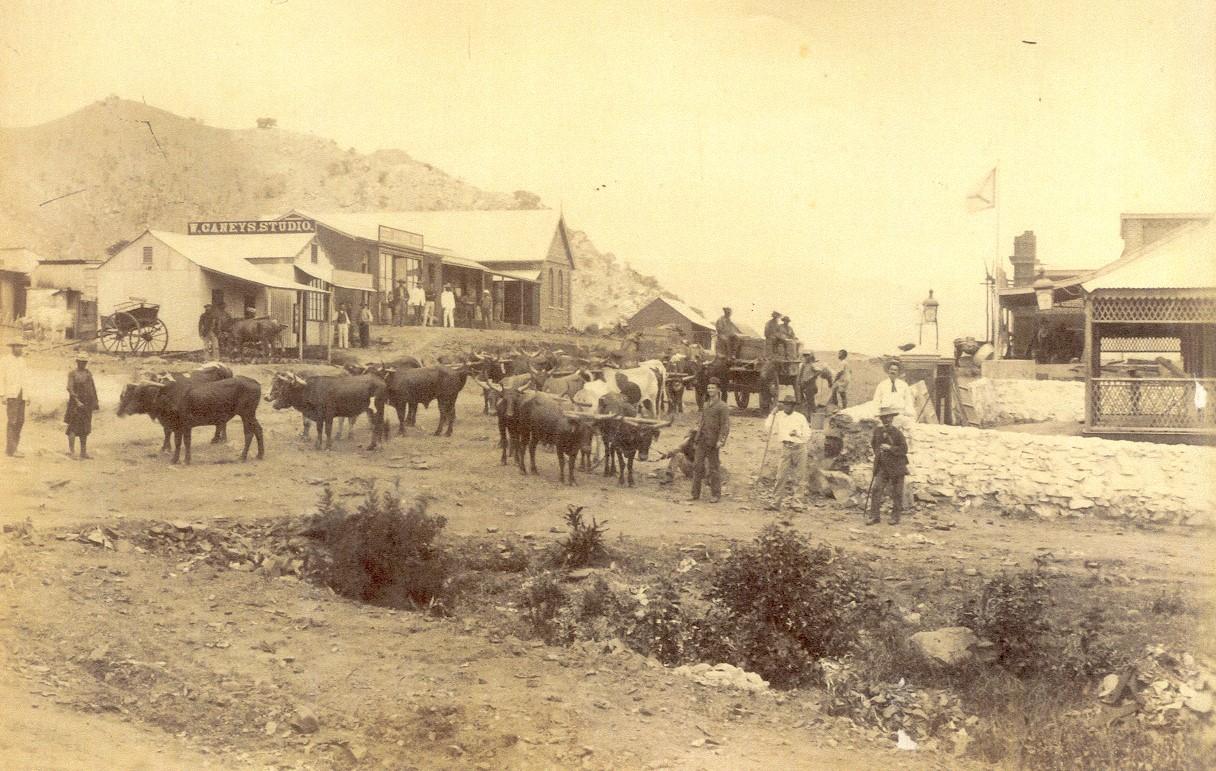 Disclaimer: Any views expressed by individuals and organisations are their own and do not in any way represent the views of The Heritage Portal. If you find any mistakes or historical inaccuracies, please contact the editor.
Monday, April 13, 2020 - 09:38
Worldwide, where precious mineral resources were discovered, buoyant photographers formed part of the desperate rush that ensued. This trend of fortune seekers, feverish migrating to these newly announced locations was also observed during the South African gold rushes at Pilgrim's Rest (1873), Barberton (1883) and Johannesburg (1886).
The earlier Kimberley diamond rush (1871) was the first of the frenzies around anticipated fortunes to be made from photography in these boom towns. In each of these instances, some photographers would have had greater success compared to others.
Whilst Barberton may also have received visiting photographers such as Port Elizabeth based Robert Harris, Pretoria based Henri Gros and Kimberley / Durban based John Middlebrook, this article only focuses on photographers that would have settled in Barberton – at least for a while.
The height of the goldrush boom in Barberton was during 1886.
Short history on Barberton
During early 1884, Fred and Henry Barber set off on a hunting trip in De Kaap Valley. Instead of finding elephant, they found gold.
Also described as the valley of Shadow of Death, the Barberton region was little known and a much-feared area at the time. Travellers had to deal with fever, tsetse flies, mosquitos, poisonous snakes and wild animals.
Barberton was proclaimed on 24 July 1884. A lust for gold followed and within a matter of months Barberton became the most populous and probably the rowdiest town in the Transvaal as many hopeful gold diggers descended on the town. Meiring (1976) suggested that the story of the Barberton boom town made Kimberley's diggings seem like a Sunday school picnic.
The digger's dreams however did not last. Aggravated hopes dissipated after only a few diggers managed to make their fortunes. The additional lure of bigger fortunes to be made at a new location, the Witwatersrand, contributed to itinerant diggers leaving for Johannesburg and one by one businesses that heavily relied on the income from the miners closed down – including some photographic studios.
Seven confirmed Barberton based photographers identified to date
To date, the seven photographers listed below can be confirmed as photographers who were active in Barberton between 1884 and 1915.
Bayly, Wilberforce  
Byerley, Edward Worsley
Caney, William Harry  
Lazarus, Joseph L 
Lee, Thomas
Perrin, Jules Alfred
St Clair, Bertie
In addition, the three individuals listed below have previously been recorded as Barberton based photographers. Research conducted to date could not confirm such and it remains doubtful whether they ever acted as photographers whilst in Barberton. In order to assist future research, information gathered on these three individuals has however also been included in this article.
The three individuals are:
Bayly, Arthur William – Older brother to Wilberforce Bayly listed above;
Hily, Louis Léome;
Lazarus, Maurice – Older brother to Joseph Lazarus listed above.
Whilst no evidence has been uncovered to date confirming that the above three individuals were active Barberton based photographers, the latter two have however been recorded as being well established photographers in Lourenço Marques.
Snippets of information on early Barberton photographers
Two of the photographers listed are South African born, whilst five were British born, one Swiss Born and one Mauritian born (place of birth of one could not be determined to date);
Scant information was obtained on three of the ten individuals listed, namely Hily, Byerley and St. Clair. Further research will certainly assist in expanding the information provided below;
At least three of the photographers listed also attempted their hand at gold mining. They were Wilberforce Bayly, Byerley and Lee;
Whilst based in Barberton, at least Lee and Byerley produced photographic images during the Anglo-Boer war period (1899 – 1902);
At least four of the names listed above eventually settled as photographers in Lourenço Marques (namely Bayly, the two Lazarus brothers and Hily).
Reference has also been made to a Miss Gwen Wiggins that was an assistant to Thomas Lee post 1920. No information could be gained on her.
List of photographers
Information collated indicates that there was inter-collaboration between most of the Barberton based photographers in that they also assisted as photographers in each other's studios, shared or managed studios, or followed each other to alternative locations. 
1) Bayly brothers
Information contained in literature on the two brothers seems mixed up. One such example is that it has been stated that Lee managed Arthur Bayly's studio in the latter's absence, whilst in fact Lee managed Wilberforce Bayly's studio during his absence around 1910.
1.1 Wilberforce Bayly (1865 – 1944)
Wilberforce was born in Hampshire, England during 1865 and arrived in Barberton during the 1886.
In Barberton's early years, Bayly was a leading figure in the town's affairs. He was one of the first, if not the first Masters of the Free Masons Nederland's Constitutions' Jubilee Lodge, which did not survive the Anglo-Boer war. He was an ardent musician, and a member of the old Barberton Orchestral Society, which played a significant role in the edification of the town's people. He also took part in the several dramas produced by the Barberton Dramatic Society and having a good eye and taste for scenic effect, acted as Scene Master for this establishment. In every effort of assistance for the needy, and in every enterprise destined for the cultural amusement of Barbertonians, Bayly is recorded as having been a very willing worker. It is also recorded that he was a Justice of Peace.
Wilberforce married Ruby Noel on 27 January 1894. He was predeceased by Ruby who died in Barberton during April 1939 (aged almost 70). They had four children, namely Brian and Noel, Esme Lownds, and Beryle. All four children had their mother's maiden name as a second name, namely Noel.
At one point, Bayly had his studio on the business premises of the Crossley Brothers. The Crossley Brothers were general dealers who were booksellers, printers, seed merchants, newsagents, photographic materials and toys.
Bayly also managed Lee's studio in the latter's absence, but Bayly himself also had to leave Barberton at the time of the Anglo-Boer-war (during October 1899). During his 1-year absence from Barberton he was seemingly based in Lourenço Marques and Durban.
On his return to Barberton the following year, Bayly supported a claim of compensation from the government by Thomas Lee in which he stated that on his return he saw British troops in possession of some of the photographic material that disappeared from the studio.
A separate claim submitted to the government by his brother, AW Bayly, for goods commandeered during the war by both the Boers and the British (General French), confirms that Wilberforce was the manager at AW Bayly & Co at the commencement of the war (1899).
During 1909, Bayly applied for a freehold over two Barberton stands (no. 428 & 429). Both these properties were registered in Ruby's name during 1916.
During 1910 Bayly was granted a mining lease (mijnpacht). It seems that he had the intent of applying suction dredging on the alluvial soil. It is however not clear whether he ever attempted his hand at mining as Bayly left Barberton around mid-1910s to commence business interests in Lourenço Marques. During the initial period of Bayly's absence another photographer, Thomas Lee, managed the Bayly studio for a while.
Bayly remained in Lourenço Marques until illness compelled him to retire. He returned to Barberton for a short while before residing with his daughter, Esme Lownds in Toulon (France). His condition however did not improve and for two years prior to his death he was cared for in Johannesburg.
Bayly died, aged 79, in Johannesburg on 12 June 1944 (from The Gold Fields News, 13 June 1944).
One of Wilberforce's daughters made a considerable donation to the Barberton museum where they hold a number of photos he took of the family.
Wilberforce Bayly's studio at Crossley Brothers – Circa 1903. Note the photographs mounted in the frames to the left and right of the door. Bayly's name plate can be seen in the middle window. It is not clear whether Bayly is one of the two men standing in front of the shop – Unlikely, as Bayly was probably the photographer of this image (Image provided by Barberton Museum)
1.2. Arthur William Bayly (1855 – 1915)
Ten years Wilberforce's senior, Arthur Bayly was born in South Hampton during March 1855. He became a successful merchant in both Barberton and Lourenço Marques.
He was initially based in Harrismith between at least 1883 and 1885 where he married Mabel Olive Brodrick (1882 – 1917). The couple had two sons (Ernest William & Alan Leonard) and two daughters (Elfrida & Olive Isabella).
Arthur thereafter settled in Barberton during 1886 where he established the Goldfields News and Barberton Herald.
He also established AW Bayly & Co (general merchant). This business was advertised as "Booksellers, stationers, printers (bookbinding) and music sellers". AW Bayly & Co letterheads confirm that this business was also a typewriter depot and rubber stamp maker. They further managed a circulating library and offered Bechstein and Broadway pianos as well as Thomas organs for sale or to hire. Pianos and harmoniums were also tuned and repaired by this establishment. Mabel was a business partner in AW Bayly & Co in that she held 1/6th share in the business.
Although one source records Arthur as having been a seed merchant and photographer, no evidence of his photographic work has been identified to date – it could therefore be that previous researchers confused his photographer brother Wilberforce with him. The confusion probably originates from Wilberforce who had a studio at Crossley Brothers who have been recorded as being seed merchants.
AW Bayly & Co did however publish picture postcards. It could therefore be that Arthur took photographs that were produced as picture postcards or that his brother Wilberforce sourced the images to Arthur for printing.
Arthur is recorded as having been the conductor of the Barberton based Philharmonic Society which was formed on 9 July 1887 (Bornman, 2007).
Arthur passed away in Durban during July 1915 (aged 60) and Mabel passed away, also in Durban during October 1917 (aged 56).
2. Byerley Edward Worsley (1880 - ?)
Edward Byerley was born on 3 February 1880, assumingly in Pretoria as he was baptised at the St Albans church during January 1883.
On accompanying his sister-in-law Charlotte and her two daughters on a return trip from Lourenço Marques, they were involved in a railway accident near Barberton. One of his nieces was thrown from the train whilst Charlotte and the other were pinned underneath an overturned carriage, but all survived. Presumably this accident was the one that occurred on 30 March 1902 in which 49 people died. Most of the dead were British soldiers. It is thought that Byerley also photographed this very same accident scene.
Byerley also seemingly attempted his hand at gold mining in that during 1905 his application for a mining lease was declined in that the property encroached on Government property. A further application for a mining lease (mijnpacht) on the Kaap River submitted during 1906 was granted. During June 1910, 36 of his claims were sold and were transferred to one Mr. Lyons.
It is recorded that two of his photographs taken at Barberton during the Anglo-Boer War are held at the Australian War Memorial Research Centre.
A social scene captured by Byerley in Barberton. Seems to be a party on their way to, or returning from a picnic (Circa 1906)
Cabinet Card format photograph by Byerley of his mother Selina (Circa 1905) (Image provided by Chris Rippon)
Byerley Gold Nugget: Photograph by Byerley taken during 1912 - A Gold nugget with a story. HW Peacock discovered this nugget on 4 July 1912. It was bought by the Blanfield, Elington and Duncan syndicate for £800. A model of this nugget was exhibited in Johannesburg in a glass case while the original was disguised as a door stop at the home of Duncan! The syndicate made a loss on the nugget when it was eventually sold to the Bank of England (Image provided by Chris Rippon)
3. William Harry Caney (1864 – 1933)
Eldest son to Benjamin William Caney and Ellen Caney, William Harry was born in Durban on 29 December 1864. He attended school in South Africa (Durban) as well as England.
Prior to 1886, whilst still in Durban, William would have assisted his farther in the jewellery and photography business.
During the latter part of 1886, aged 22, William found himself in Barberton where he remained for some 12 years (1886 to 1898). Whilst based in Barberton, William married Alice Maud Caney (born Stevens) on 24 December 1891. He was aged 27 at the time and she was 23. His initial career was recorded as jeweller at the time (trading under his father's name). His marriage to Alice did not last beyond 4 years in that the couple only lived together until Oct 1895 and divorced some 6 months later (April 1896), allegedly due to William's infidelity and threats on her life. They had no children.
During May 1896, a few days after the divorce, Alice Maud married a friend of William's, namely Arthur George Worthington, a land surveyor. The fact that she remarried so soon after the divorce certainly raises a question or two.
Operating under his own name as photographer (W Caney), William's photographic studio was based in Pilgrims street, opposite the Barberton club.
William Caney's studio on Pilgrims Street in Barberton (Image provided by Barberton Museum). This studio has been described as either "across the Club" or "across the Phoenix hotel". Both these establishments were located on opposite corners of Pilgrims and President street, whilst the Caney studio was located opposite both these establishments on another corner.
William Harry's father, Benjamin William, purchased a quarter of a stand in Barberton during 1886. This stand was based in Pilgrim Street, more than likely the same stand the studio was eventually based on. Ironically, after Benjamin passed away, the stand was inherited by William, however the title to the full stand was in the name of a JH Winter. Evidence was submitted that Benjamin did pay the required rates and taxes that were due to the municipality on the quarter stand. The registrar argued that the oversight may have been due to the incorrect submission of the required documents during the registration process at the time. It is unclear as to what the outcome of this was. Considering that William left Barberton around 1898, it is assumed that he must have lost the stand. Based on an advertisement placed in De Kaap Annual of 1899 by Lazarus, it seems that Joseph Lazarus was the new owner of the studio – at least for a while.
Archival records indicate that William was also a foundation member of the St. Johns 747 lodge in Barberton.
After his divorce from Alice, William married Mary Beatrice in Durban (born Meikle in Greytown). In the latter part of their lives they resided at 42 Mona Road. William passed away on 12 Aug 1933 aged almost 69 whilst Mary passed away in Durban on 25 February 1959 aged almost 85.
No Barberton based studio photographs by Caney have been identified to date.
Sheba Mine photograph, circa 1905, captured by William Caney on a return visit to Barberton. He left Barberton during 1898 (Image provided by Chris Rippon)
4. Hily, Louis Léome (1851 – 1949)
Hily was a Frenchman born in Mauritius during 1851 and emigrated to South Africa - Durban aged 25.
Bensusan (1963) initially recorded this photographer as "Hilly" and suggested he was active in Barberton during 1895.
Bensusan' s research largely relied on newspaper advertisements. It may therefore be that Hily may have been a visiting photographer to Barberton and that he advertised accordingly. No South African themed photographs captured by Hily have been identified to date, yet Bensusan (1966) suggests that Hily captured images of Paul Kruger.
During March 1889 Hily arrived in Lourenço Marques after he was commissioned by the Portuguese government to work as a photographer on their railway system where he was employed for some 5 years photographing railway sheds, locomotives, lines and opening of the bridge over the Komati river.
During January 1893 Hily directed a letter to the Transvaal Government requesting a farming concession on a 100 hectares piece of land next to the rail line (between Transvaal and Mozambique). In his application he stated that he would secure a French horticulturist to assist him in determining the optimal piece of land to establish a vineyard and grow fruit and vegetables. This request was declined during October 1893. The Transvaal Government stated that no concessions could be granted until a land surveillance had been completed. Hily possibly considered becoming a farmer once his contract with the Portuguese government expired, yet he permanently established himself as a professional photographer in te Rue Alexander de Herculane in Lourenço Marques (Bensusan, 1966). He also had a studio in Beira.
His two children still continued with the photographic business there during the 1960s. Hily lays buried Saint Francisco Xavier cemetery in Lourenço Marques.
Three other Barberton based photographers, namely Bayly and the two Lazarus brother also established themselves in Lourenço Marques and Beira, which indicates that there was a close association amongst some of the early photographers active in Barberton and Lourenço Marques.
5. Lazarus, Joseph (1876 – 1940) and Lazarus, Maurice (+- 1866 – 1949)
Two of eight siblings, brothers Joseph and Maurice were born into a Jewish family in Sunderland, UK. Joseph would have been a young boy when the family, lured by commercial prospects, arrived in Durban (South Africa) during 1883. It is thought that they may then have moved to Pietermaritzburg where the family stayed for some 2 years before moving onto Barberton during the mid-1880s.
Joseph was born during 1876, whilst Maurice, 10 years his senior, was born around 1866 (Joseph, 2017). Joseph would therefore have been 9 or 10 years old when the family arrived at Barberton. It is not known at this point where Joseph would have completed his schooling. It is recorded that their father served on the Barberton Hebrew Congregation at the time.
During the early to mid-1890s, Joseph then aged between 16 and 18, would have honed his photographic skills as an assistant photographer whilst working for William Caney. It remains unlikely that Maurice was active as a photographer whilst based in Barberton.
Joseph probably took over Caney's studio after Caney left Barberton around 1898, in that, although in Lourenço Marques by 1899, a J. Lazarus advertisement in the De Kaap Annual of 1899, stated that his studio is opposite the Barberton Club (Caney's old studio). Joseph may therefore have travelled back and forth between the two countries in order to manage the studio (Joseph, 2017), or his studio was managed by another Barberton based photographer at the time.
After some 14 years in Barberton, the brothers ended up in Lourenço Marques the international capital of colonial, pre-independence Mozambique, where they established one of the first (the first was Hily) and most successful commercial photographic enterprises.
Their route to Lourenço Marques might well have been influenced by the building of the Transvaal railway line, which had opened during 1895 - connecting Pretoria with southern Mozambique - the construction of which they had documented (Joseph, 2017). The distance today between Barberton & Maputo (renamed from Lourenço Marques during 1970s) is around 220 km or 3 hours drive by car today (with a border crossing).
Anglo Boer war image by J & M Lazarus – Review at Komatipoort - dated 28 September 1900. This image confirms that the Lazarus brothers would have ventured into South Africa occasionally (from Lourenço Marques) in order to capture Anglo-Boer war related images (image obtained from Cambridge University website)
Bensusan (1966) indicates that the brothers lived and worked in Lourenço Marques whilst also operating a studio in Beira, a coastal town in central Mozambique, for a nine-year period (1899 – 1908). During 1908, they settled as photographers in Lisbon. It has been suggested that their subsequent move to Lisbon, was likely to have been due to their successful coverage of the visit of Crown Prince Luis Filipe of Portugal to Mozambique during 1907 – the first member of the royal family to visit to the Portuguese colonies in Africa.
Bensusan (1966) also reflected on the brother's documentary photographs of Boer war prisoners-of-war at the railway station which have become invaluable items of Africana. It is assumed that the railway station being referred to here is the Lourenço Marques station in that some Anglo-Boer war prisoners-of-war were send to Portugal after they arrived in Lourenço Marques.
In Portugal the two brothers received medals from the President of Portugal for outstanding artistic, intellectual or scientific merit. Both men had received the Order in recognition for their work as photographers for the Portuguese royal household and then later, for the Republic.
Additional snippets about the Lazarus brothers:
Maurice was a shop owner at the Barberton Gold Fields (referred to as Cape Gold fields) – he was declared insolvent during 1898;
Maurice's address (in court documentation) is stated as: On the Sheba mountain at the Cape diggings (Gold Fields);
His insolvency status is lifted during August 1904. Maurice signs the legal documents relating to this process whilst in Lourenço Marques;
The brothers clearly travelled extensively in that a postcard image of a Malawian chief and his wives was produced by J & M Lazarus during the 1910s.
Image captured by J & M Lazarus of a Malawian chief and his wives (Circa 1908). This confirms that the brothers travelled extensively
During her research, Joseph Lazarus's granddaughter, Anne Joseph, received the following response from Antonio Botelho de Melo, a Maputo-born banker with an interest in the history of Mozambique and in particular Lourenço Marques:
Your grandfather and great uncle are kind of celebrities in my little world…They captured the city at a time of major growth and economic expansion, as well as providing a unique insight into the colonial experience in Mozambique….Their work is among the very best visual record produced at the time.
The brothers were also creative publishers - A Souvenir of Lourenço Marques was the first photographic album ever produced of the city. It is now a rare, collector's item, a copy of which can be found in the British Library. The second edition of this same album was published during 1901. They went on to publish two further photographic albums.
During their successful stay in Mozambique, the brothers photographed the elite, including Governors, Commissioners and members of the British Council. Their postcards and albums were a means of conveying life in Lourenço Marques to the outside world (Joseph, 2017).
They remained in Portugal until their deaths - Joseph died during 1940 (aged 64) and Maurice during 1949 (aged 83) - and are buried in the city's Jewish cemetery. Their studio, Photographia Ingleza de J & M Lazarus, was on Rua Ivens, 53-59 in Chiado - the heart of bustling, downtown commercial Lisbon (Joseph, 2017).
Joseph's earlier Barberton photographic activity was clearly their spring broad into their eventual international fame.
No photographic evidence of any of the photographs produced by Joseph whilst based in Barberton has been identified to date. This could be due to him producing photographs under the W Caney name as Caney's assistant photographer.
Photograph of cathedral in Lourenço Marques  – By Joseph Lazarus – Circa 1905 (image obtained from Cambridge University website)
6. Lee, Thomas (1862 – 1934)
Thomas Lee was born during 1862, in Birmingham, England. Around 1886, aged 24, he was attracted by the Barberton gold rush. Lee had already been in South Africa for several years prior to his arrival in Barberton. It has been suggested that he was first based in Durban where he worked in a drapery warehouse.
On his arrival in Barberton, Lee initially prospected in the vicinity of Joe's Luck (near Barberton). During the late 1880s or early 1890s he elected to move into Barberton where he took up the art of photography. He initially was employed as an assistant photographer to William Caney.
Once on his own, Lee did not restrict his work to studio work, but also expanded his business by photographing mining properties, views of Barberton and the surrounding district on order.
The most prominent of all the Barberton photographers prior to 1915, Lee later established his own studio which was based on Market Square (image below).
Thomas Lee studio on Barberton's Market Square (Circa 1899). Note the 6 frames containing photographs on either side of the door in the centre (Image provided by Barberton museum)

During 1898, aged 37, Lee married Birmingham born widow Emily Fernandez (born Bould). Emily, then aged 60, was 23 years Lee's senior. Emily had no children from her first marriage. Shortly after they got married the couple moved to Lourenço Marques. They returned to Barberton some 3 years later.
On his return from Lourenço Marques during April 1901, Lee, described as a loyal British subject, submitted an Anglo-Boer war military damages claim. In the claim he confirmed that he left Barberton during 1898. He also confirmed that he left his Market Square Photographic Studio, based in Pilgrims Street, in charge of Wilberforce Bayly until July 1899 where after Wilberforce leased the studio from him.
Lee records that photographic equipment and furniture either went missing from the studio or was destroyed. Both Bayly and Lee submitted claims (£94/7 & £124/3 respectively). Although Lee's claim, which was submitted during July 1902, was initially declined, he received a £76 payout during September 1903.
On the extensive list of items Lee claimed for, he amongst others, claims for an imported head and body rest (used during earlier studio work), a Lancaster camera, a tripod and some 500 glass negatives.
During 1907 Lee applied for a 500 square yard alluvial mining lease on the Kaap River (alluvial: a fine-grained fertile soil deposited by water flowing over flood plains or in river beds). During 1909 he also applied for a freehold on stand 1216 in Pilgrims Street.
Around 1909 Lee also opened a drapery business (premises later occupied by the Rendezvous Café) whereafter he moved into premises (formerly occupied by Standard Bank) which later burned down. During about 1924 he moved to Pilgrim Street where he continued his business as draper and photographer until the time of his death. His assistant, Miss. Gwen Wiggins used to manage the studio while Lee managed the drapery store.
Thomas Lee photograph taken at the Sheba Mining Company (Circa 1900). The fact that the image is numbered suggests that Lee numbered all his photographs (Image provided by Chris Rippon)

Legend has it that Lee had a very quiet and gentle disposition.  He served on the Municipal Council for a few years and as Mayor between 1913 and 1914. On the 31st of October 1913, the following article appeared in the Gold Fields News and Barberton Herald:
The new Mayor - We desire to congratulate alike Mr. Thomas Lee on his election to the Mayoral Chair, and also to congratulate Barberton. Mr. Lee's sixth year of service on the Council is now completed, and for a year he has been Deputy Mayor, so that his elevation was in the normal course of events. Mr. Lee has been chairman of the Health Committee for four years, and with his outside experience on the Hospital Board of Management he is well versed in this important side of civic work. Quiet and respected, a man of sound judgment, Mr. Lee has passed more than a quarter of a century in Barberton, the town of his choice. What he does not know about the early days is inconsiderable, and this sound knowledge of the past may well serve as a lamp on the path of progress. Mr. Lee is reasonably progressive and eminently businesslike, his interests and friendships all center on this place, and he may rely on general support in the discharge of his new duties. He himself will ever be conscientious. We wish then, the Mayor and Mayoress, Mr. and Mrs. Lee, a happy and eventful year of civic life.
Emily also had a business in Barberton (she resided in Mozambique prior to being widowed). Whilst in Mozambique, their residence, Fernlea House, was rented out whilst Lee's photographic business was taken care of by Wilberforce Bayly. Fernlea House was later re-opened by Emily as a private hotel. Due to her natural spirit of hospitality, Emily became known as 'The Mother of Barberton". Emily also managed the Crown Hotel in Barberton and owned the Red-Light Canteen. She passed away, aged 90, during November 1927 (Bornman, 2007).
Lee was allegedly fond of his garden, which was based at the bottom of the Barberton hills. Here he led a pleasant and unobtrusive life during the latter part of his life.
In the years before his death he had grown weak and frail. Lee passed away on the 24th of July 1934, aged 72, after having spent a short while in hospital.
Many of the photograhs published in Barberton Photo Album (Bornman, 2007) are photographs captured by Thomas Lee.
A Thomas Lee photograph produced in picture postcard format showing Crown Street in Barberton. The postcard number suggests that this image is part of a series of photographs converted into postcard format
A Thomas Lee photograph produced in picture postcard format showing Joe's Luck Drift. Note the railway bridge in the process of completion in the background. The postcard number suggests that this image is part of a series of photographs converted into postcard format.
7. Perrin, Jules Alfred (1847 - 1909)
Perrin was born in Noiraigue, Switzerland during 1847.
Although not clear when Perrin arrived in South Africa, he was previously employed at the Swiss State Mint. He applied for a licence to become an assayer in South Africa. After having obtained the licence he moved to where his services were in demand, namely Pilgrim's Rest, during 1873. 
In the same year (1873), Perrin persuaded President Burgers that the ZAR had to establish its own mint in order to produce coins.
Perrin married Catharina Bianca Krige (Born during 1866). They also resided at 422 Schoeman Street in Pretoria. They had two daughters, Annie Bianca (Born 1885) and Edith Daphne (Born 1888). Edith was born mentally challenged.
Perrin, initially assisted a fellow Swiss photographer Gros in his Pretoria based studio during the early 1880s. He later opened his own studio in Pretoria. Perrin's Studio was based in Church Street which was probably established during 1889.
It has been suggested that Perrin was active in Barberton for a 5-year period (between 1889 and 1894). He therefore was active as photographer in both towns in that he still advertised himself as a photographer active in Pretoria during 1892. It is assumed that he had assistants at both studios and that he travelled to the Barberton studio on a regular basis.
Records indicate that Perrin purchased two Barberton stands (no. 930 and 933) from the Government during early 1887 on which he built a dwelling and studio. It is however not clear where his studio was located. Indications are that he resided in the dwelling for some 2 years. A James Dyce collected rent and paid licenses on account of Perrin during his absence.
Additional snippets:
Prior to Barberton, Perrin also had his own photographic establishment in Bloemhof (1888);
During May 1898, Perrin submits an invoice for appearing as an expert witness (Government Essayer) on behalf of the state in the Dawson matter;
On 30 June 1902, Perrin takes the oath of allegiance to the British throne;
Perrin was an assayer and jeweller and acting head of the Government Mint during the 2nd Anglo-Boer war; 
Perrin's assayer labritorium was purchased for the Transvaal university College after his death.
A Perrin Cabinet Card format photograph of unknown Barberton based family (Circa 1895)
Back of the same Cabinet Card photograph above
8. St. Clair, Bertie
Other than a single Cabinet format photograph in the Hardijzer Photographic Research Collection, no additional information could be obtained on Bertie St. Clair. He in all probability has an exceptionally short-lived photographic career in Barberton. A search on the surname Sinclair also provided no insight.
A Cabinet Card photograph of two unknown gentleman by Bertie St. Clair (Circa 1903)
Back of Cabinet Card: - Back of the cabinet card of the same image above. This card stock was printed in London.
Special Acknowledgements:
Sandy Buchanan for getting the ball rolling on this article by putting me in contact with the relevant individuals;
Janie Grobler from the Barberton Museum for sourcing me with relevant information;
Chris Rippon for his passionate sharing of photographs and additional information;
Anne Joseph for sharing her research on her grandfather Joseph Lazarus.
About the author: Carol is passionate about South African Photographica – anything and everything to do with the history of photography. He not only collects anything relating to photography, but also extensively conducts research in this field. He has published a variety of articles on this topic and assisted a publisher and fellow researchers in the field. Of particular interest to Carol are historical South African photographs. He is conducting research on South African based photographers from before 1910. Carol has one of the largest private photographic collections in South Africa.
Sources
Bensusan, A.D. (1963). 19th Century Photographers in South Africa. Africana Notes and News. 15(6), 219-252
Bensusan, A.D. (1966). Silver Images. Cape Town: Timmins
Bornman, H. (2007). Barberton – Photo Album. SA Country Life. Barberton. SA Country Life. Barberton
Cartwright, A.P. (1973). Valley of Gold. Howard Timmins. Cape Town
Grobler, J. (2019, 5 Dec). Email communication between Barberton Museum's Janie Grobler and the author on Barberton based photographers. Janie kindly provided the image of the Caney studio included in this article – not previously seen by author
Hardijzer, C.H. (2019). The Caney legacy – Early Durban based family of photographers. Theheritageportal.co.za
Hardijzer, C.H. (2018). Photographers active in Pretoria – First 60 years (1855-1915). Theheritageportal.co.za
Hannavy, J. (2008). Encyclopaedia of Nineteenth Century Photographers. Taylor & Francis
Joseph, A. (2017). Tracing my family history in Lisbon and Maputo. (www.thejc.com/lifestyle/features)
Joseph, A. (2018). In Mozambique, a (very) small Jewish community thrives (forward.com/culture)
Joseph, A. (2018, 5 Dec). Email communication between author and Anne Joseph on her grandfather Joseph Lazarus
Meiring, P. (1976). Dynamite and Daisies – The story of Barberton. Purnell. Cape Town
Rippon, C. (2019, 6 Dec). Email communication between author and Chris Rippon on Barberton based photographers. Chris kindly added a previously unidentified Barberton photographer's name to the list of Barberton photographers
University Cambridge (Lazarus photographs extracted 30 March 2020). Royal Commonwealth Society – Views on Lourenço Marques (cudl.lib.ca.ac.uk)
Unknown (extracted 7 January 2020). The Byerley Family (ocotilloroad.com) 
Unknown (extracted 7 January 2020). Jewish community of Barberton (dbs.bh.org.il)