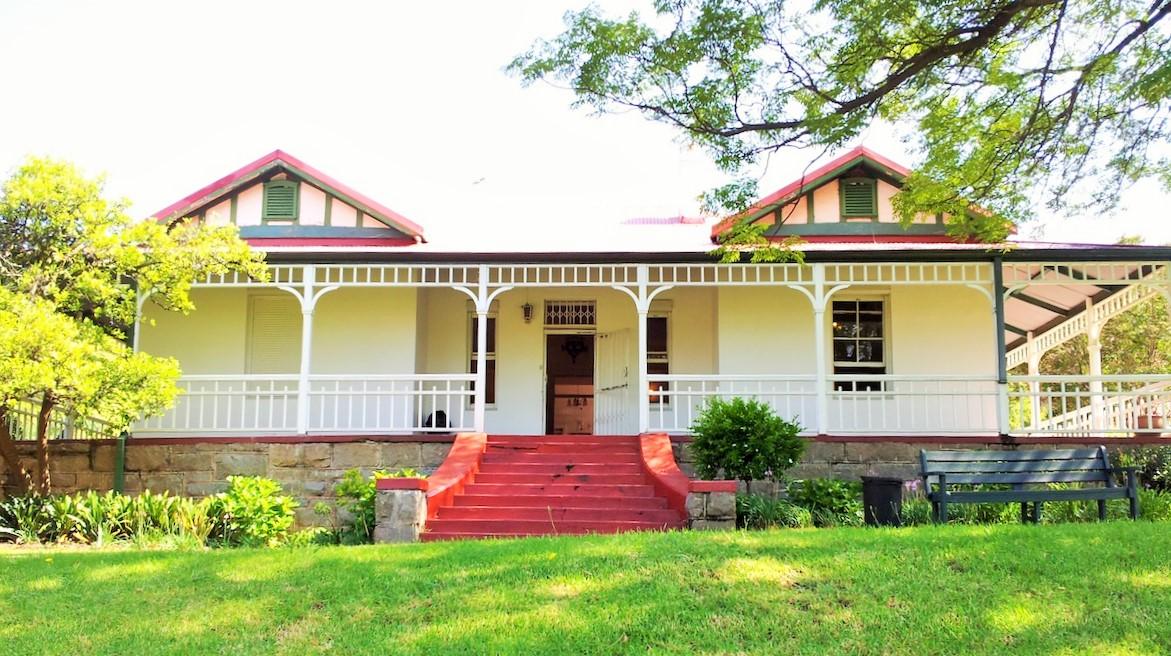 Friday, December 4, 2015 - 15:30
Most people are familar with Douglasdale (the suburb and the famous milk brand of course) but who was the Douglas in Douglasdale? Below are a few excerpts from the 1980 journal of the Sandton Historical Association answering this question.
Douglasdale is situated in the north of the municipality of Sandton, west of Bryanston and just south of Fourways, with the western boundary following the Klein Jukskei river.
Since local history is the story of the land and the people who live on it, there are two stories to be told - that of 'Douglas', the man, and 'Dale', the place. Both stories, strangely enough, began around the middle of the last century - one in a small Scottish town, and the other in what were then the bleak uninhabited areas of the Transvaal, between Potchefstroom and Pretoria in the days before gold was discovered and when Johannesburg itself did not exist. [This article will tell the story of Douglas the man]
It was in 1859, on July 26th, that the original farm Witkoppen was granted by land grant from President Kruger to P.E. Labuschagne and on July 5th of the same year that Driefontein 3 was granted to L.P. van Vuuren, and these land grants can be seen today in Pretoria, although the farms have now all been considerably sub-divided. Not long after, in the year 1863, Thomas Douglas, one of a family of five, was born in the small town of Stranraer in Wigtownshire, Scotland.
Thomas Douglas left Scotland as a young man for America, where he travelled as far as San Francisco, where he purchased some land but failed to claim it. He returned to Europe, presumably via Scotland, because after travelling to Southern Africa in 1890, his young bride-to-be, Janet Alexander, from the same area, a village called Glen Luce near Tranraer, followed him to Cape Town where they were married. She travelled on the ship with a friend who was also coming to be married and who became Mrs Pyott of the famous Port Elizabeth biscuit firm.
The long journey in those days was full of difficulties and on arrival at Cape Town Janet Alexander found that, not only was Thomas Douglas very ill, but her trunks had been cut open and most of her trousseau items had been stolen. However, they were married and went to live in Port Elizabeth for a while. Next, they went to Klerksdorp, where Thomas Douglas, now a man of 29, worked as a carpenter on the Buffelsdorp Mine. No doubt it was here that he gained much of his experience in mining. We also know that he spent some time in Rhodesia and even considered settling there, and that in fact, he settled some of his wife's family there later on.
Around the turn of the century he decided to make Johannesburg his home and business centre taking a small yard near Ellis Park at 330 Market Street from where he started building in a small way; including semi-detached houses in Ford Street, Karl Street and Fox Street, Fairview. He and Mrs Douglas lived at the building premises for some years and their first child, Miss Jenny Douglas and her eldest brother Jack were born there.
Over these early years Thomas Douglas must have gained considerable experience, because we know that he worked with Leonard Fleming of the architectural firm Baker & Fleming, on the first construction work at St. John's College after they started the new buildings in Houghton. We do know, also, that Thomas Douglas brought out three stonemasons from Scotland and also that around 1904 he started buying land out at what is now Douglasdale. Although we do not know for certain where he got his stone for building, we do know that there is a quarry on the property as the remains of it are there today. We have also been told that Douglas helped with stone for the building of the first Standard Bank in Commissioner Street.
Standard Bank Commissioner Street (The Heritage Portal)
The Douglas building business must have improved steadily, as it was shortly after the turn of the century that the family moved to Afton Lodge, 8 Jan Smuts Avenue Braamfontein which became the family home for forty years. Three more children were born to the Douglas's and it was around this time that purchases of the rest of what is now Douglasdale were made. Jenny Douglas remembers that the family did not go on holidays, but spent their free time out at the farm, travelling there by wagon, a trip which took the best part of a day. She recalls that the children has to get out of the wagon going up Craighall Hill, as their weight was bad for the horses, the journey being via what is now Randburg and to Douglasdale via Homestead Road. Some fine Ayreshire cattle were brought from Scotland to the farm, and they even kept a cow at Afton Lodge for their fresh milk and butter which Jenny prepared herself.
Douglasdale Farmhouse (The Heritage Portal)
A Master Builder
It is not given to many of us to leave a permanent mark on the world but perhaps a builder has more opportunity than most to do so. Thomas Douglas seems to have left his mark, not only by his buildings, but also in the organisations he supported and businesses developed which are still in operation today, even under other names.
Around 1905 he became a founder member of the Master Builders' Association. About twenty prominent builders of the time got together appointing a committee of ten, of whom Thomas Douglas was one, some indication of his stature in the trade. The first minutes of the association define a master builder as 'one who is responsible for the completion of a contract' - no mean task. During the first year, Douglas attended sixteen committee meetings, an indication of his enthusiasm, and later he represented the association at discussions around the country, becoming president of the association in 1913. Glancing at the minutes of 1936, he was still in attendance, having completed over thirty years of service.
Thomas Douglas had many buildings to his credit, although some of the earlier ones have already been demolished to make way for progress. His mining experience gave Douglas one of his early contracts, that for the first cyanide tanks and extractor boxes for Rand Mines. Comparatively early in his career, he built the Henderson's Building, a fine and most elegant construction with decorative stonework on several storeys. He built the first part of the Baragwanath Hospital, a military hospital later designated as a black hospital. At the time he built this he was employing over 750 workers. He built the first dormitories of King Edward's School in 1924 and had the whole contract for the Eloff Street branch of the Standard Bank. This building in Eloff Street is one of those which some Johannesburg architects are trying to have proclaimed national monuments. In its construction in 1929 he used for the lower storey a number of pre-cast concrete blocks with hand cut blocks on the higher levels, and it is interesting to note that today, with the shortage of bricks, builders are turning more than ever to this use. He built the John Orr's buildings in both Johannesburg and Springs, and one of his last works was the Chamber of Mines Hospital at Cottesloe which was finished in 1939, the year he died.
Hendersons Building (A Johannesburg Album)
Douglas also played a significant part in the formation of an early building society in Johannesburg. Together with Mr John Fleming Orr and other Scotsmen he founded the St. Andrew's Building Society. He built the St Andrew's buildings and was chairman of the society from 1910.
Disclaimer: Any views expressed by individuals and organisations are their own and do not in any way represent the views of The Heritage Portal.