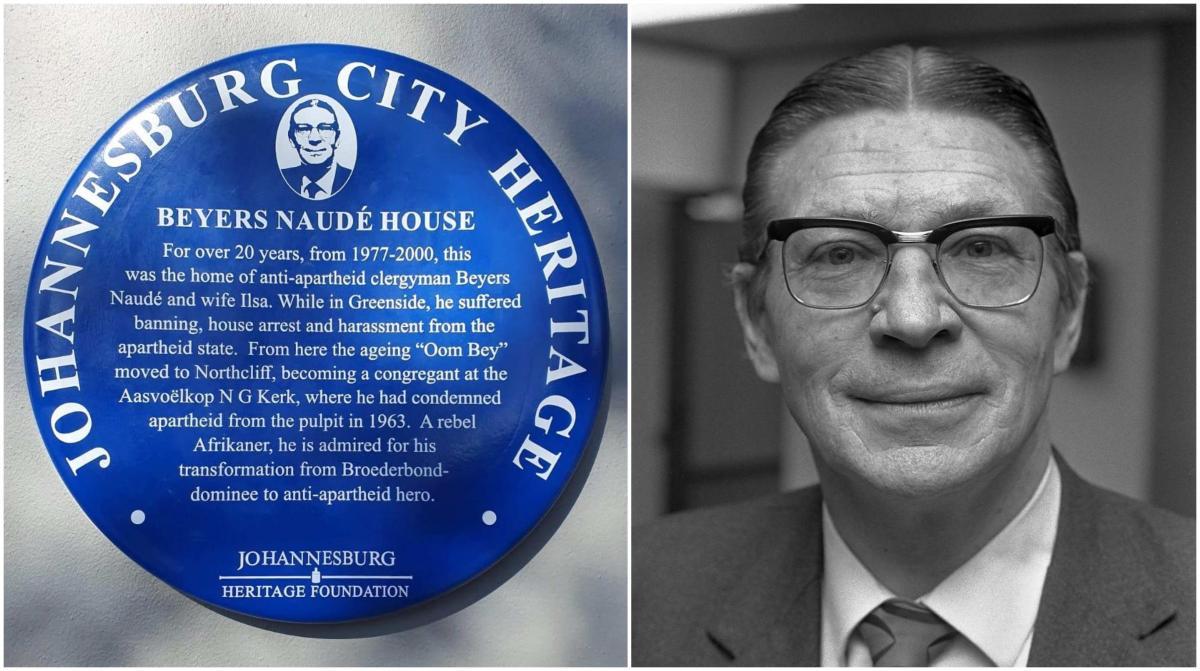 Monday, June 13, 2022 - 13:51
For a period of over 20 years, from June 1977 until around 2000, Beyers Naudé and wife Ilsa lived at the Greenside house at 26 Hoylake Road after moving there when their children had left the nest. Four months later Naudé was banned and placed under house arrest, and the Christian Institute was closed down. This was a period of intense anti-apartheid campaigning by Beyers both within church structures and the wider society. In 2022, the City of Johannesburg and the Johannesburg Heritage Foundation unveiled a blue plaque to mark the importance of the site.
Prior to moving to his home in Hoylake Road, Beyers Naudé and his family lived for many years in Greenhill Road, off Clovelly Road in Greenside.
During his time in Greenside, he suffered harassment from the apartheid government, but that did not stem his vigorous commitment to social change, and he used his time during house arrest to reflect on issues of faith and social justice. The time became meaningful for him as he met with a wide range of people in his intimacy of his study, particularly those from black communities, where they shared their vision of the future with him. 
Beyers Naudé was born in Roodepoort, in the then Transvaal, on 10 May 1915. He was named after Christiaan Frederik Beyers, a Boer general who was close to his father, Jozua Naudé. Naudé was one of eight children and was born into a family committed to Afrikaner nationalism. His father was a minister of the Dutch Reformed Church (DRC) and was a founding member of the Afrikaner Broederbond, a secret society aimed at promoting Afrikaner interests and white supremacy.
In 1921, the family moved to Graaff-Reinet in the Eastern Cape. Here Naudé matriculated at the Afrikaans Hoër Volkskool in 1931 before following in his father's footsteps by studying theology at the University of Stellenbosch. He also joined the Broederbond as its youngest member when he was only 25.
In 1940 he was appointed Assistant-Minister at the Dutch Reformed Church (DRC) in Wellington, Cape Town. In August of the same year he married Ilse Weder, the daughter of a Moravian missionary.
Beyers and Ilse Naudé (Gemeentegeskiedenis)
For the next twenty years Beyers Naudé ministered to various congregations across the country. He followed the political philosophy of the National Party, but the Sharpeville Massacre in 1960 brought about a huge change of heart. He had already begun to question the morality of apartheid after witnessing the destruction of Black family life under the migrant labour system.
Painting by Godfrey Rubens depicting victims of the massacre (Wikipedia)
Sharpeville Graves (Andrew Hall via Wikipedia)
1961 saw Naudé became acting moderator of the Southern Transvaal DRC synod despite his outspoken opposition to apartheid. Later that year he was appointed moderator. He was the founder of the Christian Institute, a non-racial ecumenical organisation that challenged church establishment while providing humanitarian relief. Naudé was also the editor of the Christian Institute's publication Pro Veritate.
Naudé was serving as Dominee (Minister) in the Aasvoëlkop congregation during this time and experienced intense inner conflict regarding the church's support of apartheid with his own Christian principles. This caused him to resign from the Broederbond after 22 years of membership. However, the real turning point came on a Sunday morning in September 1963. Already considered a traitor for quitting the Broederbond, he braved complete rejection by the Afrikaner community by condemning apartheid from the pulpit at the Asvoëlkop Church in Northcliff, resulting in his expulsion from the NG Kerk.
Asvoëlkop Church (Google Maps)
After completing his last sermon in which he placed "the authority of God before the authority of man", he removed his robes and left his church. Naudé and his family were completely ostracized by their fellow Afrikaners. He told his wife, "Whatever happens, we will be together and God will be with us." Naudé was embraced by the Black community and joined a Dutch Reformed congregation led by Reverend Sam Buti in Alexandra.
Reverand Sam Buti (Lucille Davie)
Naudé was forced to resign as minister. His induction as an elder of the Parkhurst DRC in March 1965 caused upheaval in the church community. While addressing youth, he was harassed and forced out of the DRC building in Belgravia. He continued in his position as Director of the Christian Institute, but in May 1965 had the unfortunate experience of the Security Police raiding the organisation's premises.
Naudé was opposed to violence as a means of change and in 1972 he travelled to Europe where he delivered a sermon at Westminister Abbey, London. He became the first Afrikaans Theologian to be honoured in this way. He continued on to West Germany for talks with church leaders there. Towards the end of the year he was awarded an honorary doctorate in Theology by the Amsterdam's Free University for 'exceptional merit for the development of theological science'.
Canaletto painting of Westminster Abbey (Wikipedia)
The following year Naudé refused to give evidence to the Schlebusch Commission, a Parliamentary Commission, which had been established to investigate the Christian Institute, the University Christian Movement, the National Union of South African Students (NUSAS) and the Institute of Race Relations.
Two years later in October 1975, he was fined R50 or one month's imprisonment for refusing to testify before the Schlebush Commission. Naudé was arrested on 28 October 1976 for refusing to pay the fine. After spending the night in jail the DRC minister, Dr. Jan van Rooyen, paid the amount and he was released. In December 1975 Naudé was refused a passport to travel to London to address the Royal Institute of International Affairs, and his speech was presented in his absence.
1974 saw Naudé receive an honorary doctorate of Law from University of Witwatersrand. He was also honoured with the Reinhold Niebuhr Award for 'steadfast and self-sacrificing services in South Africa for justice and peace'. His passport, which had been confiscated, was returned so that he could travel and receive the award at a ceremony in Chicago, United States of America. On his return his passport was confiscated again.
Wits Great Hall (The Heritage Portal)
Naudé and his Christian Institute were banned in October 1977. Despite continual persecution, he established a ministry to council pastors. He was not allowed to leave his house, or speak to more than one person at a time. He continued to speak to other anti-apartheid activists like Archbishop Desmond Tutu on a one to one basis.
Tutu speaking at the 2011 unveiling of the blue plaque on his home (The Heritage Portal)
Naudé was awarded a prize for reconciliation and development from the Swedish Free Church and an award from the Bruno Kreisky Foundation in recognition of his 'untiring work in race relations'. By 1980 Naudé had broken away from the DRC and was admitted to the Nederduitse Gereformeerde Kerk (NGK) in Africa. His banning order was renewed for a further three years in 1980, but was eased. He was allowed to leave his home, but not the Johannesburg magisterial district. In June 1983, Dr. Naudé was awarded an honorary Doctorate from the University of Cape Town.
UCT (Don Shaw)
During his house arrest, it is believed that he used to repair the cars of ANC members in his driveway at the Greenside house. After seven years, Naude's banning order was lifted in September 1984. He immediately threw himself back into the struggle against apartheid. He succeeded Archbishop Tutu as the Secretary-General of the South African Council of Churches (SACC) in 1985. Two years later he formed part of the Afrikaner group that met with ANC representatives in Senegal.
While serving the SACC, Naudé developed heart problems, however he postponed surgery because of his heavy commitments. By November 1986 he had no choice but to undergo surgery to correct two leaking valves. He was advised not to go back to work till February, however by early January he was back at his desk.
Much of Beyers's work happened behind the scenes although he had had an uncompromising stance in his support for black rights. He supported the Kairos Document which challenged the churches, if they were serious about reconciliation, to reconsider their theology. Naudé also added his voice to the call from leading churchmen, black organisations and trade unions for civil disobedience and for economic sanctions against South Africa as a means of pressurising the government into ending apartheid.
His other work included serving as a trustee on the board of several anti-apartheid organisations. He travelled widely although struggling to get access to a passport. Regardless he made numerous guest apperances at government, church and political group events. He preached on a guest basis at churches all over the country, including his Alexandra church. In his later years he continued to make himself available to people and showed equal respect for the humble and the mighty. People continued to stream to him, and on a normal working day he would see more than 10 people.
After hearing President F W de Klerk 's speech in 1994, declaring a new South Africa, he said 'Gee, at last! What I had dreamt, hoped and worked for is becoming a reality.'
The demise of apartheid and the move to democracy around 1994 turned Naudé from pariah in the eyes of the state, to becoming acknowledged as a national hero. President Nelson Mandela called him a "living spring of hope for racial reconciliation" on his 80th birthday.
In June 1999, despite failing health, he opened the inauguration ceremony for President Thabo Mbeki. By the end of the same year he returned to his old congregation of Aasvoëlkop as a congregant.
On 19 January 2000, Beyers Naudé sold his house to Jacomi du Preez and moved into a frail care facility at Elm Park Retirement Village in Northcliff, Aasvoëlkop"), a suburb where 'Oom Bey" had previously led a congregation and attended services.
The entrance to the 'Beyers Naudé House' (City of Johannesburg)
After the departure of Beyers Naudé, a patio and more recently a swimming pool were added (City of Johannesburg)
In 2001 Beyers Naudé was given the freedom of the City of Johannesburg and one of its busiest roads was named after him.
The square at the heart of the Johannesburg CBD is also known as Beyers Naudé Square
Palesa Mnyaka is a research professional in the field of Arts policy, management and marketing. She is the Public Culture Manager for the City of Johannesburg and is responsible for promoting and preserving the city's public artworks and heritage sites.
Disclaimer: Any views expressed by individuals and organisations are their own and do not in any way represent the views of The Heritage Portal.