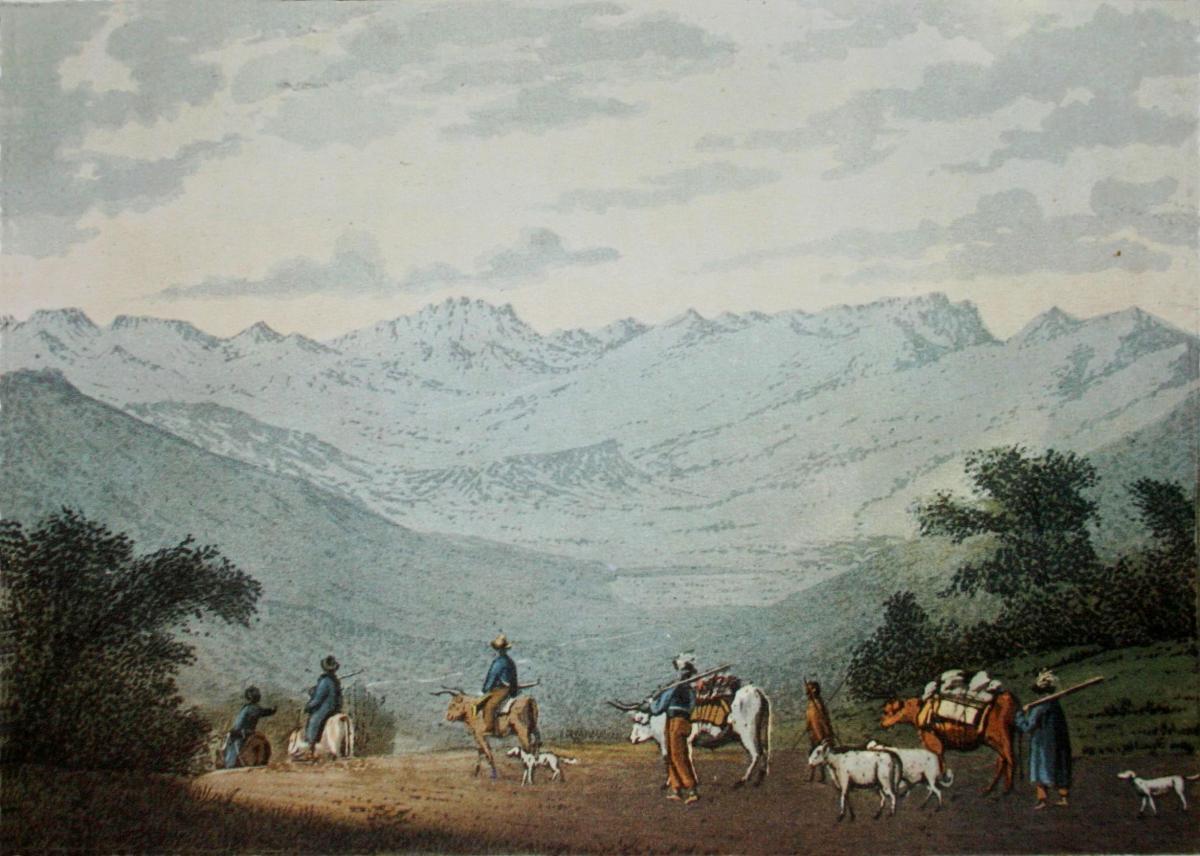 Disclaimer: Any views expressed by individuals and organisations are their own and do not in any way represent the views of The Heritage Portal. If you find any mistakes or historical inaccuracies, please contact the editor.
Tuesday, November 7, 2023 - 19:21
"We often remain totally ignorant of the proportions and perfect symmetry of the whole. In the wide system of created objects, nothing is wanting, nothing is superfluous: the smallest weed or insect is as indispensably necessary to the general good, as the largest object we behold. Each has its peculiar part to perform, conducive ultimately to the well-being of all."
These words were written over 200 years ago by British explorer and scientist extraordinaire William John Burchell, who spent four years travelling beyond the colonial border between 1811 and 1815, leaving a valuable record of his observations and encounters in the interior in two volumes, and over 500 paintings, drawings and etchings.
William John Burchell
Now more than ever, these words are particularly pertinent in our 21st century world, as we relentlessly continue to destroy those smallest weeds and insects and upset the delicate balance of all things on earth. 
Southern Africa has an incredible diversity of flora, but around one in four South African plant species is at risk, while many are critically rare or endangered, and a number are already extinct in the wild. 
Burchell wrote eloquently of his travels in South Africa, in Travels in the interior of Southern Africa, in two volumes published in 1822 and 1824, with a map detailing his route. But the second volume stops when he reaches his northern-most point just beyond Kuruman in the Northern Cape, and his longer journey back to Cape Town was sadly never recorded. 
But a recent publication, Burchell's African Odyssey: revealing the return journey, by Roger Stewart & Marion Whitehead, fills that gap. The book is a delight: it is highly readable, with maps, photographs and Burchell's sketches and paintings dotted on every other page. It draws on his beautifully annotated map, journal, letters, artwork and dips into other travellers' records to complete the picture.
A highly readable book
Reading the book took me back to 2013, when, with a group of friends, we stepped briefly into Burchell's world of the early 1800s – we traced a small section of his trip in the Karoo. 
Eight of us drove down in two vehicles to Graaff-Reinet with our bikes to ride as much of his route between Griquatown (then Klaarwater) and Graaff-Reinet in the Eastern Cape, a trip he undertook to recruit more men to travel with him beyond the colony's border. He had left his two wagons in Klaarwater and travelled on horseback to Graaff Reinet. We were going to trace his return trip to Klaarwater.
On approaching Graaff-Reinet, he took ill with flu and found shelter in a small hut around 16km north of the town. 
He writes in volume 1: "It consisted only of one room; part of the roof had been blown off; the floor was covered with the rubbish of the thatch which had fallen in; and the door and windows had been taken away." 
The aim of our trip had been to locate places he wrote about or annotated on his detailed map of his travels, and of course the hut. And I found the hut! The others had ridden out of the town, after we had located the Drostdy in Parsonage Street in Graaff-Reinet, looking just it did when he drew it over 200 years ago.
Burchell's sketch of the Drostdy
Drostdy Facade (The Heritage Portal)

I drove up after them and stopped at Philip Kemp's farm Brakfontein, the old dirt Ouberg pass road now running through his farm. I told Kemp what I looking for, and we drove about 500m up the pass road and stopped at an old kraal. Opposite it was a rectangle of untidy low rock walls, surrounded by scattered rocks. The walls on one corner were a metre high, still intact. It was without doubt Burchell's shelter. I don't believe anyone else has located the hut. It was a thrilling start to our trip. 
He wrote of the hut on his way out of Graaff-Reinet: "As I passed my hut, I silently thanked it for the shelter which it had so opportunely afforded me; and without which, the fever might possibly have gained a fatal ascendency."
The remains of Burchell's hut (Lucille Davie)
Scientific and rigorous observations
Stewart and Whitehead write in the preface: "Among South African travel books by eighteenth and nineteenth century western explorers, William John Burchell's Travels in the interior of Southern Africa, published two centuries ago, stands apart on almost every count for his scientifically rigorous yet sympathetic observations on the landscapes he encountered, their flora, fauna and human inhabitants." 
Burchell excelled in natural history, botany, music, languages, art and cartography. But most of all, he was a humanist, sensitive and acutely observant of the needs and customs of those he came into contact with. He was probably one of the first travellers to sign a contract with his Hottentot employees and travel companions. 
He learned Dutch in the seven months he spent in Cape Town before setting out on his epic journey, in order to speak to his companions. He even learnt a dialect of Dutch, which he called "Hottentotish", in his desire to communicate with the Khoekhoen he met on the journey. He also developed a basic orthography for the languages of the Kora and Bachapin, who lived in the far north of the colony.
Burchell was different from other travellers, observe the authors. "He was always polite, friendly, curious and attentive – and certainly never imperious." This made his journey that much easier. "In turn, he was accepted as non-hostile, friendly and even generous" by the Khoekhoen, Korana, San and Bachapin. 
Burchell wrote: "To be qualified for judging of the character of these inhabitants, it is not enough to have mingled with the better part of society; the Boors must be heard, the Hottentots must be heard, and the slaves must be heard."
One of the more celebrated explorers
He was one of the more celebrated of the early explorers who visited South Africa, arriving in Cape Town in November 1810, at the age of 29. He designed an oxwagon while in the town, and equipped it with everything he felt he needed, like his 50 scientific reference books, specimen boxes, work desk, rifles and flute. Such was his meticulous record keeping that, in the first volume, he listed each item – porcelain beads and blue check handkerchiefs for gifts to chiefs he was to meet; clothing and blankets for his Hottentot companions; arms and ammunition; carpenter's tools; wagon stores; and of course, the Union Jack flag.
In addition, he took 200 reference books, art materials, musical instruments, and frames to press the thousands of specimens he collected. Along the way he measured latitude readings with his sextant, and took compass bearings of prominent topographical features. He counted the rotations of the wagon's wheel to calculate the distance travelled, as well as taking astronomical readings of the evening skies.
Interior of Burchell's Wagon
He travelled beyond the colony border, to Kuruman and further, to a large settlement of Bichuana people at Dithakong (then Litakun), some 60km north east of Kuruman. He tried to go further, hoping to reach Angola, but tales of expeditions that were never heard of again, frightened his companions, and forced him to abandon those plans. 
An extraordinary man
By any measure Burchell was an extraordinary man. Born in London on 23 July 1781, his father was the prosperous owner of the Fulham Nursery, on the north bank of the Thames. He studied botany but turned down his father's offer to work at the nursery, instead sailing to St Helena in 1805, and later, in 1810, to Cape Town. 
He travelled 7 200 kilometres over four years, and collected around 63 000 specimens of plants, animal skins, insects, birds, fish and reptiles. On his return he successfully cultivated seeds and bulbs, and started the mammoth task of cataloguing the collection, a task that eventually overwhelmed him, bringing on depression and causing him to take his life at the age of 82.
Besides the specimens, he returned with 500 drawings, including valuable portraits of locals, landscapes and illustrations of botanical and zoological subjects. A good deal of those drawings, landscapes, portraits and sketchbooks, are at Museum Africa in Newtown.
Museum Africa from above (The Heritage Portal)

His legacy lives on in Burchell's Zebra; Burchell's Coucal; the Eciton burchellii army ant; burchellia bubalina, a wild pomegranate; Burchell's starling, courser and grouse; Burchell's sand lizard, and many more. He was the first to describe the white rhino near Kuruman in 1812, which was for a time called Burchell's Rhinoceros. 
"The 34-year-old who returned to Cape Town after his long trek was not only a seasoned traveller, explorer, camper, hiker and field researcher," write Stewart and Whitehead. "He extended his knowledge and skills beyond botany and horticulture, in which he had been trained, to include diverse fields, from astronomy and cartography to geology, ethnography and zoology, and arguably could be regarded as a multi-skilled polymath."
Although the term "ecology" was only coined in 1866, Burchell "was an ecologist at heart. He frequently considered the interaction between human beings, plants and wild animals in a divine creation."
In Burchell's words: "Thus we see, throughout the whole system of nature, all things connected together, and necessary to each other's existence; useful in life, and useful in death: each animated object submitting to its superior; and all, to man. In him terminates this scale of rapine and destruction; in him, this graduated tyranny reaches its height."
I have no doubt Burchell would be appalled by the state of the earth if he lived now.
Lucille Davie has for many years written about Jozi people and places, as well as the city's history and heritage. Take a look at lucilledavie.co.za.