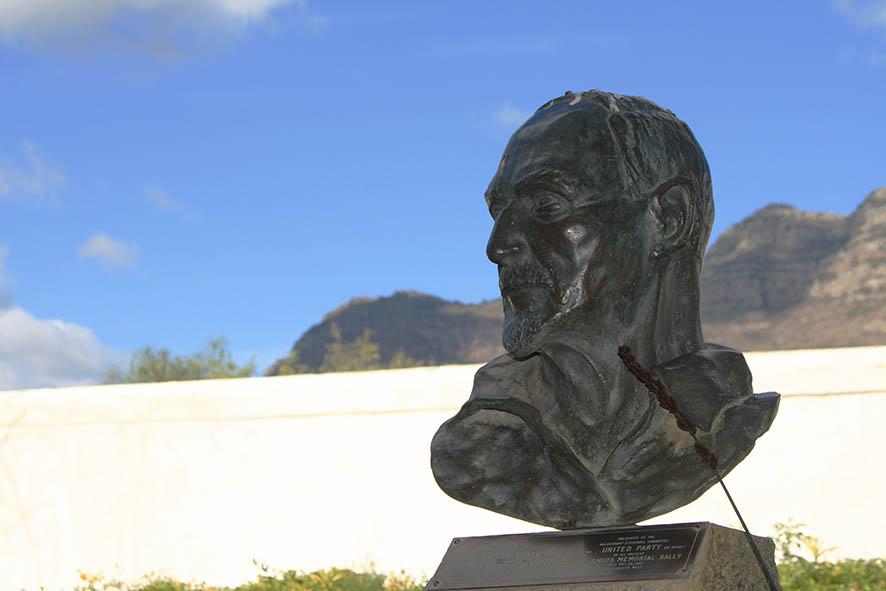 Friday, May 8, 2020 - 18:01
JC Smuts was born on the farm Bovenplaats, part of Ongegund near Riebeek West, in the then Cape Colony, and what is now the Western Cape, to parents Jacobus Abraham and Catharina Petronella (nee de Vries) on 24 May 1870.
Bovenplaats by A Pretorious, 1986 (Collection University of Stellenbosch, R72)
Jacobus and Catharina Smuts, 1893 (by J Gribble, Paarl. Wikimedia Commons)
A picture of Mary Tait, one of Smuts' granddaughters on a visit to Ongegund in 2019 (Chris Murphy)
The house in which he was born still stands, somewhat incongruously as part of the PPC Riebeeck facility after the farm was purchased for its lime deposits in 1946. After a period of neglect the main farmhouse was demolished, but Smuts' birthplace was restored under the guidance of renowned architect Gawie Fagan, in 1986. It was proclaimed a National Monument in 1975 (SAHRIS 9/2/060/0017).
The house where Smuts was born (Chris Murphy)
Initially Smuts' father and grandfather farmed together, but in 1876 the family relocated to nearby Klipfontein. Thus Smuts spent the first six years of his life on this farm. As the second child, his own son recollected that he was very much of an unspoiled, though not neglected, second fiddle, and was left fairly free to do as he wished. This early life created an indelible love of the veld, farm life and simplicity.
Klipfontein, 1924 (Wisconsin History Collection)
An uncredited photograph supposedly depicting Smuts on a outcrop overlooking the Riebeek Valley. With his love of intellectual remoteness and love of solitary contemplation this would have suited him
At the age of 12 a tragedy struck the family in the death of his older brother, Michiel, of typhoid. It was decided that although he had had some rudimentary education at home from his mother, that he should receive a formal education. He was sent to school in Riebeek West under the tutelage of TC Stoffberg, and boarded at Die Ark.
Die Ark, Riebeek West, demolished (Collection Smuts Museum)
Despite an initial struggle as the teaching medium was English, he soon proved himself an outstanding scholar, the teacher describing him as one of the most brilliant pupils he had ever taught. At sixteen years of age he completed the higher examination, coming second in the Colony. Finishing his Matric in Stellenbosch he was accepted by Victoria College, later the university. There he also met his future wife, Isie. Graduating in 1891 with first-class honours in Literature and Science he won the Ebden scholarship, electing to read Law at Christ's College, Cambridge. There he completed a double-first in the Law Tripos, unique for the time. Later, in 1948, he became Chancellor of the same university.
Smuts as a young man in 1895, and subsequently in 1947 (Wikimedia Commons)
After a year of further study he returned to South Africa in 1895, and soon became embroiled in the confrontation between Britain and the South African Republic. As Attorney in President Kruger's Transvaal from 1898 he played a prominent role in negotiations, which ultimately failed. War was declared on 11 October 1899. After Pretoria was captured in 1900 he joined and led commandos deep into the Cape Colony, becoming an astute military tactician in the process.
By May 1902, however, he was convinced that prolonging the war would result in the destruction of the Afrikaners and convinced the Boer commanders to cease fighting and sign a peace treaty with the British. He subsequently was the chief architect of the proposal for the Union of South Africa.
During World War I his support was for Britain, ultimately helping to draft the peace terms, and was present at the 1919 Paris Peace Conference. A month later he published a paper - The League of Nations: A Practical Suggestion, with the challenge, 'Now as we organised the world for victory, let us organise it against hunger and unemployment'. A huge ambition. He also became Prime Minister of South Africa that year.
At the outbreak of World War II Smuts advocated and called a motion in parliament for full support of Great Britain, disagreeing with Hertzog who resigned, and permitting him to become Prime Minister for the second time. His ability as a military thinker and strategist was widely reinforced through this period.
Smuts in a moment of contemplation, with a quizzical glance by Churchill (Getty Images)
Statue of JC Smuts, Parliament Square, London, c1957. At a later stage it became one of two South Africans located there, the other being Nelson Mandela
In 1945-46 he participated in discussions that led to the forming of the United Nations Organisation. At the San Francisco Conference in 1945 he was described as 'the doyen . . . quite unrivalled in intellectual pursuits . . .' and he introduced the draft Preamble to the United Nations Charter.
Smuts in San Francisco (Smuts House Museum)
Smuts saw European achievements as the pinnacle of human achievement. At first he considered this in the context of South Africa, but later as an issue globally. Black 'barbarism' as he saw it was a confrontational issue with Western civilisation. Smuts' view was that black Africans and Coloured was they should be overseen in a humane, paternal fashion. They should be permitted their traditional lifestyles with the proviso they should be prepared to service the White population.
Thus Smuts was ultimately a man of contradictions. His global successes regarding the League of Nations, then United Nations are undoubtedly to be lauded. If they had crossed over to his domestic environment perhaps the long road to freedom might have been shortened. Smuts has been considered by some to be to South Africa in the first half of the 20th century as Mandela was to the second, but with substantially different outcomes for the country.
Notes: In October 1969 the main house at Doornkloof, Irene, was declared a National Monument (now Provincial Heritage Site, SAHRIS No 9/2/258/0064). On the centenary of his birth some 3 000 people attended the unveiling of the plaque.
The house at Irene: He found peace in the mountains and peace at Doornkloof (Chris Murphy)
Library, Smuts House Museum, Irene. (Gauteng Tourism)
Main image: The bust of Smuts at Ongegund (Chris Murphy)
About the author: Chris was a member and subsequent chair of the Swartland Heritage Foundation for many years. He has also completed the Urban and Architectural Conservation course at UCT. At present he is the chair of the West Coast Museum Forum.
References:
Jan Christian Smuts The Conscience of a South African by Kenneth Ingham
On Man in His Time by Phyllis Scarnell Lean
Biography of Jan Christian Smuts by Beat Lenel
Jan Christian Smuts by JC Smuts (son)
Jan Christiaan (sic) Smuts (1870-1950) Middle Templar extraordinary by Sir Louis Blom-Cooper
Jan Smuts, Race and the South African War by Shula Marks
Disclaimer: Any views expressed by individuals and organisations are their own and do not in any way represent the views of The Heritage Portal.