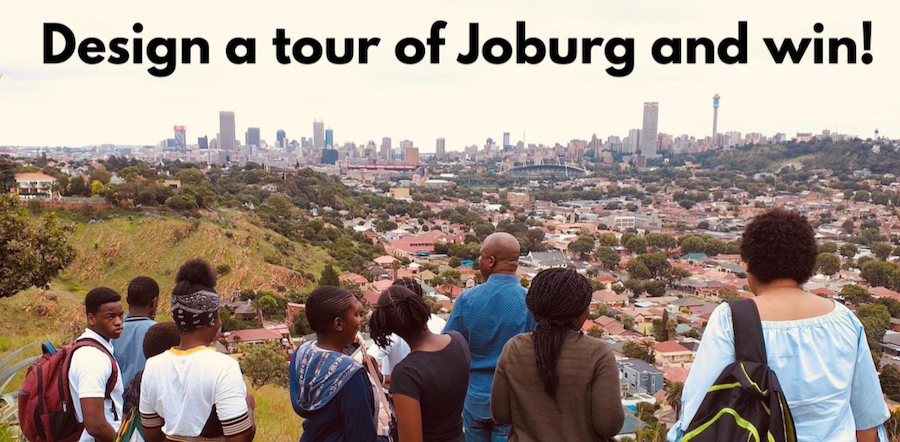 Wednesday, January 5, 2022 - 08:43
How often do we get stuck in our routines and bubbles? Do taxis, cars, homes, schools and offices become the main way we experience the city around us? What are we missing as life rushes from one deadline and commitment to the next? In late 2021, the Collective Genius Centre, a Cambridge syllabus aligned tutoring centre in Rosebank, ran a tour competition to test these limitations and help students discover new ways of experiencing the city around them. The competition format was simple: students needed to submit a tour advert and map to stand a chance of winning some great prizes. 
Scenes from The Collective Genius Centre
The Big Tour Idea
The first step on the journey was to conduct research to find a big tour idea that would attract potential tourists (and impress the competition judges of course). Students spoke to family members and friends to find out what what they enjoyed about Joburg. They thought about their own experiences of the city and what they found fun and exciting. They looked at what existing tour companies offered and what interesting new ideas were emerging in international cities. They also looked at what journalists, bloggers and travellers were writing about. To help reveal interesting layers for their tours, students were encouraged to ask questions such as: 'Where does the name of this street or suburb come from?', 'Why was that statue erected?', 'Why does this building have a blue plaque?', 'Who built and paid for that incredible skyscraper?' etc.
A Blue Plque in Rosebank
The Carlton Centre, once the tallest building in Africa and still a Joburg tourist attraction
A spectrum of tour ideas emerged from the initial research phase. There were history tours with multiple sub-themes like mining, gold, finance, anti-apartheid struggle and famous personalities. There were architecture tours that focused on the early buildings of the city, grand mansions, Art Deco icons of the 1930s and skyscrapers of the 1970s. There were combination tours of art galleries, museums and other cultural venues. Some students loved the greener aspects of Joburg and thought about tours of the great parks, open spaces and ridges of the city. Others focused on a particular suburb and all the attractions on offer there. There were even ghost, cemetery, statue, monument, food, lifestyle and adventure / adrenalin tours. A fascinating thread that emerged was the transport mode that linked the tour stops. Some students even made this their big hook. There were skateboarding tours, helicopter tours and public transport tours to name a few.
Some of the big ideas
Creating a Tour Map
Once students had an idea of where they were heading it was time to test the feasibility of various tour options using a Google My Map. This tool allows users to add points to a Google Map and include photos, text and customised markers to bring it alive. The points can also be linked in several ways to reveal a tour route. The Collective Genius students used My Maps to continue their research journey and build out their ideas. Stop by stop, their visions became a reality. It was rewarding to see the students adapt as the testing process unfolded. Some ideas that sounded great initially proved to be impratical in a tour format leading students to try out new options.
Testing out a tour using My Maps
Learning how to use My Maps
Adverts
As soon as students had their big hook, their tour stops and a means of transport connecting everything, they had the key ingredients to design a compelling advert. They were given full creative freedom and the results were impressive. Videos were created and posted on YouTube, posters were designed using a variety of online tools and some students even created impressive artwork by hand. Once dates, times, booking, safety and other details were added, the adverts were ready for submission to the judges.
A few of the designs (some without full tour details)
The winners certainly enjoyed their prizes but the real magic of the competition was shaking things up and giving the group the chance to get better acquainted with the City of Gold. Overall, the experience was fun and equipped students with valuable research, design and project management skills. It was fantastic to see them overcoming challenges, embracing feedback, adapting in real time and building something to be proud of. Some students might even be able to transform their tour idea into an income generating side hussle. Fingers crossed they'll never stop being curious and finding new adventures in the city around them!
James Ball is the Founder & Editor of The Heritage Portal. He facilitated the Tour Competition for The Collective Genius Centre.
Disclaimer: Any views expressed by individuals and organisations are their own and do not in any way represent the views of The Heritage Portal.