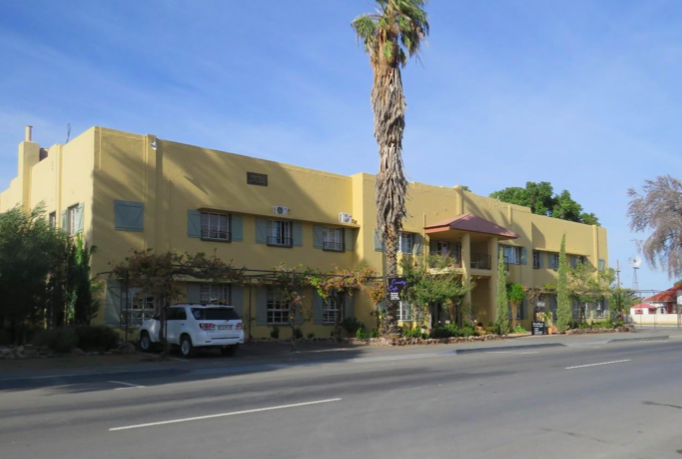 Monday, December 9, 2019 - 09:28
On rare occasions when finances and time permit, planning a leisurely road trip to Cape Town can be an exciting enterprise. Should one travel via Bloemfontein on the N1, Kimberley via the N12 or Upington via the N14? Perhaps even the N9 via Graaff-Reinet and then Montagu via the R62.
This time a slightly different route prevailed. Initially, via the N12 to Britstown and overnighting at the excellent Transkaroo Country Lodge (main photo). This hotel was operated by the Klass family for 66 years from 1907 until 1973. Then called the Central Hotel it was upgraded in the late 1930s in an attractive Art Deco style, still largely extant. Late-night carousing by wedding guests somewhat disturbed my slumber, but it would have been churlish to complain, especially when merely engaged in travelling and sightseeing. 
The following morning after visiting the historic Britstown Cemetery, I discovered a good gravel road directly connecting Britstown to Richmond. Stopping only on three occasions; firstly, when two mule carts of the 'Karretjie mense' galloped past, secondly when noticing a distant array of giant wind turbines lazily combing the wide Karoo skies and lastly, at the site of the Imperial Yeomanry Hospital near the defunct Deelfontein Railway Station. 
'Karretjie mense' in this photo from Carnavon (SJ de Klerk)

Visiting this hospital site of the Anglo Boer War has long been on my bucket list. There are two well maintained military cemeteries and the now regretfully derelict Yeomanry Hotel erected after the war to accommodate visitors to the cemetery. It is claimed that this field hospital was the largest and best equipped facility of its kind ever used by the British Army. 
Ruins of the once vibrant Yeomanry Hotel at Deelfontein (SJ de Klerk)
Main cemetery of the Imperial Yeomanry Hospital (SJ de Klerk)
 
From Richmond the journey continued past Middelburg where I pondered the fate of the late Wopko Jensma. This enigmatic but original artist and poet who came from the vicinity, mysteriously disappeared in Johannesburg during 1993. Such melancholic thoughts soon vanished as I approached my next overnight stop at the quaint village of Nieu Bethesda, with its iconic Owl House Museum.
But I digress. It is the historic Britstown Cemetery I wish to discuss.
Britstown was laid out on portion of the farm Gemsbokfontein in 1877 and named after owner Hans Brits. At the time, the traffic to the diamond diggings at Kimberley had grown to such an extent that another village on the Great North Road was warranted. Initially it was administered by the Dutch Reformed Church, but in March 1890 a village management board was instituted. It became a municipality in 1899. 
The cemetery is situated on the western side of the N12 as one approaches the southern end of Britstown. It must have been established soon after the town was laid out as it is reported that the earliest Jewish burial appears to have been of Max Levy in 1897. He was buried in the general cemetery as there was no Jewish precinct at the time.
Although a smallish cemetery, there are several graves of historical interest. A cemetery roadway runs through the centre in a north/south direction and provides good access to all the graves.
Near the north eastern corner is the monumental tombstone of Thomas Phillipus Theron (22/6/1839 – 10/10/1908), Cape politician, Member of the Cape Legislative Assembly for Richmond and last Chairperson of the Afrikaner Bond. The Bond was the first real political party to emerge in South Africa. Conceived by the Reverend SJ du Toit in 1879, it elected to dissolve itself in 1911. Though at first mainly a Cape Colonial party, after the unification of South Africa it joined its opposite numbers in the other provinces to form the nucleus of the South African Party, over which General Louis Botha was elected to preside. It is said that although Theron played a leading part in the politics of his time he was always eclipsed by his colleague, Jan Hofmeyr ('Onze Jan'). Possibly one of the reasons the Bond elected to dissolve itself was the deaths of both leading lights occurring within virtually a year of one another. Hofmeyr who died in London in 1909, was interred in the churchyard of the old Dutch Reformed Church in Somerset West.
Monumental tombstone erected by the Afrikaner Bond in memory of its last Chairperson T. P. Theron (SJ de Klerk) 

On the western end of the roadway are tombstones of interest to Anglo Boer War enthusiasts. Nearer to the northern boundary is a memorial to burgers Johannes Senekal and Jacobus J. Naude who fell at Houwater and to Christiaan Boonzaaier from Calvinia who drowned in the Brak River at Holgatsfontein around 15 September 1901. The memorial was erected by two ladies from Lemoenkloof and two ladies from Smouspoort.
This battle took place on 6 March 1900 when a British force of between 500 and 700 men with six field pieces attacked a force of Cape Rebels under General Liebenberg on the farm Houwater west of Britstown. The Rebels were initially under severe pressure but managed to gain the initiative and forced the British force to retreat all the way to Britstown. British casualties were three killed, fourteen wounded and seven taken prisoner while on the Rebels' side two were killed and three wounded.
Memorial tombstone to three burgers who fell during the Anglo Boer War (SJ de Klerk)

Slightly further to the south but also on the western side of the roadway is the military precinct where the remains of thirteen or fourteen imperial soldiers are interred.
Their details are:
J. McDonald. Rank and unit unknown. Date of Death (DoD) 5/02/1898. 
T. Stephen. Rank and unit unknown. DoD 28/12/1898 (see note below).
J. Lees. Rank and unit unknown. DoD 13/06/1898.
Sergeant T. Eaton. Royal Warwickshire. DoD 1/02/1900.
Private W. Franklyn. Royal Warwickshire. DoD 4/02/1900.
George T. N. Barton. Imperial Yeomanry. DoD 16/03/1900. 'Aged 23. Son of Reverend J & S. W. Barton of Havant England. A good soldier of Jesus Christ'.
Private T. Arton. Lancashire Fusiliers. DoD 30/03/1902.
Private G. Mercier. Imperial Yeomanry. DoD 8/05/1902.
Trooper T. B. Marsden. 2nd SA Contingent. DoD 2/04/1900. 'Erected by the people of South Australia'.
Private D. Peters. Suffolk Regiment. DoD 4/04/1900.
Private T. Stephen. Bedfordshire Regiment. DoD 27/12/1900. A duplicate of no. 2 above?
L. Corporal G. Ashpole. Bedfordshire Regiment. DoD 28/12/1900.
Private Dunkerton. Wiltshire Regiment. DoD 9/01/1901.
Private T. Lloyd. Royal Welsh Fusiliers. DoD 23/05/1901.
A view of the Military Precinct looking east (SJ de Klerk)

There are some interesting graves which recall the outbreak of the second virulent strain of the Spanish Influenza pandemic in October 1918. Readers will recall this cataclysmic event being discussed in some earlier articles on the Rynsoord and Primrose cemeteries. Research suggests there were two waves of Spanish flu in 1918, one mild and one virulent. The milder one arriving via Durban and the more virulent one via Cape Town. The virulent strain would have spread via the railways and road traffic to Britstown where approximately 197 people died, an estimated 36 deaths per thousand people. This must have been a shocking experience in a small town of only 5500 people.
Tombstone of Susanna Taljaard who died 23 October, probably from the Spanish flu (SJ de Klerk)

Often older tombstones contain very descriptive epitaphs. The tombstone of Oloff van der Merwe is one such; 'Weggeruk gedurende Donker 28 Oktober 1918' (seized during Black 28 October 1918). Colloquially, October 1918 became known as Black or 'Swart' October.  In some towns so many people died on the same day that the local undertakers were totally overwhelmed and often forced to inter more than one body in a single grave. Families often suffered more than one death and were unable to bear the cost of erecting tombstones. Hence, many graves of the 1918 pandemic remain unmarked to this day.
Tombstone of Oloff van der Merwe – seized by death during Black October 1918 (SJ de Klerk)

There are at least two tombstones in the Jewish precinct relating to the Spanish flu pandemic. The 1st one is to Isidore Blumberg who died on 12 October 1918 and adjacent is one to Rosie Blumberg who died three days later. They were most likely husband and wife. 
Tombstone of Isidore Blumberg in the Jewish precinct who died of the Spanish flu (SJ de Klerk)
 
Many early tombstones are most attractive and provide insight on early symbolism and fashion.
Note the very appealing tombstone of Hendrina van der Merwe dating from 1912. It features a lovely example of a dove in flight holding an olive branch in its beak. The flying dove symbolises the human soul transitioning to eternal life. The olive branch originates from the biblical saga of Noah and symbolises the peace reigning between God and humankind. Also, note the attractive scroll covered with flowers containing the epitaph. This tombstone was manufactured by J. Thompson.
Very attractive tombstone of the late Hendrina van der Merwe (SJ de Klerk)

Towards the southern end of the cemetery is memorial to the memory of Bernardus Lambertus Lottering of the SA Police Regiment who was killed at Bardia on 2 January 1941. It was erected by the public of Britstown.
Memorial to B. L. Lottering killed at Bardia on 2/1/1942 (SJ de Klerk)

The Jewish precinct is situated immediately to the south west of the general cemetery and was established in 1905 after a Jewish man named Borkum was murdered by his two assistants. Some graves are those of unknown 'smouse' who died while passing through the district. The cemetery was not particularly well maintained until 1957 when the SA Jewish Board of Deputies took over its maintenance. At some stage, the tombstones were laid horizontally to prevent possible vandalism. The Jewish population was at its peak in 1904 when 92 Jews were recorded in the national census. Regretfully, the Jewish population in Britstown, as in most rural towns of South Africa, gradually disappeared and today there are few reminders of their constructive residence in this small community.
    
View of the small Jewish precinct (SJ de Klerk)

About the author: SJ De Klerk held many senior positions in HR during a distinguished career in the private sector. Since retiring he has dedicated time and resources to researching, exploring and writing about South African history.
References
Davenport T. R. (1966). The Afrikaner Bond. The History of a South African Political Party (1880 – 1911). Oxford University Press, Cape Town.
Grobler J. (2018). Anglo Boer War (South African War) 1899 – 1902. Historical Guide to Monument and Sites in South Africa. 30° South Publishers, Pinetown.
Phillips H. (1990) 'Black October': The Impact of the Spanish Influenza Epidemic of 1918 on South Africa. The Government Printer, Pretoria.
Pretorius J. C. (1992). Die Geskiedenis van Volkskuns in Suid-Afrika. Vlaeberg.
Raper P. E., Moller L. A & Du Plessis L. T. (2014). Dictionary of Southern African Place Names. Jonathan Ball Publishers, Jeppestown.
Jewish Life in the South African Country Communities Vol ii. (2004). Researched and Printed by the South African Friends of Beth Hatefutsoth. Sandringham, Johannesburg.
Disclaimer: Any views expressed by individuals and organisations are their own and do not in any way represent the views of The Heritage Portal.