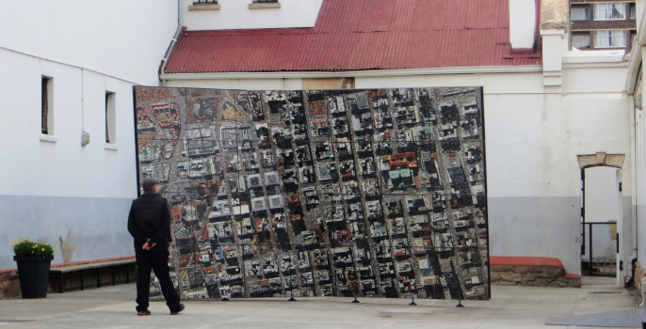 Saturday, July 8, 2017 - 15:41
In June 2017, the Johannesburg Heritage Foundation commemorated the 41st anniversary of the Soweto revolt and offered its members a tour of the Fort and prison museum complex at Constitutional Hill. The complex encompasses the Number 4 section prison, the original 1890s Fort buildings and cells, the Gandhi and Mandela exhibitions and the Constitutional Court with its impressive collection of artworks.
Old Fort at Constitution Hill (The Heritage Portal)
The tour was led by Flo Bird, doyenne of Johannesburg Heritage and Seth Mazibuko the youngest member of the 1976 Student Action organizing committee who at the age of 16 was arrested and went through the humiliating experience of imprisonment and solitary confinement. He was charged, tried, and sent to Robben Island for seven years. Today Seth runs his own foundation and a blue plaque was unveiled in his honour in Soweto on 16th June 2017.
Unveiling of Seth Mazibuko plaque (Mark Straw)
My focus in this article is on the fine mosaic on display at the Old Fort: Vertical Aerial - Johannesburg by Gerhard Marx. It is an aerial street view of the Joburg city centre translated into a monumental mosaic work. It is a freestanding sculpture and a public artwork that has matured in the four years since it was created in 2013. The artist Gerhard Marx in conjunction with professional mosaic artists and students of Spier Architectural Arts worked for five months to put together the work.
Vertical Aerial by Gerhard Marx (Kathy Munro)
It translates an aerial photograph of the City of Johannesburg in the 21st century into a fine massive mosaic. It is monumental and is made up of 56 mosaic panels mounted onto a angular steel frame. It weighs almost 3 tons and measures 3.2 x 5.6m or 35.8 square meters. It is one of my favourite contemporary city artworks. It must be viewed from two sides, so don't forget to walk around the entire work. It comprises four angled sections.  
It is one of my favourite contemporary city artworks (Kathy Munro)
It is a textured work and shows the city of Johannesburg viewed from above. The mosaic panels were created with natural stone (marble and travertine, tesserae of red brick chips,  ceramic squares, and Venetian glass). The work was unveiled at the Joburg Art Fair in 2013. It is an expression of the landscape of the modern city, with ribbons of streets and railway lines, from an aerial perspective. Height is flattened and disappears into now miniaturized squares. Cars, taxis, buses become microscopic dots.
A close up view of Vertical Aerial (Kathy Munro)
Marx together with William Kentridge also created the Fire Walker piece. Unfortunately located within a courtyard of the Johannesburg Old Fort, Vertical Aerial is somewhat hidden from view.  Here is a public art work that is too little celebrated and hardly draws the crowds. But the mosaic alone is a reason to visit the old original Fort, wander through abandoned cells, warders' rooms and corridors and drop in on the permanent exhibition on Nelson Mandela in one of the rooms.
Fire Walker (The Heritage Portal)
On the other hand, its location provides superb context. Look upwards and beyond and you see Hillbrow, with its telecommunications tower, its high rise apartment blocks, its noisy dense character, its crowded streets and its lego like skyline. Some of our party stared at the Marx mosaic and could not work out what all these chips were on this giant frame. Close up it all looks very abstract. I explained that it's an aerial view of the city, and then the response was, "Aha… now I see it…"  and the person beamed now proud that he had worked it out. It is one of those magical pieces which dissolves and then resolves in city space.
Looking up towards Hillbrow (Kathy Munro)
Each time I visit Constitutional Hill it is the one must see work of art. Each time it delights and reveals new facets of the city. For me it epitomises the size shape, spaces and power of the city, where people have created this impossible built environment but people dissolve into invisibility.
Kathy Munro is an Honorary Associate Professor in the School of Architecture and Planning at the University of the Witwatersrand. She enjoyed a long career as an academic and in management at Wits University. She trained as an economic historian. She is an enthusiastic book person and has built her own somewhat eclectic book collection over 40 years. Her interests cover Africana, Johannesburg history, history, art history, travel, business and banking histories.  She researches and writes on historical architecture and heritage matters. She is a member of the Board of the Johannesburg Heritage Foundation and is a docent at the Wits Arts Museum. She is currently working on a couple of projects on Johannesburg architects and is researching South African architects, war cemeteries and memorials. Kathy is a member of the online book community the Library thing and recommends this cataloging website and worldwide network as a book lover's haven.
Disclaimer: Any views expressed by individuals and organisations are their own and do not in any way represent the views of The Heritage Portal.