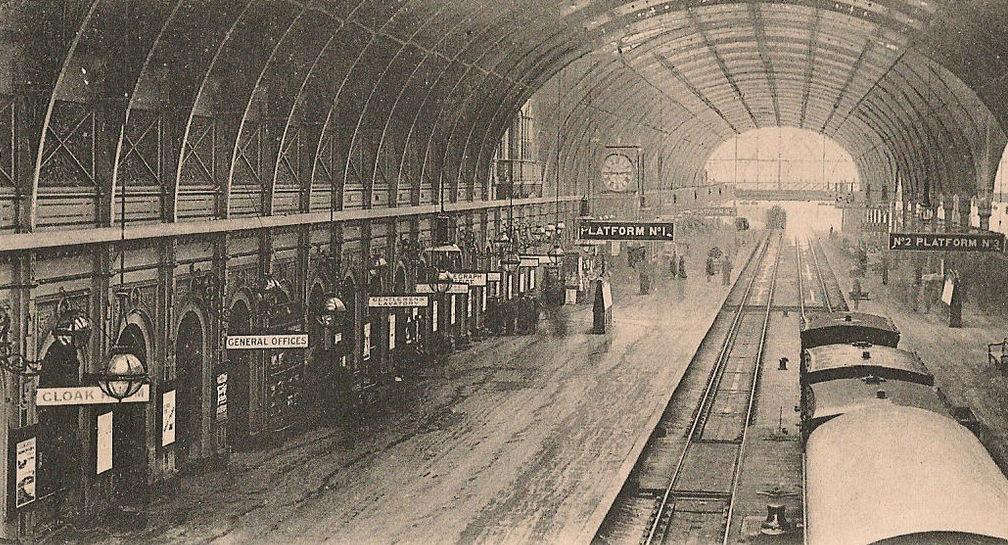 Sunday, June 6, 2021 - 19:02
Word association is where you give me a word and I respond with the first thought that comes to mind; for instance you say "London Bridge" and I would reply "Station" (although most would say "is falling down"). Again you would say "Paddington" and my reply would be "Station" (although "Bear" is the usual response). Likewise "Waterloo" would elicit the same response from me, "Station", thus the psychoanalyst would say that I have a one track mind, not that I need therapy as I am well aware of my condition which I have controlled since childhood. What I have is a large dose of Railway Enthusiasm (RE), a well known disease, rarely fatal, that has no known cure. I have learnt to live with it but now and again I get an uncontrollable urge to write on one of the many different strains of RE.
St Pancras, run down and underutilised in 1965 (London & Its Railways)
The late Sir John Betjeman (1906-1984) was a famous British poet, writer and broadcaster and for the last 12 years of his life was the Poet Laureate. He was also an unabashed Railway Enthusiast and preferred train travel above all else. He is best remembered for his saving of St Pancras Station, from demolition, which fifty-four years ago was on the verge of being knocked down and for his actions he has been commemorated with a statue in the concourse of the station. By the 1960's St Pancras was being underutilised and was seen by British Railways as being no longer financially viable and thus ripe for closure and redevelopment, but at the "11th hour" it was spared as it was granted "Listed Building" (Grade 1) status and as such could not be demolished, extended or altered without special permission from the local planning body. The reprieve from the wrecking ball was a triumph for all who appreciated Victorian architecture and the campaign to save the station was in response to the tragic demolition, in 1961, of the famous Doric Arch (of 1837), the portico to Euston Station, when that station was being rebuilt to become the principal terminus for services to the Midlands, the North-West and Scotland.
Doric Arch, Euston (London's Historic Railway Stations)

London has a multitude of main line terminal stations, all built during the reign of Queen Victoria and their number would amount to fifteen. Their locations would be on the fringes of the City of London, as permission to go into the heart of the City was denied. The Royal Commission on Metropolitan Termini of 1846 would not allow the railway companies of the day to penetrate their lines into the "Square Mile" of the City and this precluded the notion of a single central station which would cater for all the incoming railway traffic; whereas American cities, had the Union Station to serve a number of Railroad companies. The fifteen terminal stations are as follows, going clockwise, St Pancras (Midland Railway, opened 1868), Kings Cross (Great Northern, 1852), Broad Street (North London, 1866), Liverpool Street (Great Eastern, 1874), Fenchurch Street (London & Blackwall,1841), London Bridge (London & Greenwich, 1836), Cannon Street (South Eastern,1866), Holborn Viaduct (London Chatham & Dover, 1874) Blackfriars (originally St Pauls, LCDR, 1886),) Waterloo (London & South Western,1878), Charing Cross (South Eastern, 1864), Victoria (London Brighton & South Coast, 1860), Paddington (Great Western, 1854), Marylebone (Great Central, 1899), Euston (London & Birmingham, 1837). The list of stations is valid for the years up to 1983 as given in Ref. 3, but subsequently Broad Street was closed on 30th June 1986 and redeveloped to become Broadgate, a 32 acre (17 hectare) pedestrianised neighbourhood. The railway line that once served Broad Street (from Dalston Junction) is now part of the "OvergrounD" network diverted to link up with the East London Line which goes through the Thames Tunnel (of 1842). Holborn Viaduct was closed down and replaced by the City Thameslink station in 1990, which is a through station serving trains going across London from north to south and visa versa.
Map showing London's Termini and approaches (London & Its Railways)

The reason for London having so many main line stations stems from the early railway companies competing with one and other for the lucrative London traffic, both passenger and goods. The British Government during the nineteenth century followed a doctrine of "Laissez Faire" or free trade, with a minimum of interference in matters of commerce and saw fair competition as essential to a healthy economy, therefore monopolies were frowned upon. Private railway companies were big business back then and they planned and built railways so as to tap into economic opportunities, this unfortunately led to the duplication of railway lines that could have been avoided had the government had more control. A notable duplication was the lines running from London to the Channel ports of Folkestone and Dover. Both the South Eastern Railway and the London Chatham & Dover Railway were in competition for the Continental traffic and both beggared themselves in the process, until such time they formed a working union (in 1899) and under joint management ran as the South Eastern & Chatham Railway. It is well worth noting that in both of the World Wars the duplication of lines benefited the war effort as supplies, armaments  and troops could be redirected, if needs be and still reach the same destination.
St Pancras in all its grandeur today (Wikipedia)

London's Railway Termini are relics of the Victorian era but have been refurbished to make them better suited for modern day requirements; take St. Pancras for instance, outwardly its architecture is Victorian but inside it is up to date and it has been re-purposed (since 2007) as the arrival and departure "Hall" for the "Eurostar" high speed train service linking London with Lille, Paris, Brussels & Amsterdam, via the Channel Tunnel. The term "Hall" does not really do it justice as "Cathedral" would be the impression one gets when seeing it for the first time.
Interior of St Pancras (Wikipedia)

Post Script: By the 1850's the need soon arose to interconnect the railway termini, as well as reduce the congestion on the overcrowded streets, thus was born the world's first underground railway – the Metropolitan Railway of 1863, from Paddington to Farringdon. This line would be extended in stages and by 1884 the "Inner Circle" (Circle Line) was completed and would link up all the railway termini situated north of the river. Farringdon station, with the soon to be opened east to west "Elizabeth Line" (formerly Crossrail), will become the "Union Station" London never had.
Main image: Paddington Station in the Victorian Era (Wikipedia)
References and Further Reading:
"London's Historic Railway Stations" by John Betjeman, published by John Murray, 1972.
"London's Termini" by Alan A. Jackson, published by David & Charles, 1969.
"London and Its Railways" by R. Davies and M.D. Grant, published by David & Charles,1983.
"Our Railway History" by Rixon Bucknall, 3rd Ed, published by George Allen & Unwin, 1970.
"All Changes at St Pancras" an article in the New Steel Construction magazine, Feb. 2008.
Disclaimer: Any views expressed by individuals and organisations are their own and do not in any way represent the views of The Heritage Portal.