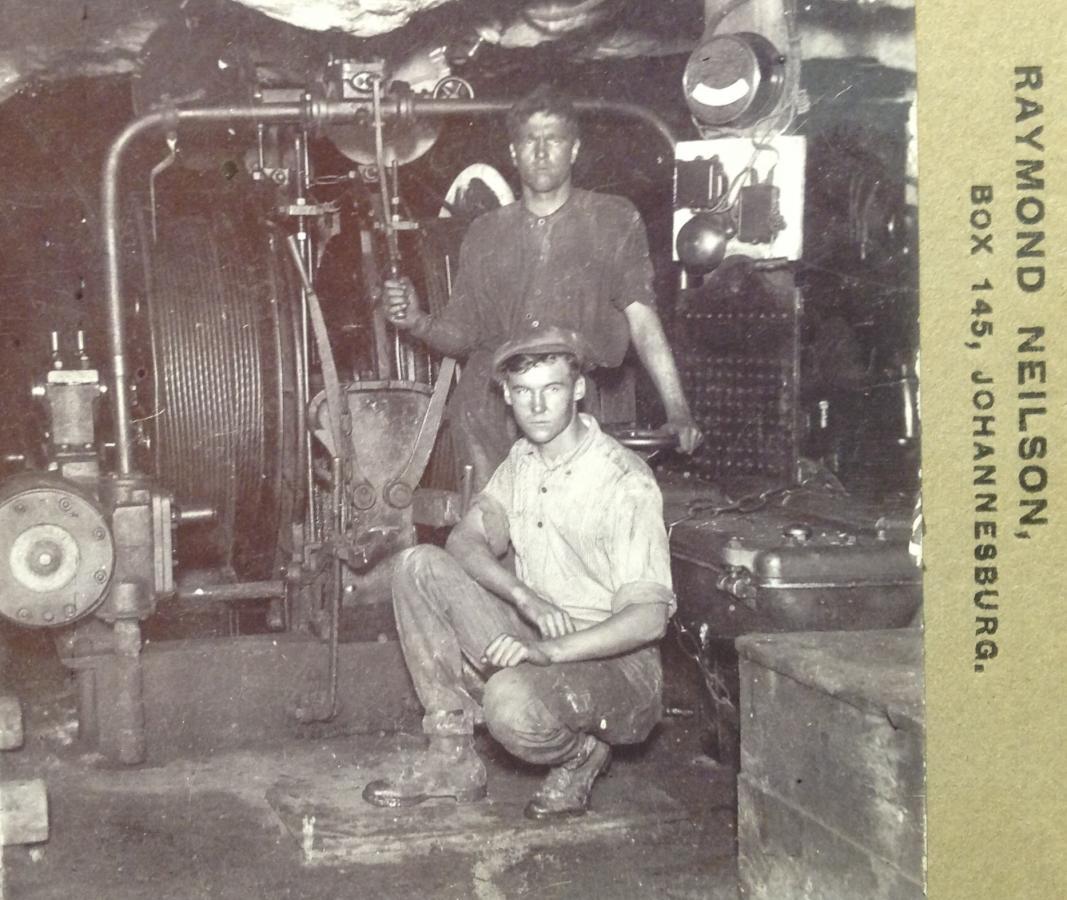 Wednesday, December 6, 2017 - 06:40
In a previous article on the Neilson brothers, the author states: "It is still not clear whether the Neilson brothers were South African or potentially foreign photographers who saw a commercial opportunity in photographing the South Africa deep-level mines."
The veil around who the two brothers were has now been lifted by Jim Read, who resides in Sparta, Georgia, USA. After reading the original article published on The Heritage Portal (click here to read), he established contact with the author. Jim is currently conducting his own genealogical research.
Jim kindly shared family information available to him around the Neilson brothers plus adding additional information about his own grandfather, James Wilbur Read, who was also cited in the above-mentioned article. 
In short: - J. Wilbur Read and the Neilson brothers are family, all originating from the USA.
J. (James) Wilbur Read (1866 – 1946)
James Wilbur Read was born in Farm Ridge, LaSalle County, Illinois, USA and was a second cousin to the Neilson brothers.  
First landing in South Africa during 1899, aged 33, his emigration documents (dated 12 September 1899) listed his occupation as "Newspaper".  He had been living in Chicago at the time and presumably came to South Africa as a journalist to report on the Boer War. On his arrival in South Africa, Charles Butler Neilson (the eldest of the Neilson brothers) signed James Wilbur's "identification" documentation. At that stage Charles Neilson had been in South Africa for some two and a half years already. 
Read returned to the U.S.A. around 1901, only to return to Cape Town again during June 1902.  This time his occupation is listed as "journalist".  His re-entry documents this time were signed by George Byron Neilson (second Neilson brother) who arrived in South Africa six months after his elder brother Charles.
During 1907, Read's "Registration of American Citizens" lists his occupation as "photographer".
On 30 May 1910 Read married Emilie Amelia Hedges (1878-1938) who was born in Brixton (England). From this marriage one child was born on 16 August 1911 in Jeppestown, Johannesburg, namely Clarence Ashley Wilbur Read (1911 – 1983). The couple divorced around 1914.
Read's Consular registrations for January and December 1911, as well as November 1913, list his occupation as "Engaging in Business".
During early 1914, after some 12 years in South Africa, Read returned with his almost three-year-old son Clarence Ashley to the United States. Read remained in the U.S.A. for the remainder of his life.  He died in Chicago, Illinois.  It has been suggested that while in South Africa, Read was not only a photographer but that he also sold bicycles and sewing machines – assumingly in Johannesburg.
His ex-wife, Emilie Amelia, subsequently married William Alexander Tracey in South Africa sometime after 1918.  They lived in Yeoville (Johannesburg) and owned the Yeoville Fruit Market at 4 Becker Street.
Photograph by J Wilbur Read. a Pendula at Robinson deep gold mine. Mining photographs produced by Read are less common compared to those produced by the Neilson brothers. Circa 1910
Neilson brothers 
There were three Neilson brothers who were second cousins to Read. All 3 boys were born in Marseilles, LaSalle County, Illinois, USA. They also had three sisters: Grace Ward, Emma Westervelt & Lissie Neilson all residing in Indiana USA during their adult lives.
Charles Butler Neilson (1870-1932) – Salesman & merchant buyer
Charles Butler Neilson made his first passport application on 28 December 1896.  He listed his occupation as "traveling salesman".  He arrived in Johannesburg on 3 January 1897. 
On 21 September 1899, he married Cora Adelaide Estella Creech (1878-1940) who was born in Ontario, Canada.  They were married in New Castle, South Africa. They had four children, namely Marjorie, Howard, Wallace and Courtney.
Charles made several trips back and forth to the United States but wound up living in Johannesburg. All his documents list him as a salesman and merchant buyer. No evidence was found that he also took up the art of photography like his two younger brothers. He resided at Arlington Mansion in Johannesburg at the time of his death (12 October 1932) and is buried in the New Cemetery – Grave No. 9268 General Section.
George Byron Neilson (1874-1931) – Photographer
George Byron Neilson made his first passport application on 19 April 1897. He stated that he was going to travel abroad - "In South Africa or to any country where his business may lead him". He arrived in South Africa during June 1897 and listed his occupation as "photographer". During 1899 he lived in Johannesburg and listed his occupation as "Salesman".  During 1902 he lived In Cape Town and listed his occupation as "Bicycle Dealer". Documentation from both 1906 & 1907 lists his occupation again as "photographer". During 1921 his occupation is recorded as "mining photographer". Between 1907 until his death during 1931, he resided In Boksburg, where he had two properties. He died at a relatively young age of 57. His death certificate indicates that he was a poultry farmer. His estate also listed 1200 fowl valued at £3 each.
George was married at some point to Wilhelmina Neilson who was born Watt during 1874 in Scotland.  
Photograph by Neilson brothers (now in partnership). Circa 1912
Howard Raymond Neilson (1882-1960) – Photographer
Following his two older brothers some 5 years later, Howard Raymond Neilson made his first passport application on 5 July 1902 during which he listed his occupation as Bookkeeper, yet on his arrival in Johannesburg on 24 August 1902 he listed his occupation as Photographer.
On 19 May 1910, he married Inez Harriet Boucharel (1890-1968) who was born in Cape Town, South Africa. It is recorded that they had one daughter, Adele, born during 1920.
On an application for some sort of registration during 1921, he again lists his occupation as "Mining Photographer".
During 1927, after some 25 years in South Africa Howard moved back to the United States where his occupation was listed as "Service Man, Paint Company" and later (1940) as "Owner of a chemical company". He passed away in Whittier, California aged 78.
Photograph by Raymond Neilson. This image shows the handwritten inscriptions and numbering often included on images. Circa 1910.
Following the initial article on deep-level mining photography, the Wits University (School of Mining and Engineering) responded and added the following link containing early mining photographs: click here to view.
Sadly, none of the photographs have the photographer's details or additional inscriptions included, but it can be safely assumed that the underground photographs were taken by either the Neilson brothers or Read.
Two images extracted from Wits University website cited above These two images confirm the extent to which "horse-power" was relied upon underground at the time (permission for the inclusion of these two images was obtained from the University's Mining and Engineering faculty on 30/11/2017).
Acknowledgements
Thank you to Jim Read (email communication October & November 2017) for freely sharing his family history.
J. Paul Getty Museum - http://www.getty.edu/art/collection/artists/10116/j-wilbur-read-american-1866-1946/ (containing some J. Wilbur Read photographs).
About the author: Carol is passionate about South African Photographica – anything and everything to do with the history of photography. He not only collects anything relating to photography, but also extensively conducts research in this field. He has published a variety of articles on this topic and assisted a publisher and fellow researchers in the field. Of particular interest to Carol are historical South African photographs. He is conducting research on South African based photographers from before 1910. He is also in the process of cataloguing Boer War stereo images produced by a variety of publishers. Carol has one of the largest private photographic collections in South Africa.
Disclaimer: Any views expressed by individuals and organisations are their own and do not in any way represent the views of The Heritage Portal.