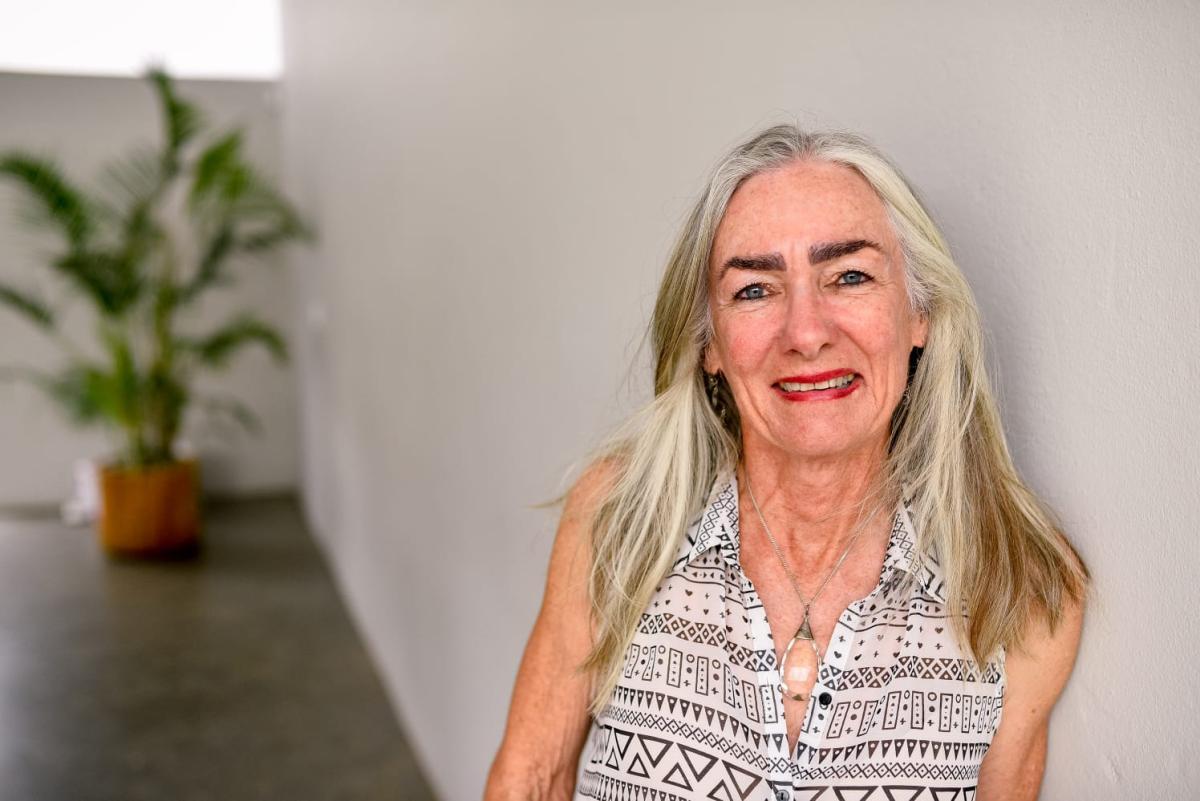 Disclaimer: Any views expressed by individuals and organisations are their own and do not in any way represent the views of The Heritage Portal. If you find any mistakes or historical inaccuracies, please contact the editor.
Wednesday, March 15, 2023 - 22:11
Lucille Davie recently hit the milestone of 100 articles on The Heritage Portal (click here to browse). You know her stories and now you can get to know her a little better...
What are your favourite articles from your archive?
I feel privileged, as a journalist with an interest in history, to have interviewed some of the people relevant to our recent history over the 14-year period when I was writing these stories. Some of the memorable interviews and stories I've written over some years: Dorothy Molefe and Antoinette Sithole, Hector Pieterson's mother and sister; Nomkhitha Mashinini, Tiestsi Mashinene's mother; several former Constitutional Court judges; George Bizos; Don Mattera, Chris van Wyk, Revil Mason, Phillip Tobias, Willem Boshoff; Jurgen Schadeberg; Westdene Dam disaster survivors; Reverend Sam Buti; Arthur Ginsberg, the creator of Chappies bubblegum, and exploring the cave in which the Foster Gang committed suicide, and writing the story.
Foster Gang Cave 
I enjoyed researching and writing about the Amawasha in Joburg, the entrepreneurial washer men from KwaZulu-Natal; and Nongoloza, the rebel Zulu who turned criminal in Joburg, and whose legacy is felt in prisons systems to this day, 75 years later. In 2003 I went down into the safety deposit vault basement of Somerset House in the Joburg inner city, originally housing the United Building Society, and, together with the owner, we found a dusty desk and chairs where it looked like the bank clerks had just gone out to lunch, and not returned.
Safety deposit boxes at Somerset House (The Heritage Portal)
I loved researching and writing about Dorkay House, when I went into the small rehearsal room, and several musicians drifted in, took their places at the piano, drums and behind a double bass, soon producing a sound that must have brought back good memories for them. It was magical for me. And, speaking to a guy who restores old oxwagons . . . the list goes on!
Band playing at Dorkay House (Lucille Davie)

What excites you at the moment?
What has excited me for several years is the constant queries I get through people having read my stories on The Heritage Portal and my website, occasionally from places outside South Africa. It allows me to peep into others' lives, and see what drives and interests them. I have had so many queries about Larry de Klerk, the coppersmith, who I interviewed way back in 2001. His forge was like something out of the 18th century – a home industry in the garage of a 1890s house (where his grandfather and father were born), in which he, as a 3rd generation coppersmith, continued to mould wonderful creations with copper. I recently had someone mail me saying he had passed away. He was in his early 60s, but, as he told me at the time, that constant hammering on copper takes its toll on the body. I was intrigued when he said that you can hammer and hammer, then one final strike tells you the copper is just right, and if you hammer once more, the copper will crack.
Larry De Klerk (Lucille Davie)
A few months ago I had a request to do a tree tour, taking in some old trees in the city. I loved the idea, and it has now become one of my favourite tours, admiring some of the city's oldest and most beautiful trees, and the history behind their planting.
What are your favourite articles on The Heritage Portal?
I always enjoy Kathy Munro's thoughtful, insightful and well-sourced articles. She has much wisdom and decades of knowledge. I love the range of stories on the Portal, about intriguing and often little-known subjects that historians are across the country are researching and writing. 
What in the sector makes your blood boil?
What makes me very sad every time I drive through the Fordsburg subway mural, which no longer exists except for a few hints of what was there. I wrote the story in 2010, interviewing some of the artists involved. The mural was done with such sensitivity to people's stories, even tenderness, about their lives in Fietas (Pageview), before forced removals wrenched them from a caring community. Now the underpass is covered in advertising, some of it possibly placed there by people whose parents and grandparents lived in Fietas.
A mural created with sensitivity and tenderness (Lucille Davie)
The mural is now dominated by advertising (The Heritage Portal)
While I know the government has many priorities in redressing apartheid injustices, I find it hard to fathom how they can neglect important sites like Chancellor House in downtown Joburg. The building has been restored and has great displays and boards in the window, but the area immediately surrounding it is filthy with litter and garbage.
Chancellor House (The Heritage Portal)
What books are you reading at the moment? 
I am reading The Randlords by Geoffrey Wheatcroft, and The free diary of Albie Sachs by Sachs. Wheatcroft is a journalist and historian, who reported from South Africa for four years in the 1980s. He has written for a number of prestigious publications. His book is well researched and well sourced, with an extensive index. The sub-title of the book is "The men who made South Africa", which is problematic, as there is very little acknowledgement of the hundreds of thousands of black miners who made it possible for the Randlords to amass their wealth. Sachs is one of my favourite South Africans, and needs no introduction – he is eloquent, worldly, charming and very smart. It makes for an excellent read.
What is your favourite heritage site and why?
One of my favourite heritage sites in the world is the Hagia Sophia in Istanbul, where I simply sat down on the concrete floor for an hour, aghast at the soaring splendour and history of it. I had the same sensation with Michelangelo's gorgeous statue of David in Florence. I spent at least an hour slowly walking around the statue, enthralled by its beauty. I walked up the many stairs of the La Sagrada Familia in Barcelona several years ago. The imagination of its design is breathtaking. 
Old postcard of Haggia Sofia
Local heritage sites include Constitution Hill, with its apartheid brutality in stark contrast to the uplifting and inspiring Constitutional Court. I always feel history is alive and humbled when I stand outside Chancellor House in downtown Joburg, and look up at the sandblasted names of Tambo and Mandela on the window, their legal chambers for eight years. Two great men of the struggle walked into that building every day, trying to take small steps to redress the injustices of apartheid for many who otherwise would have remained unheard.
Constitutional Court (The Heritage Portal)
I find the humble Christ the King church in Sophiatown by Frank Fleming anchors me. It has lost its beautiful mural painted by Sister Margaret in the late 1930s, but retains a modest simplicity about it.
Church of Christ the King (The Heritage Portal)
I find the elegant conversion of Satygraha House in Orchards calming. This is where Gandhi spent a year living with his great friend Hermann Kallenbach in 1908, in what was then known as The Kraal. It is a meditative space.
Satyagraha House (The Heritage Portal)
I have a special affection for Dolobran, designed by James Cope-Christie for Llewellyn Andersson. I love its eclectic façade and the fact that it has remained in the same family since 1905 when it was built. Because of this, it retains a good deal of its original décor, which captures a particular era and thinking.
Dolobran (Lucille Davie)
How did you get started in heritage?
I had always been curious about Johannesburg's history and heritage. Then in 2001 I started writing for a company sub-contracted to design, maintain and write stories for the City Council's website, Joburg.org.za. This was heaven! I specialised in researching and writing the history and heritage of the city, interviewing people who have contributed to the history of the city in various ways. I was given the freedom to satisfy my curiosity on so many things besides people – the source of the Braamfontein spruit and other streams, the oldest trees in the city, the oldest buildings in the city, the history of many buildings, the re-imaginings of old buildings, and striking new buildings like Circa gallery in Rosebank.
Circa Gallery
But also witness, as a journalist, to the sad demolition of the Rand Steam laundry in Richmond; the first case held in the new Constitutional Court building; the opening the wonderful Soweto Theatre in Jabulani; the unveiling of the Fordsburg subway mural, and more.
Rand Steam Laundry (Lucille Davie)
What is your favourite weekend getaway?
My favourite weekend getaway is the Magaliesberg, where I hike, ride my mountain bike and enjoy the peaceful expanse of the mountain.
What do you do outside the heritage world?
I do Joburg tours, based on my years of research, interviewing and writing stories of Joburg. I also teach English to German children based in Frankfurt. Both give me much pleasure, and allow for creativity and imagination. 
What is heritage to you?
Heritage to me is a deep appreciation of the past, its skilled artisans, craftspeople, architects, engineers, artists, writers and deep thinkers. And an admiration of what they left for the present generation. Of course, protecting this legacy is the challenge, in a society with so many challenges and seemingly little appreciation for the heritage we have all been given. 
I have endeavoured to preserve my ancestors' heritage and legacy by doing my family tree, having a lot of fun in the process. And in a small way I have striven to pass on a precious legacy to my children, by holding dear special items from my parents which they will inherit.