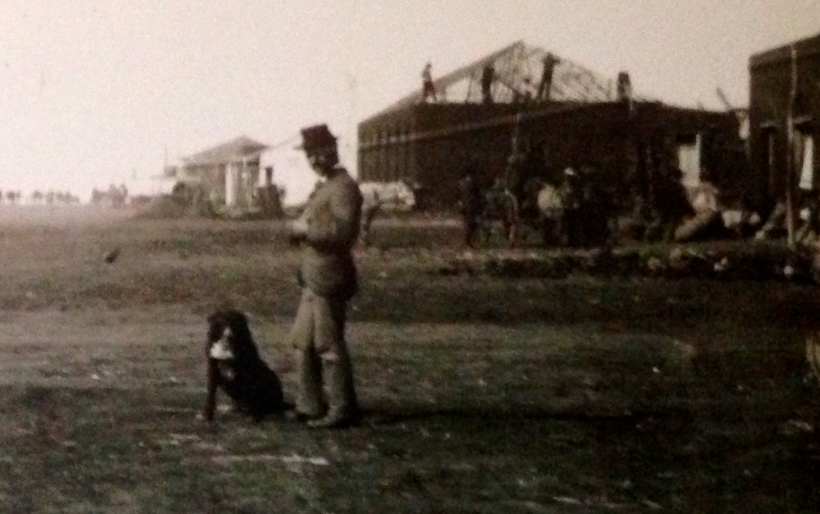 Saturday, October 24, 2015 - 05:46
The secret of a successful visit to Museum Africa is to concentrate on one exhibition, so giving oneself reason to return for another visit. A recent question on the Breakfast Quiz of Classic FM about the first Traffic Light installed in Johannesburg, triggered just such a focused visit to Newtown, as I set out to explore an evergreen permanent exhibition on Johannesburg Firsts.  
It's a tucked away, almost hidden gem and l was delighted to meet Diana Wall, the Museum Africa curator who switched on the lights and gave me a free run of the space. Here you will encounter photographs, clear texts and a selection of artifacts pinpointing Johannesburg's "firsts".  The history of the city from early gold mining days to fairly recent changes in city structures falls into place. It's taken imagination and extensive research to compile the long lists of firsts, from first mining exploration to first skyscrapers, from first park to first dog show, first school to first university. Photographs of people, places, maps, buildings, dramatic events (such as the first explosion... the Braamfontein dynamite disaster) capture the evolution of the town from mining camp, to thriving metropolis. The sense of drama and pioneering endeavours, the hardship of early days come to life. 
Braamfontein Dynamite Explosion - A Johannesburg Album (Oscar Norwich)
In 1976 Anna Smith, City Librarian compiled a book (now difficult to find) on Johannesburg Firsts, published by the Africana museum, and this book inspired the creation of this exhibition, and was the forerunner of finding the City's Firsts. 
Putting down roots on the bare veld and making simple homes in the early days shows how tough and determined our ancestors were. It is remarkable how rapidly a sense of order and systematic organisation was imposed from sanitary board to town council to ensure that the fundamentals of a managed townscape notched up living standards for the emerging middle class with all the facilities and urban amenities (e.g. clean water, street lights, a fire service) we take so much for granted today. Recreation, entertainment and lifestyle was as important as making money. Cultural nodes and sport mattered to the new town. Ritual, order, the cycle of family life and the assumptions about class, social, religious and race divisions came into play very early in this city as the social history books of Charles Van Onselen emphasise and this exhibition also shows. Identity and  belonging are hidden themes. 
First Brewery - Johannesburg Firsts Exhibition - Museum Africa
This exhibition is a celebration of Johannesburg origins, its civic pride and the pioneering spirit of Victorian men and women who within 20 years created homes, suburbs, schools, churches, clubs, hospitals, parks, breweries, bars with energy and vigour. The variety of ways people made a living comes to life in this exhibition. How speedily the Victorian town, mimicking London, New York or Paris, emerged with all the assumptions of permanence, comfort and durability. It is also an exhibition that stimulates thinking and discussion about the implicit assumptions about this city and the construction of identity.
First Double Storey Building - Henwoods - Johannesburg Firsts Exhibition - Museum Africa
Lucille Davie posted a lovely article on Johannesburg firsts extracted from this exhibition on Johannesburg's website. 
Here is a list of some of the imaginative firsts you will encounter in this exhibition . 
First mines, mining companies , exploration , mining systems
First maps of the town
First Hospitals , fire stations, water systems 
First motor car, first street lights, first traffic lights 
First suburbs
First explosion
First skating rink 
First Brewery and first Bar 
First sporting clubs, race courses 
First Park  (Joubert Park) 
First double storey building, skyscraper, lift in a building
First library 
First mayor, first mayoral chain, first council chamber, first female mayor, first black female mayor
First forced removals 
Soweto Firsts 
First stock exchange 
First electric power, gas, water supplies 
First trams, first buses, 
First computers 
First planetarium 
First cemetery, first deaths and first burials 
First department stores, shops, retail establishments
First churches, synagogues, mosques
First schools, universities 
First theatres 
First marriages 
First suburbs
First dog show 
We invite and urge you to take a trip to Newtown!  It's yours for free. Park on Mary Fitzgerald square. Explore the exhibition and think about adding to this list of firsts. Are there any modern firsts? Any "missed" firsts? Does your family have any photographs that belong in the "first category ".  What about modern firsts and the growth of the city boundaries, new systems and new forms of government. What about Sandton firsts? First shopping malls? It all needs documenting and remembering now or it will be lost to future generations.
Thank you to Diana Wall for welcoming me and opening the exhibition for a personal viewing.
Kathy Munro is an Honorary Associate Professor in the School of Architecture and Planning at the University of the Witwatersrand. She enjoyed a long career as an academic and in management at Wits University. She trained as an economic historian. She is an enthusiastic book person and has built her own somewhat eclectic book collection over 40 years. Her interests cover Africana, Johannesburg history, history, art history, travel, business and banking histories.  She researches and writes on historical architecture and heritage matters and is well known for her magnificent book reviews. She is a member of the Board of the Johannesburg Heritage Foundation and is a docent at the Wits Arts Museum. She is currently working on a couple of projects on Johannesburg architects and is researching South African architects, war cemeteries and memorials.
Disclaimer: Any views expressed by individuals and organisations are their own and do not in any way represent the views of The Heritage Portal.