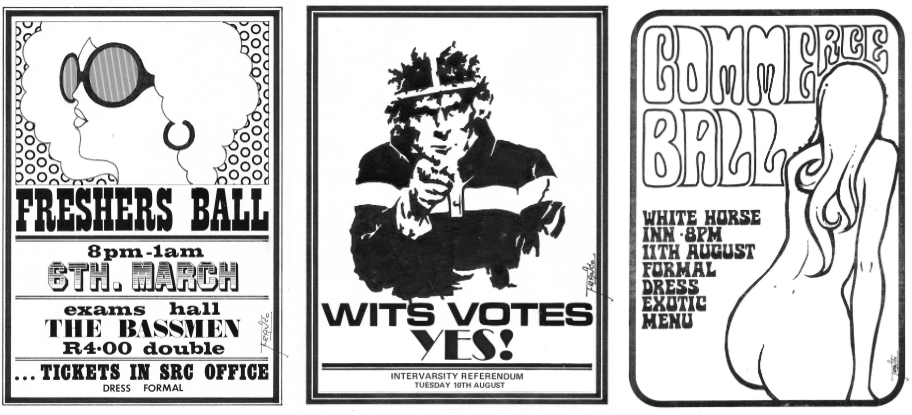 Thursday, November 15, 2018 - 16:50
For reasons that I have never fully understood, between about 1968 and 1972, the Wits campus underwent a period where posters of all colours and sizes proliferated, advertising everything from Rag Ball to intervarsity rugby, from Nusas teach-ins to visiting lecturers, and from Fresher's Reception to rock and roll festivals. Every now and again the apartheid thugs that ran the country would provoke a rash of political posters, and the SRC elections were always an active time for poster artists. Poster season normally began in February, with student registration, and ended just as suddenly in September, when the SRC elections marked the end of extra-mural activities for the year and the start of serious, last minute swotting. As the saying goes, if you had not started your revision by the time the campus fruit trees came into blossom, then you had left matters too late. I suspect that it was also a time of the year when religious societies started attracting new converts.
Political Poster
Why it all happened is probably worthy of a small dissertation in its own right. In that era, student affairs came under the management of strong and capable SRCs, led by intelligent leaders, such as John Kane-Burman, Robin Margo and Mark Orkin. The tradition might have continued had Rex Heinke remained in the country, but after he was deported in 1971 the nature of student government underwent a slow and inexorable breakdown, leading to the wholesale infiltration of student structures by the Security Police. This was an era when Wits students ran their own canteen, a Visiting Lecturer's Trust Fund, a student health insurance scheme, their own publishing unit, photographic and graphic design studio, radio and printing units, and an innumerable number of faculty councils, societies and sports clubs. It must have been a wonderful training ground for trainee entrepreneurs. Most importantly, these groups also controlled their own budgets, a proportion of which was normally allocated to advertising.
Party Poster
A major reason for this boom must have been an availability of hanging space for posters. Since 1946 the area now known as the library lawn had been the home of four long, prefabricated timber huts, supplied by the Army, and erected in the immediate post-WWII era to provide temporary lecturing space for the flood of returning servicemen and women. As every architectural student knows, there is no such thing as a temporary building, and by the 1960s these structures, looking a little the worse for wear, were still standing. It was widely believed that only the overlay of posters was keeping them from collapse. They were finally demolished in 1973 to make way for the new library, having provided a generation of students with a broad canvas for their work.
The late 1960s was also an era when posters became a powerful propaganda medium for overseas student movements, and the French, German and Italian student uprisings, the Chinese Cultural Revolution, the US Anti-War lobby, and the California psychedelic counter-culture were all supported by well-designed poster campaigns. Unfortunately the litho printing process was expensive and the local printing industry was highly regulated by the apartheid government, so the polychromatic art of our colleagues overseas was beyond our means. Then Ozalid came up with an improved "helios" printing process aimed at architectural offices, and we discovered that monochromatic posters of almost unlimited size could be made virtually overnight. That, I believe, was the open sesame, and soon posters in black, red, and blue were appearing on campus. True, their colours ran in the rain, and bleached badly within two weeks of hanging outdoors, exposed to the highveld sun, but by then, they had fulfilled their purpose.
The technology used in the Helios system was simple, and could be traced back to the method of making "blue-prints" used by the architectural profession for many years previously. An original, drawn on a translucent drawing paper or film, was placed over a sheet of paper coated with a photosensitive chemical, yellow in appearance. This was then exposed to an artificial light source which bleached exposed areas of surface. The original drawing was separated from the copy before this was passed through a bath of chlorine developer. Depending on the chemical surface coating used, the final print could be in blue, wine-red, and black. The result was quick, relatively cheap, and could produce in a few minutes posters of almost any size.
Posters of almost any size could be produced
Some of the designs make for interesting reading. On 25 September 1970 WITSCO had its first annual dinner, at the Riverlea Main Hall, featuring music by the Gay Cavaliers. Generally though, the band-of-choice for student occasions was the Bassmen, some of whom were also studying at Wits. The Miss Freshette competition got quite a lot of poster coverage, and in 1970 students who might have been "aware of any beautiful freshette", were urged to nominate her for the title. Posters often carried barely masked sexual innuendo, like one featuring a bare-breasted nymph, drawn directly from Aubrey Beardsley, who proclaimed that "My deah! Of course I'm coming at the Fresher's Ball". John Vorster's portrait featured regularly on student posters, with one asking "Daddy, what did you do in the last war?'. 
Witsco Annual Dinner Poster
Freshers Ball Poster
Miss Freshette Contest
An 'Exotic' Invite
Speakers on campus included a wide range of scholars and politicians, including Helen Suzman, Senator Brian Bamford, Ronnie Goldblatt, Dr Percy Yutar, Monsignor Hughes, Adam Small, Walter Battiss, Wopko Jensma, Sheila Roberts, and Dr the Hon Carel de Wet, Minister of Health, Mines and Planning who, as I recall, received a very warm student welcome. Professors Harry Gray of Columbia, AN Ross of Lancaster, Stein of Cambridge, John Dugard of Wits, Charles Morowitz of the London Open Experimental Space Theatre, and G Micheletti of the Turin Polytechnic all graced our lecture theatres, and slumlord Chaim Wainer got to defend his own peculiar interpretation of the Rents Act. 
A wide range of speakers were hosted at Wits including Helen Suzman
Live performances held in the Great Hall included jazz singer Mark Murphy, classical musicians Gabrialle Duve and Ishbel Sholto-Douglas, the musicals Meropa and Black and Blue, and Rites, a play by Maureen Duffy. More popular music was provided by Freedom's Children, Tidal Wave, Mike Dickman, Hawk, Valerie, Mel Miller, Shamley, the Malombo Jazz Men, Hocus, the Staccatoes, the Rising Sons, Wanda Arletti, and Jacob Hay. The first time I saw Johnny Clegg was in the Great Hall, and was I electrified by his performance. Students were also requested to donate freely to the Biafra Relief Fund, as well as the legal expenses of various anti-apartheid activists.
Mark Murphy performed in the Great Hall
By the mid-1970s student government at Wits had crumbled and withered, crippled by internal dissension, police intervention and a series of financial scandals, and many of its pioneering services still functional were absorbed into the University's administration. Management of the canteen passed into the hands of professional outsiders who had to be fired on a regular basis for accepting inducements from suppliers and, having been deprived of hanging space, poster campaigns ran out of steam. Thereafter advertising had to be done by means of pamphlets, more suited in size to the departmental notice boards available to student societies. Loo Wall, located outside the Student Ref, which had been built by the SRC in 1971 in an attempt to curb a rising wave of graffiti painting on campus walls, became the best way of advertising events.
And that, I think, was the end of an era.
Franco Frescura - Professor and Honorary Research Associate, University of KwaZulu-Natal. 
Disclaimer: Any views expressed by individuals and organisations are their own and do not in any way represent the views of The Heritage Portal.