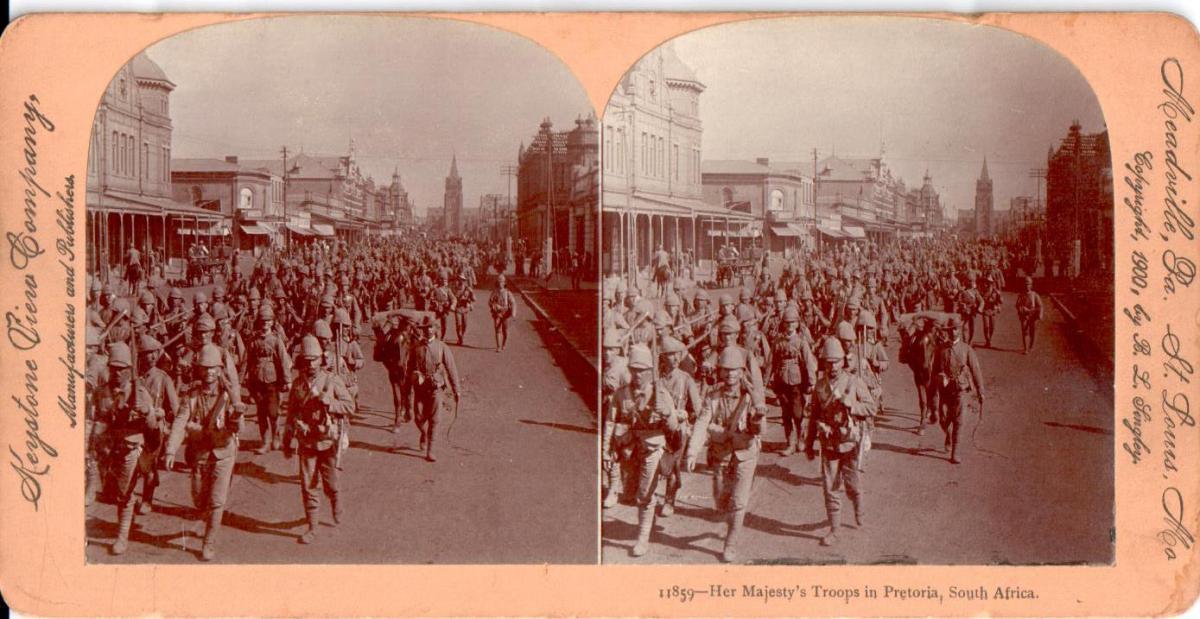 Thursday, March 30, 2017 - 20:09
Stereo photography is a craze that has swept the world since 1851, so much so that modern View Masters are still being produced commercially today. Stereo images (two photographs of the same subject, taken from slightly different angles but covering the same subject area, and mounted side by side) must be viewed through a special viewer where the two images then fuse into one giving a visual impression of subject depth – or a three dimensional effect.
These images created a sense of reality to the viewer, and even today would have the viewer gasping when looking at uniquely created stereo images.
Stereo photograph of Cape Town
Stereo view imagery was probably the most common form of visual entertainment during the Victorian era, achieving similar popularity that modern television and cell phone technology provides the worldwide population today.
A stereo camera with two lenses (side by side) was required to produce these images. These cameras themselves today are highly collectable.
The reason for the growth in popularity of stereo viewing, from the mid 1800's onwards, lies in the increase in literacy levels, improving social conditions as well as travel that became more common. So big was this craze that the London Stereoscopic Company had a slogan as early as 1854 which stated "No home without a stereoscope".
Wealthier homes often had several viewers and small libraries of these cards neatly stored in specially made boxes.
Commercial success was the key driver in producing these images resulting in some mass produced, and as a result, poor quality images. Some publishers however became known for their high quality images.
Some earlier cards had colour added to them, whilst other had pin-pricks applied to the cards to create the impression of burning candles, chandeliers or lanterns when viewed against a light in the background.
The range of subjects was enormous and included museum exhibits, views of popular destinations, narrative sequences, humour, ghosts, gory war scenes and expeditions of geographical and archaeological interest. These were then usually sold as sets. One of the goriest card in the author's collection is that of a man in the process of being beheaded (not a South African card).
The vast numbers of stereo photographs which have survived are indicative of the popularity of this form of visual imagery. Surviving stereo views remain a reliable source in providing historical evidence to historians.
Privately produced card – Durban harbour – loading of wood
Today, many of these cards are so common resulting in them having very little, if any monetary value. There are however exceptions – Stereo cards relating to the South African Boer War can fetch R100 upwards per card in a good condition.
The viewers, or stereoscopes, were either simple hand held and table models or sophisticated self-standing ones, many of them in quality wood and with inlay or elaborate carving. These viewers in themselves have become highly collectable.
Stereo views were initially produced on glass but later the paper version was pasted on a flat piece of carton. These cartons, or cards, became curved from 1880's onward to produce an even better three dimensional effect when viewed through a viewer.
Stereo views were either produced privately or by large publishing companies. Based on research to date, not many professional photographers or publishers based in South Africa produced stereo images. The main publishers of mining stereo views were Johannesburg based publishers Wilbur Read and Neilson Bros.
Robinson Deep Gold mine (Published by Wilbur Read)
The majority of South African stereo views were produced during the Boer War period by publishers such as Underwood and Underwood; Keystone, Davis or White – all American based publishers. The interest in the war was high worldwide, resulting in much money to be made by these publishers. It is known that publishers, who had their own photographers, also bought images from other photographers in order to include in their range of stereo images.
South Africa has sadly not been as well captured in stereo view format as compared to the other countries.  Other than the three main themes (war, mining & ethnical), topical and other images are sparse. Those that do exist are generally dull and uninteresting.
Wife and children of Chief Kupuras (published by Keystone)
The author is a collector of anything relating to stereo photography and is in the process of cataloguing all Boer War and South African Mining stereo view titles.
This article was also published in the Africana Society (Pretoria) annual booklet.
Carol is passionate about South African Photographica – anything and everything to do with the history of photography. He not only collects anything relating to photography, but also extensively conducts research in this field. He has published a variety of articles on this topic and assisted a publisher and fellow researchers in the field. Of particular interest to Carol are historical South African photographs. He is conducting research on South African based photographers from before 1910. He is also in the process of cataloguing Boer War stereo images produced by a variety of publishers. Carol has one of the largest private photographic collections in South Africa.
Disclaimer: Any views expressed by individuals and organisations are their own and do not in any way represent the views of The Heritage Portal.