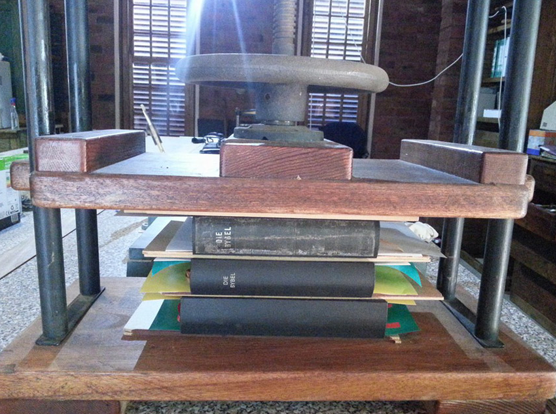 Wednesday, July 5, 2017 - 13:18
Johannesburg hosts many fascinating treasures. Did you know bookbinding is one of Johannesburg's oldest enterprises? A bookbinders appears in an 1889 photo of our town (see below). Impressed Craft bindery connects you to that past.  
1889 Panoramic View of Johannesburg
I recently discovered this enterprise owned by Martin and Anie Ciolkosz. Their home, studio, workshop and museum is located in the quiet leafy suburb of Birdhaven, close to the Wanderers Club. They offer a craft bookbinding service and letterpress printing service. This is handcraftsmanship of the highest order. The combination of workshop/studio, museum of everything to do with the printing industry and their gallery level library comes with a whiff of a bygone age, impregnated with the smell of musty paper and linseed oil. The studio is pure vintage but it all works and is exquisitely beautiful.
The purpose built studio is located in their spacious garden and is worth seeing for the quality of its architectural design. I thought I would share my enthusiasm and delight at discovering a hidden aspect of Johannesburg. It is a museum filled with many unique 19th century printing machines and hand tools of the print and binding trade. Book decorating tools can look like "antique pizza cutters", but don't be fooled, these wheels make impressions and patterns on fine new goat skin binding. An old embosser continues to give ghostly impressions on thick paper. Their studio is a treasure. The website (click here to view) gives a flavour of what this old art and new craft space is all about. If you have work binding work to be done, old bibles, first editions, children's books, consider this studio.
imPRESSed Studio (Kathy Munro)
The studio, constructed of handcrafted wood, is designed around their collection of old printing machines, cabinets filled with metal type and tools; there is an interior upstairs gallery and the books of the library are on shelves around the upper level gallery. They describe their library as "book wall paper" and their old books are likely to have wide appeal.
This is an undiscovered hidden treasure of Johannesburg. Martin and Ania collect old printing presses and indeed everything to do with printing. They restore these old machines and skilfully return them to well oiled working order. Martin has gathered his collection from all over South Africa, and restoration brings out his engineering talents. Many of these heavy black metal printing machines were imported to South Africa in the 19th century. Martin has saved many of these machines from the scrap metal recyclers; many of these machines are unique.
Printing on an 1853 machine (Kathy Munro)
Letterpress type is hand set (Kathy Munro)
Martin and Ania are talented people. They bind books with love and care, they restore frayed and disintegrating binding of antiquarian books with passion, make bespoke stationery, print posters, turn out impressed or embossed business cards or personalised wedding invitations, offer workshops and binding classes. Martin gave me the gift of two letterpress political posters recently produced for a political march -  I was being handed instantly collectable ephemera!
Repairing a first edition of Jock of the Bushveld (Kathy Munro)
I loved Martin's description of his approach to restoration of old books; the preferred way is "the Japanese way", where he aims to keep the character and history of past owners of an old book all retained within the repaired binding. Naturally I left him with a selection of my old books needing attention – those much thumbed adored childhood books that one can't bear to throw away but also have sat around forever looking very tatty. Now is the moment for a top quality restoration job.
If you enjoy books drop in for a visit to browse and loose yourself in another age. Anie and Martin welcome visitors but as this is a working studio do make an appointment.
Martin Ciolkosz   Cell: 083 305 8315 | martin@impressed.co.za | www.impressed.co.za
Kathy Munro is an Honorary Associate Professor in the School of Architecture and Planning at the University of the Witwatersrand. She enjoyed a long career as an academic and in management at Wits University. She trained as an economic historian. She is an enthusiastic book person and has built her own somewhat eclectic book collection over 40 years. Her interests cover Africana, Johannesburg history, history, art history, travel, business and banking histories.
Disclaimer: Any views expressed by individuals and organisations are their own and do not in any way represent the views of The Heritage Portal.