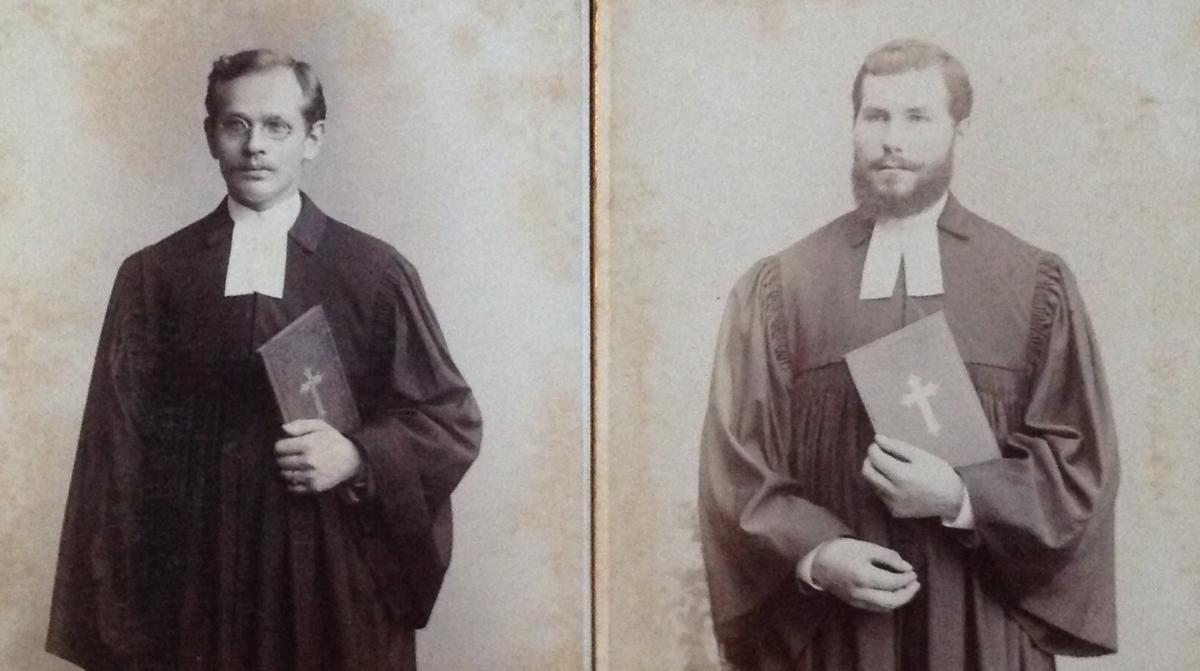 Friday, April 5, 2019 - 20:36
Recently the author acquired a Victorian Photo album which contained a number of Carte-de-Visite format photographs of Berlin Mission Society missionaries, all attached to the German Lutheran church in Berlin (dating from between 1865 and late 1870s).
The 31 images contained in the album are mainly of missionaries who did duty in South Africa (12 images), East Africa (6 images) & China (3 images). The remainder of the images had no inscriptions on them, making it almost impossible to identify the missionary that was photographically captured.
Amongst the South African group of images, 10 missionaries have been identified and are presented in this article. The probability exists that some of the remaining images without inscriptions could also have been South African based missionaries.
Fortunately, research by both German and Missionary historians has resulted in sufficient information being recorded on most of the missionaries, which makes the sharing of the images more impactful.
Whilst much may have been published on most of the missionaries listed below, the primary purpose of this article is to share the images in the public domain.
Many questions arise around the existence of the album. Sadly, the author has no detail as to where the album originated from. Was this a formal album that would have belonged to the mission administration, or was it an album of a missionary (or his family) that just passionately compiled such album keeping track of their colleagues doing duty around the globe?
The German mission societies in South Africa included the Berlin Mission Society (which is the focus of this article), the Hermannsburg, the Moravian and Rhinish Mission Societies. 
Significant about each of the photographs included in this article is that they were taken more than a 130 years ago in Germany prior to the missionaries' departure to South Africa.
History of German Missionaries in South Africa
The Berlin Mission Society (BMS) started sending missionaries to South Africa as early as 1833. Many missionaries with close ties to Berlin also had been working in South Africa for the London Missionary Society and the Rhenish Mission resulting in South Africa being chosen as the first country where mission field work was conducted by the BMS.
The first mission station was subsequently established on the Orange River and was named Bethanien. This mission station did not get off to a good start, mainly due to the local population, the Korannas drifting off. They were subsequently replaced by Betshuanas.
Much conflict ensued among the first group of missionaries resulting in all of them leaving the society within a few years. Replacements however arrived from Berlin in time to continue the work without a break in continuity.
Next the focus shifted to the Eastern Cape where Ludwig Döhne started the first Berlin Mission Station in this troubled area during 1836. Other stations followed, but the continuous wars between the British and the Xhosa made missionary work very difficult.
Due to the slow progress, the BMS gladly accepted the invitation by the British authorities to start work in the new colony of Natal. The missionaries Posselt and Güldenpfennig founded the first BMS station in Natal during 1847 and named it Emmaus. In time, further stations were started in the colony.
The last area to be focused on by the BMS was the North-Eastern areas of South Africa where Merensky and Grützner established their first mission station during 1860 called Gerlachshoop. Many additional stations followed which became the main focus of the BMS in South Africa.
Missionaries photographed
All the photographs of the missionaries included in this article were taken in Berlin, Germany. These photographs would more than likely have formed part of the Berlin Mission Station staff files. It is also assumed that Missionaries were provided with copies of their own images to use as "visiting cards" in the country where they did service.
Interestingly enough, at least eight of the ten men listed below remained in South Africa and passed away on Southern African soil.

1) Gustav Dietrich 
Dietrich was born in Germany on 3 February 1868. He arrived in South Africa during 1896 and passed away in Zimbabwe on 23 January 1924 (aged almost 56). He was married to Martha Ney who passed away on 14 February 1949.
Gustav Dietrich
2) Ernst Friedrich Gottschling
Gottschling was born in Germany on 10 June 1856 and first arrived in South Africa during 1882. He passed away in Boksburg on 16 August 1924 (Aged 68). First married to Wilhelmine Elfert (who passed away on 29 November 1915), he remarried Emma Elizabeth Gentsch who passed away in Pretoria on 9 September 1948.
Ernst Friedrich Gottschling
3) Carl Adolf Hoffman
Hoffman was born in Germany on 2 August 1868 and arrived in South Africa during 1894. He passed away in Pietersburg on 15 September 1962 (Aged 94). He married Dorothea Elizabeth Kriele who passed away on 25 May 1951.
Hoffmann was among the most prolific 19th and 20th century authors employed by the Berlin Missionary Society. Hoffmann attempted to record African history and cultural practices with a view to preserving them for posterity by rendering orally presented knowledge into written and printed text. 
Carl Adolf Hoffman
4) Eduard Kratzenstein (Dr.) (1823 – 1896)
Although there is limited information available about Kratzenstein, it is known that he was a mission historian who published his works accordingly.
He was one of the better known of the three superintendents of the Berlin Lutheran Mission station in South Africa during the Wangemann directorship. Kratzenstein was based at Bethel (now Stutterheim) at some stage.
In his memory, the mission station Mp'hôme (Mphome) based in Haenertsburg (Limpopo Province today), was also renamed to Kratzenstein. 
Eduard Kratzenstein
5) Johann Heinrich Albert Kropf
Kropf was born in Germany on 27 March 1822. He served as a missionary in South Africa for some 60 years.
He trained as a printer in Germany prior to arriving in South Africa during 1845. He passed away in Stutterheim on 10 December 1910 (Aged almost 88). His first wife, Caroline Wilhelmine Hauffe, whom he married during 1847, passed away in Stutterheim on 10 February 1898. He remarried Clementine Katharina Kuhne. She passed away in Stutterheim on 26 August 1929. 
Kropf published a much-valued Xhosa/English dictionary during 1899.
He was also the superintendent at the Dohne station. A recorded discussion between Kropf and Sir. J.D. Barry (around 1881), provides for some interesting reading. Kropf confirmed that he worked with local leaders Ndhlambes (under chief Umhala) and Gaikas (under chief Sandili).
He added that during 1881, he had about 250 active Christians at the mission station.  
Kropf attributes the slow growth of the mission population to the station being destroyed twice (during 1846 and 1851), resulting in membership scattering and the mission needing to commence anew after each of these destructions.
Interestingly, Kropf adds during the interview that he would not admit a polygamist to baptism or church privileges.
Johann Heinrich Albert Kropf - German Missionary via Carol Hardijzer
6) Julius August Marasas
Marasas was born in Germany on 30 July 1869. He arrived in South Africa during 1897. He passed away in Bergville on 2 June 1940 (aged almost 71). He was married to Anna Charlotte Canin who passed away in Boksburg on 24 July 1952.
Julius August Marasas
7) Gustav Pakendorf
Pakendorf was born in Germany on 28 August 1869 and arrived in South Africa during 1895. He passed away in Pinetown on 30 September 1944 (Aged 75). He first married Luise Wiedermann (who passed away some 4 years after their marriage). He remarried Augusta Maria Johl during 1902. She passed away in Pinetown on 28 August 1960.
He was the mission Superintendent at Pietermaritzburg since 1910.
Gustav Pakendorf
8) Wilhelm Taurat 
Taurat was born in Germany on 23 June 1868. He arrived in South Africa during 1895.  He passed away, aged 61, on 15 April 1929 at the Arkona mission station (old Transvaal) where he also lays buried today. He was married to Anna Wiedermann who passed away on 21 November 1949.
Wilhelm Taurat
9) Hermann Theodor Wangemann (Dr.)
Wangemenn was born on 27 March 1818 in Wilsnack and passed away in Berlin on 18 June 1894 aged 76.
After studying theology and philology (the branch of knowledge that deals with the structure, historical development, and relationships of a language or languages) at the University of Berlin, Wangemann first held a position as tutor in  Bern between 1840 & 1844.
As successor to Johann Christian Wallmann, Wangemann was appointed director of the Berlin Mission Society during 1865.
Given his two study directions, Wangemann was not only a theologist but also a linguist. He often published his works relating to his journeys. He was also the editor of the Berlin mission reports.
He travelled before photography became the standard means of recording journeys of this nature. Only based in Africa on two occassions for 2 years at a time, Wangemann undertook visitation trips to the mission offices in Africa from 1866 onwards. It was on these travels that he recorded diary inscriptions with sketches.
A collection of 106 drawings by Wangemann, originating from these journeys, was acquired by a South African museum in 1954. His first visit was between 17 September 1866 and 26 September 1867 during which he was critical of how the white colonists treated their black staff or the local population. The second journey was some 17 years later, between 1884 & 1885. The themes of his drawings vary from South African landscapes to six drawings of places in the Middle East.
The drawings have a significant cultural-historical value in that they are accompanied by extensive written travelogues. The Wangemann collection is currently curated by the Ditsong National Museum of Cultural History in Pretoria.
As mission director, he encouraged missionary effectiveness through tight organisation. Wangemann played a significant role in developing mission work in South Africa and later in China and Tanzania.
Twice married into aristocracy, Wangemann had intimate friends in high places and was acquainted with Bismarck. His first wife Elisabeth died two days after the birth of their daughter Anna, who married a Johannes Winter in later years. 
Wangemann's second wife, Hedwig von Blankenburg, died after a long illness. His third wife was Helene Merensky, Alexander Merensky's sister.
The mission station " Wangemannshöh " in German East Africa, (Tanzania), was named after him.
Hermann Theodor Wangemann (Dr.)
10) Georg Carl Windisch
Windisch was born in Germany on 12 April 1870. He arrived in South Africa during 1894 and passed away in Potchefstroom on 29 August 1944 (Aged 74). He got married to Auguste Marie Sandrock in South Africa on 12 October 1898, but she passed away during July 1914 whereafter he remarried Luise Henriette Brune during 1916. She passed away in Potchefstroom on 13 May 1941.
Georg Carl Windisch
Missionary work during the 1800s and early 1900s was clearly a very male dominated field. The role that their wives played (for those who married), has certainly been underestimated in that very little has been captured in literature about their roles at mission stations.
Included amongst the batch of photographs were images of two unidentified females, who may have been married to one of the men mentioned above.
Unidentified women
About the author: Carol is passionate about South African Photographica – anything and everything to do with the history of photography. He not only collects anything relating to photography, but also extensively conducts research in this field. He has published a variety of articles on this topic and assisted a publisher and fellow researchers in the field. Of particular interest to Carol are historical South African photographs. He is conducting research on South African based photographers from before 1910. Carol has one of the largest private photographic collections in South Africa.
Sources
De Jong, C. (1992). Twee Duiters oor Transvaal in die 19de eeu. Landbeskrywing van F.H. Jeppe en H.T. Wangemann. Pretoriana – Journal of the Pretoria Historical Association (August, No 101)
Hardijzer Photographic Research Collections
Kriel, L. (2018). Setting Transvaal scenes in German type: Missionary Carl Hoffmann's book designs c.1900-1930 (www.tandfonline.com)
Powe, K. & van der Heyden, U. (1999). The Berlin Mission Society and its Theology: the Bapedi Mission Church and the independent Bapedi Lutheran Church. South African Historical Journal (40)
Unknown (extracted January 2019). The Berlin Missionary Society in South Africa. (www.safrika.org/berlin)
Unknown (Extracted January 2019). Berlin Missionaries to South Africa (www.geni.com).
Van der Heyden, U. (extracted January 2019). Wangemann, Hermann Theodor: Religion Past and Present. (http://dx.doi.org)
Van der Heyden, U (1); Van Heyden, U (2). & Boshoff, W (2015). Hermann Theodor Wangemann as illustrating traveller : Holy Land drawings from Egypt and Palestine, 1867 South African Journal of Art History, Volume 30, Issue 2, Jan 2015, p. 155 – 170 (Journals.co.za/content)
Wikitree.com (Hermann Theodor Wangemann)
Wikipedia.org (Hermann Theodor Wangemann) 
Zoellner, L. & Heese, J.A. (Extracted January 2019). The Berlin Missionaries in South Africa and their decendants. (www.safrika.org/names/berliner.html)
Disclaimer: Any views expressed by individuals and organisations are their own and do not in any way represent the views of The Heritage Portal.