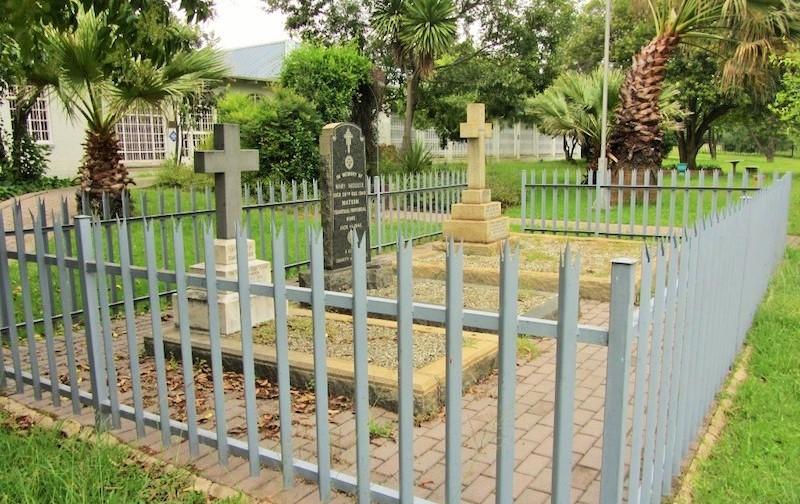 Thursday, November 5, 2015 - 07:45
Emily Blake was an experienced, caring nurse. One evening, while tending to a sick child, he began crying for his mother, so she kissed him gently and tucked him into his bed. Soon after that, Nurse Emily contracted Bubonic Plague.  She died at the tender age of 27 years. Her grave is one of about 7000 graves of people of all creeds who were buried in the grounds of the the Rietfontein Hospital between 1895 and 1957. This hospital, known as Sizwe since 1995, still operates today.
Sizwe Hospital stands opposite Linksfield Golf Course and Sandringham High school; but when it was first built in 1895, as Rietfontein Lazaretto, it stood alone in a remote location, a full-day's cart-ride from the centre of the town, established that far away as a safety measure against the smallpox epidemic sweeping Johannesburg.
One of South Africa's unsung heroes is the late Dr. John Max Mehliss, who for 32 years, was the hospital's superintendent and was responsible for treating some 160,000 patients. After only 2 years of formal high school study in King William's Town, during which he proved to have an exceptional ability, he completed his courses at the Universities of Munich and Guttenburg, gaining recognition as one of Germany's top students.  He caught the eye of Otto von Bismarck, Germany's  "Iron Chancellor", who asked of him, "Who are you, an unknown from an unknown land, to come here and beat all our best men?" Together with German physician Ehrlich, John Mehliss helped develop Salvarsan, a cure for Syphilis.
The fame of the hospital, called "Mealies Hospital" by patients who corrupted the unusual name Mehliss, spread far and wide and it was inundated with patients from all over Africa coming to be treated there. In one instance a young black woman brought two old patients, both crippled and unable to walk, to the hospital. She had carried one of the old people 100 meters, set him down and returned to fetch his wife. It took them three months to arrive at their destination...
Archbishop Desmond Tutu spent two years as a patient in the Rietfontein Hospital, undergoing treatment for and eventually being cured of his TB.
Although this (Rietfontein) Sizwe hospital will celebrate its 120th anniversary in 2015, it remains generally unfamiliar to the South African populace. This is despite its history and the invaluable medical contributions it made to health in the country.  Its treatments for plague, for communicable diseases like Spanish flu, Bubonic Plague and smallpox, as well as its successes with Veneral Disease, TB, leprosy, typhoid, anthrax, Ebola, and Marburg fever among others were groundbreaking.
While many of the hundreds of thousands of patients survived their illnesses and lived long years, about 7000 diverse people - including Chinese mine workers in the 1900s, Indians, Malawians, some  Irish, English, Germans, Poles and of course some South Africans of all creeds are buried there. Three of the original five cemeteries have been found, but to date there is no sign of either the Jewish or the Leprosy Cemeteries.
Metal markers rather than tombstones identified most of these burial sites.  In 2004 the Department of Water Affairs destroyed the Bluegum trees separating the cemeteries, because they were "foreign trees".  The Department promised to replace the trees with indigenous ones more suited to the environment, but to date - 10 years later - nothing has happened.
At the same time as the trees were uprooted, the metal markers on the graves began to disappear. Mr Eben De-Villiers, manager of the nursery in the grounds of the Sizwe Hospital, which is opposite Saheti  school for many years, remembers, some years back, huge heaps of metal markers with numbers on them, as well as markers with crosses on them commemorating soldiers who died in the Boer War.  All this metal, he said, was collected from the graves and sold as scrap metal.
In the last year tombstones have begun to be stolen. The Guthrie family lost three family members in 2 days: their huge tombstone is one of those that has disappeared.
Because of the presence of the graveyards and the danger of diseases coming from the graves, the area has for many years been secluded and protected from damaging development. Today it is home to troops of monkeys, to mongoose, owls, rodents of sort and a type of a small duiker.  In addition, orange and red data  plants within the grasslands are also present. Part of the area is a wetland; and three rivers run through the property, the largest being the Jukskei River.  Sadly today, more and more trees are being cut down, thus destroying wildlife habitat.
Heritage Structures
Most of the hospital buildings and those surrounding it are about 100 years old.  One of the most noteworthy buildings is the "Superintendent's House", a beautiful Victorian building erected in 1900, with wooden floors. The house was lovingly refurbished for more than R1m in 1995 during the centenary celebrations; however today it stands empty. The ghost of Granny Mehliss, who is rumored to live in the basement, is forgotten and neglected, as is her own grave near the river.
The Superintendent's House
Wards One and Two are also interesting historically, as they were used as far back in time as the Boer War.  There are two crematoriums which have heaps of ash piled up behind them.  Other heritage buildings include other wards; and in addition there are the silo and stables, and the old bridges over the rivers etc.
One of the Historic Wards (via Naomi Dinur)
As I walked among the graves I was fascinated by the inscription on the grave of ISIKUMBUZA SIKA MARIA. She was born in 1907 and passed away on 25 April 1945. Her loved ones put her address 27 Dennett St. SOPHIATOWN - on her grave. This is another interesting historical twist as we remember the racism that defined the history of Sophiatown history.
Grave of Maria (Naomi Dinur)
Dr Mehliss passed away in 1927 and requested to be buried amongst his patients. That was done, but in 1995 his grave and those of matron Mary Middler and nurse Emily Blake were moved nearer to the administration building for better protection.
Dr. Mehliss treated every patient who came to him, irrespective of race or religion. His battles against smallpox and VD earned him international honour and recognition; but there is no monument to honour him as a true South African hero. In addition to that, the hospital in which he worked so hard for humanity is to be demolished; while the 7000 patients who died of dreadful terrible plagues will be left, forgotten and abandoned beneath the structures of the new proposed development. Should this happen, it will be not only an abomination but a destruction of a valuable part of South Africa's history.
Disclaimer: Any views expressed by individuals and organisations are their own and do not in any way represent the views of The Heritage Portal.