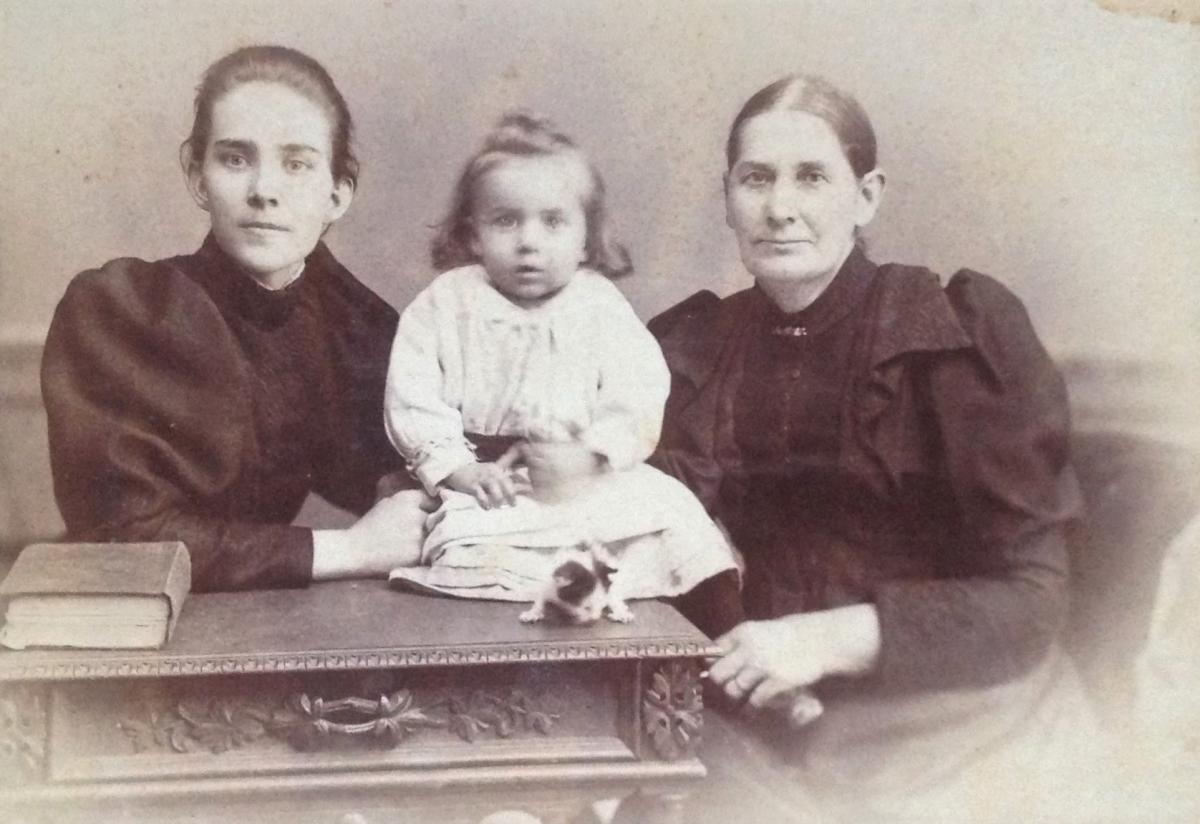 Friday, February 4, 2022 - 12:28
This article is dedicated to Rosa Swanepoel, a Pretoria historian, who donated the images contained in this article to the author during October 2021. She sadly passed away shortly thereafter.
The primary theme of this article is based on the Paarl based photographer James (Jimmy) Gribble, his first wife and their 4 children – roughly spanning a 25 year period (between 1890 and 1915).
Occasionally the Hardijzer Photographic Research Collection (HPRC), a privately curated collection, receives donations of early South African photographs. The recent donation to the HPRC by Swanepoel contained 71 photographs, 70 of which related to the Gribble family.
Finding a collection of images as it relates to an early South African photographer's own life  narrative, some 100 years after they were initially captured, is exceptionally rare which therefore makes these images even more unique.
On the same day the images were received the vigorious research started as to who all the individuals were as portrayed on the 70 photographs. It became a surreal, almost voyoristic experience in studying each individual as portrayed on the photographs. The odd photograph out in the donated batch is of an armored vehicle, also photographed by Gribble around 1915.
In analysing and researching each individual, a fascinating storyline unfolded – a human story – something probably not captured before and therefore crucial to record, mainly for the benefit of South African photographic history but not to the exclusion of family or genealogical history.
Two key themes stand out strongly, namely that of sorrow but also the very strong family bond which clearly existed within the Gribble family.
To date, in 64 of the 70 photographs donated (or 91%) Gribble family members have been succesfully identified.
Rosa's brother Francois, who purchased the photographs on her behalf, confirmed that he purchased these photographs from a Stellenbosch based antique dealer some 10 years ago. Whilst little detail is provided on the majority of the photographs, he had the sense that they may relate to a single family. The antique dealer from whom the images were purchased suggested to Francois that local students had already chipped away at the collection by buying odd images for art related projects. This suggests, that somewhere out there, there are more images (number unknown) in private posession and that the owners probably are not even aware of the significance of the images.
The images clearly did not have the benefit of being protected in the stock standard Victorian photo album of those years. Considering that the photographs are all more than 100 years old, some dating from before 1900, a few of the photographs are sadly not in a good condition in that the original owner pinned some of them up against a wall, resulting in some damage.
It is thought that these photographs may have been part of Harold Gribble's private photograph collection in that two of the photographs of James and Kate Gribble (parents to Harold Gribble) have "dad" and "mother" hand written on them in pencil. Somewhere along the lines the discarded family photographs were reaped up by the antique dealer.
Of the 24 photographs included in this article, 21 originate from the donated batch. Keith Fisher, grandson to Harold Gribble, kindly added 3 additional images which became crucial in presenting a more complete visual family narrative.
Here is how the Gribble family story unfolds – at least part thereof.
1. Gribble family structure
The South African storyline started with James Gribble senior's arrival in Cape Town during late 1860.
1.1 James Gribble senior – 1st Gribble photographer (Cape Town based)
James Gribble Senior (Gribble I) was born on 17 October 1836 in Goldsetting, Cornwall (England). When he married 21 old Jane Quick in Cornwall, his profession was recorded as a carpenter at the time, yet another record suggests that he was a miner. Fisher (2022) however clarifies this aspect by pointing out that Gribble senior came from a mining family and was a tin miner before losing an eye due to a splinter resulting in him been "paid off" whereafter he became a carpenter (wheelwright) by trade at which time he also took up photography as a pasttime.
James Gribble I – Early photograph, circa 1861, captured by his wife Jane Gribble. The hand written note on the side is by James Gribble II. This image did not form part of the donated batch of images but was kindly provided by Keith Fisher for inclusion in this article.

Fisher (2022) adds the following extract from the Gribble II memoirs (family book):
You cannot judge a person by looking across the surface. You must delve into his life. In my father's case as a workman he was a success, for when he lost an eye from an axe splinter, working in the mines under his father, he learned the trade of wheelwright under James Stevens of St. Erth.
During late 1860, aged 24, Gribble and his young bride Jane arrived in Cape Town onboard "Mary Simmons". The couple had 5 children – all South African born (Rondebosch).
Fisher (2022) provides an interesting snippet from the Gribble II memoirs (family book) as to what Gribble senior intially did when he arrived in Cape Town:
When he arrived at the Cape he started as a wheelwright, but could not get on with the Dutch workmen and language. So when his health broke down he opened up a produce store at Mowbray.
The art of photography remained in its infant shoes at the time Gribble landed in Cape Town. The first commercial photographer active in Cape Town, the German Carel Sparmann, is recorded to have captured his first photograph (in the Daguerreotype format) in town during 1847, just 13 years prior to Gribble's arrival (Bull & Denfield, 1970).
Gribble took up his previously taught art in photography again shortly after his arrival in South Africa. The fact that his wife captured an image of him during the early 1860s also confirms that the family was in posession of a camera at the time. It has also been suggested that at some point he became an assistant to Samuel Bayliss Barnard who only opened his studio in Adderley street during May 1865.
Gribble's activity as a photographer between 1861 and 1865 is further confirmed in his 1865 insolvency records. After stepping away from his trade as a wheelwright Gribble became a grocer/flower dealer based in Mowbray (less than 2 kilometers away from Rondebosch where they resided) – this was clearly not a sustainable business – therefore his insolvency. Assets recorded at the time was a camera, photographic chemicals, magic latern slides and two camera stands. It would have been post his insolvency that Gribble in all probability started working for Barnard as a photographic assistant. Many of Barnard's assistants over the years became succesfull independent photographers themselves (Bull & Denfield, 1970).
James's first studio was in Rondebosch (1866), followed by 54 Hanover Street (1868 - 1869). Considering that he became an assistant to Barnard (following his insolvency) it is not clear what the working relationship between the two was. Did Gribble manage his own studio and possibly assist Barnard in his studio at the same time, or did Gribble only start working for Barnard from 1869 onwards?
Between 1866 and 1872 Gribble in all probability would have produced mainly Carte-de-Visite format images, the first paper based photographic end result introduced into South Africa during 1861. This format replaced the cumbersome glass based Ambro type images.
To date, the author has not obtained, nor identified any photographs produced by Gribble I. In addition it is significant to note that the renowned South African publication by Bull & Denfield (1970) also does not have Gribble listed as an early Cape Town based photographer – the reason for this could be because of his "apprentice" status working with Barnard.
Gribble senior died during May 1872, aged 35 - some 11 years after his arrival in South Africa.
After Gribble senior's death, Jane remarried an engineer and widower John William Kewley on 26 November 1874. Kewley however passed away two and half years later during May 1877, aged 53. The couple had two children, namely Henry Trevornow Mossop and Constance Livinia.
Jane Quick, born on 4 May 1839 in St. Yves, died in Paarl 26 November 1926 aged 88.
1.2 James (Jimmy) Gribble – 2nd Gribble photographer (Paarl based)
One of 5 children, James (Gribble II or Jimmy) was born in Cape Town on 27 January 1863 and died 23 January 1943 (aged 79). His ashes remained in Paarl.
Jimmy was only 9 years old when his father passed away. The short-lived relationship with his step-father (Kewley) has been described as a "living hell" (written figuratively by Jimmy and not to be taken literally).
Paarl based photographer James Gribble. His image also contains his signature underneath.
 
Jimmy had four siblings:
Older brother John Daniel Quick (born 1860). John married Alice Jarvis. They had two daughters (Ethal and Alice).
Mary Annie McFarlane (born 1865). Mary married Donald McFarlane. They had seven children (Annie, Carsty, Dugal, Donald, Flora, Mary & Neil).
William Daniel (born 1867). William married Mary Ann Judith Fortune. They had two chidren (Wilfred & Florence).
Benjamin (born 07 March 1869 – died on 17 May 1874 aged 5).
Harold Gribble aged 17 in uniform with his father's siblings aunt Mary and two uncles John & William. The image was clearly taken in a backyard. Note the black cloth placed over the window. Harold's feet are positioned in a water runoff. The photographer details have not been captured. Due to the unprofessional nature of the image, it may therefore not have been captured by James Gribble.

Studio photographs provide a clear indication that the Gribble family was a closeknit family.
Jimmy's personal life was not without tragedy in that:
As a child he lost his father at the age of 9 followed by a sibling 2 years later;
As a husband he outlived all three his wives;
As a father he lost three children.
The photographic narrative presented by the family photographs clearly indicate that Jimmy's mother, sister and two brothers supported him through his traumatic ordeals, especially after the loss of his first two wives and two children.
During 1890 Jimmy married Kate Lyon in Victoria West. Kate died during 1900 leaving Jimmy with four young children, the youngest, Harold, being one year old. During 1901 Jimmy married Alice Jane Edgeworth who tragically died nine months later during 1902. Two years later, he married his second cousin Rosamund Gribble.
Below some more detail about each of his three wives.
1.2.1 Catherine "Kate" Lyon (1st wife)
Jimmy's first wife was Catherine (Kate) Lyon – born on 23 March 1866. Her parents were Charles Craven and Mary Ann Lyon. James and Kate got married in Victoria West on 15 April 1890 – The couple got married after Jimmy's 6th visit there (Fisher, 2022).
James and Kate Gribble's wedding notification card 15 April 1890
Cabinet Card photograph by James Gribble of his beautiful young bride Kate Gribble (Circa 1892)

The couple had four children:
Arthur James – Born in Paarl 28 April 1891 – died in Paarl on 10 March 1895 aged 4. He passed away following Typhiod fever and subsequent peritonitis – a common complication of Typhiod fever
Vivian Lyon – Born in Paarl 6 May 1893 – died aged 21 on 17 October 1914. After being ill for a full year, Vivian passed away due to tuberculosis. He was a telegraph clerk at the time of his death
Gladys Jane (de Jongh) – Born 10 April 1896. She married Phillipus Petrus de Jongh. They had 4 children (Catherine, Elizabeth, Willem & James) – She died 5 April 1970
Harold Quick – Born in Paarl on 20 July 1899 – died aged 83 on 9 January 1983. He was only 1 year old when his mother passed away. Harold's wife was Georgina Aletta Hariet Wooding whom he married on 22 October 1927. Their daughter was Yvonne Georgina Fisher (more about them later).
Carte-de-Visite format photograph of the Gribble couple's first born Arthur Gribble (Circa 1892)
Cabinet Card format photograph by James Gribble (Art Studio) of Arthur and Vivian Gribble (Circa 1893). Arthur passed away aged almost 4 whilst Vivian passed away aged 21.
Cabinet Card format photograph by James Gribble (Art Studio) with Kate and their second son Vivian (Circa 1893). The unknown Cape Malay child on the right was in all probability the child of the Gribble's domestic helper.
Cabinet Card format photograph by James Gribble of his three children (from left to right: Vivian, Harold & Gladys) – Circa 1900
Hand coloured Cabinet Card format photograph by James Gribble of his son Vivian (Circa 1895)
Vivian Gribble's memoriam card (October 1914). Vivian was the second son to James Gribble to have passed away.
Cabinet Card format photograph by James Gribble of his first daughter Gladys Jane Gribble (Circa 1904)
Cabinet Card format photograph by James Gribble & Co of his first daughter Gladys Jane Gribble as a teenager (Circa 1910)
Kate died aged 34 on 13 July 1900 after what has been described as a long painful illness. She died following a Cystosarcoma of the Parotid (Parotitis) - a facial tumor with sudden growth especially during pregnancy. Her pain and discomfort is clearly noticeable on the photograph below – which may well be the last photograph of her captured by James shortly before her death.
Cabinet Card format photograph by James Gribble with Kate and their three children (from left to right: Gladys, Harold & Vivian). Kate's facial expression with head rested on a hand towel is indicative of her poor health at the time. This may well have been the last photograph taken of her and her children by her husband James prior to her death during mid-1900.
Following Kate's death on 13 July 1900, Jimmy married on two more occassions.
An oil painting of Kate was donated to the Drakenstein Heemkring by Yvonne Gribble and should be there on display with the "Gribble Collection" as should be the oil painting of James I Gribble (Fisher, 2022).
1.2.2    Alice "Alli" Jane Gribble (2nd wife)
Alice Jane Gribble (Edgeworth) – Born in Swansea, Wales on 28 April 1870. The couple got married on 9 September 1901. After only 9 months of marriage, Alice passed away in Paarl aged 32 (28 June 1902) following heart failure – the same day she gave birth to the couples unnamed premature baby. Whilst not part of the batch of photographs donated, Fisher (2022) kindly provided a photograph of Alice Jane, an image assumed to have been captured by Jimmy.
Alice Gribble – a photograph assumed to have been captured by James Gribble. Alice passed away when she gave birth to the couple's first born during 1902. This image did not form part of the donated batch of images but was kindly provided by Keith Fisher for inclusion in this article.

1.2.3 Josephine Rosamund "Rose" Sarah Gribble (3rd wife)
Rosamund Josephine Sarah Gribble – aka "Rose" (a second cousin to Jimmy) – Born in England on 26 November 1874. The couple got married on 26 October 1904. She died in the UK on 10 September 1939 aged 65 and her ashes are buried in Paarl. Jimmy brought her ashes back home on the last ship to leave the UK before the war broke out (Fisher, 2022). She appears on only one of the donated family photographs. The couple had two children, namely:
Edwin Dewey "Dewey" - born on 3 May 1906. He married Magdalena Elizabeth Catharina Burgers. They had two children (James & Leonard). James III (ret) is still alive in South Africa.
Rosamond Josephine "Babs" - born on 26 November 1911. She married Johannes Petrus Rossouw. They had two children (Rohan & Adriaan aka "Attie").
Cabinet Card format photograph by James Gribble of his family (Circa 1907). Standing is Vivian. Seated from left Harold, Rosamund (James's third wife) with Edwin Dewey on her lap (James and Rosamund's first child), Jane Gribble (mother to James Gribble) and Gladys Jane. This was the only image of Rosamund found in the collection. Rosamund would have been the stepmother to the oldest three children.
Cabinet Card format photograph by James Gribble & Co of his mother Jane Gribble with Edwin Dewey Gribble (his son with Rosamund). Jane clearly fulfilled a very supportive role in James's life.
1.3 Harold Gribble – 3rd Gribble photographer (Paarl based)
Harold Quick Gribble was the third and last generation of the Gribble male photographers in South Africa. He was born on 20 July 1899 in Paarl.
To some he was known as Harold and to others as Mister Gribble. He seemingly had a natural ability to teach the art of photography. The studio he took over from his father was based on the corner of Pastorielaan and Main street.
Harold completed his photographic apprenticeship with the photographer J. Schultz in Observatory. James II retired around 1931 - six years after Harold took over the studio.
Cabinet Card format photograph by James Gribble of his youngest son Harold with his aunt Mary MacFarlane (Circa 1901). This photograph was taken after the death of Harold's mother Kate.
Cabinet Card format photograph by James Gribble of his son Harold in some uniform (Circa 1903). This is a rather unusual pose for a 3-year old confirming James Gribble's artistic skill as a photographer.

Like his father, Harold himself would also travel. It is recorded that he occasionally travelled into the Eastern Province and returned via the coastal route.
Harold married Georgina Aletta Harriet Wooding on 22 October 1927. They were the parents of one daughter (Yvonne).
Harold and an old friend of his, Eric Arthur Fisher, whose hobby was also photography, started an amateur photographic society together called Paarl Amateur Photographic Society (PAPS) as a service for the Paarl community (Fisher, 2022).
Eric Fisher's eldest son, Dennis Arthur Fisher courted and wedded the daughter of Harold (Yvonne) of which Keith Fisher (contributor to this article) and his older brother (Gregory) are off-springs (Fisher 2022).
Harold died in his hometown Paarl, at the age of 83 on 9 January 1983. He is also buried in Paarl.
Harold had the foresight to donate all the glass negatives still in his possession (including his father's work) to the Drakenstein Heemkring. The Paarl based Drakenstein Heemkring collection, a private collection accessible to researchers, holds some 30 000 photographic images, many of them by Jimmy & Harold Gribble (See drakensteinheemkring.co.za).
As a young boy, Harold was also a scout member of the 1st Paarl Scout Troop, which officially registered during February 1910.
Cabinet Card format photograph by James Gribble of his son Harold as a scout (Circa 1912). The nature scene on the backdrop would have been painted on cloth.

Back to Jimmy (James Gribble II).
2. Jimmy Gribble's (James Gribble II) photographic career
In Jimmy's memoirs he refers to his time living under his stepfather, Kewley who had used him as cheap labour having Jimmy assist him in dismantling and repairing printing presses at the Cape Argus, before being sent to Dixon as an apprentice. But because Jimmy was too young to become an apprentice he was employed as a "house boy". After 3 years with Dixon, Jimmy states: "I was released from my prison at Dixons" (Again - Jimmy would have meant this figuratively – Fisher, 2022).
Shortly after Kewley's death, 16-year-old Jimmy elected to follow in the footsteps of his father and began his photographic apprenticeship with the famous Cape Town based photographer Samuel Baylis Barnard during 1879.
Whilst Barnard was away on business trips he would leave Jimmy in charge. It was also during this time that Jimmy would take pictures of passengers as they disembarked from ships arriving in the Cape Town harbour, process and have prints ready for sale that same night when the passengers returned to their ship (Fisher, 2022).
Jimmy stayed with Barnard for 8 years untill he turned 24 years old.
Not a Gribble family photo, but a James Gribble photo found amongst the family photos. On the back James wrote: "My first outdoor photo taken at Melkbos in 1886. Old man was 93 and it was his first photo". This photograph James would therefore have taken whilst working for SB Barnard in Cape Town.

Jimmy's independence as photographer started when during 1887 he was sent to Paarl to take photographs at a wedding whereafter he decided to move to Paarl. Whilst it has been suggested previously that Jimmy was an assistant in the Goch studio and later bought out the studio, the below extract suggests otherwise. In the Gribble II memoirs (family book) Jimmy refers to the business in Paarl (Fisher, 2022):
I started business for myself on 1st January 1888, when I was 25, with ₤10, my previous month's salary. But I had a good friend in Mr. Garland, our Sunday School Secretary, who advanced me the necessary stock and apparatus, and who later on advised me when I bought my own property in August 1889. He helped me to obtain a loan from old Mr. Mossop, wherewith to build my studio and to do up the old house inside and out. I had asked Goch a price for his property. He wanted ₤1500 – my price was ₤1000. After I left he sold it for ₤850. I bought the Market Square site for ₤600 (and in 1939 sold it for ₤5000.) I also had a small shop built for ₤75 on the Main Street, and later on took in a 66ft x 200ft plot alongside for ₤300, so that it had cost me ₤1500 plus interest and alterations.
It is interesting to note that during this period, there were several photographers working in Paarl. At the time at least two other Cape Town based photographic studios also expanded by opening branches in Paarl (See list of active Paarl based photographers prior to 1915 at the end of this article).
Jimmy undertook several, and sometimes fairly extensive, road trips to supplement his income as a photographer. One of his first was undertaken during 1888 when he travelled to Kimberley (Northern Cape) and from there onto the Free State. During this same trip he visited Bultfontein where he took a photograph of President Reitz, then onto Grahamstown, George, Knysna, Heidelberg, Swellendam, Caledon, Wellington and Calvinia (images he took on this trip are curated in the Drakenstein Heemkring collection).
Jimmy was also well known outside Paarl. He would often load his cart and horses on the train. At Beaufort West he would then disembark and travel into the wide-open plains to go and photograph people. The large and heavy, breakable glass negatives were then allegedly transported back to his Paarl based studio from where the end result, a fixed photograph mainly in cabinet card format, was posted to the sitters.
Of these trips Jimmy wrote:
I was a young man building my future and business and felt quite happy jogging along in my cart at a rate of six miles an hour. There was only one Bank….at Bloemfontein, (there) I would hand over 100 pound in gold and as my taking increased I would take the gold to a merchant and exchange it for a cheque which I then posted on to the Bank in Paarl. This Free State money helped me buy the Market Square property which later became our home and business. I used to ride over roads that were not roads the whole way, just to get to a dorp….over rocks, through sand, at times one wheel in a three-foot furrow, through veld with grass up to the horses' heads…(saw) immense heard of springbok, thousands of animals which sounded like thunder in the distance as they raced on their way (Paarl Post).
Another extract taken from the Gribble II memoirs (family book) confirms the financial hardship endured by Jimmy (Fisher, 2022):
… when my health broke down and I had to go to England in 1897 for a rest. We only owed ₤450. After my return Kate said to me she had done something whilst I was away, that I would be angry. Told her nothing she did would make me angry. She had, instead of banking, paid off ₤100 off the property (what a wife she was), so that we only owed ₤350. That would not have taken long to pay off, but soon after the Boer War started and I was boycotted in business. Then Kate's illness and death - which cost me ₤350 – as also ₤450 which we had placed to the children's credit – so that I owed ₤1150 instead of ₤350. And then bad times set in. I lose Alice - and was only able to wipe off all debts when we sold the property in 1938. During the Boer War a pro-Boer studio with German professionals was opened in our friend Decker's property to wipe me out. They did not, but for years we were earning practically nothing. I had to pay my retoucher ₤10 salary per month – his only work was to dust the place. I was glad when his contract was up. And at that time Kate lay on her deathbed in spite of seven doctors. I used to go selling the evening "Argus" out in the military camp beyond White Bridge of a night. We had but one sette a week. The pro-Boers, my old friends, made things worse when they found out that I was one of the Committee of Three who placed local patrols to guard the railways of a night when military trains were passing.

Jimmy clearly also stood up for what he believed to be right during the times of political upheaval:
After the "Jameson" raid I hurt the feelings of the Paarl Dutch at a crowded meeting held in the Paarl Town Hall. The meeting was called with the intent in time to unite the Dutch in revolt to the British. The other Britishers present left the meeting as they could not vote for, nor dare to vote against, the resolutions. I stood up, the only one to do so, to vote against them. I broke the force of their intentions. As a result I was boycotted in business, perhaps the first in this country. But my reason was that I had not forgotten the 1881 Paarl resolutions to destroy troop trains. Later on in the Boer War I was one of a Committee of Three, who each night placed volunteers (armed by the Castle, acting at the wish of the Governor, Sir Alfred Milner) to patrol the railways, to guard troop trains. As the result of my action at the anti-raid meeting I was for many years called "Dr. Jim".
On the back of some of his preprinted Cabinet Cards Jimmy advertised that he had travelling studios in inland towns of Transvaal, Natal, Free State & Cape Colony. Fisher (2022) suggests that Jimmy would place adverts in the various newspapers confirming that he would visit certain towns on certain dates and would take orders for sittings accordingly. This was not an uncommon practise for photographers to advertise their services in newspapers (in towns other than their own) with the intent of increasing their revenue streams.
Three different Cabinet Card backs used by James Gribble

Stationary used by Jimmy confirms that he was a versatile business man in that he was also a dealer in toys, sweets, cycle goods, Tranvaal Tabacco and English periodicals. He was also an agent to Harrison & Co. (dyers and cleaners). This is also confirmed by his memoirs in which he stated that he had a small shop built for £75.
Whilst some sources suggest that Jimmy bought up a number of smaller studios in Paarl, Fisher (2022) is of the view that this is improbable.
When he retired from the photographic business (around 1931) Jimmy continued serving the Paarl community with unconditional commitment. He would start business concepts only to hand it over to someone else shortly thereafter. Jimmy served as the secretary for the Paarl Farmers and Farming Association for a period of 40 years. Jimmy was also involved in the establishment of the KWV during 1918, as well as the Paarl Agricultural Show - the leasing of land which later became known as the Paarl Show grounds. He was also involved in the establishing the "Boxing Day Sports" (Fisher, 2022).
After the monthly church service in the thatched-roof-church was discontinued in his hometown during the Anglo-Boer war period, Jimmy established the Congregational church in Paarl. It has also been suggested that Jimmy loved the outdoors and that he would regularly summit Paarlberg mountain just outside town.
2.1 Gribble II studio activity
During a span of 37 years, Jimmy had 3 different studio locations in Paarl. The first studio was in a  converted house on Klein Resevior street and Main road, followed by the studio in Market street and finally the studio at 271 Main street (corner of Pastorlielaan) – the same studio that was eventually taken over by Harold.
Gribbles Market street photo studio (which he rented) in the foreground with the studio Gribble bought later (271 Main street) in the back ground. The house in the foreground was called Lowwood, whilst the house in the background was called Gribwood. This image did not form part of the donated batch of images but was kindly provided by Keith Fisher for inclusion in this article.

Gribble also seems to have renamed his studio a few times over the years:
Gribble Art studio on Paarl Market Square (around 1888 – 1908)
Gribble and Co. (around 1908 to 1910) – It has not been determined at this point who Jimmy would have been in partnership here. His sons, Vivian and Harold would have been 15 and 9 years old at that stage. It is therefore improbable that it would have included the two young boys in his business plan at that point
Gribble and sons, or in Dutch - Gribble en Zonen (around 1910 - 1914) – The names confirm that Jimmy had a long-term business plan by including his two sons in the naming of the business. Vivian and Harold would have been around 17 & 11 years old respectively. Following the death of Vivian during 1914, the name in all probability changed to Gribble and Son at some point. 
3. End of an era
The Gribble trio not only saw the art of photography growing and establishing itself in South Africa, but also significantly contributed to the development thereof over a period of some 115 years.
A large part of Paarl's past has been photographically documented by the two Gribbles. The duo did not only photographically capture Paarl history, but also South African history. Many of these images can still be found for sale on eBay today.
Harold remained active as photographer deep into his eighties.
The Paarl based photographic establishment came to an end during 1987, just short of 100 years after first established,  when Harold's daughter Yvonne rented out the business to one R Zocher. The business did not last beyond 1988 whereafter the premises was sold.
4. Photography remains in the blood
Harold passed on the business to his daughter Yvonne who managed the studio for another 5 years.
Keith Fisher assisted his grandfather and mother for 6 months just prior to having to report for military conscription. Whilst doing his two-year military service, Keith was an apprentice in the maritime photographic section in Cape Town. After completion of his military service, he returned to assist in the studio again between 1977 and 1979.
Professional Denmark based photographer Chanel Rossouw announced on her blog that years after she bought her first camera she discovered that her connection with photography has a longer story than she realised. On her father's side of the family, she is related to James (Jimmy) Gribble. Although not clarified with her, it is assumed that she is an offspring from the marriage between Johannes Petrus Rossouw and Rosamund Gribble.
5. Other early Paarl photographers
Whilst Paarl was established as early as 1678, photographers would only have started to settle in town from the late 1850's onwards. It still needs to be confirmed who the first photographer was to have opened a studio in Paarl.
To date the following photographers active in Paarl (prior to 1915) have been identified:
Basson JS
Basson & Stremmer (Market Square)
Brink Albertus Smuts
Byron WU
Gannon JR
Glassberg Marcus (Paarl Photo studio)
Goch James
Hubrich JC & Co (Market Square)
Klisser William
Malan JJC
Meisner Friederich Wilhelm & Johann Friederich
Nissen GCC (Mill street)
Nissen R
Staples
Stephan A
Theron C
Van Ellewee JC
Van Ravesteijn JJ (Rembrandt studio – Lady Grey street)
Walter (Gird's hotel)
Walters & Byron
Main image: Cabinet Card image by James Gribble of Kate and their first born Arthur (who passed away during March 1895 – just short of his 4th birthday). On the right is Kate's mother Mary Ann Lyon. Note the little kitten on the desk in front of Arthur
Special acknowledgement
To Keith Fisher, grandson to Harold Gribble, who freely shared valuable historical family snippets (Gribble II memoirs) and three additional photographs for inclusion in this article
About the author: Carol is passionate about South African Photographica – anything and everything to do with the history of photography. He not only collects anything relating to photography, but also extensively conducts research in this field. He has published a variety of articles on this topic and assisted a publisher and fellow researchers in the field. Of particular interest to Carol are historical South African photographs. He is conducting research on South African based photographers from before 1910. Carol has one of the largest private photographic collections in South Africa.
Sources
Bull, M. & Denfield, J. (1970). Secure the Shadow – The story of Cape Photography from its beginnings to the end of 1870. Terence McNally. Cape Town
Fisher, K. (2021). Email communication dated 15 December 2021 between Fisher and Hardijzer
Fisher, K. (2022). Email communication dated 19 and 24 January 2022 between Fisher and Hardijzer
Hardijzer, C.H. (2020). Operators of "Mirrors with Memory" – South African Photographers (1846 to 1915) (theheritageportal.co.za)
Hardijzer Photographic Research Collection
Paarl Post (1990). Gribble en Seuns – vir geslagte lank Paarlse rekordhouers. Extracted from: In die skadu van die eik. (www.eksplor.co.za/woordsketse)
Plaut, M. (2021). The work of photographers James Gribble (martinplaut.com) 
Rossouw, C. (Extracted November 2021). Why photography (www.chanelrossouw.com)
Various webpages including
www.paarlscouts.co.za
www.ancesto.familysearch.org
www.eggsa.org
Disclaimer: Any views expressed by individuals and organisations are their own and do not in any way represent the views of The Heritage Portal.