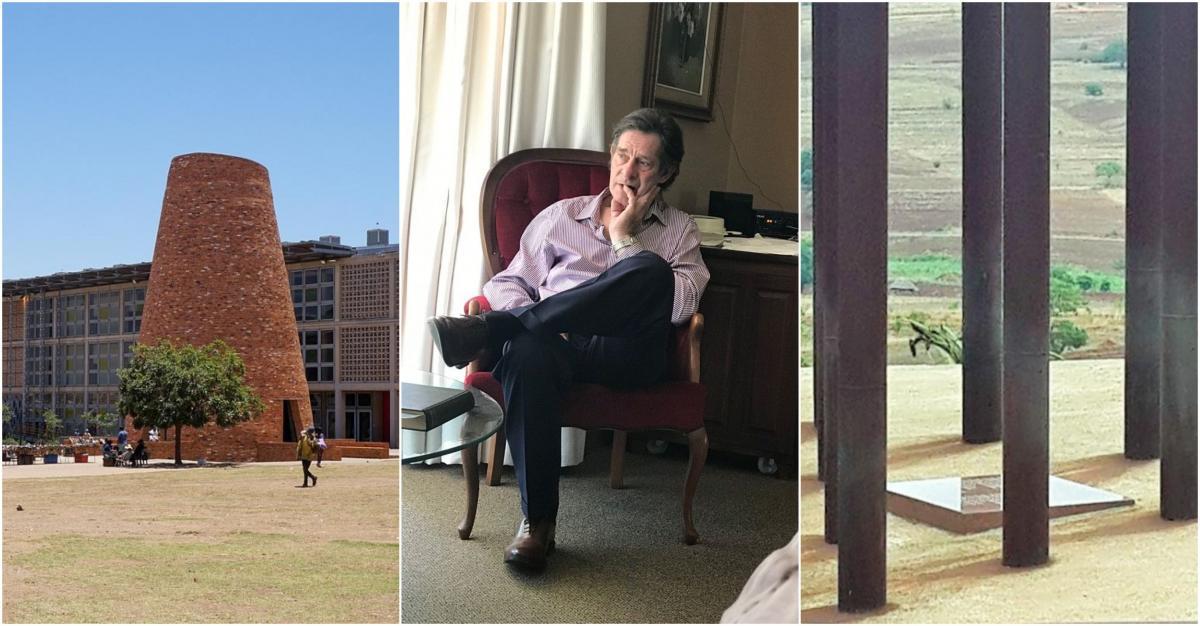 Wednesday, October 27, 2021 - 11:57
Johann Bruwer's contribution to heritage conservation in Johannesburg - and indeed elsewhere on the Witwatersrand and in Gauteng - cannot be overestimated; he was a friend as well as a colleague and his warmth and generosity will always be remembered. Johann suffered a massive heart attack on 9 September 2021 and despite bravely persevering passed away on 17 September 2021.
Johann was born on 21 June 1954 and attended school in Alberton, but matriculated in Windhoek after his parents relocated to Namibia. He served with the 3rd SA Infantry Battalion and the Johannesburg Regiment and then commenced studies at the Rand Afrikaans University, and was awarded his BA, BA Hons, MA and Doctoral degrees.
Johann's detailed research and documentation learnt during his years at university were to become his trademark. Very specific aspects of the Second World War were investigated for his Master's thesis. His subject (translated from the Afrikaans) was 'The Role of the Sixth South African Armoured Division in the Deployment of the Allied Offensive in Italy; The Battle of Monte Stanco, October 7-13, 1944'. The Master's degree was awarded with distinction.
Johann's doctoral thesis was titled (again translated from the Afrikaans): 'The role of the Sixth South African Armoured Division in Italy: 27 May to 8 August 1944'. The degree was awarded in April 1991. Much of the original research for both higher degrees was conducted through interviews with veterans of the Italian campaign.
Johann had joined the S.A. National Museum of Military History in Saxonwold as a Professional Officer in 1979. He was considered an academically accredited expert in his field of research and by 1982 had been appointed as Assistant-Director of the Museum.
National Museum of Military History (Kathy Munro)
He moved to Namibia in 1987 as Chief Cultural Officer at the National Education Department. Under his leadership the Namibian Youth Choir and the National Theatre were established. He was also involved with the initiatives related to the new Namibian flag, emblem and national anthem. Within one year he was appointed Director of the National Monuments Council in Namibia, working closely with organizations such as UNESCO and the Commonwealth War Graves Commission and their representatives in Namibia.
In 1994 he returned to South Africa and was appointed Regional Manager of the National Monuments Council's (NMC) Northern Regional Office. Johann played a significant role in redressing the inequalities of declared heritage sites. He was involved in the memorialisation that took place at Freedom Square in Soweto, the "Legacy Project" for the erection of a memorial to Samora Machel, the Women's Memorial at the Union Building, Constitution Hill, the Enoch Sontonga Memorial in Braamfontein and the Sharpeville Memorial. He was always willing to participate in these projects despite often difficult circumstances.
Constitution Hill (The Heritage Portal)
Enoch Sontonga Memorial (The Heritage Portal)
From 1999 until 2002 he was closely involved in the application and hands-on management of many aspects of the National Heritage Resources Act for the NMC.
In the years between 1992 to 1997, Johann addressed his own interest in architectural conservation through the hands-on restoration and adaptive re-use of a symmetrical gabled Cape Dutch revival style house he had purchased at 17 Market Street, in the town of Vredefort in the Free State. Johann styled this the new house of "Ons Vrye Bruwers" (The Free Bruwers). He would commute there every weekend in his immaculately maintained blue Toyota - as the NMC offices were based in Pretoria (and subsequently Johannesburg).
In 2002 he formed his own heritage consultancy - Heritage Resources Management - after he relocated to a house in Meyerton. He provided solid, skilled, well informed, unbiased professional assistance to numerous developments that required heritage input.
There is not a single person involved in the conservation of architecture in Johannesburg who was not acquainted with Johann. His patient and meticulous efforts resulted in an enormous number of detailed Heritage reports that he produced with enormous care and professionalism. This substantial body of research will remain as his legacy into the future.
More than anything else, Johann was passionate about buildings, architecture, architects and their histories. With great care and perseverance Johann would also trace the details of the people who had lived in or used the buildings. His excitement at finding a new 'lead' or connection was palpable. His research skills were legendary and his reports were always immaculately presented.
Johann always set aside 'quality time' to record the heritage site being investigated. Nothing would deter him. His inspection and documentation of the vast industrial structure of the Orlando Power Station in Soweto was punctuated by the sound of heavy structural steel beams falling to the ground. These beams were being removed night and day by scrap metal thieves - despite 24 hour security. This thieving was ultimately responsible for the collapse and subsequent complete demolition of the building.
Orlando Power Station (Wikipedia)
Orlando Power Station after collapse (Mark Straw)

His determined research did not permit any possible connection to be overlooked - he pursued historical details well beyond the professional fee that he had quoted his clients. If anyone could be said to have made the effort that went beyond the call of duty, it was Johann Bruwer. He is an irreplaceable resource.
Johann had the softest heart which was competed for by his daughters, Senta and Alezea, his partner Dalien Ahlers and his beloved Pekinese dogs.
He was reluctant to boast about his facility to render landscapes and buildings in finely observed watercolour paintings. His latest painting for his daughter, Alezea, was an expansive panorama of the Grand Canal in Venice in which he meticulously recorded the architectural features of St. Mark's Basilica and the surrounding buildings from the 15th century.
We all worked together with Johann - albeit independently - on numerous different projects over many, many years and remember him with great fondness. We always will.
Our sympathies go out to his family.
Disclaimer: Any views expressed by individuals and organisations are their own and do not in any way represent the views of The Heritage Portal.