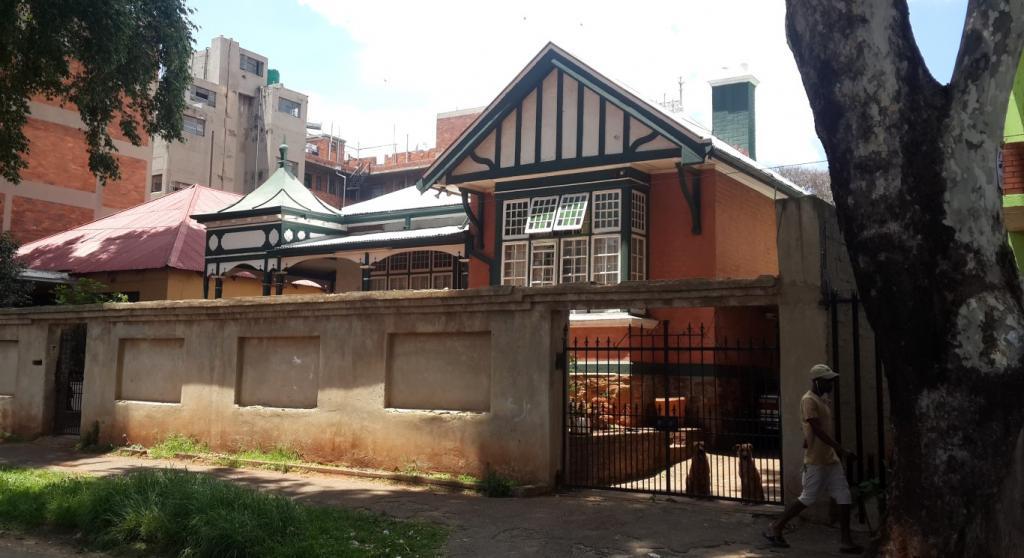 Thursday, September 30, 2021 - 16:29
The now celebrated English architect James Alfred Cope-Christie (1870-1953) was active in Johannesburg between 1902 and approximately 1908. He was in the city for a relatively short time but made and left a legacy of three houses that have survived to the present. The three homes are in Parktown, Waverley and Yeoville.
House Hains in Yeoville was the earliest with the plans dated 1903. House Page in Waverley followed a year later and in 1905-6 Cope-Christie designed Dolobran which still stands at the corner of Oxford and Victoria Avenue in Parktown.
House Page (William Martinson)
Dolobran (Lucille Davie)
Today House Hains shows all the signs of Yeoville decay and neglect over a 25 year period. It is a substantial detached house. Its history reveals that it was a house of far greater substance and importance than its current position, somewhat cramped on a single stand. It deserves a second glance and a documentation of its architectural history.
Cope-Christie was the subject of a pamphlet by Dennis Radford and Peter Jackson in the 1990 series The Architects of Parktown (part of the Parktown Collection); there is coverage of his work on the Artefacts website (click here to view) and Cope-Christie himself left a brief memoir in the form of an entertaining address presented at a Rotary Club meeting in Rhodesia (now Zimbabwe) in 1944. In addition, various books on the history of Salisbury / Harare and its architecture refer to many buildings in that city (commercial, public and domestic) as well as in Umtali / Mutare designed by Cope-Christie.
Flo Bird of the Johannesburg Heritage Foundation has recently drawn the attention of the JHF to House Hains. She recalls that her son and daughter in law purchased this house in circa 1989 and lived here for about 4 years. The couple lovingly restored the house and the work was undertaken by a Mr Bennett (a Master Builder and carpenter) under the supervision of Bernard Cooke.
House Hains in 1989 (Flo Bird)
Flo and the JHF team returned recently to visit House Hains and found it in a somewhat neglected condition. It is nonetheless a rare gem of a Victorian heritage house still surviving in Yeoville. The house is on Becker Street at No 34. It is a surprise that a house built in the early 20th century has survived in the context of the demographic change of the last two to three decades. No suburb is ever static but some parts of the city change faster than others. There is no other fully declared Provincial Heritage Site in Yeoville, Bellevue, Berea or Highlands.
Becker Street with House Hains on the right (Google Street View)

The Johannesburg Heritage Foundation is in agreement that House Hains deserves a blue plaque. Whilst the site has Provincial Heritage status (awarded in 1994) what more should be done to save this small gem?
House Hains was designed and built in circa 1903. For its day and in the suburb of Yeoville it was a more than "modest house", though it was not a mansion. It was not uncommon for a Yeoville property to comprise two or even four stands and for a substantial house to generate its own sub economy with stables for horses, a carriage house, perhaps a cow shed, a chicken coop and outside servants rooms. There would have been a backyard and a front garden.
The plans for House Hains
Yeoville was laid out by Thomas Yeo Sherwell and Sherwell's original idea was to offer a choice of single small stands but also to market consolidated blocks comprising four stands. Sherwell himself built a large house on four stands for his growing family in Hendon Street soon after the suburb was surveyed and stands went on sale in the early 1890s. But Sherwell retired to England in 1895 and it was not until after the return of the white English supporting population to Johannesburg after the Anglo Boer War, post 1902 that the suburb began to develop at its own pace. The mix of stands of different sizes explains the eclectic mix of detached smaller houses, larger more substantial villas, maisonettes and later larger apartment blocks on consolidated stands. In its early history, Yeoville was a suburb for the aspirant middle class, professional white people. The context was a segregationist and then an apartheid city. By the interwar period, Yeoville had attracted a Jewish community, people who upgraded their suburban lifestyles with a move from old Doornfontein to Yeoville. Many new detached family homes were built in the interwar period and even at that relatively early date houses on large stands offered property development opportunities as gardens, backyards and outbuildings could be split off for perhaps a second dwelling. In 1933 the third owner, a Mrs Socher, was responsible for developing the property; the outbuildings, stables and garden were removed to make way for a second house to the east. In 1942, Hains House itself was sub-divided into two units.
Old map showing Yeoville and Berea
Old postcard of Yeoville
Shoot forward sixty years and Yeoville is the suburb to watch as a bellwether for social changes and new demographic mixes. It was one of the first suburbs to open up to new migrants, becoming racially integrated far earlier than other suburbs. Yeoville gained an early reputation for being alternative.
Remarkably House Hains is a survival from an earlier era. The house is an interesting example of Johannesburg domestic architecture in the early 20th century. It was commissioned by Henry Hains, an editor and accountant who arrived in the Rand in 1888 and settled in 1891. He applied for Rand Pioneer status in 1904 and was a member of the Rand Club. House Hains is an attractive single storey red brick detached family dwelling with a prominent and very typical Cope-Christie "tudor style," front gable. It makes a statement with a varied roofscape, painted woodwork, stained glass front door, pressed ceiling, an arched elegant doorway leading to the bedrooms and verandahs with ornamental timber detailing. House Hains is a landmark by virtue of its turreted corner entrance to the verandah. The front gable with Tudorhalf- timbers above a handsome square bay window is another striking feature. The design is unashamedly Victorian. It is one of the oldest surviving homes in Yeoville.
Front Gable (Flo Bird)
Front door (Flo Bird)
Pressed Ceiling (Flo Bird)
Internal arch (Flo Bird)

A 1993 description which informed the application for declaration to the National Monuments Council reads as follows:
The property has three bedrooms and two entertaining rooms with kitchen, bathroom and servants room to the rear. A generous verandah off the dining room provides an outdoor entertainment space. It is a spacious house of pleasing proportions, having been originally designed to sit within two stands. It was noted that: "This property once had a substantial garden in keeping with the character of the house and the status of its owner."
The house was awarded National Monument Status in 1994 with a government gazette notice. After 1994 the term "National Monument" was limited to very few heritage sites and House Hains was recognized as a Provincial Heritage Site in Gauteng. Heritage Status whether national or provincial can be both a boon and a bane. No funds are provided by the state to maintain a heritage house of character. A new  post 1994 owner may take on an older property but may not be interested in heritage at all.
This brings me to the complexity of the situation facing House Hains. Greater Yeoville extending from Berea to Bellevue and through Yeoville is popular for newly arrived immigrants. It is an area where the population has ballooned and the mix of apartment blocks, maisonettes and old houses means accommodation is at a premium. There is a high demand for sleeping places. At the same time owners of older houses have turned what were once single family, middle class or upper working class dwellings into multiple rental units. This all raises a dilemma for heritage. As Brett McDougall of the JHF has pointed out: "Heritage needs a community, if there is no understanding of the heritage value then it is impossible to fight for these important buildings. Yeoville's community is largely focused on food, shelter and survival. Heritage is not a consideration, and will not be until this community is wealthier. But, by that time, all that we hold dear in Yeoville will probably be gone. This is sad, but is the reality of Yeoville and Johannesburg."
A house of this significance also leads into a debate about a body such as the Johannesburg Heritage Foundation supporting restoration when ownership remains private. The JHF took the decision that it could not justify spending its own funds on private properties. We can award a blue plaque but will that save this architectural gem? The heritage classification has not stopped decay and neglect setting in. Some of us are upbeat and Flo Bird and her family became philanthropists in supporting the owner to save wood work. One committee member commented: "All the Cope-Christie houses are important houses worthy of plaques and protection, but I despair for the future of the ones situated in Yeoville".
Flo Bird, recently appealed to a  Johannesburg City Councillor:
We would very much like to see attention paid to this significant heritage area of which the City has been so negligent. We used to lead tours of Yeoville mainly because of its architectural range. House Hains is one of the oldest, built in 1904, and designed by an eclectic architect, James Cope-Christie, who is really the great architect of Harare in Zimbabwe, but this was his first building in Johannesburg. Besides the many early Edwardian houses there are some fine churches of the same era and then extraordinary Modern Movement blocks of flats and Art Deco buildings coming soon after that.
House Hains should be  placed in the context of the eclectic architectural heritage of Yeoville - that includes Radoma Court, Beacon Royal, Helvetia Court and all rising to that icon the Yeoville Water Tower.
Yeoville Water Tower (The Heritage Portal)
Who was James Alfred Cope-Christie?
Cope-Christie was an English trained architect. He was born in London in 1870 and was articled to George Fellowes Prynne. Cope-Christie studied at the London Polytechnic and won a gold medal in 1893. He arrived in South Africa in 1894 at the age of 24 and started his working life in Cape Town. His memoir recalls that he travelled to South Africa from England at the age of 24 on the maiden voyage of the Tantallon Castle, a Castle Line 6000 ton passenger and mail ship.
Tantallon Castle
Cope-Christie first worked for the Cape Town architect Charles Freeman, who was the agent for Macfarlane cast iron castings, ornaments and fittings (popular for all those Victorian verandah balustrades). In 1896 Cope-Christie moved to the newly established Rhodesia heading for Fort Salisbury (Harare). He won a competition for a new stock exchange for the newest Colonial capital but the outbreak of the Matabele uprising meant that the Stock Exchange was never built. He married Ada Heywood in 1896 and enjoyed a long and successful marriage. Cope-Christie was encouraged by Rhodes to settle in Umtali (today Mutare) and draw up the plan for the layout of the new town. Cope-Christie was a fit young man, a keen sportsman and a volunteer soldier. However, during the period 1899 to 1903 he returned to England and only ventured back to Southern Africa after the conclusion of the Anglo Boer War. He took up residence in Johannesburg from 1903 to 1908. These were the years of some good commissions – houses in Booysens, Dolobran for C L Anderson, Waverley House for Page and House Hains as well as the Masonic Lodge on O'Reilly road in Berea.
At some point during 1905-1906 he was in partnership with C E H May  - the practice called May & Christie. Cope-Christie was a committed Freemason. The Corona Masonic Lodge also survived until a recent fire in 2020. Despite these architectural commissions, and despite his being a contemporary of Herbert Baker, in his memoirs, Cope-Christie said that he did not settle well in Johannesburg. It is difficult to assess what that means. In 1908 Cope-Christie and his wife returned to Harare and settled to make his career in Rhodesia. His reputation rests on his houses in Johannesburg but more so on his architecture in Rhodesia (Zimbabwe). Many buildings in Salisbury, Bulawayo and Umtali were designed by him. According to Peter Jackson, Cope-Christie entered into a partnership with a Thomas Sladdin (1910 -1914) and did well out of the building boom of 1910-11. His successful career was interrupted by the outbreak of the First World War and Cope-Christie served in the British Red Cross and the St Johns Ambulance service. He returned to Rhodesia after the war and again built up his architectural practice going into partnership with S Austen Cowper in 1925.
Corona Lodge (Wikipedia)
The Artefacts website lists his buildings in Rhodesia as follows: The Queen Victoria Memorial Library and Museum (1902); Store Bros Building; Union Buildings; Standard Bank and Lonrho Buildings, all executed between 1910 and 1914 and which still (1986) stand in Salisbury (Harare). In 1926 he designed the Telephone Exchange Building. Cope-Christie was a founder member of the Institute of South Rhodesian architects, a watercolourist of some distinction, a Fellow of the Royal Society of Artists exhibiting frequently at the Salisbury (Harare) Art Exhibition. He was a Freemason and President of the Rhodesian Society of Architects in 1928 and 1929.
It is interesting to note that another Cope-Christie House has been identified at 34 Rockey Street.
34 Rocket Street (Google Street View)
Kathy Munro is an Honorary Associate Professor in the School of Architecture and Planning at the University of the Witwatersrand. She enjoyed a long career as an academic and in management at Wits University. She trained as an economic historian. She is an enthusiastic book person and has built her own somewhat eclectic book collection over 40 years. Her interests cover Africana, Johannesburg history, history, art history, travel, business and banking histories. She researches and writes on historical architecture and heritage matters. She is a member of the Board of the Johannesburg Heritage Foundation and is a docent at the Wits Arts Museum. She is currently working on a couple of projects on Johannesburg architects and is researching South African architects, war cemeteries and memorials. Kathy is a member of the online book community the Library thing and recommends this cataloging website and worldwide network as a book lover's haven.
Disclaimer: Any views expressed by individuals and organisations are their own and do not in any way represent the views of The Heritage Portal.