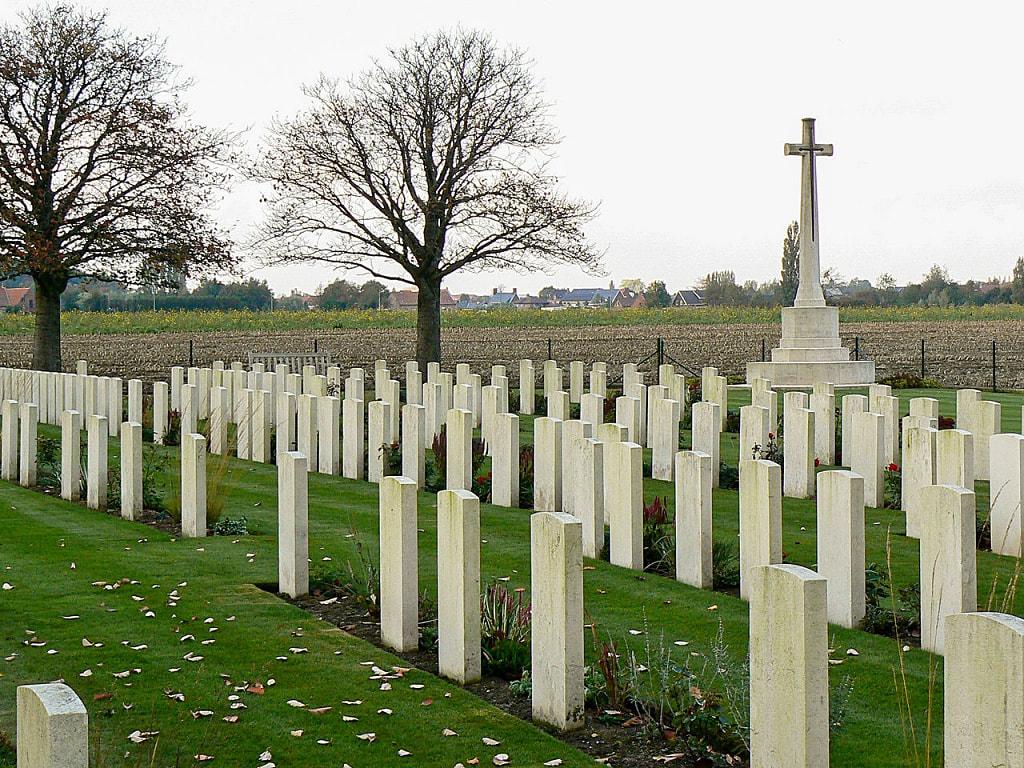 Wednesday, May 25, 2022 - 16:35
Probably 30 years ago I was asked by Belgian visitors to Talana Museum, if I was aware of the Talana Farm cemetery outside the village of Boezinge in Belgium. At the time I wasn't, but that started a long journey of research and discovery about this cemetery and its links with the Battle of Talana (20 October 1899). It led to a couple of visits to Belgium to see the cemetery for myself, talk to various people about it, and on 11 November 2014, to being one of the representatives to lay a wreath under the Menin Gate, in memory of the 4 Dundee men commemorated on the walls of that memorial. That evening and the subsequent 10 days at the centenary memorial functions at various cemeteries and memorials in Belgium and then being a guest speaker at an international conference at the Lewarde Mining Museum, on coal mining and the First World War, will remain with me forever.
Menin Gate (Wikipedia)
Pam McFadden at Talana Farm cemetery (Talana Museum)

Talana Farm was one of a group of farm houses named by the army from episodes of the Anglo-Boer War. The cemetery was established by French troops in April 1915, taken over by the 1st Rifle Brigade and 1st Somerset Light Infantry in June 1915, and was used by fighting units until March 1918.
There are now 529 Commonwealth servicemen of the First World War buried or commemorated in the cemetery. 14 of the burials are unidentified and there are special memorials to six casualties whose graves in the cemetery could not be located.
Talana Farm was one kilometre from the edge of the Ypres Salient.
Old photo of Talana Farm Cemetery (Talana Museum)

Some years ago I received an e-mail from Aurel Sercu, in Belgium, telling me that he had prabably passed this cemetery more than 20 000 times and had always been intrigued by it. He would do this each day on his way to and from school and then, in later years to and from work. So for a number of years he has been doing research on the cemetery and on others in the area and has found two other sites with South African names – Modder River and Belmont.
Talana Farm Cemetery Gate (Talana Museum)
Talana Farm was named after the battle in South Africa. In the assault on Talana Hill on 20 October 1899 were the Royal Dublin Fusiliers, Royal Irish Fusiliers, King's Royal Rifles and Leicestershires.
There is reason to believe that the name 'Talana Farm' was given at the beginning of June 1915, by men of the 10th Brigade. This 10th Brigade consisted of men of the Royal Warwickshire Regiment, the Seaforth Highlanders, the Argyll & Sutherland Highlanders, and… the Royal Irish Fusiliers and Royal Dublin Fusiliers. Was it possible that men of these two last battalions had been in the Battle of Talana Hill?
There are no graves of Royal Irish Fusiliers or Royal Dublin Fusiliers in Talana Farm Cemetery. However, in Bard Cottage Cemetery, less than 1 km south of Talana Farm Cemetery, there are five graves of Royal Dublin Fusiliers and one Royal Irish Fusilier, who died in June 1915, 11 June, and on 23 June.
The Talana Farm buildings are 100m from the cemetery.
In 1938-39 a local village initiative was taken in Boezinge to give the farms names. Only a handful took the original pre or First World War names. One of this handful of farms was Hull's Farm, but it was named 'Talana Farm' in error.
The First World War farm named Talana Farm, was not rebuilt after being damaged and new buildings were erected on the site, and in 1938-39 it was assumed that the Hull's Farm was Talana Farm.
While no two Commonwealth War Graves Commission (CWGC) cemeteries are the same, they all follow a similar pattern and have common features, including surrounding stone walls and wrought-iron gates. In all but the smallest cemeteries, there is a register box containing an inventory of the burials and a plan of the plots and rows. At larger sites, there is also a shelter building where the cemetery register can be found.
Talana Farm Cemetery (Talana Museum)
Three of the most eminent architects of the day - Sir Edwin Lutyens, Sir Herbert Baker and Sir Reginald Blomfield - were chosen to begin the work of designing and constructing the cemeteries and memorials. Rudyard Kipling was tasked as literary advisor to recommend inscriptions.
Sir Herbert Baker designed Tyne Cot Cemetery and its memorial in Belgium. This is the largest Commonwealth War Graves Commission cemetery in the world. There are 11,965 graves of which 8,369 are unnamed. On the surrounding walls is the Tyne Cot Memorial to the Missing which lists the names of 33,783 soldiers of the UK forces, plus a further 1,176 New Zealanders. His other work for the Commission includes Loos Memorial, Adanac Military Cemetery and Neuve Chapelle Memorial. He also worked in India and South Africa, where he designed a number of government buildings, most notably the Union Buildings in Pretoria and the government buildings in New Delhi.
Tyne Cot Cemetery (Wikipedia)
Sir Edwin Lutyens designed the Stone of Remembrance which was inscribed with the words, chosen by Rudyard Kipling, from Ecclesiasticus in the Kings James Version of The Bible: 'Their name liveth for evermore'. Each stone is 3.5 metres in length and 1.5 metres high and it sits on three shallow steps.
Blomfield's 'War Cross', as it was originally called, was to be the other permanent element of all the Commission's cemeteries. In his memoirs, Blomfield wrote:
What I wanted to do in designing this cross was to make it as abstract and impersonal as I could, to free it from association with any particular style, and, above all, to keep clear of any of the sentimentalities of Gothic. This was a man's war too terrible for any fripperies, and I hoped to get within range of the infinite in this symbol of the ideals of those who had gone out to die.
Walking through these cemeteries is a very sobering experience. So many men who died and so many of them very young.
The following words from the visit of King George V to Tyne Cot cemetery on 11 May 1922 have remained with me and are always brought to the forefront of my mind, in any of the military cemeteries that I have visited around the world:
We can truly say that the whole circuit of the Earth is girdled with the graves of our dead. In the course of my pilgrimage, I have many times asked myself whether there can be more potent advocates of peace upon Earth through the years to come, than this massed multitude of silent witnesses to the desolation of war.
About the author: Pam McFadden has spent many years researching the battlefields of KwaZulu-Natal. She has been interested in them since a young child. As a registered specialist guide on these battlefields for the past 40 years her knowledge about events and the people involved is considerable. Since 1983 as curator, Pam McFadden has developed the Talana  Museum in Dundee into one of the finest in the country. As part of the museum collections she has collected and created an extensive museum archive, that holds many treasures.
Disclaimer: Any views expressed by individuals and organisations are their own and do not in any way represent the views of The Heritage Portal.