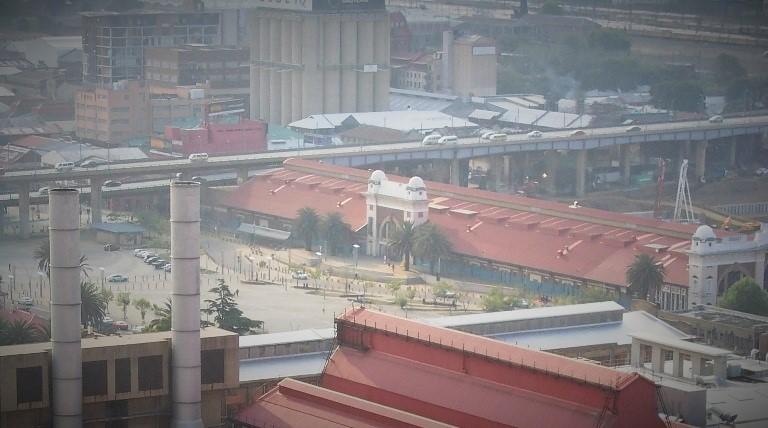 Wednesday, September 11, 2019 - 09:29
Last month I attended the opening of the new photographic exhibition at Museum Africa: The Gift of Seeing History – The Legacy of Dr Arthur David Bensusan. The exhibition commemorates the 51st anniversary of the establishment of the Bensusan Museum and Library of Photography. The exhibition runs until 21st September and has been curated by Ms Dudu Madonsela of Museum Africa.
The photographic collection of Dr Bensusan was a remarkable gift to the City of Johannesburg (a donation made to the city in 1969). It is made up of photographs he gathered all his life as well as historic photographic equipment he collected.
Bensusan started his collection at his home at 9 St Paul's Road in Houghton but the collection later moved to a house turned museum on Empire Road. When that was demolished to make way for the park to serve Hillbrow, the collection went to the Africana Museum and later still was relocated to Museum Africa where it was given a generous sized exhibition area on the top floor.
It has always been one of my favourite collections at Museum Africa. Congratulations to Dudu Madonsela and Brett McDougall (from the Johannesburg Heritage Foundation) for assembling, collaborating and promoting this exhibition of photographs that so fittingly captures Bensusan's work, life and legacy. A blue plaque will be unveiled at the home of the Bensusan family, where Arthur David Bensusan was born (22 Oaklands Road, Orchards, Johannesburg).
Bensusan was a son of  Johannesburg. He was born in 1921 and was called Kin by family and friends. His interest in photography started as a young boy at school. He attended the Parktown School in Mountain View where his photographic talents were noticed and recognized. In 1936 he exhibited at an international salon at the Empire Exhibition in Johannesburg, the year in which the then Mayor of Johannesburg Maldwyn Edmund, presented a bronze medal to photographic exhibitors.
The bronze medal presented to photographic exhibitors
Bensusan was someone who lived through several careers over a long life. He was an author, a wartime aerial photographer for the South African Air Force, a medical doctor, a talented photographer, the creator of a photographic museum, a local politician, Mayor of Johannesburg (1973-4), a medical innovator in the application of photography to X-ray diagnosis and ultimately an ordained minister of the Anglican church. Bensusan died in 2006 at the age of 85. His was a remarkable life. Brett McDougall gave us all the details of Bensusan's life in his speech at the opening of the exhibition. Bensusan also wrote his autobiography.
Dr  Arthur David Bensusan (Kin Bensusan) - photo from the obituary in the S A Medical  Journal 1977
I returned home to my library and found Bensusan's book: Silver Images - History of Photography in Africa. It was published by Howard Timmins in 1966. This book has become a classic on the history of photography in Africa and in particular on South African photographic pioneers from the 19th century to the 1960s. It is a book that has earned a fitting  place in an Africana library. It is now a standard reference work on photographic history and was meticulously organized into the themes that clearly shaped the Bensusan collection and reveal his particular interests. If you are lucky to find a copy anticipate paying R750 and upwards for a copy.
Silver Images is one of those rare books with a focus specifically on Africa, explaining how photography came to South Africa and how the camera then captured those moments of exploration and adventure in Southern Africa. It introduces the early significant photographers and the shift from an amateur to professional endeavours. The Anglo-Boer War was not the first of the colonial wars to be captured on film but it was certainly the war where recording of the scenes of action meant that both journalists and photographers were embedded in troop movements. Bensusan's background as a doctor meant that he was interested in the scientific application of photography in radiography and X-ray cinematography in the medical field. The approach is narrative and factual; the book includes careful footnotes and references. Of course there are many excellent early photographs. I was particularly intrigued by the photograph of the Reform Committee of 1895 -1896. These men were the  movers, financiers and plotters behind the Jameson Raid and many ended up in the prison in Pretoria with the death penalty hanging over their heads. It it is this photograph that is still on display at the Rand Club in Loveday Street. It is of interest because it was a composite photo spliced from three separate negatives, done by Barnett Brothers and one  man H C Hull appears twice. Bensusan's book remains one of my favourites and was a book that stimulated me to begin to collect books on photography. It is an excellent introduction to Bensusan's photographic collection, and stands as a memorial to the man himself and his philanthropy to his city.
Book Cover
Main image: Museum Africa from above (The Heritage Portal)
Kathy Munro is an Honorary Associate Professor in the School of Architecture and Planning at the University of the Witwatersrand and chair of the Johannesburg Heritage Foundation. She enjoyed a long career as an academic and in management at Wits University. She trained as an economic historian. She is an enthusiastic book person and has built her own somewhat eclectic book collection over 40 years. Her interests cover Africana, Johannesburg history, history, art history, travel, business and banking histories. She researches and writes on historical architecture and heritage matters. She is a member of the Board of the Johannesburg Heritage Foundation and is a docent at the Wits Arts Museum. She is currently working on a couple of projects on Johannesburg architects and is researching South African architects, war cemeteries and memorials. Kathy is a member of the online book community the Library thing and recommends this cataloging website and worldwide network as a book lover's haven.
Disclaimer: Any views expressed by individuals and organisations are their own and do not in any way represent the views of The Heritage Portal.