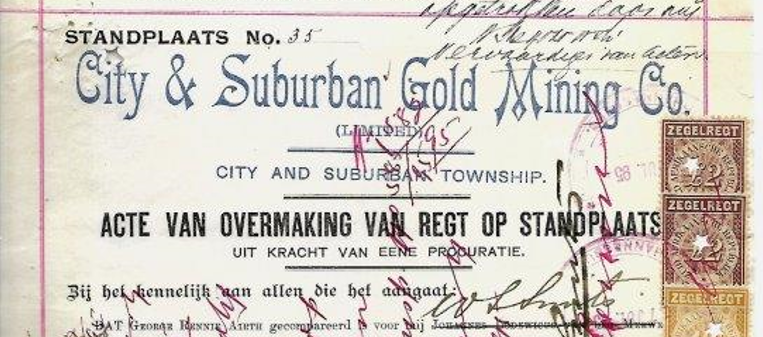 Tuesday, June 27, 2017 - 20:10
Here is an interesting story. Sometimes paper finds, or ephemera, happen in a serendipitous way. A friend bought a book at a recent Johannesburg monthly book auction at Westgate Walding. As he opened the title page, the document below fell out into his hand. Of course all sorts of things are used as bookmarks in old books – I have found bus, airline and parking tickets. There have also been pamphlets and city maps. I have even found out of date bank notes. However, I have never found a property transfer deed. "Acte van overmaking van regt op Standplaats, translates from Dutch as  "Deed of transfer of right to stand".  
The original title deed
There is an intimate connection between City and Suburban Gold Mining Company and the City and Suburban Township. The land of the township or suburb was part of the land owned by the Mining Company and the suburb lay on land on one of the original farms that make up Johannesburg called Doornfontein. 
This is an unusual document because it is a legally registered transfer deed by the City and Suburban Gold Mining Company Ltd. or as it is also called here City and Suburban Township, of a specific stand Number 35 located at the corner of Goud and Commissioner Streets, Johannesburg to a  John Ford  Bagshaw. The date is 1895.  This is a legal document registered with the state and carrying endorsed revenue stamps of the Zuid Afrikaanse Republiek.
City and Suburban was established as a township for business or residence in 1896. It is located near the heart of Johannesburg between Marshalls Town in the West and Jeppestown to the East. The area is named after the original mine (City and Suburban Mine) that lay on the southern reaches of the suburb. This transfer deed was one of the earliest purchases of this area (see name origins: Raper, Peter E.; Moller, Lucie A.; du Plessis, Theodorus L. (2014). Dictionary of Southern African Place Names. Jonathan Ball Publishers. p. 1412. ISBN 9781868425501).
It illustrates an interesting bit of Johannesburg history. The original division of Johannesburg into rectangular blocks on a grid pattern meant that intersections occurred with great frequency. City blocks are relatively short and there were and still are many corner stands. Each corner stand was more valuable than those stands tucked in between the corners. A city block could comprise up to 12 stands. The original Johannesburg plans fixed stands at a mere 50 x 50 Cape feet or 248m². A few stands were 50 x 100 Cape feet.  As Beavon explains the idea was to increase the number of corner stands with higher rentals and maximise the number of blocks (Beavon K: The Making and Shaping of the City. p 24). The favourite way of selling stands was via auction, but what was sold was the right to use the land for legal purposes hence the term preferent rights. The first auctions of land in Johannesburg of 1886 saw stands sold for between £10 and £280. By the mid 1890s prices had risen substantially.
The 1897 Melville Map of Johannesburg and suburbs showing the location of City and Suburban as a city suburb between Marshalls Town (to the west) and Jeppestown (to the East) 
The price paid for this specific stand was £1140. City and Suburban development as a township came at the tail end of the first phase of Johannesburg expansion, 1886-1895 and it lay just to the south of the southern apex of the Randjeslaagte triangle. The date on the deed is also of interest - 1st July 1895. The Jameson Raid did not occur until 2nd January 1896. 1895 was a boom and bust year for gold mining shares. In July 1894 the capitalized value of 105 gold mining companies was £20 million, but by the end of July 1895 that value had quadrupled to  £82,5 million. Share prices peaked in September1895 but then came the collapse of gold shares on the London and Paris stock exchanges. The fall continued through1896 and into 1897 (Beavon p 31). Issues of business optimism, a policy framework favourable to the mining companies, access to cheap labour for the mines and its management, state industrial monopoly policies and taxation were all issues that should be factored into the economic climate of the pre Boer War period.
My next research move was to look into the insurance map - Goad for 1938 and see that stand 35 was on the South East corner of Commissioner and Goud. This is documentary evidence then of an early market trend towards the amalgamate stands. Mr Bagshaw may already have been the owner of stands 36, 39 and 40 and here in Johannesburg monopoly like fashion he was adding to his property portfolio with the purchase of stand number 35. This would have consolidated his property giving him half a city block that ran from Commissioner Street to Fox street with a frontage along Goud Street. Bagshaw's property was then consolidated as 35 and 36 on Commissioner Street and stands 39 and 40 on Fox Street. By 1938 the consolidated stand boasted a Machinery Warehouse and Showrooms filling that entire  half block.  The Donaldson and Hill Stand Map of Johannesburg (no date but Pretoria University identifies it as 1898) based on W H Auret Pritchard's Commercial Map shows eight stands on the block bounded by Commissioner, Goud, Fox and Nugget Streets. However, in the earlier Goad Insurance Map (surveyed 1895, revised 1906 and an addenda 1910) there appears to be only two buildings on the entire block.
Cut to the present and you can get a view of the 4 stands via google maps (click here to view).
City and Suburban Gold Mining company itself had an interesting history.
An 1895 share certificate the the City and Suburban Gold Mining Company issued in 1895. City and Suburban Gold Mining and Estate Company Ltd., bearer warrant for 25 shares of £4 each, London 18 [91], elephant at top, ornate border, blue and black. This share certificate was sold on auction by Spinks in London, in 2014
In fact the City and Suburban Gold Mining Company Incorporated was established in 1887 as a gold mining company and was then restructured as the City and Suburban Gold Mining and Estate Company in which company shareholders were entitled to 4 shares of £4 for each share of £1 held. Springer's book on Defunct Companies (1990) states that the City and Suburban Gold Mining and Estate Company of 1895 survived until June 1924 when it went into voluntary liquidation, with a distribution of 3s 6d per share of £4 made in August 1924. It is not known whether there were further payments. The above share certificate would have been issued at the time the new company emerged in 1895. Today it is simply the name of a small part of Johannesburg, City and Suburban which survives.
Old postcard of City and Suburban Gold Mine
Another early view (1905) of the City and Suburban Gold Mining Company
An aerial view of the City and Suburban Gold Mine - 9 July 1911
A further dimension of research is to do some internet photographic research and "City and Suburban" turned up the images above taken of the City and Suburban Gold Mine and the portion of Johannesburg that fell into City and Suburban Township as at  July 1911. This and other similar images were published as an image of a Transvaal Gold Mine. It is a photograph that reveals a mix of low rise, industrial buildings, mine headgear, a tall chimney, circular tanks, timber piles, warehouses, simple single storey corrugate iron roofed houses and some now well established trees. It is a mixed mining, industrial and residential townscape. What is remarkable about this photograph is that it is among the first aerial photographs of Johannesburg and its gold mines along with its rising gold mine dump taking shape in the background.  These photographs were taken by a remarkable early balloon pioneer, adventurer, Swiss visitor to South Africa, Eduard Spelterini (1852–1931). Spelterini visited Johannesburg and made a balloon flight over the town and the surrounding gold mines. His photographs were published in the Illustrated London news a few months later. (Source Spelterini - Fotografien des Ballonpioniers, Verlag Scheidegger&Spiess. Also published in Spelterini, E.: Über den Wolken/Par dessus les nuages, Brunner & Co, Zürich 1928, p. 93.)
In conclusion, this certificate is a remarkable original pre 1900 document. It is original and in excellent condition. The certificate is now on sale on the July Jellyfish tree auction sale (click here to visit website).
Kathy Munro is an Honorary Associate Professor in the School of Architecture and Planning at the University of the Witwatersrand. She enjoyed a long career as an academic and in management at Wits University. She trained as an economic historian. She is an enthusiastic book person and has built her own somewhat eclectic book collection over 40 years. Her interests cover Africana, Johannesburg history, history, art history, travel, business and banking histories.
Disclaimer: Any views expressed by individuals and organisations are their own and do not in any way represent the views of The Heritage Portal.