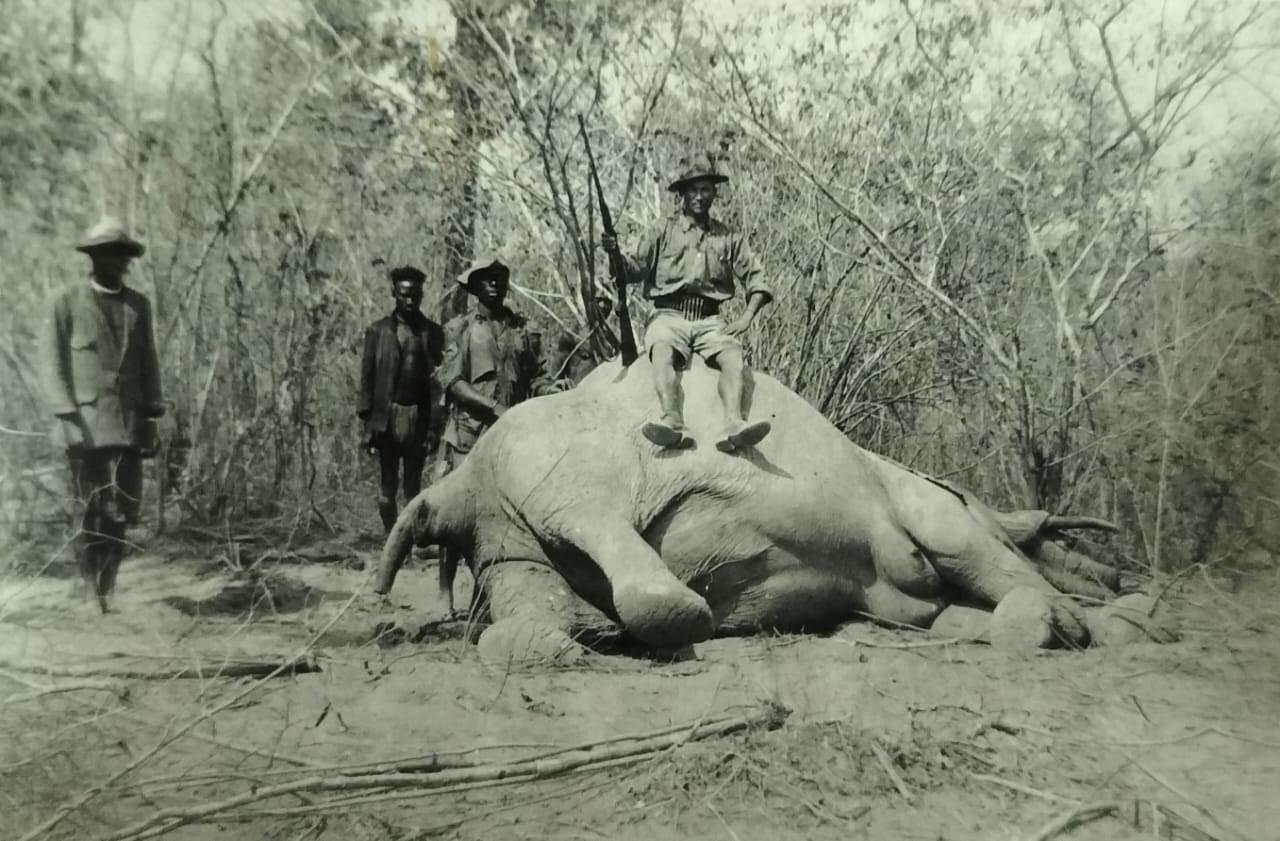 Disclaimer: Any views expressed by individuals and organisations are their own and do not in any way represent the views of The Heritage Portal. If you find any mistakes or historical inaccuracies, please contact the editor.
Monday, March 6, 2023 - 18:40
The Hardijzer Photographic Research Collection (HPRC) occasionally receives photographic donations linked to a particular individual or family, often with limited provenance where neither the family nor searches on the internet can add sufficient additional information to construct a detailed narrative.
This brief article constructs a narrative based on the photographs with some input from the benefactor, a family member.
Following an unrelated article published on The Heritage Portal, I was contacted by a United Kingdom-based reader, Richard A Green, who donated photographic artefacts taken by his adoptive father, Arthur Edward Green, dating from the 1920s.
While limited information is available about this soldier, hunter, engineer, traveller, and amateur photographer, Arthur Edward Green, the photographs he captured remain of historical significance.
During the early 1970s, Richard A Green presented these same photographs to the National Gallery of Canada (Richard Green resided in Canada for a while), which duly catalogued each image, providing them with titles/descriptions and returned the originals to Richard Green. The catalogue numbering of these photographs ranges between 73-31387 to 73-31450 and AC-23-74-1 to AC-23-74-61.
Captions on the back of the small-format photographs, measuring 8 cm x 6 cm, indicate that Arthur Edward Green captured the images shared below whilst he was working on various civil-engineering projects in African countries such as South Africa, Southern Rhodesia (Zimbabwe today), Kenya, and Tanganyika (Tanzania today).
Typical black and white photographs, ending up in family photograph albums dating between the 1920s and 1950s, are uninteresting at the best of times in that there is hardly a constructive narrative to be extracted from them. The photographs by Green, however, provide the occasional exception.
1. Arthur Edward Green (1900 – 1973)
Arthur was born in 1900 in England. 
He landed in South Africa during the early 1910s, probably arriving here with his parents, in that during April 1917, aged 17, he is recorded as having been a Cape Cyclist in the South African military with service number 8325.
He was discharged from this unit on 21 April 1918, only to sign up again within three days as a private in the 1st SA Infantry, where he participated in the French campaign. He embarked for Europe on 17 July 1918 and returned to South Africa on 28 May 1919, where he was subsequently discharged again.
His recorded private address at that time was 14 Lundie Street, Sydenham, Port Elizabeth (Gqeberha today). This address is assumed to be that of his parents.
It appears that he stayed in southern Africa for at least another 10 years (and more), during which time he worked as a civil engineer, building roads, rail, and bridge infrastructures. His 1920s photographs all well recorded these activities.
Arthur Edward Green at home. This is assumed to be either in Southern Rhodesia or Port Elizabeth (circa 1928). This photograph was in all probability captured post his Central East African excursion.
A 1929 photograph of Arthur Edward Green. This would have been captured post his Central East Africa excursion.
To date, it has yet to be determined whether Arthur studied engineering. The only hint of him studying in that line is a single photograph he took of the Wankie College in Southern Rhodesia (Zimbabwe today).
Arthur returned to the United Kingdom during the 1930s and married his life partner, a Red Cross nurse, Hilda Mary Wade (1908-1998), in 1938. The couple adopted the benefactor of the photographs included in this article, Richard A Green, in January 1947, 6 months after him joining the family as a 3-week-old. Arthur would have been 47 years old when Richard was adopted.
Richard shared the following snippets about his adoptive father:
Arthur also did some boxing (must have been flyweight !!!).
There is also an "interesting story" told by the then next-door neighbour in the UK that Arthur had taken on sniper duties during the 1st World War but decided it was a bit too dangerous after being machine-gunned out of the tree he was hiding in.
Family legend has it that Arthur received financial support from his family while in southern Africa. Hilda added that Arthur was a bit of a party animal and did not take too much care of the financial benefit he received.
Arthur also indicated that he rode a motorcycle in the Durban to Johannesburg rally with a bottle of whiskey inside his jacket, but it cracked when he fell off during the run.
In searching for AE Green as a participant in this world-famous Durban to Johannesburg motorcycle rally (DJ race), no direct link was found. The only record is that of a RE Green for 1923 (who did not finish the race) – Could this be our Arthur?
Arthur died, aged 73, in September 1973 in Hertfordshire (England).
2. Narratives portrayed by the Green photographs
Arthur was an outstanding visual record keeper while working in harsh circumstances in Africa. His interest in photography indeed became the main contributor to creating these phenomenal artefacts and, in doing so, significantly contributing to the visual history of southern Africa today.
I remain curious about what type of camera he would have used and where and when he would have developed the resultant negatives. I sense that the film camera used was an inexpensive model.
Most of the catalogue titles applied by the Canadian museum suggest that the images were taken in the Transvaal or Southern Rhodesia. After analysing the photographs, this needs to be corrected. The museum erroneously applied these titles because Arthur did not clearly stipulate on the photographs where they were captured. While some photographs were captured in the Transvaal and Southern Rhodesia, the majority of the photographs were actually captured further north (Kenya and Tanzania).
Amongst the collection of photographs are a few social photographs captured by Arthur, the three that are of significance are:
Prince of Wales (Duke of Windsor) photographed by Arthur on his visit to Arusha (Tanganyika – Tanzania today) during 1928
The only photograph containing females (unknown) at the Rhodes grave on Matopo Hill
Arthur stands with two men filling bags with coffee beans for dispatch to London.
Arthur Green posing for a photo where coffee is weighed in Arusha (Tanzania) for the London market
From the photographs, we can derive that Southern Rhodesia (Zimbabwe) was "home" for a while to Arthur – this was probably his base while he was working higher up in Africa.
The main themes around the photographs captured by Arthur were:
2.1 Anthropology (Tribal life)
The number of photographs captured of tribal life in the various southern African countries confirms Arthur's curiosity and interest in anthropology, especially that of the Maasai.
As recorded by the museum, many photograph titles reference the Masai (sic) images captured in either the Transvaal or Southern Rhodesia. This reference would need to be corrected.
Firstly, the Maasai are located in Kenya and Tanzania, not Transvaal or Southern Rhodesia, as suggested by the catalogue inscriptions.
Secondly, Maasai is the correct spelling of this noble tribe, which means people who speak maa. Masai was the incorrect spelling of the British settlers and has remained in current use. The Maasai have always been unique because their bright red robes set them apart visually. The colourful red robes were clearly an attraction to Arthur.
Arthur made a special effort to capture anthropological images. The one that stands out is where he captured the image of a Maasai from the side to capture the details of a hairstyle.
Some of his captions make for curious reading. He was clearly fascinated by the various cultural traditions in that he made special efforts to capture relevant snippets on the back of the photographs – one of those being that before a Maasai man can take a wife, he has to kill a lion by hand.
Arthur also makes some reference to the Swahili-speaking tribes. One of the captions reads that the Swahili and Masai have little tolerance toward each other.
Another photograph confirms that the team had a local cook in camp. In the caption, Arthur states that if you treated these cooks well, they became very loyal (a rather Colonialist observation to make).
Inscription on the back reads: "A close-up view of a Masai boy. Face painted white and body dark red"
Inscription on the back reads: "A young Swahili boy – all painted up…"
Inscription on the back reads: "A young Masai male with pig tail; that is his natural hair done up in red clay"
Inscription on the back reads: "A Masai boy (12 years old), with bow and arrow for bird shooting. The feathers are placed in their head dress"
Inscription on the back reads: "A young Masai boy. Note the difference in their dress to that of the Swahilis"
Inscription on the back reads: "A young Masai chief's wife, with all the rings etc. she is entitled to wear…"
Inscription on the back reads: "A full grown Masai man with spear. It has been known for these men to cover 60 miles in 12 hours"
Inscription on the back reads: "A Masai woman with load on head going to market. The rings round her neck and arms indicate various customs in her past life. This is a married woman"
Inscription on back reads: "A young Masai about 20 years. At this age if they wish to take a wife, they must kill a lion single handed to prove their manhood. This is done, believe it or not"
2.2 Civil Engineering activity
Considering the photographs of road, rail, and bridge construction results in the assumption that Arthur studied Civil Engineering – probably between 1919 and the early 1920s. One of the photographs refers to a construction camp as the "Public Works Department Camp". We assume that this base camp was either part of the Southern Rhodesian or Union of South Africa's Public Works Department.
The photographs provide a good insight into how the engineers lived while busy on construction projects in East Central Africa. They remained in certain spots long enough to even rear a juvenile baboon, as proven by some photographs.
The photographs also confirm some of the challenges experienced, such as trucks (lorries) getting stuck in river beds regularly. Arthur also indicates that some mountains were rough going and required occasional blasting.
The image of most significance is the train crossing a bridge that has just been restored, following a flood, by the construction group of which Green was a part.
Arthur was intrigued by a bush bridge they came across in his travels. The bridge was made of bamboo! He was also fascinated by the beauty of the countryside in that he further refers to a lake in an old crater they stumbled upon halfway up a mountain.
On photographs that contain other men, Arthur recorded them as being his friends. These were more likely colleagues that became friends considering the time they spent together on projects. None of these men are named in his photographs.
A very idyllic spot right next to a baobab tree. Arthur Green's makeshift camp on the roadside in Central Eastern Africa
One of Arthur Green's friends (unknown) also involved in road construction at base camp. Photograph captured in Tanganyika (Tanzania today).
Road construction workforce in the camp. Note the neatly packed tools in the middle. Arthur Green records that the daily rate was 50c plus rations.
Arthur Green describes this image as "Box body lorry – these lorries are used all over the country". The back of this truck was clearly used as a bed.
Arthur Green (left) with an unknown friend in camp with little baboon "Bubbles". Note the gramophone player on the right as well as the water basin in the background.
A bridge nearing the end of construction somewhere in Central East Africa
A bridge just completed somewhere in Central East Africa
The rail line has just been rebuilt after being washed away. Location unknown. The "TR" on the carriage in front would suggest that this image was taken in Tanganyika (Tanzania today)
Bridge building under construction. Pumping water out to construct a foundation in the river bed
Another load stuck in the river, something that happened almost every day according to Arthur Green. This photograph was probably captured in Tanganyika (Tanzania today)
Road cutting approach to a river thought to be in Southern Rhodesia
At the camp – Bubbles the monkey with a friend of Arthur's. Here Arthur Green suggests that the monkey is also known as a blue monkey. This is however not a vervet monkey but seems to be juvenile baboon. The poor animal is chained to the tree.
At the camp - Bubbles the monkey (actually a juvenile baboon) with a friend of Arthur Green
2.3 Hunting
Arthur, in all probability, went out hunting with his colleagues while working on their civil-engineering projects.
Interestingly, Arthur does not appear in a single hunting photograph. Does this mean he did not hunt himself but joined the group to take pictures of their trophies?
In some of the photographs, his father is also present – in one photograph with a sable antelope that was shot and another of him standing next to the Zambezi River. The photographs raise the question – were Arthur's parents still South African-based during the 1920s, or had they returned to England by that time for his father to return for a hunting excursion with his son?
In some photographs, Arthur also points out the presence of KAR soldiers (King's African Rifles) with their Fez hats, more so at some hunting scenes.
The purpose of hunting was also to feed the construction workers, in that one photograph shows plenty of biltong hung out, along with more game awaiting slaughter.
The purpose of shooting an elephant remains questionable. Yet, one of the photographs confirms that the meat did not go to waste in that the locals were assisting in slaughtering the animal – mainly for their benefit.
Inscription on the back reads" Kongoni shot – good eating". Kongoni is a Swahili word for a Hartebeest
Inscription on the back reads: "Roan antelope shot by father, Southern Rhodesia". This would have been Arthur Green's father. Arthur got it wrong by describing it as a Roan antelope in that it is clearly a Sable antelope
Zebra shot by Arthur Green or his father
Inscription on the back reads: "Cutting an Elephant open. The locals are very fond of elephant meat"
Inscription on the back reads: "Drying wild game meat, which is very nice eating – this meat is eat raw – otherwise known as biltong". Note the antelope and warthog still to be slaughtered in front of the wagon 
Out hunting with the box body lorry – assumed to be in Southern Rhodesia
Arthur Green and unknown friends out hunting for the day. Note the telescopic sights on the rifles.
3. Closing
This brief article was primarily constructed from photographs captured by a passionate amateur photographer. Limited information on him and his wife restricted more detailed research.  
Similar photographs still exist in families where one can construct incredible historical narratives. While it may never result in a complete historical narrative being presented, it remains vitally important for historical records to be created from whatever information can be extracted from these historical visual artefacts.
Sadly, many families have no interest in these old-fashioned images. Because they cannot relate to the narratives portrayed by these photographs, they are inclined to discard such imagery.
Richard A Green needs to receive special acknowledgement for ensuring that his father's legacy survived. Not only did he provide a museum with the opportunity to capture and record the relevant information from the images, but he also donated the original images to a research collection resulting in this partly constructed narrative of his father's time in Africa.
Photographs, at least most of them, portray fascinating stories when one attempts to construct narratives from them. 
About the author: Carol is passionate about South African Photographica – anything and everything to do with the history of photography. He not only collects anything relating to photography, but also extensively conducts research in this field. He has published a variety of articles on this topic and assisted a publisher and fellow researchers in the field. Of particular interest to Carol are historical South African photographs. He is conducting research on South African based photographers from before 1910. Carol has one of the largest private photographic collections in South Africa.
Sources
Green, R. (28 February 2022). Email communication between Green and theheritageportal.co.za
Green, R. (6 March 2022). Email communication between Green and the National Gallery of Canada
Green, R. (4 & 7 March 2022). Personal email communication with Hardijzer
Green, R. (7 July 2022). Personal email communication with Hardijzer 
Green, R. (8 February 2023). Personal email communication with Hardijzer
Hardijzer Photographic Research Collection
Wikipedia.org – Maasai people (Accessed January 2023)