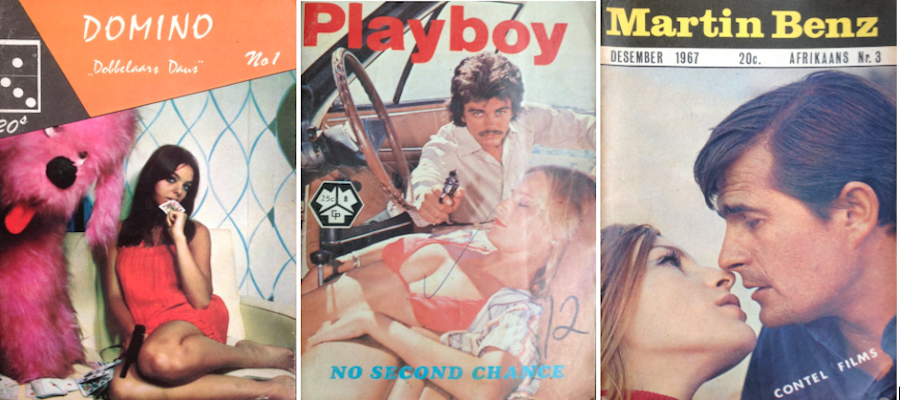 Monday, August 13, 2018 - 17:07
Recently the author was in Port Elizabeth searching for photographic material at book dealers, used goods and antique shops in town. At one of these stores he posed his standard question to a dealer: "Do you have any old photo-stories"? With the dealer not understanding the question, the author then explained what they were. To which the dealer responded: "Oh, you are referring to Café Bibles!".
This cynical naming convention probably came about due to paternalistic figures of old that would have preferred biblical text to be read with the same vigour as this "evil" literature. Read by mainly the teenage generation, this literature was freely available at their main distribution points, namely the "Corner Café".
Although the name Café Bibles may potentially be offensive to some, another descriptor in Afrikaans is an even more offensive naming convention. A word that not many of us would want to see on The Heritage Portal. This name probably came about due to one or two top selling photo-story titles containing fighting, kicking and shooting female government agents dressed only in their bikinis. For this reason, these titles can also be considered as "mini" Scopes (a male magazine at the time).
Other descriptors in Afrikaans are fotoverhale, foto-boekies or foto-roman, whilst in English they have typically been referred to as picture-stories, photo-stories, look-books, photo-books, photo-novels, spoken-word booklets or even the lesser known Italian words – fotoromanzo or fumetti, the latter literally meaning "little cloud of smoke" – with reference to the speech bubbles used in photo-stories.
Front cover of English title: Beau Brummel with Michael Bush as the main actor. Circa late 1960s. What makes this copy unique is that it is a 1st issue and that all the photographs are in colour. Issues in colour of this title did not last beyond 7 months due to the exorbitant costs involved. Publisher: Republican
Example of the colour photographs within the Beau Brummel storyline
These little books are however more commonly referred to as either photo-stories or fotoverhale. The latter being the most commonly used, even by English speakers.
Photo-stories have erroneously been referred to as comics or photo-comics. The author however argues this to be incorrect in that comics refer to a different genre.
Photo-stories were not only a South African phenomenon. 
Although also published abroad, they did not nearly achieve the same success compared to their South African counterpart. The main reason for this would be that western countries already had televisions at the time photo-stories became popular, resulting in a lower interest for this type of literature.
South African published photo-stories, aimed at both the English and Afrikaans speaking markets, were popular between the 1950s and the early 1980s. Although mainly aimed at the white population, they were also produced for the 'black & brown' South African population (to a lesser extent).
The black reading population were also supporters of this novel literature. The popular She in the series True Africa appeared between 1964 & the late 1970s. The actress in this series was Linda Mhlongo. Other titles included Grace, Sister Faith and The Township Housewives.
To date, only one title could be identified that was aimed at the 'brown' (coloured) readers market, namely "Juweel". The author has not come across a copy of this title as yet.
Front cover of English title: Big Ben. Circa mid 1970s. This storyline was mainly aimed at the black readers market. Publisher: Impala
Example of black and white photographs within the Big Ben storyline
Photo-stories, consisted of between 80 and 100 pages and had a frontpage in colour, whilst the remainder of the content was based on a storyline presented in black and white photographs supported by dialog captured in speech bubbles. Prices initially varied between 20c and 50c. Each issue for each specific title provided for a new storyline with the same main character but different support actors.  
From a photographic perspective (with respect to the photographers), the photographs included in the storylines were not always of the best quality. The reason for this could be because:
books were issued in quick succession (done in haste);
resultant images printed on poor quality paper;
photographic technology available at the time (35mm film technology was used - digital photography then was not developed);
mostly untrained photographers. 
It wasn't only the photographs that were of questionable quality, but also the dialog captured in the speech bubbles. So much so that some of the poor dialog is actually comical today. 
But, how did photo-stories come about?
Front cover of Afrikaans title: Die Mes. Circa late 1970s. Publisher: Legioen
Front cover of English title: Jim Roark – The Golden Gun. Circa late 1970s. Publisher: 1001 Photo Stories
Brief history of the photo-story
Although multiple articles have been published on this topic before (see list of sources below), herewith a shortened overview:
The decision by the then minister of post and telegraph services, Dr. Albert Hertzog, that television will not be implemented by the government had an unintended consequence – the surge of the photo-story industry.
Machadodorp-born publisher, Hint Hyman saw the gap and became the brain child behind the lucrative photo-story industry. The rest is history - a history that now needs to be captured.
With only radio as a rival at the time, his earliest photo-story, Kyk (Look), became an incredible money-spinner.
After acquiring a German gravure press, capable of printing 32 pages in one revolution, his business, Republican Press, truly came into its own. Too big to transport this machinery inland (to the Free-State), its new owners did the next best thing - they relocated their publishing business to Durban during the 1960s.
Initially, mainly photographed on various locations south of Durban, the actors were locals scouted in Durban's white working-class neighbourhoods. These photo-stories provided a good income to many struggling actors, models and students. 
The themes – Cowboys, strong men, heroes, government agents, spies, doctors, nurses, love stories and many more, made up the range of themes presented – some of better quality and at a higher level of success compared to others.
The demand was significant, so much so that publishers could hardly stay ahead with the writing and production of these photo-stories.
Cheaply produced and printed on thin paper, they generally have not survived well over the years and were often just thrown away. Occasionally photo-stories surface from cupboards or trunks where they were protected – an aspect that collectors are eagerly scanning the market for.
Then the unthinkable happened – Television was introduced during 1976 and the demand for this type of entertainment came to a grinding halt. Publishers attempted to retain the reader population by issuing two photo-stories combined into one larger format photo-story booklet. By the early 1980s, publishers however had to throw in the towel as the photo-stories business was no longer a viable one.
As recent as 2014 & 2015, two attempts were made to either test or revive reader interest in photo-stories in that the Afrikaans Sunday newspaper, Rapport, published the title "Die Valk" over an eight week period whilst Naledi publishers attempted to reignite interest in the popular title "Ruiter in Swart". The latter was offered for sale in local bookstores – probably because Café's have now largely been replaced by other alternatives (such as fuel station shops).  It is assumed that the uptake was insignificant to justify further issues or titles being produced.
Front cover of English title: Dr. Marshall Kirk. Late 1960s. Publisher: Thought to be Legioen
Front cover of Afrikaans title: Buks. This title later changed to Steyn Beyers. Significant to this cover is the young boy up against the bad elements – an aspect that would have spoken to many a young reader. Publisher: Legioen.
 
Additional photo-story snippets:
Although most of the issues were undated, each booklet in the series would have been numbered;  
Some titles changed over time, yet the underlying storyline and actors remained the same;
Some titles had a change in actors over time;
Some actors "played" in multiple titles;
In at least one instance it is known that the actors of different titles were married to each other;
Production of booklets varied between 30 000 and 180 000 per title; 
At its zenith, Republican Press, one of the more prolific publishing firms, alone was producing 20 different photo-story titles a month;
A new issue could be completed within a day or three;
It has been suggested that the majority of actors had to provide their own costumes;
These actors earned up to R40 per day;
Photo-stories only appeared in Afrikaans or English. No title aimed at the black reader's market is known to have been produced in an African vernacular.
Publishers included, amongst others:
Republican Press (Republikeinse Pers)
Legioen Publikasies (Legion Publications)
Impala
JRA Bailey
Golden Film Productions
Key Photo Studios
Olympus
Brandwag
The first three above were the more prolific producers of photo-stories.
Front cover of Afrikaans title: Domino – a first issue. Circa late 1960s. Publisher: Legioen
Front cover of Afrikaans title: Ystervuis – a second issue with Frikkie Calitz as the main actor. Circa early 1960s. Publisher: Trinity
Photo-story narratives and associated philosophical interpretations
Listening to the various personal narratives around these photo-stories, almost 40 years after they ceased to be profitable, it stands out how the reading population's recollections differ. 
In some households, these booklets were prohibited literature in that it was viewed as evil or in poor taste, whilst in other households it was about family reading time. 
One author argues that if it was not for these booklets, children would not have read and therefore there was a benefit to the younger generation after all. Another author states that it would have been the less well-off or less well-read part of the population that would have bought this literature.
The more interesting narratives come from those where photo-stories was prohibited reading material. The curiosity was so immense that creativity in obtaining a copy became the order of the day. Booklets were swopped at school, read on the school field after hours, obtained from friends and neighbours and smuggled into households, hidden under mattresses or in cupboards and then devoured somewhere secluded from paternalistic view.
South African-published photo-stories served as a surrogate to movies, dishing up film-like stories, inadvertently reflecting on the social-political power structures in place at that time. This all with the subtle inclusion of hierarchies, domination and suppression – a phenomenon in itself.
According to Laura Twiggs (Botha, 2012), the period during which the photo-stories existed, was a period of extreme anxiety and political suppression. She confirms that in many storylines the "utopia" was constructed based on the principles of the local political power in control then. This unique genre created, therefore plays a critical role in understanding our own social-political interpretation and responses at the time.
Front cover of Afrikaans title: Zelna Dia – a first issue. Circa mid 1960s. Main actress: Paddy Norval was the first actress followed by Cecelia Bush in later versions (also wife to Michael Bush from the Beau Brummel series). This is probably one of the most artistically creative covers ever produced. Publisher: Golden film productions
Front cover of English title: Playboy – issue number 8. Circa mid 1970s. This photo-story does not have the same content as its better known namesake. Publisher: Group Publications
Photo-stories and the collector
 
Considered as disposable at the time of their publication, photo-stories today are viewed as Africana in their own right, contributing to their collectability.
The author and three fellow collectors (Koos Papenfus, Sven Barsby & Pieter Haasbroek), have attempted to identify all titles and formats of photo-stories ever published in South Africa. This list currently stands at some 386 different titles or versions of these photo-stories (click here to view the list at www.softcoverbooks.co.za). English or Afrikaans versions of the same title, as well as the same title in the different print sizes (A5 & A4) are recorded as separate titles.
Recently the market was flooded by photo-stories when a local library rid itself of all photo-stories in their collection, resulting in collectors competing against each other for the better and scarcer copies.
Some collectors today are willing to pay whatever the going price is to obtain a scarcer title or a title in near mint condition. Collectors all have a different focus in their collecting. One collector may only collect specific titles, whilst another may attempt to collect each issue of every title ever published. Then of course there are the less intense collectors who will simply obtain a few copies purely for sentimental reasons.
The demand for photo-stories with a love story as a theme are less attractive to some collectors compared to the scarcer titles or themes presenting masculinity or scantily dressed females. Love story themed photo-stories are therefore still available at a-dime-a-dozen. 
One common title that sells well today is Tessa – the sexy bikini wearing agent as first played by Erna van der Westhuizen and later Barbara Cronje.
The author is attempting to obtain at least one good copy of each title ever produced. To date he has only obtained 156 titles of the possible 386 identified – less than 50% - and even then many aren't in good condition.
Back to the author's recent visit to Port Elizabeth, where he got to hear the term "Café Bibles" for the first time – No photo-stories were found on this trip, confirming the general scarcity of this historical literature 40 years down the line. After-all, they were often disposed of after being read.
A local internet auction site is the best place to find some of these surviving gems.
What turns out to be a greater challenge is to determine the names and storylines of all the forgotten actors/actresses, writers and photographers of these photo-stories. An ideal post-graduate research topic. The time is ripe for the history and stories behind this industry to be captured in detail. 
Covers included in this article are those of scarcer and older titles.
Front cover of Afrikaans title: Lara Lamont. Storyline plays off in the Victorian times. Circa late 1960s. The details of the original owner of this booklet, added to the frontpage, confirms that they were widely distributed – even in Windhoek. Publisher: Golden film productions.
Front cover of Afrikaans title: Martin Benz – issue number 3 – 1967. Main actor: Martin Pols. Publisher: Contel Films
About the author: Carol is passionate about South African Photographica – anything and everything to do with the history of photography. He not only collects anything relating to photography, but also extensively conducts research in this field. He has published a variety of articles on this topic and assisted a publisher and fellow researchers in the field. Of particular interest to Carol are historical South African photographs. He is conducting research on South African based photographers from before 1910. He is also in the process of cataloguing Boer War stereo images produced by a variety of publishers. Carol has one of the largest private photographic collections in South Africa.
Sources
Barsby, S. (2015 - 2018). Various personal email communication around photo-stories.
Barsby, S, Hardijzer C.H. & Papenfus, K (ND). List of photo-stories on Pieter Haasbroek's website. http://www.softcoverbooks.co.za)
Bishop, P. (2017). South African pulp. (https://www.bibliorati.com)
Botes, C. (1998). Fallosentrisme in Suid-Afrikaanse fotoverhale: 'n ondersoek in geslag en ras as stelsels van dominasie. Study project (M.A.) – University of Stellenbosch.
Botha, A. (2012). Gewilde fotoverhale nou gesogde Africana (http://perskor.blogspot.com)
Martin, L. (2005). Republican press - The Picture-story as Africana. Bibliophilia Africana 8 – from papyrus to print-out: the book in Africa. Cape Town. National Library
Nicolettewrites (2010). The history of photo stories in South Africa. https://nicolettewrites.wordpress.com
Nelson, D. (2017). Geskiedenis: Fotoverhale. (https://fnsa.co.za)
No author – Elke foto vertel 'n storie. (http://www.afrikaans.com)
Tracey, P. (2015). What happened to our favourite picture book and cartoon characters. (http://thelastwordv.blogspot.co.za)
O'Toole, S. (2012). The evolution of pulp fiction. (https://mg.co.za)
Papenfus, K. (2015 - 2018). Various personal email communication around photo-stories.
Disclaimer: Any views expressed by individuals and organisations are their own and do not in any way represent the views of The Heritage Portal.