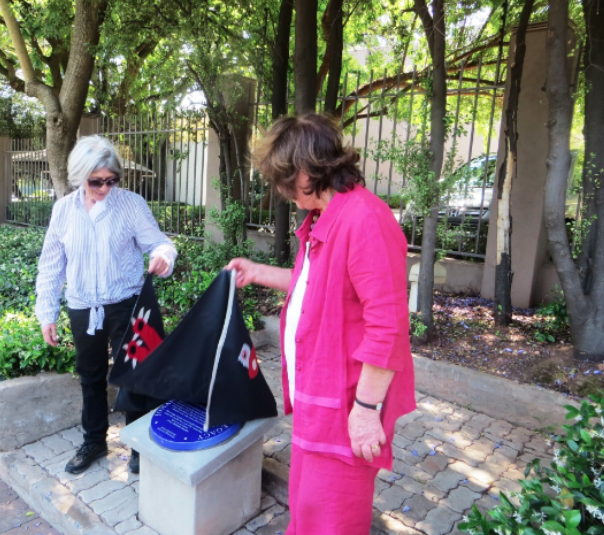 Sunday, November 5, 2017 - 09:15
7th November 2017 is the centenary of the Russian Revolution but also of the birth of one of South Africa's greatest 20th century daughters, Helen Suzman. On Friday 3rd November a small group of Johannesburg citizens and family members of the Suzman clan gathered to remember and pay tribute to Helen Suzman, with the unveiling of a blue plaque on the pavement at 13 Eton Road Parktown. The plaque was unveiled by Helen's daughters, Frances and Patricia (Francie and Patty).
This was an initiative of the Johannesburg Heritage Foundation. Heritage doyenne, Flo Bird spoke with warmth and affection of Helen Suzman, her humanity and contribution to the fight for a democratic South Africa. We of the Johannesburg Heritage Foundation are proud of her achievements. As the Progressive Party MP for Houghton she was a parliamentarian and sole voice of opposition, a doughty sharp tongued, brave anti-apartheid activist and fighter in a white Parliament for 13 years. She stood for liberalism and justice for all when in a minority of one. When Helen died in 2009 she was lauded and the speeches at the memorial event in Wits' Great hall were fulsome in their recognition of her moral authority and her contribution to our history. The Helen Suzman Foundation continues to  work in her name.
The Wits Great Hall (The Heritage Portal)
Originally the Gavronsky family home stood on this generous sized stand, possibly an acre in expanse, when Eton Road was a street of private upper class homes in the premier suburb of Parktown. The original home is recalled by Helen's daughters as Baker designed, circa early 20th century built of kopjie quartz stone. There was originally a tennis court in the garden. It was from this home that Helen Gavronsky was married (she married Dr Moses Suzman) in 1937. Today the site is occupied by a new office block of the Taback law firm and the property is owned by PPS (Professional Provident Society). The grounds exude an office park feel as an echo of the original gardens of the family home remains with established oak trees, shrubs and roses. A brick driveway leads to the garden terraces ending in the rear wall that backs onto Rockridge Road. Two doors away is the Donald Gordon Hospital which now almost overwhelms the street.
The entrance to 13 Eton Street (Kathy Munro)
Helen Gavronsky was born on 7th November 1917 in Germiston. She was the second daughter of Samuel Gavronsky and Frieda David. Her family were of Lithuanian immigrant stock. Her father was a wholesale butcher and dealt in hides and skin. Helen's mother died two weeks after her birth and Helen was nurtured by her maternal aunt, Hansa. In 1921 the Gavronsky family moved to a house in Alexandra Street, Berea, Johannesburg. In 1927, Sam Gavronsky remarried and relocated his family of new wife Debby and two daughters, Gertrude and Helen to 13 Eton Road. Helen described her Parktown home in her memoir, In No Uncertain Terms as "a sprawling old stone house in the suburb of Parktown, built by the famous English architect, Sir Herbert Baker, with a large garden shaded by huge oak trees and a tennis court". She expands, "I loved the house, though it was freezing in winter, as it faced south (had Sir Herbert forgotten he had crossed the equator)". It was the  Gavronsky family home until the death of Sam in 1965. At the age of 10  Helen was enrolled at Parktown's Holy Family Convent for girls on Oxford Road (today the Holy Family College).
Holy Family College (The Heritage Portal)
A Catholic convent, all girls and private, for a Jewish girl from an aspiring and successful immigrant family was perhaps a surprising but not unusual choice. Helen commented that  she went to the convent as Anglican schools in those days were reluctant to take Jewish Children whereas Catholic schools were more willing and that her great joy was the well-stocked library. Parktown Convent gave her status, identity and self possession. Her world was shaped by an English speaking, anglo-Jewish middle class white Johannesburg milieu. Helen Gavronsky was remembered as a talented, precocious and charismatic pupil who had presence from a young age. Today the Holy Family College remembers her  with a  secluded  rose garden and a memorial flagstone that recalls Helen's time and contribution at the convent.
Helen matriculated at the age of 16. She enrolled at the University of the Witwatersrand but did not complete her B Com degree until several years later. She interrupted her studies to marry Moses Suzman in 1937 and left her family's Parktown home to  live in Northcliff. 
The plaque reads: 
Fighter for justice and human rights, Helen Suzman (nee Gavronsky) lived in the original house on this stand until her marriage in 1937.  She was awarded the Order of Merit (Gold) South Africa in 1995 for her 38 years' struggle as a member in the white South African Parliament.
"Her courage, integrity and principled commitment to justice have marked her as one of the outstanding figures in our history" (Nelson Rolihlahla Mandela) 
The blue plaque to remember Helen is set on a concrete plinth on the pavement. It is made of a ceramic composition material and fits in the series of Johannesburg's Cultural Legacy (Kathy Munro)
In my capacity as the Vice-Chair of Johannesburg Heritage I paid tribute to Helen Suzman and reminded our small group of the importance and success of the blue plaque movement in Johannesburg and how via this simple device we are able to celebrate architecture, people, events, historic occasions and places. We tell the significant history in a  mere 100 words and bring heritage and history to life. The blue plaque is a trigger to memory and a means of conveying the past with immediacy and visibility to a new generation.
Helen's daughters, Frances and Patricia (Kathy Munro)
Kathy Munro is an Honorary Associate Professor in the School of Architecture and Planning at the University of the Witwatersrand. She enjoyed a long career as an academic and in management at Wits University. She trained as an economic historian. She is an enthusiastic book person and has built her own somewhat eclectic book collection over 40 years. Her interests cover Africana, Johannesburg history, history, art history, travel, business and banking histories.  She researches and writes on historical architecture and heritage matters. She is a member of the Board of the Johannesburg Heritage Foundation and is a docent at the Wits Arts Museum. She is currently working on a couple of projects on Johannesburg architects and is researching South African architects, war cemeteries and memorials. Kathy is a member of the online book community the Library thing and recommends this cataloging website and worldwide network as a book lover's haven.
Disclaimer: Any views expressed by individuals and organisations are their own and do not in any way represent the views of The Heritage Portal.