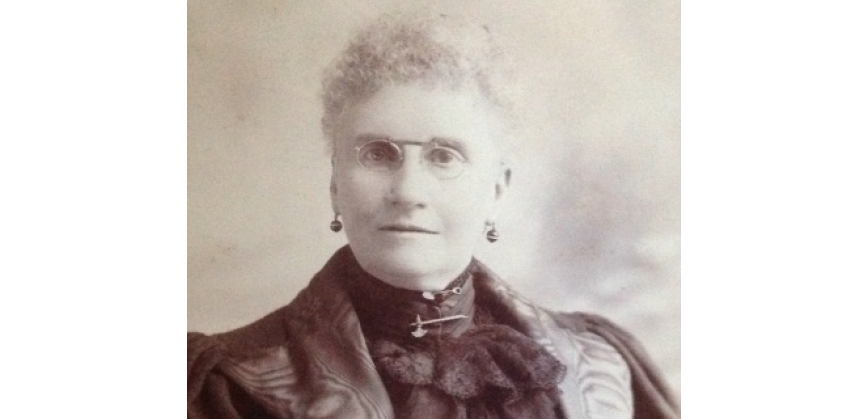 Tuesday, December 19, 2017 - 08:22
Distinctly superior compared to many other photographs, the lady in the photograph is elegant and clearly a well-to-do individual. The name inscribed in the album – Hilda Duckitt - Who is she? 
In a pre-1910 photographic family album recently acquired by the author, two images were found of Hildagonda (Hilda) Duckitt taken at different stages in her life. 
Prior to 1915, names of sitters would have been recorded in less than 10 percent of instances, be that on the actual photograph itself or via an inscription in the photograph album. Where a name has been recorded, it is often worthwhile researching. 
Much information is available on the internet about Hilda. The purpose of this article is purely to share the photographic images of her with a brief synopsis of the information already contained on the internet. 
She was South Africa's first celebrity chef!
She is described as the dame of Cape cuisine, celebrated hostess, homely spirit and matriarch of the Duckitt family. She was born at Groote Post (Darling) on 21 February 1839 and baptized during August 1839. It is recorded that she spent more than half her life at this historic farm. 
Hilda published two books, namely:
"Hilda's 'Where Is It?' of Recipes" (published 1891) - Containing, amongst other practical and tried recipes, many old Cape, Indian and Malay dishes and preserves. The same book also includes guidance on how to polish furniture or cleaning silk as well as a collection of home remedies in case of illness.
"Hilda's Diary of a Cape Housekeeping" (published 1902), just three years prior to her death in Cape Town aged 65 on 5 January 1905. This book is a chronicle of daily events and monthly work in a Cape household, with numerous cooking recipes, and notes on gardening, poultry keeping etc.
Both of these cherished historical manuscripts contain not only Hilda's treasury of Cape Cuisine at the time, but also delightful cameos of Victorian life in the Cape.  
Ambrotype format image copied from the internet. Hilda would be in her late teens here.
In her second book, Hilda writes about Groote Post with great affection and nostalgia, referring to the farmstead as her 'dear old home'. She refers to spring and summer as her 'best months', teeming with fond memories 'indelibly etched on her mind' with 'soft balmy sunshine, flower-scented air, laughter and happiness'. To her, this time of the year was synonymous with 'hospitality'.  
Printed and published in England, this book is an attractive copy of the most popular South African recipe book, published in English, and in use almost ten years prior to and ten years post the Anglo-Boer War. 
In her charming and helpful introduction in her first book she remarks: "The old question remains: Do I, a cook, really want to sell this book?". Hilda further writes: "A few blank pages have been left at the end of each letter of the alphabet, in which the owner of this little 'Where Is It?' can enter any new recipes she or he may come across, and think worth preserving." 
One book dealer stated that a copy of a book in his possession, probably owned by a Higginson, who may have acquired the book in Salisbury (Rhodesia) used more than twenty of these pages for her own recipes, including Boston Bread, Cherry Brandy, Bechamel Sauce, Lemon Curd, Lemon Syrup and Lemon Cheese, Green Granadilla Preserve and Xmas Pudding (with a comment included: "if this pudding is made with unsifted boerenmeal, it will not keep for any length of time").
This Carte de Visite format photograph, taken in London, was taken during the late 1870's – Hilda would therefore be in her late 30's.
Third daughter to Frederick and Hillegonda (a Versveld) Duckitt, Hilda had 13 siblings, with her being the 6th addition to the family. Sources however differ on the number of siblings she had in that one source suggests that she only had 10. Some of her siblings have been recorded as William Ferdinand Duckitt (See photograph below), Mary Catherine Duckitt, Frederick Duckitt, John Duckitt, Johanna Philippina Duckitt plus 7 other.
Image of Hilda's eldest brother, William Ferdinand Duckitt (Photograph by Cape Town based SB Barnard)
Groote Post can also lay claim to international horticultural associations through the Nemesia Strumosa (Suttoni), seeds of which were sent by Hilda to an English nursery. This rather straggly flower, which grew in profusion in the Groote Post area, developed into one of today's most popular bedding varieties. The flower is also referred to as Leeubekkie, amongst other, in Afrikaans.
To Hilda's disgust, Sutton, the horticulturist responsible for growing the flower commercially, did not acknowledge her contribution when registering the flower.
Hilda was well read in that in her "Diary" she referred to books, biographies and poems she had read. She also writes with passion about her daily life at Groote Post and refers to picnics, summer holidays with Table Mountain in the background and outings to Bokbaai in the new year.
In the Groote Post farm kitchen, Hilda tried both Dutch and English recipes she obtained from family and friends. Most of the recipes recorded in her book are typically South African in origin, however it also includes some obscure recipes such as tortious pie with smothered abalone.
In an unpublished diary, obtained by one of her brother's children after her death, Hilda writes about her social life. She was clearly a popular guest amongst the Cape high society of the time. She refers to amongst others the Cloetes from Nooitgedacht, Dr. Hidding from Newlands House, the Melcks from Kersiesfontein and the Myburghs from Elsenburg. She also enjoyed visiting her uncle, Jacob Cloete, on the farm Groot Constantia. His wines were popular abroad. He was also the first wine farmer to establish the Hermitage and Chasselas grape varieties in South Africa. Hilda was occasionally invited to functions at her uncle's farm where she rubbed shoulders with French and English naval officers. On one occasion, she also engaged with Russian naval officers en-route from Batavia.
Croquet, tea parties, concerts, regattas, dancing and visiting was intertwined with hard work such as the harvesting and storing of saffron pears. 
Hilda aged around 60. A Cabinet Card photograph, circa 1900, taken by Johannesburg based Duffus brothers.  
Hilda and her sister Bessie moved to Cape Town during the latter part of their lives. They initially moved in with an uncle van Reenen, only later to move into their own house in Wynberg duly named Nemesia Cottage (with reference to the flower mentioned above). From there they moved to St. Lucia in Waterloo Green, Wynberg. It has been suggested that whilst residing at these premises that her cooking skills were in such demand that she was requested to conduct regular cooking demonstrations.
Described as an experience horse woman, Hilda sadly became disabled during the latter part of her life due to an injury she obtained as young girl after allegedly falling from a horse. This however did not restrict her in that her second book was mainly written whilst she was bed ridden. 
Hilda passed away at a relatively young age of almost 66 on 5 January 1905. What an elegant and energetiically productive individual she was during her lifetime. Photographs do portray something about the individual after all.
The current restaurant at the Groote Post wine farm,  near Darling, has been duly named after Hilda. 
Groote Post (Mphubo)
Other names that appear in the photograph album from which Hilda's photographs were extracted are that of Cloete, van Reenen, Becker and Langebrink.
Additional biographical information about Hilda can be found in:
Kuttel, M. (1954). Quadrilles and konfyt: the life and journal of Hildagonda Duckitt. Cape  Town: Maskew Miller
Mrs Kuttel, a grandniece to Hilda Duckitt, also prepared new arrangements of Hilda's recipes:

"650 cookery recipes from "Hilda's "Where is it''" and "Hilda's diary of a Cape housekeeper`', Cape Town: Maskew Miller Ltd, [1951];
"Hildagonda Duckitt's book of recipes', Cape Town: A. A. Balkema, 1966.
About the author: Carol is passionate about South African Photographica – anything and everything to do with the history of photography. He not only collects anything relating to photography, but also extensively conducts research in this field. He has published a variety of articles on this topic and assisted a publisher and fellow researchers in the field. Of particular interest to Carol are historical South African photographs. He is conducting research on South African based photographers from before 1910. He is also in the process of cataloguing Boer War stereo images produced by a variety of publishers. Carol has one of the largest private photographic collections in South Africa.
Sources
www.antiquarioanauctions.com
www.geni.com/people/hillegonda-Johanna-Duckitt
www.Grootepost.co.za
www.Householdbooks.ucdavis.edu
www.Kossestories.co.za
www.michealolivier.co.za/archives/Groote-post-haven-of-Cape-hospitality
Disclaimer: Any views expressed by individuals and organisations are their own and do not in any way represent the views of The Heritage Portal.