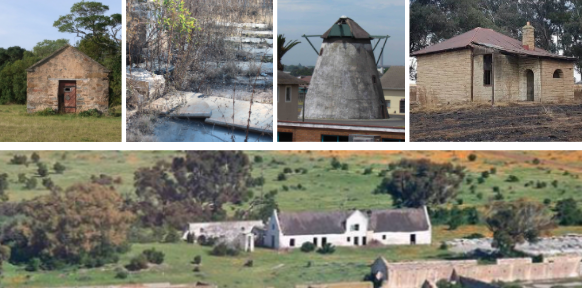 Thursday, September 21, 2017 - 16:48
2017 has not been a good year for heritage in South Africa. From fires in the Western Cape that claimed the 1792 Du Toit Manor House in Paarl, among others, to the theft of the Thulamela gold collection at the Kruger National Park in December 2016 (only made public knowledge in June this year), the losses have been significant.
Then there was the untold damage to major landmark buildings, including but not limited to the city halls of Pretoria and Bloemfontein, and temporary closures at the Johannesburg Art Gallery and Hector Pieterson Museum in Johannesburg. Fires, floods and negligence have taken their toll.
Bloemfontein City Hall (Christoff Steyn)
Not even prominent liberation names such as Robert Sobukwe and Winnie Mandela could protect sites. The saga of the proposed Winnie Mandela House Museum in Brandfort and the law offices of Sobukwe in Galeshewe are telling examples of official neglect.
In July, the Heritage Monitoring Project called on the public to nominate threatened heritage sites that did not make headlines nor receive much public attention.
In response, thirty-seven submissions were received by the Project, covering endangered and threatened heritage sites across eight of the nine provinces. The nominations include historic buildings and structures, cemeteries, sites of conflict, museums, mills, memorials, a mission station, a fortification, a cultural park and even a jetty.
Strand Jetty (Elize Joubert)
The overwhelming public response to the call for nominations continues to show that South Africans are deeply concerned about the state of their cultural heritage.
Yet again, most of the sites share common threats, such as a lack of maintenance, lack of funding or other resources, mining, development pressure, lack of development and investment, gentrification or, simply, official neglect.
The longlisted sites are now with an independent panel of experts who will select the top ten sites. The short-list will be announced soon.
The 2017 Heritage Monitoring Project longlist of submissions (we are adding tracking threads - click here to view)
14 Ave La Croix, Fresnaye, Cape Town, Western Cape
1820 Centenary Memorial Hall, Bathurst, Eastern Cape
Bay View House, Simon's Town, Western Cape
Bo-Kaap, Cape Town, Western Cape
Botshabelo Mission, Middelburg, Mpumalanga
Bradshaws Mill, Bathurst, Eastern Cape
Brakpan Memorial Park, Ekurhuleni, Gauteng
Bulhoek, Steynsburg, Eastern Cape
Children's Memorial Institute (Old Nurse's Residence), Johannesburg, Gauteng
Elands River Siege site, Swartruggens, North-West
Erf 4995, Waterfall Road, Simon's Town, Western Cape
Fort Hendrina, Limpopo
Ganzekraal Homestead/Farm, Western Cape
Goudkoppie Heritage Hill, North-West
Grahamstown Railway Station, Eastern Cape
Heilbron Train Station, Free State
Jan Smuts House Museum, Irene, Tshwane, Gauteng
Kensington Castle, Johannesburg, Gauteng
Kliptown, Soweto, Gauteng
New Beginnings, Drakensville, KwaZulu-Natal
Nieuwe Molen, Maitland, Cape Town
Old Town House, Greenmarket Square, Cape Town, Western Cape
Pellissierhuis Museum, Bethulie, Free State
Powder Magazine, Bathurst, Eastern Cape
President Brand Cemetery, Mangaung, Free State
Simon's Town Historical Mile, Simon's Town, Western Cape
Simon's Town Public Library, Simon's Town, Western Cape
South African Navy Legal Satellite Sub-Office (former Cottage Hospital), Western Cape
Strand Jetty, Western Cape
Taaiboschspruit Farm School, Free State
Thami Mnyele Cultural Park, Tembisa, Ekurhuleni, Gauteng
Toposcope, Bathurst, Eastern Cape
Tragedy Hill, Port Edward, KwaZulu-Natal
Vasco Da Gama monument. St Helena Bay, West Coast, Western Cape
Vredehoek Art Deco Buildings, Cape Town, Western Cape
Xolobeni Red Dunes, Eastern Cape
Hilton Railway Station, Hilton, KwaZulu-Natal
Disclaimer: Any views expressed by individuals and organisations are their own and do not in any way represent the views of The Heritage Portal.