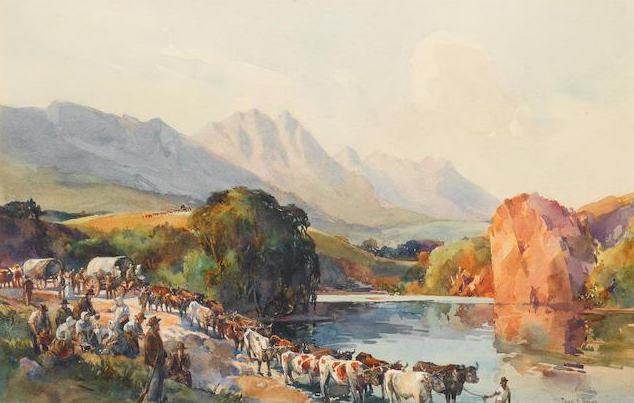 Thursday, April 26, 2018 - 15:21
I wrote about the Johannesburg Lithograph (circa 1937) below by Charles Ernest Peers in a recent article on The Heritage Portal - click here to view. Tracking down Peers' presence in Johannesburg at this time led me in search of Peers, the artist. Peers was a notable and prolific artist in his lifetime. He is mentioned in the Esme Berman (1993) and has a biographical listing in Grania Ogilvie (1988).
Peers' Johannesburg Lithograph
An online search pulls up a fair amount of information on Peers. It is possible to establish when his works have been up for sale via auction (various Peers artworks either lithographs, books or prints have been listed on sites such as bidorbuy or ebay). There is also a Wikipedia entry.
Charles Peers' was born in 1874 in Northern Ireland and he died in 1944 at Higgovale, Cape Town. He immigrated to South Africa in 1904 and settled in Cape Town, where his brother was a shipping agent. He studied at the Liverpool School of Art and (possibly) at the Slade School of Art in London. Many of his early works were of ships, port and dock scenes of Liverpool and on the Mersey. There are also a good many Cape Town dock and shipping scenes. The biographical sketch records that he wished to become a naval architect but could not afford to study professionally. His early reputation was that of an English watercolourist as this was his initial medium of expression.
His art career in South Africa seems to have taken off quite quickly, as in 1905, a year after his arrival, he was elected a member of the South African Society of Artists. He became chairman of the South African Fine Arts Association. In 1924, he won the Cape Times poster competition and became a member of the South African Institute of Art in 1926. In 1930 Charles Peers published two folios of lithographic drawings: `The Cape' and `Natal'. The latter could have been used to select the nine prints of Peers lithographs for the 1935 Souvenir of the Visit of the Imperial Press Conference to Cape Town. Click here to read my piece about the Durban cenotaph and the link to Peers.
Peers' rendition of the Durban Cenotaph and First World War Memorial with the Durban City Hall in the backgroung. From the 1935 Souvenir portfolio
Peers was a member and then elected president of the Owl Club, Cape Town (1934), president of the K Club in Cape Town in 1935 (information from E Berman). He was clearly popular and respected by fellow artists and critics of his own generation. His art was skillful, attractive and decorative but his work was admired in his lifetime for his perspectives. In 1938 he was invited by the young artists of the New Group to participate in its first exhibition, and they later elected him President of this group, an office he held until his death. It seems he was a committee type of person.
I have yet to find a photograph of Peers and know nothing about his personal life and from what we know he was not a portrait artist, so there seems to be no self-portrait. The body of his work in South Africa dates from 1905 until his passing in 1944.
Peers painted exclusively in watercolour until 1922 but thereafter began to paint in oils. He was prolific in his output of linocuts, lithographs and etchings. He was employed by various printing firms (e.g. Galvin and Sales in Cape Town) as a chromo-lithographer and designer, making his daily living from lithography. He published a number of lithograph collections (if anyone can supply details I shall be grateful). Certainly a reading of his artworks shows a man who liked his adopted country and wanted to portray its natural beauty and rural harmony.
Quoting from Wikipdia "Lithography (from Ancient Greek λίθος, lithos, meaning 'stone', and γράφειν, graphein, meaning 'to write') is a method of printing originally based on the immiscibility of oil and water. The printing is from a stone (lithographic limestone) or a metal plate with a smooth surface. It was invented in 1796 by German author and actor Alois Senefelder as a cheap method of publishing theatrical works. Lithography can be used to print text or artwork onto paper or other suitable material.." It may be a cheap method of publishing but today a lithograph is regarded as a work of art and lithographs are collectable.
A Lithograph of the Premier Diamond Mine by Charles Ernest Peers. Sold on auction in 2007

 
Peers was best known as a landscape painter of Cape scenes and architecture and was also known for his flower pieces and his maritime paintings (themes such as the Cape Town docks and Camps Bay). These country scenes appear on auction from time to time, e.g.  5th Avenue Auctioneers, Stephan Welz and Bonhams. These scenes are easy on the eye and had immediate decorative appeal.
Lithograph of a Cape Town Harbour Scene. Part of the 1935 lithograph set.
Battleship in Table Bay. Possibly a wartime picture. On sale with Mutual Art..
 
Peers and Johannesburg is an elusive theme. In 1923 there was a solo exhibition at Lezard's Galleries, Johannesburg but other than the 1937 lithograph I have found no other Johannesburg pictures by Peers.
A Peers Travel Poster. Sold on auction in 2008.
Cape Town Peers Lithograph (For sale on Ebay)

Peers died in 1944 and his work was shown retrospectively in 1948 at the Overseas Exhibition of South African Art at the Tate Gallery, London (and elsewhere); in 1953 at the Rhodes Centenary Exhibition, Bulawayo; in 1957 at 'Founders of Painting at the Cape since 1857' at the South African Art Gallery, Cape Town. In 1975 a 'prestige exhibition' of 55 of his works was held at the South African National Gallery.
The Docks at Cape Town. A Peers watercolour. (Iziko South African National Art Gallery)

A number of major South African public galleries hold his work including the Durban Art Gallery, the Pretoria Art Museum, the South African National Gallery in Cape Town, the Albany Museum in Grahamstown, Museum Africa in Johannesburg, the Tatham Art Gallery in Pietermaritzburg, the University of Cape Town and the William Humphreys Art Gallery in Kimberley.
However, his fame and popularity went into decline in the fifties and sixties. He was not included in the seminal Our Art (edited by Heine Toerien, Georges Duby) a four volume series published by the Foundation for Education, Science and Technology in the seventies (today these four volumes are highly collectable, especially volumes 3 and 4). Today the art of Chas E Peers (as he signed his works) has a recognizably period feel. His works are uncontroversial, scenic, appealing but hardly thought provoking. His was a South Africa as the tourist industry liked to promote. However, there is now another element to Peers' sketches and drawings. They have become a documentary record of what was, cityscapes or city buildings that have disappeared or have survived but in much altered state... as I indicated in my first piece on Peers and Johannesburg, we have debated their accuracy but there is an odd precise verisimilitude in the details. I am at the point of reconsidering his architectural drawings and assessing their historical value. A consensus view may be that he was perhaps 90% accurate but the jury is still out.
Peers was also a book illustrator and provided the eighteen coloured plates as illustrations for Hedley Chilvers' Seven Wonders of Southern Africa, published in 1929. This book was essentially a travel guide, a Lonely Planets of its day, and old-fashioned colonial history. It was commissioned by the South African Railways and Harbours and celebrates the classic era of luxury train travel. What was noteworthy was that the geographical boundaries and hence history extended beyond South Africa and extended north to the Victoria Falls and Kenya. Both the Peers watercolours for the Johannesburg section show the iconic mine headgear which I recognize as Crown Mines, when that mine was the jewel in Witwatersrand production. I have a copy of this book and it still turns up on second hand book sales. It must have had a print run of thousands and hence is still readily available and quite inexpensive.
Crown Mines Headgear
The history of popular culture of South Africa during the first half of the 20th century would be incomplete without cigarette cards. Peers produced a series of 100 auto-lithographic cigarette cards for the United Tobacco Company album Our Land / Ons Land (1939). A wonderful article on the album appeared in 2011 (click here to read). It must also have sold in the tens of thousands as cigarettes were keenly smoked in the days when the vice was fashionable and no one worried about cancer. The collectible cards had an appeal to children and were swapped and traded. They were meant to be inserted in an album to form a collection. I have just purchased a copy online for R54  complete with all 100 cards (not bad for a 75 year old book).
Cigarette Cards by Peers
There were also several illustrated calendars during the 1930s for the Vacuum Oil Company and illustrations for another book, The Coast of Hermanus by Will Costello. I have not found copies of these items so they must be much rarer and now quite collectable.
Peers is an example of a major artist in his lifetime and a lesser artist in today's collecting world. Having though purchased one Peers lithograph, I shall now be in search of others.
List of Peers exhibitions:
Solo exhibition, Lezard′s Gallery, Johannesburg, 1923
Joint exhibition with Allerley Glossop, Taylor Art Gallery, Pietermaritzburg, 1924
Solo exhibition, Dempers and Wiley's Art Gallery, Cape Town, 1924
Various group exhibitions from 1926, including the inaugural exhibition of the South African Institute of Art, Durban, 1927
Joint exhibition with J. Pope Ellis, Cape Town, 1939
Represented in all annual New Group exhibitions from 1938 to 1945
Represented in the exhibition of South African Art at the Tate Gallery London, 1948
Prestige exhibition to commemorate the centenary of his birth, South African National Gallery, 1975
Represented in 'English and South African Watercolours in the South African National Gallery′, Cape Town, 1976
Featured in ′The Michaelis Collection: the Cape in Watercolours′, Cape Town, 1991.
Peter Visser Antiques mounted the first sale exhibition of his works since the 1930s in 1991.
 

References re C E Peers:  
Lucy Alexander and Evelyn Cohen, 150 South African Paintings, Past and Present, Struik, 1990.
Esmé Berman, Art and Artists of South Africa, Southern Book Publishers, 1993.
Grania Ogilvie, The Dictionary of South African Painters and Sculptors, Everard Read, 1988] 
Kathy Munro is an Honorary Associate Professor in the School of Architecture and Planning at the University of the Witwatersrand. She enjoyed a long career as an academic and in management at Wits University. She trained as an economic historian. She is an enthusiastic book person and has built her own somewhat eclectic book collection over 40 years. Her interests cover Africana, Johannesburg history, history, art history, travel, business and banking histories. She researches and writes on historical architecture and heritage matters. She is a member of the Board of the Johannesburg Heritage Foundation and is a docent at the Wits Arts Museum. She is currently working on a couple of projects on Johannesburg architects and is researching South African architects, war cemeteries and memorials. Kathy is a member of the online book community the Library thing and recommends this cataloging website and worldwide network as a book lover's haven.
Disclaimer: Any views expressed by individuals and organisations are their own and do not in any way represent the views of The Heritage Portal.