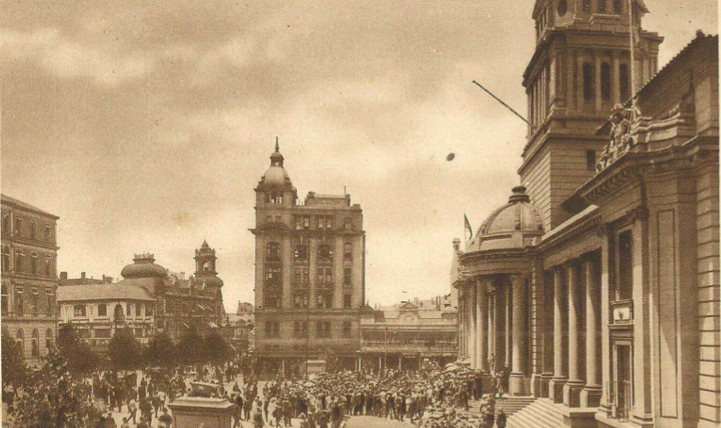 Tuesday, June 2, 2020 - 16:33
EBay has on sale a medal to commemorate the declaration of Johannesburg as a city in 1928. I was immediately intrigued. I have never seen one of these medals but I am not a collector of such items. An internet search reveals that this medal is not regarded as rare but that prices fluctuate from as little as R45 to about $10 to as much as £18. It is a bronze medal.
Commemorative Medal
A medal opens a window on a bit of local history. It raised my curiosity. What makes a city a city or a town transition to a city? Is it the population of a city, the governance and administration, the capacity to run a comprehensive range of essential services. Or is it the presence of a cathedral and that tie between the civic and religious establishment. It would seem it could be any of these things.
John Shorten's book, The Johannesburg Saga, (published in 1970) commissioned by the City of Johannesburg and meant to mark the city's 80th birthday, in a chapter called City Status covers the interwar period of the 20th century. The chapter virtually opens with the essential fact that in 1922 (apart from the General strike of that year) the first Anglican bishop was installed in Johannesburg, a Dr ABL Karney. In May 1926 the foundation stone of St Mary's Anglican Cathedral in Plein Street was laid. It was not consecrated until 1929 but the scene was set for Johannesburg to seek city status.
Johannesburg celebrated its 40th birthday in 1926. In 1921 the city's population was recorded as 282, 971 but we have no figures for the total population in 1926; at that date Maud gives us a figure of 168 545 Europeans in the city. It is not until 1936 (the 50th anniversary and the year of the Empire Exhibition) that a total population of 474, 908 people lived in Johannesburg, of which 252, 579 were "European". A drill down into demographics shows that for a city that during its mining camp days showed a predominance of male dwellers (just under double the number of men to women  among the Europeans in 1890), it was not until 1926 that the sexes were roughly in balance. (John Maud, P 384-5).
Johannesburg had already constructed a town hall that in its design, its hall and its imposing columns looking across at the general post office, shouted for recognition as a City Hall. The town administration ran from this large Edwardian pile on what had been the market square. The Town Hall (today's Gauteng Legislature) was erected between 1912 and 1914. The town hall was designed by the Cape Town architectural firm, Hawke and McKinlay and the well-established Mattheus Meischke was the builder. The cost was £503 000. The Town Hall was officially opened on 7 April 1915 by the South African Governor-General Lord Buxton having been presented a golden key by Meischke. Johannesburg even acquired an organ of some importance for its town hall.
Town Hall under construction (Maud)
Certainly by the mid 1920s the Town Council ran a tight civic administration that covered a comprehensive range of services from public health to public libraries, from lighting to fire departments, from a pound to several municipal swimming pools. The total expenditure for the city in 1927/8 came in at £2.9 million and in the following year topped £3 million.
Following that 40th anniversary, Johannesburg was a town ready for city status. The politics of Johannesburg local government had always been fraught, with a Transvaal provincial government in Pretoria determining franchise and finance of an ever expanding city. It required, as Maud points out, goodwill on the part of the province to pass the necessary private ordinance to transform the town into a city. The law was The City of Johannesburg (Private) Ordinance No 15 of 1928.
Johannesburg achieved city status on 5th September 1928 at the redesignated City Hall. The photo  below (from Shorten) shows a large crowd, of a couple of thousand, gathering in front of the City Hall. The proclamation was read out by the Administrator of the Transvaal, the Honourable J H Hofmeyr (who had been the first Principal of the University of the Witwatersrand between 1922 and 1924 and had lived with his mother in a small house in Yeoville). Hofmeyr by 1928 lived in Pretoria but retained his membership of the Rand Club.
Johannesburg's proclamation as a city, September 1928 (Shorten p 349)
Anna H Smith, City Librarian and chronicler of Johannesburg history, gave a talk on Johannesburg Medals and Tokens, to the SA Numismatic Convention held at the Carlton Hotel in Johannesburg in 1974. Her talk was published as an article in the journal Africana Notes and News, for June 1974 no 2. Pages  67 – 72.
Following the change in status from town to city, the word "City" was prefixed to Council and to Hall - so that city affairs were now run by a City Council.
Council Minutes of 3rd August 1928 record that four tenders had been received for the striking of these commemorative bronze medals; and the award of the tender went to Mr Frank Stevens who  priced his medal at 3d (that is three pence or a "tickey" - since there were 12 pennies in the shilling and 20 shillings in the pound; the currency of the day and in place until South Africa adopted the decimal currency in 1961). 45 000 medals were minted - and hence the contract price would have been £520. In addition, 36 fifteen carat gold medals were struck, one for each Town councillor (now elevated to City Councillor) with the name of each Councillor engraved on his medal, at a cost not exceeding £2-5 -0. In this basis my assumption is that each gold medal would have weighed about 1 ounce.
Early photo of the Johannesburg Town/City Hall, fronted by Rissik Street with Market Street and its trams to the south and President Street to the North. Pedestrians casually stroll across the  square crossing towards the General Post office (today's Rissik Street Post office). The trees give the photo a provincial air, there are not many cars about. This is an undated Wikipedia image of the Town Hall - pre 1937. In 1937 the City Hall underwent extensive alterations to accommodate an additional floor; the central domed tower had to be dismantled and then reinstalled.
W H Port was the City of Johannesburg Mayor in 1927-28; his name appears on the city's official list of mayors. It is his name that appears on the Medal. But there is not too much to know about Mr Port. Here is his entry in the South African Whose Who for 1929-1930. He was an immigrant Englishman born in 1868 in Devon; he came to South Africa in 1903. His occupation is given as 'wholesale merchant'. He became a town councillor in 1918. It sounds like he was "a jolly good sort" with an interest in the social welfare of Johannesburg and his recreation was "sport" (spectator or participant?). The Goad Map for 1937 gives Confec wholesalers as located at 23 Pritchard St hence I presume this was Port's business address.
Whose who entry
The medal is interesting because the coat of arms of the city is embossed on the centre - it was three stamp dollies, made of heavy iron, which pounded away to crush gold bearing ore in a stamp battery.
Johannesburg's Coat of Arms as depicted in a United Tobacco company's cigarette card in 1931. The motto Fortiter et Recte (boldly and rightly).
Johannesburg City Hall – 50th Anniversary Year. (The Builders Journal)
The Gauteng Legislature, no longer City Hall (The Heritage Portal)
Kathy Munro is an Honorary Associate Professor in the School of Architecture and Planning at the University of the Witwatersrand and chair of the Johannesburg Heritage Foundation. She enjoyed a long career as an academic and in management at Wits University. She trained as an economic historian. She is an enthusiastic book person and has built her own somewhat eclectic book collection over 40 years. Her interests cover Africana, Johannesburg history, history, art history, travel, business and banking histories. She researches and writes on historical architecture and heritage matters. She is a member of the Board of the Johannesburg Heritage Foundation and is a docent at the Wits Arts Museum. She is currently working on a couple of projects on Johannesburg architects and is researching South African architects, war cemeteries and memorials. Kathy is a member of the online book community the Library thing and recommends this cataloging website and worldwide network as a book lover's haven.
Disclaimer: Any views expressed by individuals and organisations are their own and do not in any way represent the views of The Heritage Portal.