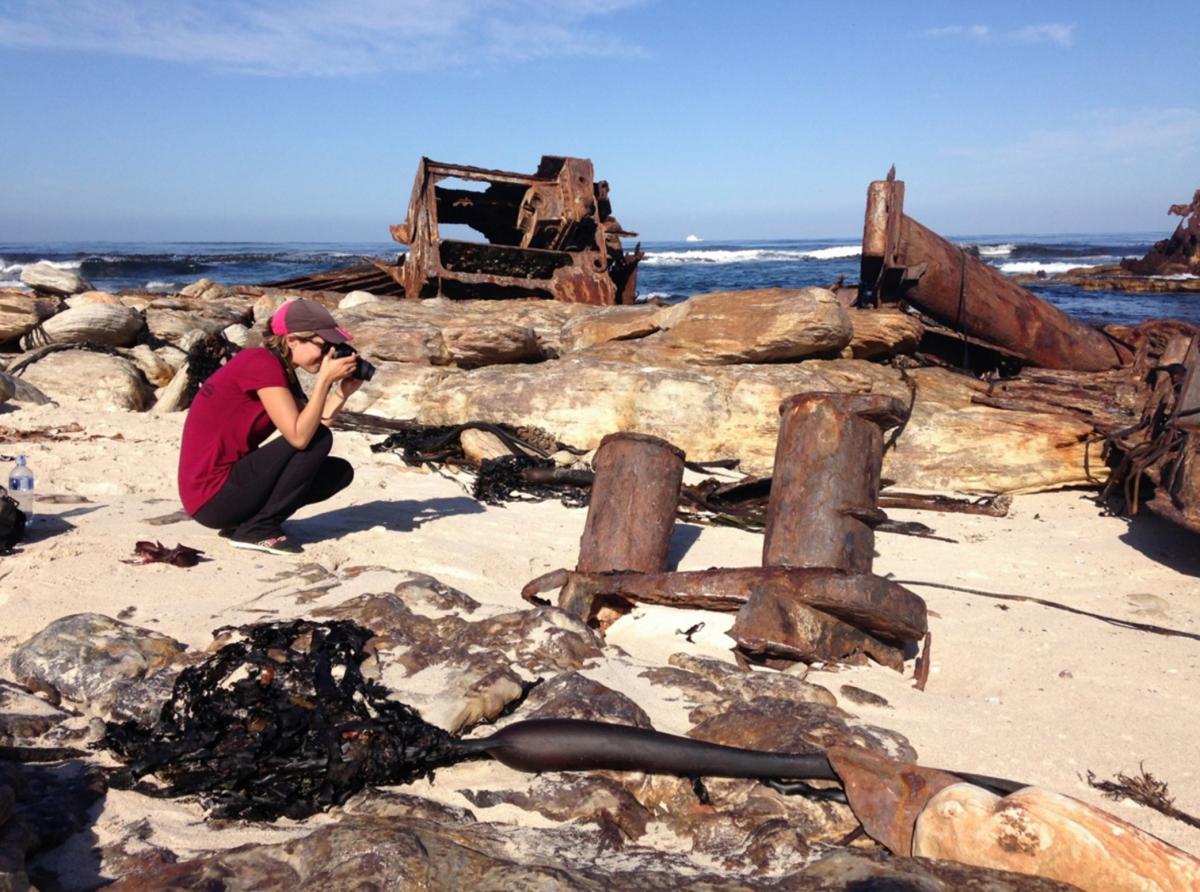 Monday, August 20, 2018 - 17:49
Archaeology, and especially maritime archaeology, has always been viewed as a male-dominated field in the past. Here at the South African Heritage Resources Agency (SAHRA), however, we know that there are many women who have specialised in archaeology - in fact, the women in SAHRA's Maritime and Underwater Cultural Heritage (MUCH) unit outnumber the men, and this has been the case for the past four years. It is important to highlight the important role of women within the heritage sector and maritime archaeology.
Briege Williams (Heritage Officer) and Lesa la Grange (Acting Manager) in their dive gear just off Kalk Bay (SAHRA MUCH Unit)
The field of maritime archaeology in South Africa has several inherent difficulties. One of the biggest challenges is that there are limited opportunities for formal training specialising in MUCH; currently no universities offer maritime archaeology as part of their curriculum. The University of Cape Town (UCT) and the University of the Witwatersrand (Wits) are two major centres of archaeological instruction but do not provide any specific maritime archaeological training. As a result, aspiring maritime archaeologists should demonstrate their proficiency in a range of techniques applicable to archaeology in general, show in-depth knowledge of Heritage Resources Management (HRM), and be familiar with analysis, database management, Geographic Information Systems (GIS) and research - the practical skills must be learned on the job. A commercial diver's license is also required to work as a professional diver.
Maritime Archaeology is a relatively new discipline within archaeology, especially in South Africa. It was formally introduced for the first time in the late 1980s with the appointment of Dr Bruno Werz as a senior lecturer at UCT. The programme did not endure, however, and there are fewer than ten formally trained and qualified individuals working as maritime archaeologists in South Africa today. 
Dr Bruno Werz speaking on CNN in 2016
Two of these maritime archaeologists are women working in SAHRA's MUCH unit. Acting manager Lesa la Grange obtained a Masters degree in Archaeology from UCT, while Briege Williams studied in the United Kingdom, acquiring an MSc in Maritime Archaeology. Despite taking different routes to becoming professionals in the sector, they have a few things in common; both have worked in Cultural Resources Management (CRM) in the past, and they share a love of history and the ocean, and a strong desire to learn more about MUCH and see its protection and conservation implemented effectively in South Africa. 
Briege Williams at the office (SAHRA MUCH Unit)
Lesa la Grange (SAHRA MUCH Unit)
Worldwide there are several women – such as Joan du Plat Taylor, Honor Frost, and Margaret Rule, to name but a few – who have made significant contributions to the field of maritime archaeology with limited prior experience or training. Joan du Plat Taylor (1906-1983) was partly responsible for establishing the Council for Nautical Archaeology in Britain and thereafter became the first president of the council's successor, the Nautical Archaeology Society, in 1981. She also played a key role in establishing maritime archaeology as an academic discipline by founding the International Journal of Nautical Archaeology in 1972.
Honor Frost (1917-2010) was a skilled SCUBA diver and archaeological illustrator who is known for her contributions to our understanding of maritime history in the Mediterranean and her involvement in establishing the first archaeological shipwreck excavation using scientific techniques. She was awarded a French government medal for pioneering submarine archaeology in 1997 and received the Colin Mcleod Award for furthering international cooperation in diving in 2005.
Honor Frost (Wikipedia)
Margaret Rule (1928-2015) is an example of a terrestrial-turned-maritime archaeologist. She was instrumental in developing meticulous techniques for the excavation of underwater shipwreck material, having applied these techniques to the wreck site of the Mary Rose between 1971 and 1982. She was at the forefront of the Mary Rose Trust, established in 1979, and received the Colin Mcleod Award for furthering international cooperation in diving in 2008.
In Europe, the United States, and Australia the field of maritime archaeology is a growing discipline offered at many universities and there are numerous governmental and non-governmental organisations whose work is focused on the preservation and exploration of maritime heritage, and women play an important role within these entities.
Briege and Lesa are not the first women to work as maritime archaeologists at SAHRA, and they hope that by raising the profile of the unit and by leading by example they can encourage more women to specialise in this severely under-capacitated branch of archaeology. A recent field school collaboration with UCT surveying the Noordkapperpunt fish traps in Still Bay helped showcase the role of the MUCH unit and highlighted the role of women within the unit, and it is hoped that such partnerships can help to stimulate interest among final-year degree students and increase the uptake of MUCH-related post-graduate projects.
Bearing in mind that maritime archaeology as we know it exists, in part, due to the significant contributions of several influential women, it is fitting that we celebrate their legacy this women's month. Post-democracy South Africa has experienced numerous transformations. There have been increased inclusivity efforts made within the heritage sector – and perhaps the relatively larger number of women practising in this field could be partly ascribed to this.
Through the MUCH unit's various heritage management and promotional projects, we hope to encourage more young women, particularly those still in school, to consider pursuing careers in Maritime and Underwater Cultural Heritage.
Inspecting the wreckage of the Kakapo at Noordhoek in 2017 (SAHRA MUCH Unit)
Briege and Lesa at the installation of new signage for the SS Maori (SAHRA MUCH Unit)
For more information, feel free to visit our Facebook page (click here to view) or contact the MUCH unit on +2721 462 4502.
About the author:  Asandiswa Alex Manatha works for the South African Heritage Resources Agency in the Maritime and Underwater Cultural Heritage unit. He has over 3 years of experience within the Museum and Heritage sector. Educational background: Undergraduate in Geography and Environmental Studies, Tourism and Sociology; Post-Graduate Diploma in Museum and Heritage Studies; Certificate in Museology and a Post-Graduate Certificate in Education.
Asandiswa Alex Manatha
Sources:
The Exciting World of South African Marine Archaeology, Accessed 30 July 2018
Various articles from Trowelblazers on pioneering women in Marine Archaeology, Accessed 30 July 2018
Disclaimer: Any views expressed by individuals and organisations are their own and do not in any way represent the views of The Heritage Portal.