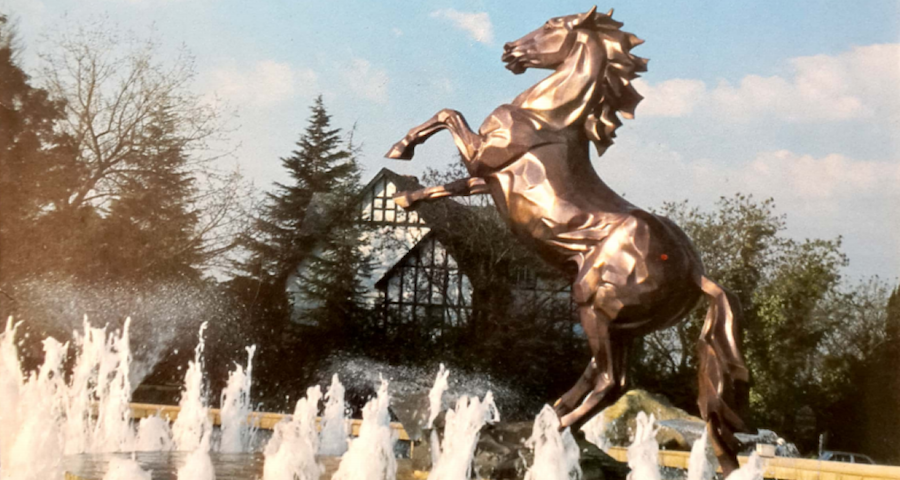 Friday, October 20, 2017 - 12:45
In the late 1980s a magnificent statue of a rearing stallion was erected outside the Sandton Civic Centre near the corner of Rivonia and West (just up from where the Gautrain Station is today). It was surrounded by a fountain and became an instant landmark in the rapidly expanding Sandton CBD.
Sandton's famous stallion (Sandton Civic Foundation)
The statue was donated to the Sandton City Council by Toyota South Africa. It appears as though the choice of a stallion was the perfect fit for the company and the Council. Toyota South Africa had used a stallion as its symbol for many years and Sandton was famous for its horse clubs and riding schools (two horses even appeared on the Sandton Crest).
Sandton Crest
I am sure that those involved in the installation as well as thousands of Sandton citizens expected the stallion to guard the entrance to the Civic Centre for decades if not centuries. Today, both are gone.
The end of the Sandton Civic Centre in 2015 (The Heritage Portal)
It is unclear exactly when the statue was removed. Kate Henry researched its disappearance for a Sandton Chronicle article in 2010. She spoke to several stakeholders who  speculated that it had either been lost, stolen or destroyed. Some enthusiasts believed that it had been moved to Toyota's Marlboro offices. An impressive statue is certainly there but it is not the 'Sandton Stallion'.
Sandton Chronicle Article from 2010. The picture is of the Marlboro statue
The statue in front of Toyota's Marlboro Offices (The Heritage Portal)
A closer view (The Heritage Portal)
After some solid detective work, Henry received a statement from Toyota South Africa recounting how they had taken back ownership of the statue and moved it to their plant in Durban. Toyota representatives were concerned as the stallion had suffered severe vandalism. Its tail had been hacked off and vandals were starting on the legs. Further research is required to explain why one of Sandton's icons was allowed to deteriorate so dramatically.
A quick glance at Google Maps reveals the existence of a statue outside the Durban plant. It seems highly likely that this is the 'Sandton Stallion' based on the statement above and a comparison of the photos below.
Horse outside the Toyota Office in Durban (Source Unknown)
Sandton and Durban comparison
Perhaps it is time for a campaign to bring the historic stallion back to Sandton? It may be quite an ask as it appears as though Toyota came to an agreement with city councillors involving a large donation. The company also spent money restoring the statue and relocating it to a more secure environment. On the other hand, the feel good story of bringing the Sandton Stallion home could be a spectacular publicity opportunity!
Disclaimer: Any views expressed by individuals and organisations are their own and do not in any way represent the views of The Heritage Portal.